Can we talk fall outfits? I'm sharing 10 pieces that are must owns for anyone with a pear shaped body!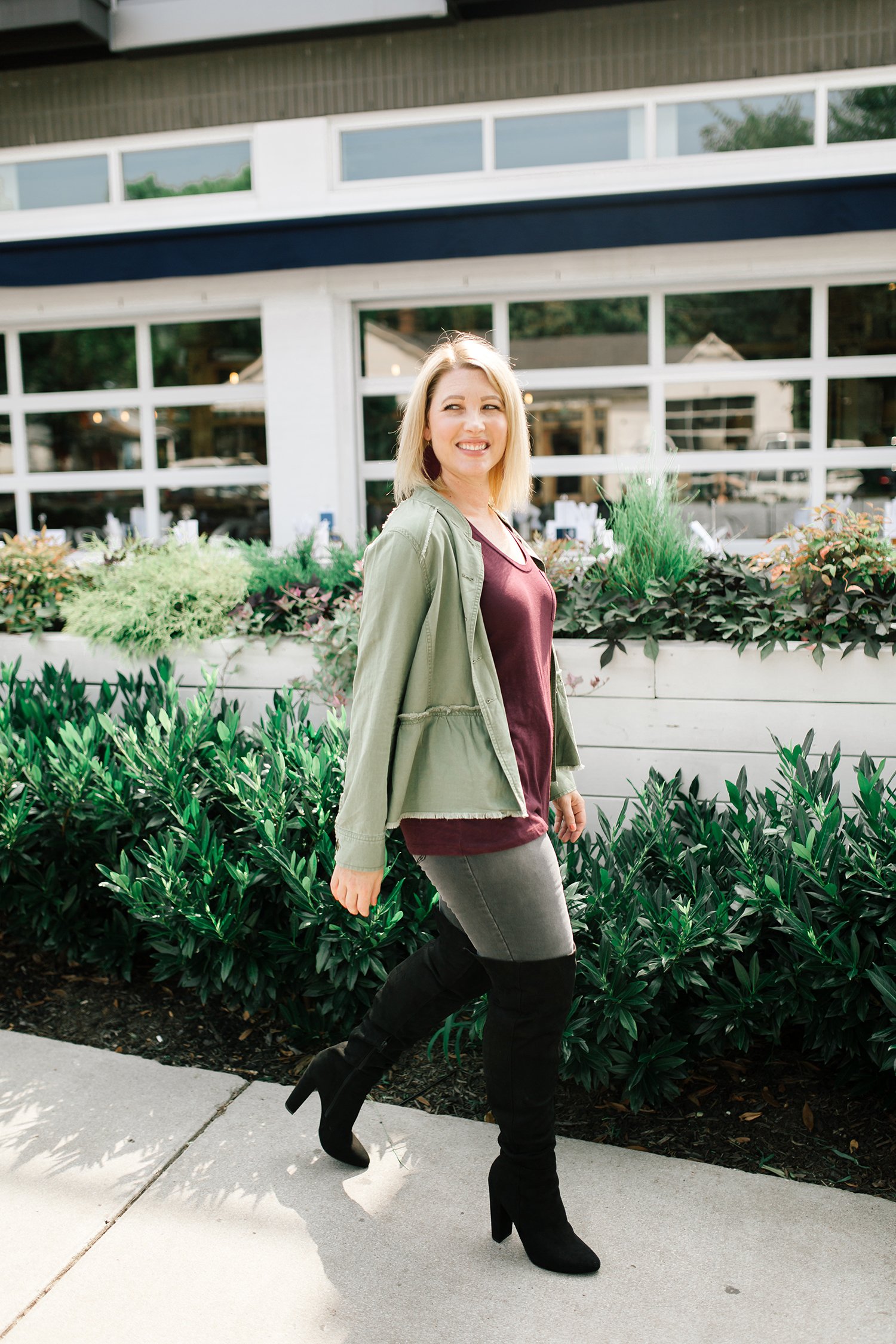 (don't forget to pin your favorite fall outfit to your pinterest boards for future reference!)
Remember at the beginning of summer when I wrote a post about my favorite pieces for a pear shaped body for warmer weather? Well, it was a big hit. Apparently, a lot of us are little in the middle and…..larger in the hips. It makes sense right? A pear shaped body is the most common body type, and it's HARD to find pieces that fit well. For me? It's always things that fit in the waist, but not the hips.
Now that we're gearing up for fall, I wanted to share a few of my favorite pieces for cooler weather. These all flatter a pear shape body, and won't break the bank (you're welcome). Now, bear with me…..because you're going to be seeing each of these in a LOT fall outfits, because….I'm all about pieces that you can wear again and again.
Light Jacket (size medium, $75): Fall is the perfect time for light jackets. This peplum jacket hits at the most flatter part of the hips, and is light enough for layering.
Wit and Wisdom Grey Jeans (size 10, $68): I know, I know. I've talked about these jeans a LOT. But, they're amazing and they're NOT expensive. They stretch well, and don't lose shape. I own both the grey and dark blue pair!
Tall Boots ($158): I used to think tall over the knee boots were only for super thin legs. But this pair? Flattering on all legs. I love wearing them with skinny jeans or a great fall dress.
SHOP LIGHT JACKET, GREY JEANS AND TALL BOOTS:
Colored Jeans($79, size 10): A great pair of colored jeans will add a little dimension to your fall outfits…..and who doesn't love a great olive color in the fall? These fit like a dream, and they're not too pricey.
Mules ($79): Mules are the perfect fall heel. They will help summer dresses transition to fall, and are perfect for fall outfits with blouses and skinny jeans!
SHOP COLORED JEANS AND MULES:
T Shirt Dress ($59, size medium): A great t shirt dress isn't just for fall outfits, it can be worn year round. In the fall? I love to use a t shirt dress to layer. Add booties, a cute sweater or vest….and you're set for cooler weather. Now THIS t shirt dress? Is pretty much the best piece I've bought all year. It came in my Trunk Club delivery, and I loved it so much that I also ordered it in blue. It fits like a DREAM, is flattering on curves, and can be worn a million different ways.
SHOP T SHIRT DRESSES:
Loafer Mules ($128): Ok, I know these are a little pricey. But let me tell you…..they stood up to the teacher test. I wore them ALLLLLL day, and my feet felt great. So a great shoe that goes with all my fall outfits? AND they're comfortable. Worth it.
Structured Sweater (size Medium, $129): It's ALMOST sweater weather…..and I'm so excited. Every year I buy a couple great sweaters, and this one? I'm OBSESSED. I spotted it on the runway when I went to the Cabi Fall Scoop and was a little too excited when it arrived in the mail. It's perfect to wear with jeans or leggings.
SHOP LOAFERS AND SWEATERS:
Vibrant Blouse (size medium, $49): I bought this shirt during the Nordstrom Anniversary Sale and I'm pretty mad that I didn't buy it in more colors at the time. In fact, I just ordered it in two prints. It fits like a dream, hits perfectly at the hips, is machine washable, and is great for fall layering. It will be perfect with pencil skirts or jeggings and boots.
Sneakers ($70): A great pair of sneakers will get you through those casual days. This pair? Is one of my favorites, because they're comfortable and benefit Donor's Choose(an organization that funds classroom projects in schools across the country).
SHOP BLOUSES AND SNEAKERS:
MONEY SAVING TIP: While I love to invest in staple pieces like these that I'll wear year after year, I always buy some fun, trendy accessories to mix in. My latest favorite? The SUGARFIX by Bauble Bar line at Target. They have some adorable fall items…..and nothing over $30!
SHOP THE SUGARFIX BY BAUBLE BAR LINE:
If you want to make a Target run for these pieces (and more) then you're in luck, I'm teaming up with a few of my friends to giveaway a $700 Target Gift Card!
Money Can Buy Lipstick | What Nicole Wore | Tonya Michelle 26 | Sophisticaition | Adaleta Avdic
Sunflowers & Stilettos | Pretty in Pink Megan | A Sparkle Factor | Miss Molly Moon | Classy Sassy
Andrea Bai | Nashville Wifestyles | Pineapple and Prosecco | Kelly Towart
A Beautiful Inspiration | Bright on a Budget | Styled by Nelli | Le Fab Chic | Topknots and Pearls
Olivia Shea Style | By Brittani Lauren | By Lauren M | Twenties Girl Style | House of Loren
Use the widget below to enter the giveaway. The more "tasks" you complete, the more entries you will receive. The giveaway is open to U.S. and Canada residents only. The winner will be announced (on the widget only) up to 2 weeks after the giveaway has ended. It can take time to select, verify, and get in contact with the winner, so please do not privately message any of the hosts. If you have any questions about the giveaway process, feel free to e-mail [email protected]