.Are you attending the Oogie Boogie Bash at the Disney California Adventure Park? This is the ultimate guide to the Disneyland Halloween Party.
Pour me another cup of coffee, every year we have a special Disney Halloween Time tradition.  For one special night, we skip our usual bedtimes and party until the clock struck almost midnight at the  Oogie Boogie Bash (in case you missed it, our Descendants Family Halloween Costume was epic the first year, and the second year? You can see our family costume HERE.).
When the news broke this summer that this year's Disneyland Halloween Party would in fact be located inside Disney California Adventure again, I knew we had to snag oogie boogie bash tickets again.  This the third time Disneyland has thrown this event (it's the newer version of mickey's halloween party), it has a ton of fun performances and immersive experiences.  Just an FYI, the bash is SOLD OUT for this year, there are no more tickets available for either the d23 members night or the events that are open to the general public.
Planning for Oogie Boogie Bash
Parties are happening on some select nights including most Tuesday, Thursday, Saturday and Sunday evenings until October 31st (they start at 6 pm and the park DOES close for non-ticket holders at that time).  If you are visiting the parks, I'd suggest planning to make that afternoon and evening a disneyland park day if you do NOT have a party ticket for the Oogie Boogie Bash.
2022 oogie boogie bash dates:
Tues, Sept 6, 2022
Sat, Sept 10, 2022 (D23 Member exclusive night)
Tues, Sept 13, 2022
Thurs, Sept 15, 2022
Sunday, Sept 18, 2022
Tues, Sept 20, 2022
Thurs, Sept 22, 2022
Sun, Sept 25, 2022
Tues, Sept 27, 2022
Thurs, Sept 29, 2022
Sun, Oct 2, 2022
Tues, Oct 4, 2022
Thurs, Oct 6, 2022
Sun, Oct 9, 2022
Tues, Oct 11, 2022
Thurs, Oct 13, 2022
Sun, Oct 16, 2022
Tues, Oct 18, 2022
Thurs, Oct 20, 2022
Sun, Oct 23, 2022
Tues, Oct 25, 2022
Thurs, Oct 27, 2022
Sat, Oct 29, 2022
Mon, Oct 31, 2022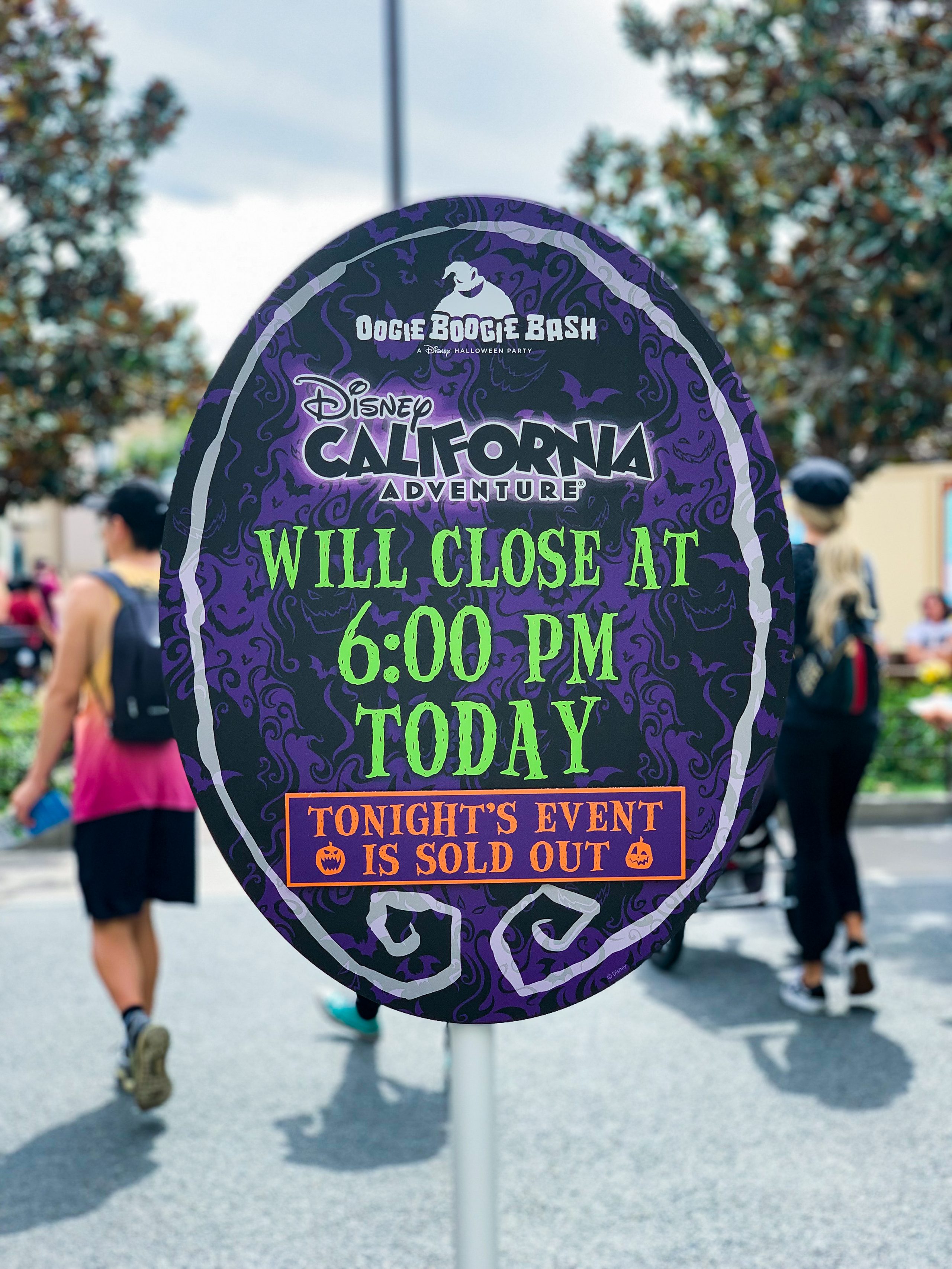 The Ultimate Guide to the Oogie Boogie Bash
Remember you can enter Disney California Adventure 3 hours before the event with your ticket (so that's 3 pm).  We did NOT book a day with our Magic Keys, so we waited until 3 pm to enter Disney California Adventure.  We got in LINE outside DCA at 2:45, and were in the park by 3:05.
If you are already in the park, you don't need to  leave and re-enter.  You can pick up your event wrist band at the Blue Sky Cellar (located near the entrance to Carsland) along with a map and trick or treat bag inside the park (we checked in here instead of at the front and it was SUPER quick)!
Immersive Treat Trails: One of my favorite things about the Oogie Boogie Bash is the immersive treat trail experiences.  These special treat trails have character interactions along with TONS of candy.  We visited all of them (my personal favorite was the Evil Queen at Grizzly Peak).
There are nine immersive treat trails (a lot more than the FOUR they had last time): Oogie Boogie's Treat Trail inside the Disney Animation Building, Madam Mim in the Hyperion Theatre Courtyard, Ernesto De La Cruz near the Avenger's Campus Entry, Dr Facilier at the Golden Zephyr, Malificent's Treat Trail at Soarin' Around the World, Agatha inside Avenger's Campus,  Mother Gothel at the Grizzly Peak Trail, Sid on the Pixar Pier, and Cruella at the Backstage Lot.  I'd suggest visiting as many as possible, and don't be deterred by the lines…..they move quickly!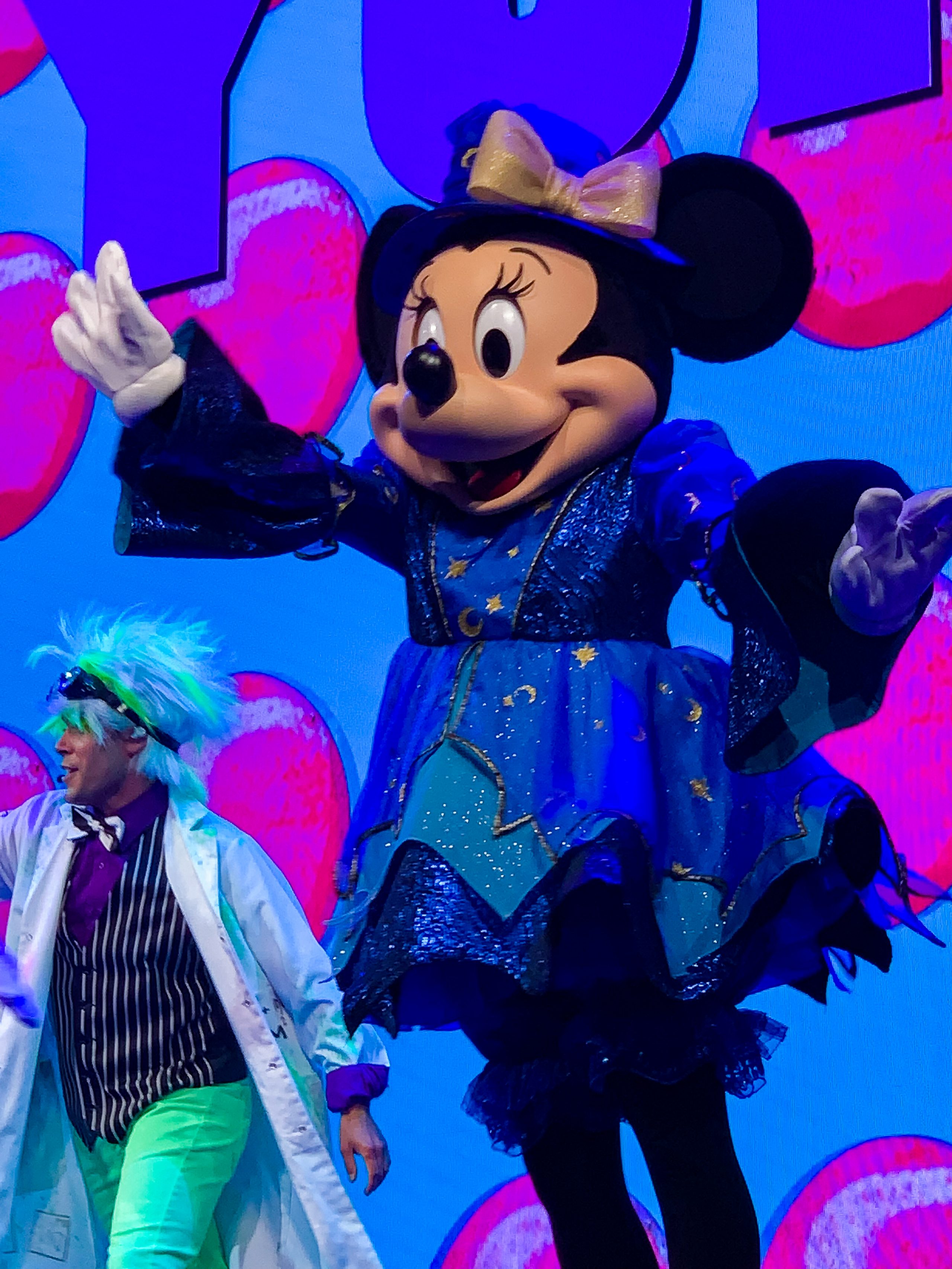 Mickey's Trick or Treat: If you're attending the Oogie Boogie Bash with kids ages 8 and under…..then the mickey's trick or treat interactive dance party is a must see. This adorable show takes place in the Disney Theatre (where the Disney Junior Dance party is during the day) at 6:15 pm, 6:55 pm, 7:35 pm, 9:00 pm and 9:50 pm.  It's short, and really fun.
Frightfully Fun Parade: The Frightfully Fun Parade is a great chance to sit and relax and takes place TWICE (a change from last time when there was one parade).  The parade route runs between the Symphony Swings and Guardians of the Galaxy (we sat near Jumping Jellyfish) and starts at Paradise Garden Park BOTH TIMES.  This year's oogie boogie bash parade kicks off at 7:45 pm and 10 pm when the Headless Horseman rides down the route.  It features a ton of fun Villains and familiar favorite disney characters.  It's also a great opportunity to see some of the rare characters that only come out for the disney halloween party if you don't want to wait in line for a meet and greet experience.
Villain's Grove: Want to see what's been getting the most buzz from Oogie Boogie Bash? The villains grove is absolutely amazing.  This walk through experience takes place on the Redwood Creek Challenge Trail after dark (so it opens around 7:15 or 7:20 pm). It showcases some AMAZING lights and special effects.  This one does usually have long lines and a wait, so plan accordingly.  If you are a disney villains fan, this is absolutely a must do.  I love that it's truly a full sensory experience with a special soundtrack, even smells to enhance the experience.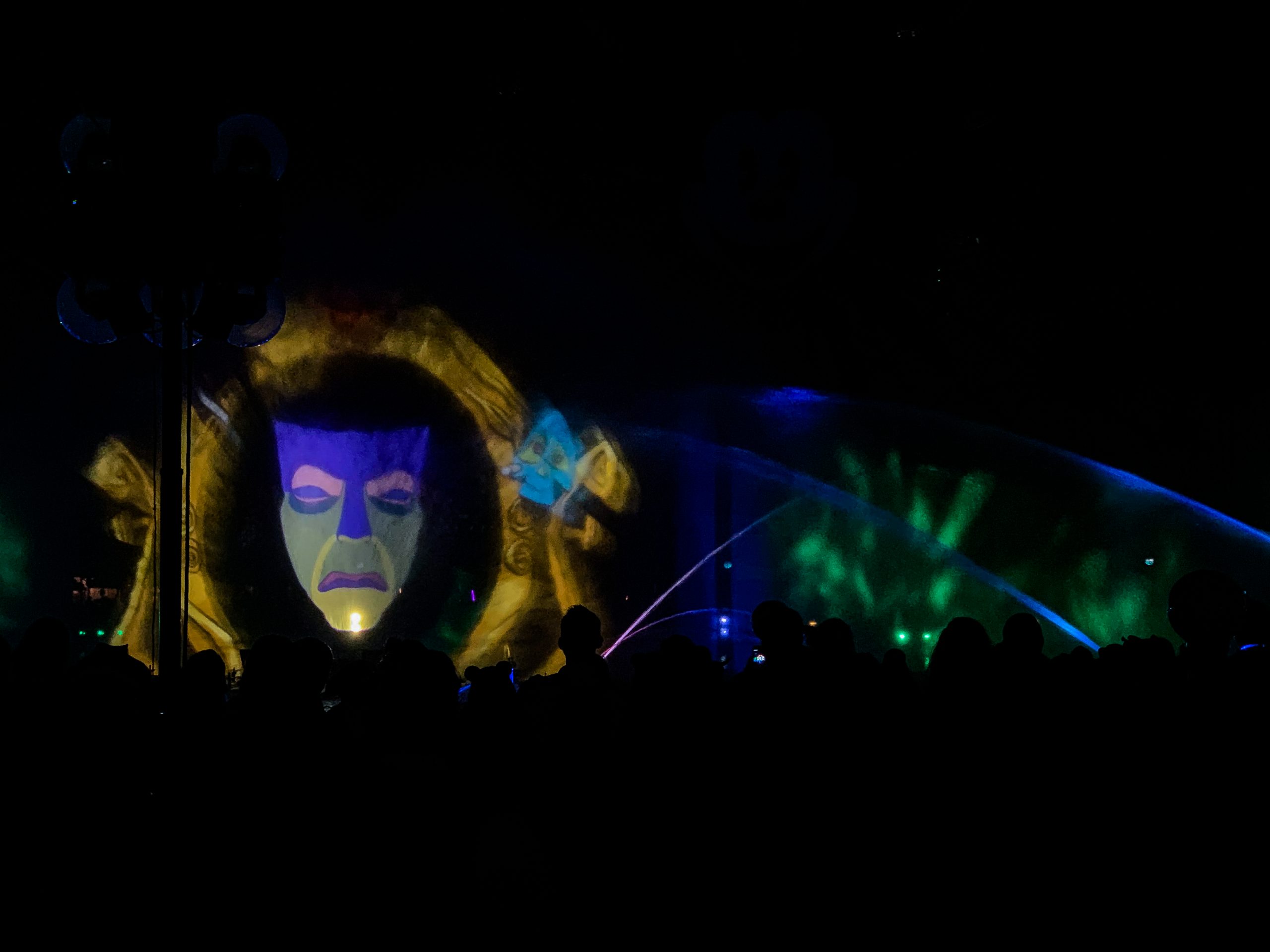 Oogie Boogie Bash Suggested Schedule
I did an epic amount of research before we attended the Disneyland Halloween Party last year.  Our party was on the second night, so I watched a LOT of coverage from friends who went to earlier parties.  It helped a lot because I was able to see about how long each activity took, and to learn more about which things to prioritize.
The schedule we followed (and my thoughts):
We picked up our wristbands at 3:30 pm.
5:45 pm: lined up at first treat trail (Cruella near Stage 17)
6:00 – 6:35: all three Hollywoodland treat trails
6:40 pm: lined up for Mickey's Trick or Treat (inside the theatre where the Disney Junior Dance Party takes place), we watched the 6:55 pm show.  The show is ADORABLE and 15-20 minutes long.
7:25 pm: Agatha Treat Trail in Avengers Campus and Dr Facilier Treat trail near Avengers Campus entrance
7:50 pm: lined up for villain's grove (which is inside the Redwood Creek Challenge Trail), this doesn't open until dark and for us, it opened at about 7:15.  We were a decent ways back in the line, and made it through the entire walk through (which is about 12 minutes long) by 8:15 pm (while Robbie held our spot in line, Lydia and I did the Evil Queen treat trail by the River Rapids and the Maleficent treat trail by Soarin')
8:30 pm: rode Jessie's Critter Carousel, Inside Out Emotional Whirlwind and did the Sid Treat Trail on the Pixar Pier, and quickly walked through the the special treat trail for magic key holders
9:15 pm: Grabbed parade spot across from the Little Mermaid.  Robbie held our spot and I picked up snacks and drinks at the Pacific Wharf Cafe (soda, beer and a mickey bread)
8:10 pm: Frightfully Fun Parade
10:00 to 10:30 pm: parade. We followed the end of the parade walked across the wharf to enter the back of Carsland
10:30 pm to 11:00 pm: last treat trail, rode Luigi's Honkin' Haul-o-Ween and mater's graveyard jambooree
Oogie Boogie Bash Priorities
My thoughts: our schedule worked out PERFECTLY and we got to see everything that we'd prioritized.  We didn't do ANY character meet and greets……for us, it wasn't a big priority.  There are some really unique ones, so if they're a priority to you I'd suggest making time for them at this special event.  This year's new meet and greets include Bruno and Daisy, Minnie and Clarabelle dressed as the Sanderson Sisters.  We did WALK by, and get some great video of both (which is an option if you don't want to wait in line).
You could easily skip the Mickey's Trick or Treat if you don't have young kids.   Although I think it's cute for everyone to see. Another suggestion is to shift to do a few less treat trails.  My biggest tip? If you want to see Villain's Grove, there are two options. One option is be in that line by 7:50 pm to go through during the first parade. The other option is to enter the line by about 10:30 pm to do it at the end of the night.  It's TOTALLY worth it, and a really special experience that is not available during regular halloween season days.
So what do you think? Are you headed to the Oogie Boogie Bash this year? What are you most excited to experience?