Looking for Halloween party activities for the classroom or home? These Halloween crafts for kids and Halloween Games ideas are perfect for spooky festivities!
This post is written in partnership with Walmart.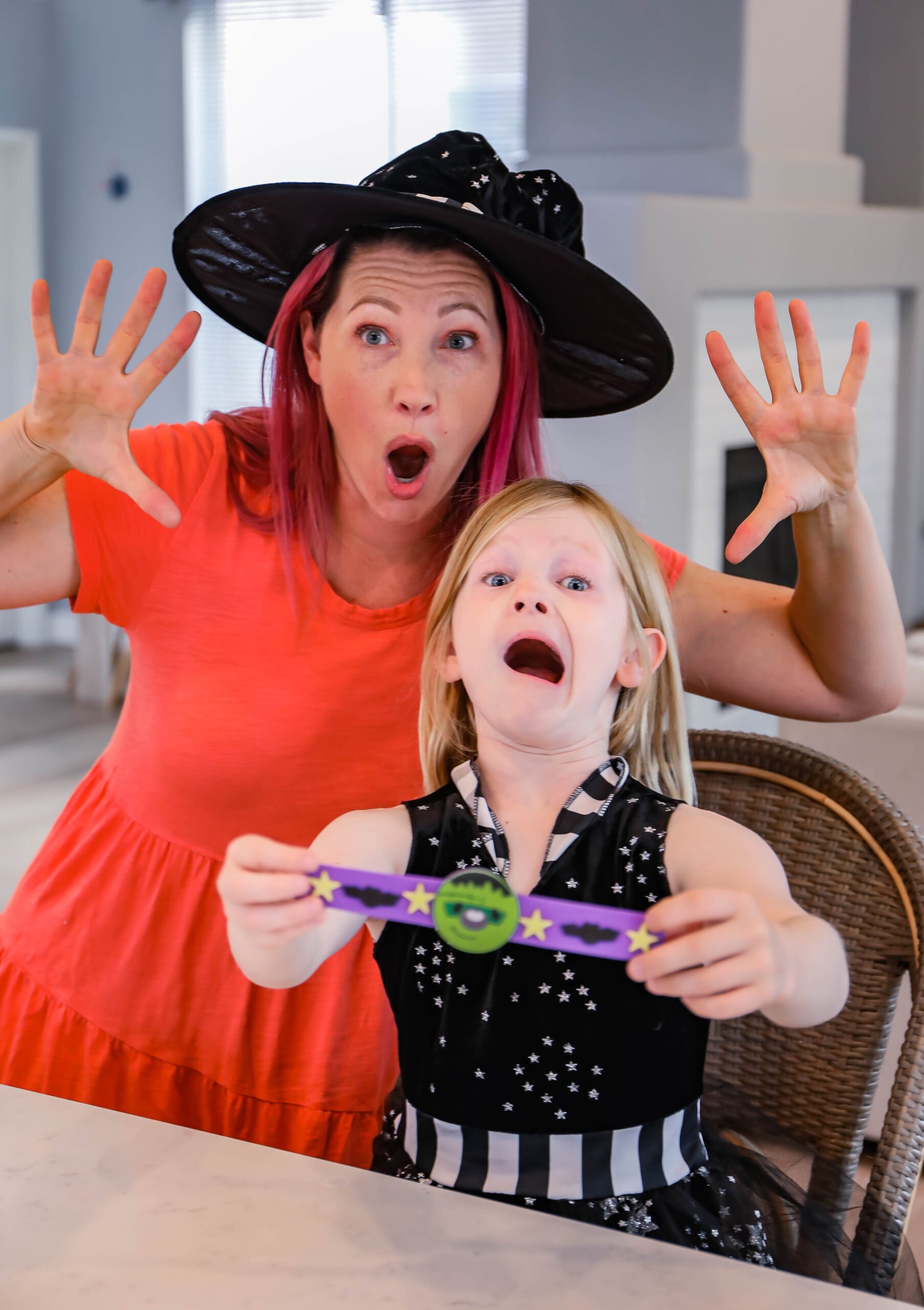 Spooky season is HERE!  It's time for Halloween parties, trick or treating and costumes.
Funny story….my first classroom Halloween party as a teacher was a DISASTER.  I was 21 years old, teaching first grade and SO excited about our first classroom party.  The school didn't have a ton of parent volunteers, so I planned the party myself.  I planned some fun Halloween Party Activities, Halloween crafts and let the kids bring treats, plus of course they had their costumes on.
I probably should have limited the treats, because….I was a LITTLE taken aback when I saw the amount of sweets that showed up the day of the party.  But hey, you only live once right?  I also decided we should have the party early instead of at the end of the day (notice that teachers NEVER DO THAT).  I wanted LOTS of time to enjoy, and for the kids not to be rushed.  Plus, we had a school Halloween parade in the morning so it made sense to have the party right after.  Or so I thought.
Can you imagine what happened?  Let's just say…..a lot of kids, a lot of sugar, and a 21 year old teacher who NEVER HAD THE HALLOWEEN PARTY IN THE MORNING AGAIN.  You live and learn, right?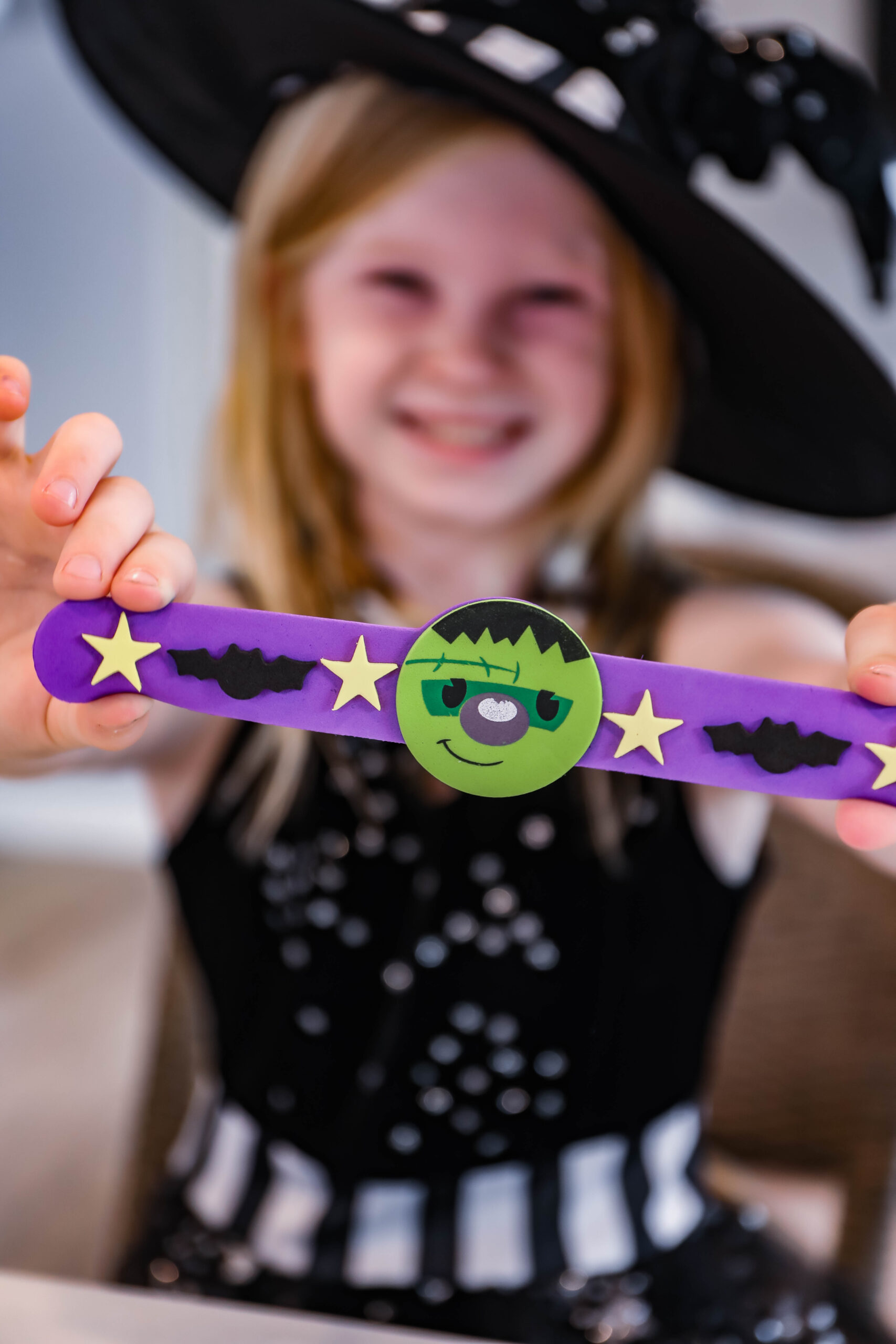 After 15 years of teaching and holding Halloween Parties, and then three throwing them as a room mom……let's just say I've mastered classroom Halloween Parties, Halloween Party Activities and Halloween Crafts.
So these? My top suggestions to make Halloween Party Activities run smoothly.  Most of these work for a classroom Halloween party or a small party at home before trick or treating.
Halloween Party Activities
Let's talk Halloween Party Activities and Halloween Crafts.
A couple things to consider when selecting…….
How old are the kids?
What crafting skills are needed? Cutting? Small pieces?
Do you want the craft to be done independently? Or will there be older children or adults to help?
Is the craft messy? Is there time for clean up?
Do you have time for the crafts or activities to dry if needed?
Does noise level matter?
Will you be inside or outside?
Halloween Party Games
My suggestion for a classroom Halloween party is always to plan a couple games or crafts before they break into the treats.  This year in Lydia's class, we'll be doing one game and one craft.  For younger kids who need more support, you can always do stations with a grown up or older student at each.  If you aren't able to have multiple adults in the room, you can show a Halloween movie and pull small groups of kids out at a time for the Halloween crafts.
Some fun Halloween Party Games:
Halloween Craft Activities
Now let's talk Halloween Craft activities.  These are some of my favorites, they're affordable and easy to implement!  Walmart home is always a great option for Halloween craft activities, they ship quickly if ordering online and right now? They're fully stocked with affordable spooky activities.
Shop my Favorite Halloween Craft Activities: 
Disney Nightmare Before Christmas Scream Halloween No Sew Fleece Throw Kit: Looking for an ongoing at home project? This no sew Nightmare Before Christmas blanket can be completed a little at a time (and is super easy for younger kids…..you just need to be able to tie a knot).

Halloween Cut Out Activity Kit: looking for a simple at home or classroom activity? This cut out kit comes prepared and ready to go.  You get 9 cut out shapes (some pumpkins and some ghosts), stickers and googly eyes.  Quick and easy art projects (this is even perfect for waiting for a meal or when you have a few minutes to fill).

Pumpkin Decorating Craft Kit: want to set up a pumpkin decorating  station? This is the best set for an independent station for younger kids.  You could even use these in a classroom with mini pumpkins!

Halloween Craft Roll Craft Kit: Isn't this the cutest craft kit? It comes in sets of 12, so you could easily order a couple for a class set.  This is the perfect easy Halloween party activities option!

Monster Craft Kit: We have this craft kit at home, and it's the perfect set it out and let them go wild option.  It's filled with supplies, and some general starting directions for building monsters (this would be a great station in a classroom as well).
Animal Pumpkin Carving Kit: looking for a fun family option for Halloween Craft Activities? This carving kit is perfect for pet lovers!
DIY Slime Kit: I wanted to hate this kit.  But it was SO MUCH fun.  Lydia loved making all the different slime types, and this filled an ENTIRE afternoon with Halloween Craft Activities.  This is definitely an at home or small Halloween party option!
Foam Bracelet Kit: Looking for a simple activity for a class party? These foam bracelets are a fun, easy and also EASY TO SET UP AND CLEAN UP activity (plus they're a great price).

Color Your Own Halloween Canvases: Another super easy option for Halloween craft activities at school or home, these canvases are fun to color and perfect for setting up a Halloween art station.

Halloween Bookmarks Kit: Another great classroom option, these Halloween Bookmarks are SO CUTE and really easy to create for younger kids.
Color Your Own Halloween Fuzzy Characters: This year, we are planning to set up an outdoor Halloween activity table at our house……and these fuzzy characters are a perfect option! Easy to put together and fun to bring home!
Looking for more options? Walmart has a TON of cute crafts for spooky season, and they keep adding new ones!