Planning a boudoir photo shoot? This is what I learned from mine, and some boudoir photography tips if you are planning your own boudoir session!
If you had told me a year ago, I'd be writing this blog post, probably would have laughed.  Sure, I'm all about celebrating my pear shaped body and the Just Wear the Suit movement I founded…..but this? THIS IS GETTING IN FRONT OF THE CAMERA IN MY UNDERPANTS.  Now, if I'm being honest……a boudoir session is something that's been on my bucket list for years.  I'm talking a creative, beautifully shot, celebrate my body for me type of photo shoot.  However, as a teacher I was always worried there was something about photos in my underwear that was a no go.  Why was this different than a bathing suit in my mind? I'm not entirely sure.  But it took me 41 whole years to get here.
It may have taken a moment, but it's a great place to be.  I wanted to write this to encourage anyone wondering about how to make a boudoir photo shoot a positive and empowering experience.   Yes, I'm telling you…..TAKE PHOTOS IN YOUR UNDERWEAR.  You'll thank me.
My Boudoir Photo Shoot
There were a lot of elements of my particular photo session that I think contributed to making it such a wonderful experience.
Picking a Photographer You Are Comfortable With: Just in case you forgot, you'll be stripping down to your underwear or less than your underwear.  Being comfortable with your photographer is SUPER important.  I took these pictures with Kate (she's an amazing photographer we've shot with for years who is based in LA and Southern California) who we've shot with for YEARS….while she isn't specifically a boudoir photographer, she does have experience doing a boudoir shoot and was able to suggest styles that I liked. The overall goal? Someone you feel comfortable taking your clothes off in front of.  But beyond that? Someone who will empower and encourage you, all while capturing the mood and feel that you want in your boudoir images.  If your photographer is someone you don't know extremely well, I highly suggest chatting about details first either via email or on the phone (whichever they prefer).  Discuss any concerns you have, particular focuses or occasions, a vibe you are going for…..this will go a LONG way.  And be sure to ask for advice from their professional perspective when planning a boudoir photo shoot! Part of the benefit of working with an amazing photographer? THEY KNOW WHAT THEY ARE DOING.  They can suggest colors that work best, things that may help you feel comfortable, what's worked in the past, etc.
Do a Little Research: Worried about posing? PINTEREST is your friend here (it may even be how you landed on this blog post).  Start a pinterest board, and pin images of boudoir photos you love.  Bonus for finding body types like yours if that inspires you.
Picking a Great Location: Sometimes photographers set up a full day of boudoir photography sessions at one location.  In that case, your location is already determined.  If not? This is another ask your photographer.  If you'll be shooting at your home, I'd discuss the best time of day with your photographer.  Lighting is going to make a huge difference, and they can probably advise you.  Some people rent a hotel room and some use photo studios, both are great options (I shot these at an amazing natural light photography studio here in San Diego).  If you are shooting in home, be sure that you have a way to diffuse the natural light (a sheer curtain like this will do the trick).
Boudoir Session: What to Wear and Bring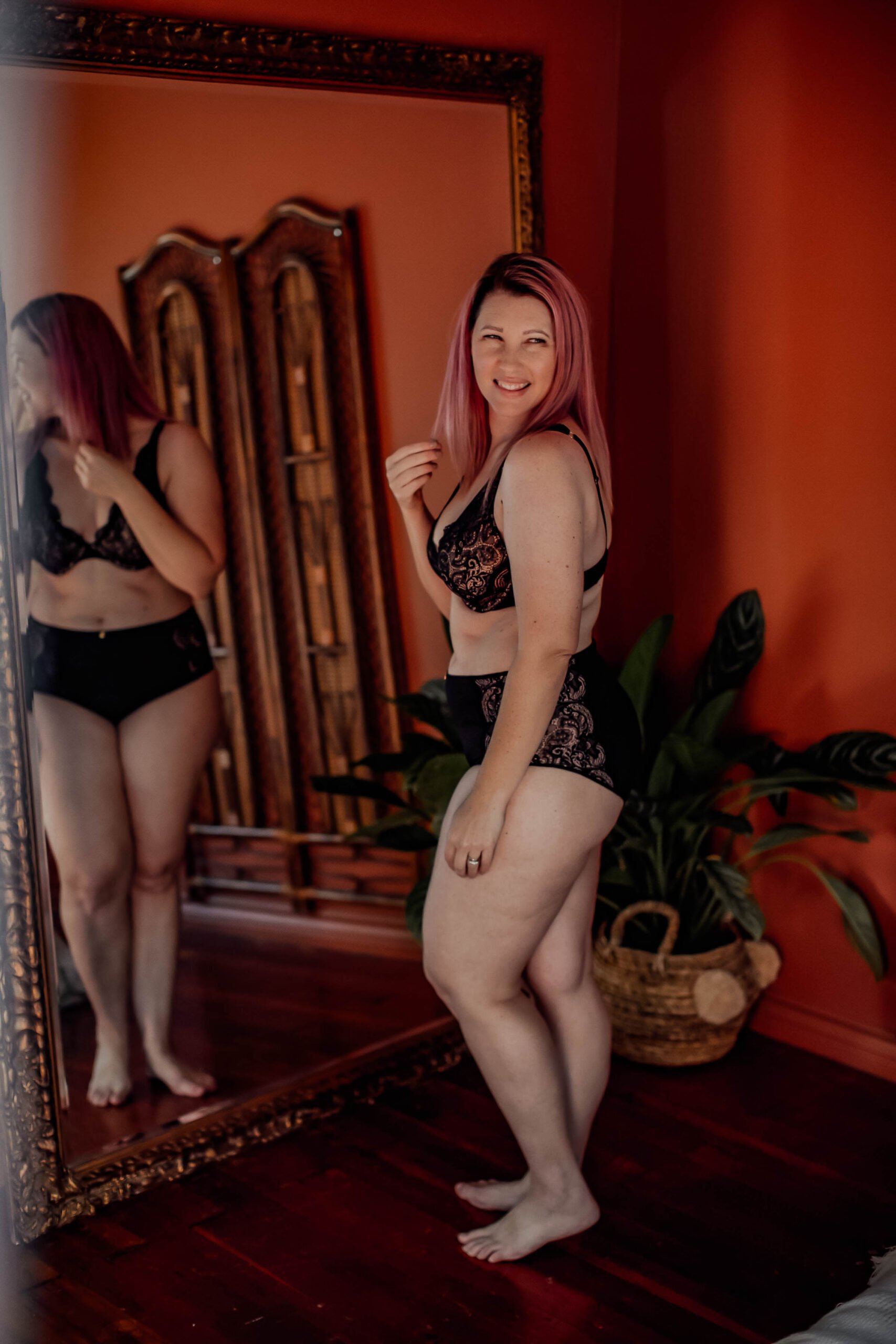 The Pieces I'm Wearing In My Boudoir Photo Shoot:
Now, the biggest part of this…..what are you going to wear?  Trust me, you'll want a great fitting bra and underwear.  Be sure to get appropriate sizes (ill fitting underwear is NOT comfortable or flattering)….and think about colors you feel your best in.  Do you want classic neutral colors? Lace? Something fun and bright? A lingerie vibe? Or classic bras and underwear? I've also seem some amazing photos in a flannel and underwear or a baseball jersey and baseball hat, plus…..bridal boudoir sessions are always stunning with a veil and flowers.  Basically: color, fit, and vibe.
If you want, you can also bring props or ask your photographer if they will.  A few ideas: a mirror, flowers or pampas grass, a fan, a pillow or blanket you love, a guitar or even a cowboy hat.
When it comes to hair and makeup…….I'd suggest thinking about what makes YOU feel your best.  Some boudoir photography shoot packages include a makeup artist or hair stylist, and some don't.  You can definitely get your hair done or makeup done, especially if you aren't used to doing them for photos.  In the end, boudoir images can be glamorous or very natural, totally up to you!
Boudoir Session: How to Pose
HAVE FUN.  I promise, your photographer will help you with how to pose.  I'd suggest that you ask them to help you with a variety of angles, perspectives and poses.  Try for some close up shots, some standing, some sitting and some lying on the best.  Some of my favorite images from my own boudoir photo shoot felt odd when posing, but looked AMAZING when I saw the actual image.  If you see any poses you absolutely LOVE during your pinterest searches before the photo session…..send them to your photographer.  They'll be able to get a better understanding of your taste, and to interpret a photo or feeling to something that works with your personality, lighting and shoot location.  And on the flip side, leave space for creativity.  Play music, laugh, let your photographer try things.  Sometimes, the most beautiful images can't be planned.  And I promise, a talented photographer will be able to make magic when you trust them to do so.
Frequently Asked Questions about tips for a boudoir photography session
What helped you to step out of your comfort zone in the moment? It REALLY helps to wear something you love and to work with a photographer you love.  Both of those things? Help you to be comfortable in front of a camera and comfortable in your own skin.  The goal here is to celebrate YOUR beauty, not to make you nervous or fill you with anxiety.  The day of the shoot, prep is key.  If having a make-up artist do your makeup helps, do it.  If professional hair styling makes you feel stunning, do it.  This may sound silly, but the type of music playing during a shoot helps too.  This is supposed to be FUN! Think about what makes you feel happy.
How did you find the right poses? Did your photographer coach you? Boudoir poses are definitely a unique art form.  I did a bit of research on pinterest, but mostly? I trusted my photographer.  Her job? And her talent? Is what makes a successful shoot, boudoir or not.
Any basic tips for preparing? FEEL YOUR BEST.  That means, get a good night's sleep, drink plenty of water. EAT beforehand.  Spray tans if that's your thing.  If you're wearing your favorite black heels, clean them and break them in so you'll be comfortable.  The goal is to have an amazing experience.
What if I don't already have a photographer I work with? How would you suggest finding one? You can always start by looking for a boudoir photography studio in your hometown or even by looking on Instagram to see work with past clients.  For the best results? I'd look for a photographer who showcases a varied body type and beautiful diverse images.  This tells you that they'll be able to find the right poses for you, to create boudoir shots that you'll love (and remember, a lot of wedding photographers also do boudoir images plus, they're great with detail shots).
When is the best time of day for boudoir photo sessions? Ask your photographer! This totally depends on the lighting at the location!  A good photo depends on a talented photographer, calming the clients nerves and great lighting.  Any portrait photographer can tell you that lower light leads to shutter speed issues, and they'll be able to tell you the ideal time of day for the best lighting and most flattering glow (I know, we don't think about this stuff during everyday life….but it makes a huge difference HERE).
Are you ready for your own boudoir photo shoot? Whether you are taking these for a romantic partner or yourself……I hope that this is an opportunity for you to celebrate….YOU!