I couldn't help myself.  This makes middle and high school me so happy.  I hopped into my time machine and took it ALLLLLL the way back.  This? Is the Ultimate Disney Watch list for 90s kids.
Ok y'all.  Lace up your Doc Martens, pull on your floral babydoll dress……we're going back in time.  The 90s are back.  Fashion, music, yes…….some of us are officially old enough to have loved the 90s the first time around and…….are having a bit of deju vu (in the best possible way).
The 90s was an amazing time for the best movies and entertainment, and Disney was NO EXCEPTION (in fact, 1989 to 1999 is often referred to as the Disney Renaissance…….when they brought back amazing blockbuster animation features and some super fun live action films like the Little Mermaid and a ton of fairy tale classics)
Ultimate Disney Watch List for 90s kids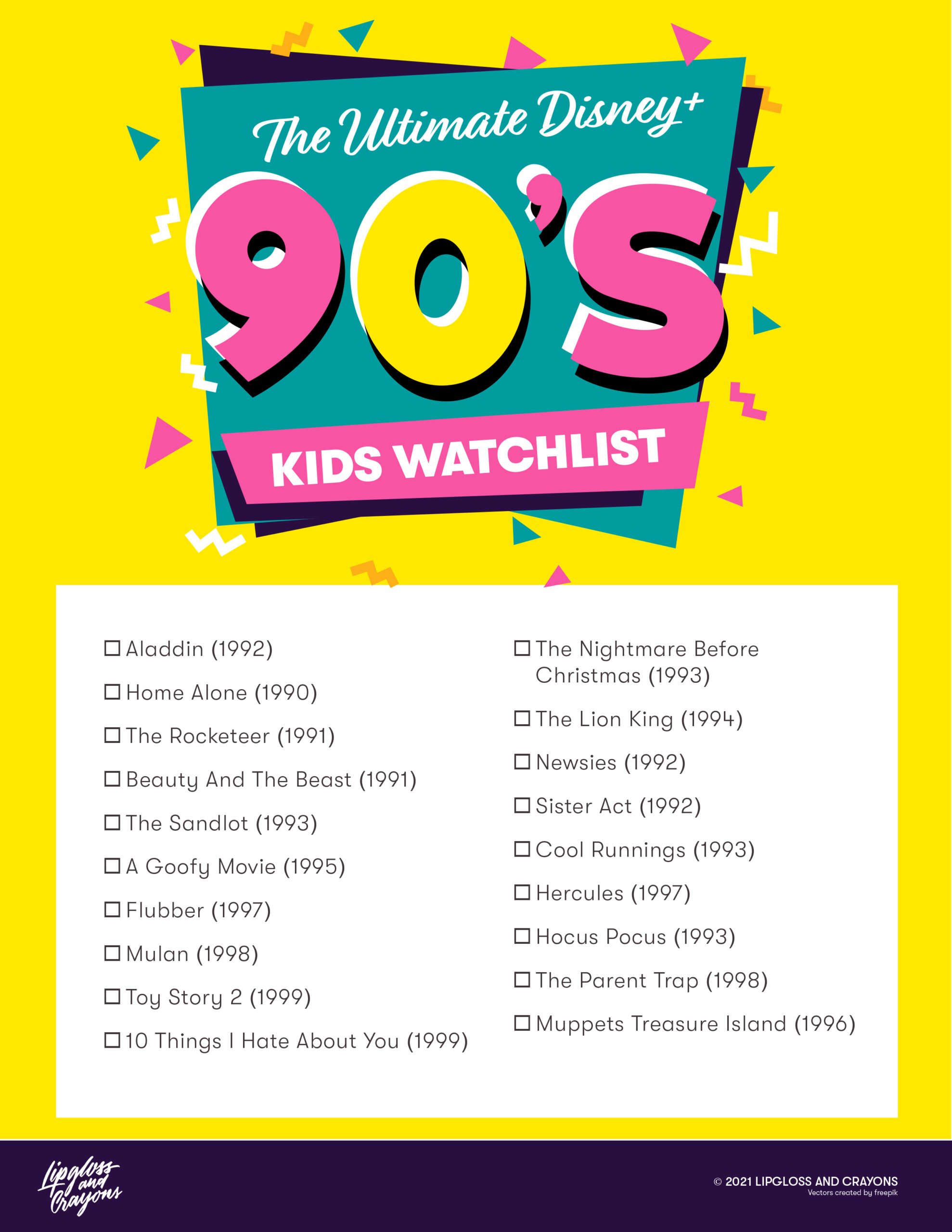 <You can download the watchlist by entering your email address here >
This list? My top 19 picks for diving into the best 90s movies on the Disney+ streaming service.  I can't wait to hear if YOUR favorite 90s Disney movie is included!
Aladdin: Now, I'm talking ANIMATED Aladdin.  Yes, I also love the live action Aladdin for a million reasons….but the animated version is a CLASSIC.  You'll remember how much you love Robin Williams within the first 20 minutes, what a genius.
Home Alone: Ok, I know I also put this on my Disney+ Christmas Movie Watchlist….but I'm going to argue it's a year round gem.  Please note the amazing home decor, it's 90s CLASSIC style….and Macaulay Culkin? An icon.
The Rocketeer: This is a HIGHLY underrated 90s movie.  I forgot how much I loved it until we watched it recently.  If you've got comic book loving kids, it's a great one.  Yes, there is an animated version on Disney Junior….but this? IS THE ORIGINAL.  It tells the story of a stuntman who discovers a jetpack that lets him fly without an airplane.
Beauty and the Beast: Animated.  Not Beauty and the Beast live action (although I love that as well).  I'm sure you've watched this a million times, but it's one of the best examples of the killer animated films Disney released in the 90s.  Watch it again.  And again.
The Sandlot: A cult following.  The Sandlot has a EPIC fan base and it's easy to see why. This coming of age story is funny, kid appropriate, and tells the story of boys vs the BEAST (when they accidentally hit a baseball into the neighboring backyard).
A Goofy Movie: It wouldn't be the Ultimate Disney Watch List for 90s kids without this gem (we love Powerline right)? This adorable animated classic features Goofy and Max and shares an epic summer trip that Goofy and Max take together (complete with Max's teenage angst and Goofy's antics).
Flubber: Another Robin Williams gem. This silly movie is an updated remake of the Absent Minded Professor and Lydia LOVED it.  In the film, the main character invents "flying rubber" and chaos reigns.
Mulan: Yet again, animated.  The live action Mulan is also a great film, but that is very much NOT a 90s release.  We just rewatched this one last night, and I forgot how great the music is.
Toy Story 2 (and 1): I still can't believe this Disney franchise has been around for this long.  We recently rewatched all of the Toy Story films in order and I forgot how much I loved the first two!  Your kids have probably seen Toy Story 4…..but be sure to take it all the way back to these originals with best friends Woody and Buzz Lightyear.
10 Things I Hate About You: This film makes the Ultimate Disney Watch List for 90s kids just barely (it was released in 1999).  But come on, it's a CLASSIC.  This was Julia Stiles' and Heath Ledger's breakout role and it has some EPIC 90s fashion.  It's a perfect romantic comedy.
The Nightmare Before Christmas: Is it a Christmas movie? A Halloween movie? In our house it's a year round must watch.  Yes, this movie is a little spooky, but Lydia LOVES IT  (Jack Skellington is one of her favorite characters) and Tim Burton is a genius.
The Lion King: Yet again, ANIMATED original film not live action Lion King.  This is in my top 5 animated films and a total Disney classic.  Period.  The music? The story.  If you haven't watched the original Lion King in a minute, push this to the top of your list….this is a great time to watch it again!
Newsies: Can you believe Robbie had never seen this gem? Another super underrated 90s movie, this musical tells the story of the Newsboys Strike in 1899, and stars…..Christian Bale.
Sister Act: Whoopie Goldberg at her finest.  Singing nuns, a witness protection program.  This is an EPIC 90s classic.  I forgot how funny it was until I rewatched recently!
Cool Runnings: If you haven't watched this one since the 90s…..now is the time (another one that Robbie had never seen).  This is the true story of Jamaica's bobsled team at the Winter Olympics (and is John Candy's last film).  I forgot how great the movie is, and loved watching it again!
Hercules: The muses NEED THEIR OWN MOVIE.  I said it.  This is another super underrated classic movie.  From the amazing Muses to Megara being a……girl power icon, I love it.  The music is also awesome.
Hocus Pocus: You know I love this film (hello, remember this Halloween costume?) This classic story about the Sanderson sisters (including Bette Midler), witches, a curse, and Salem on Halloween is the BEST.  Another I'd argue is a year round gem.
The Parent Trap: Now this is not the original Parent Trap, but it does star baby Lindsay Lohan and Lydia loved comparing it with the original.  We had a blast doing a marathon of both films and now Lydia keeps begging to go to summer camp!  This one is a modern classic.
Muppets Treasure Island: In my opinion, the least watched Muppet Movie. Tim Curry is in it, and it's perfect for Kermit and Miss Piggy lovers.
Looking for more Disney Plus Watch Lists? Check Out:

The Ultimate Frozen Disney+ Watchlist

Our Favorite Girl Power Movies on Disney+

And looking for more 90s films and a walk down memory lane? My friend Jennifer has a 90s Watch List from ALLLLL over the networks.

So Disney fans, what is missing from this Ultimate Disney Watch List for 90s kids? Are your favorites the live action or animated movies?