Want to know how to pose for pictures in a bathing suit and to FEEL confident? I'm proud to share what I learned at our very first Just Wear the Suit weekend…..spoiler, it was inspirational!
Thank you to Pechanga Resort and Casino for hosting our weekend.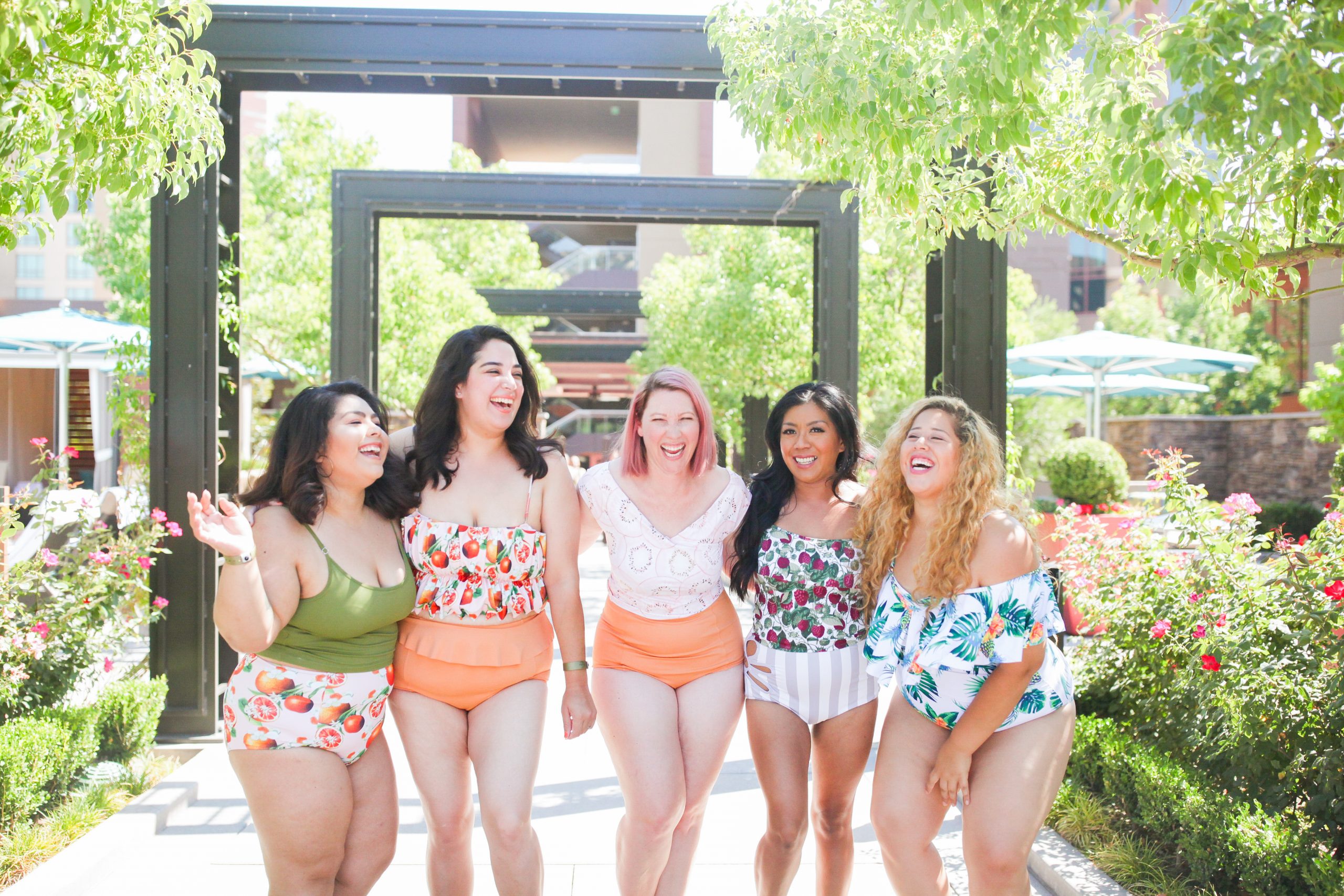 I think I'm still floating a couple feet off the ground.  From the day that our Just Wear the Suit movement launched on Instagram, I dreamed of taking this online movement offline.  I dreamed of connecting with a group of women to support each other as we talked confidence, shared our stories, and learned how to pose for pictures in a bathing suit.  WE DID IT.  And it was absolutely as inspiring as I'd hoped it would be.
The amazing Pechanga Resort was the perfect setting for what may very well be my absolute favorite girls getaway.  They helped me to giveaway a weekend to TWO amazing ladies and their guest of choice.  Each set of besties had their own room, we spent Saturday in a cabana by the pool (and let me tell you….I can't wait to bring Robbie and Lydia out for a weekend of pool days because the pool was AMAZING), and we had some of the best food I'd eaten in a long time (highly recommend the Lobby Bar and Grill).
How to Pose for Pictures in a Bathing Suit: The First Just Wear the Suit Weekend
Saturday morning, we met in our cabana at around ten am.  Our suits? From Kortni Jeane, and I love how each was unique.  Kortni Jeane has so many options, that women can easily find an option that is flattering to their body type in fun colors and prints.
My dear friend Annie is a talented photographer (and founder of Avenue Mama – an amazing group for moms who are business owners).  Not only did she shoot these stunning images, but she gave the ladies some advice before we started.  Annie's tips? Have fun.  Focus on movement, and let her do her job……getting stunning images of you.  And did she do it or WHAT?  I loved seeing each of these women come out of their shell, and seeing them ENJOY the process.  She seriously helped them feel comfortable and her tips on how to pose for pictures in a bathing suit (or any outfit) were SPOT on.
"To #justwearthesuit and then be photographed in a two piece was a huge leap for me but surrounded by these amazing women made it super fun & easy! So just go out there, laugh and make memories! Life is too short!  I can't thank Carly enough for making this day happen and Annie for these amazing pictures! They're breathtaking and I will cherish them forever! Everyone in these pictures and behind them…..I am in awe of how open and close we all became in such a quick amount of time! -Austria
"All I can say is strong beautiful women come in all shapes,sizes, and color. We should embrace it and support each other after all  we're all on the same mission and that is to be powerful and successful." -Nicole
What do I think? Did we learn more about how to pose for pictures in a bathing suit? Absolutely.  But my biggest takeaway? Community is the most inspiring thing of all.  Doing this TOGETHER was empowering, and a ton of fun.  And I can't wait to plan more weekend just like this one!