On the hunt for mother daughter matching swimsuits? I'm sharing all our favorite companies that make mommy and me bathing suits!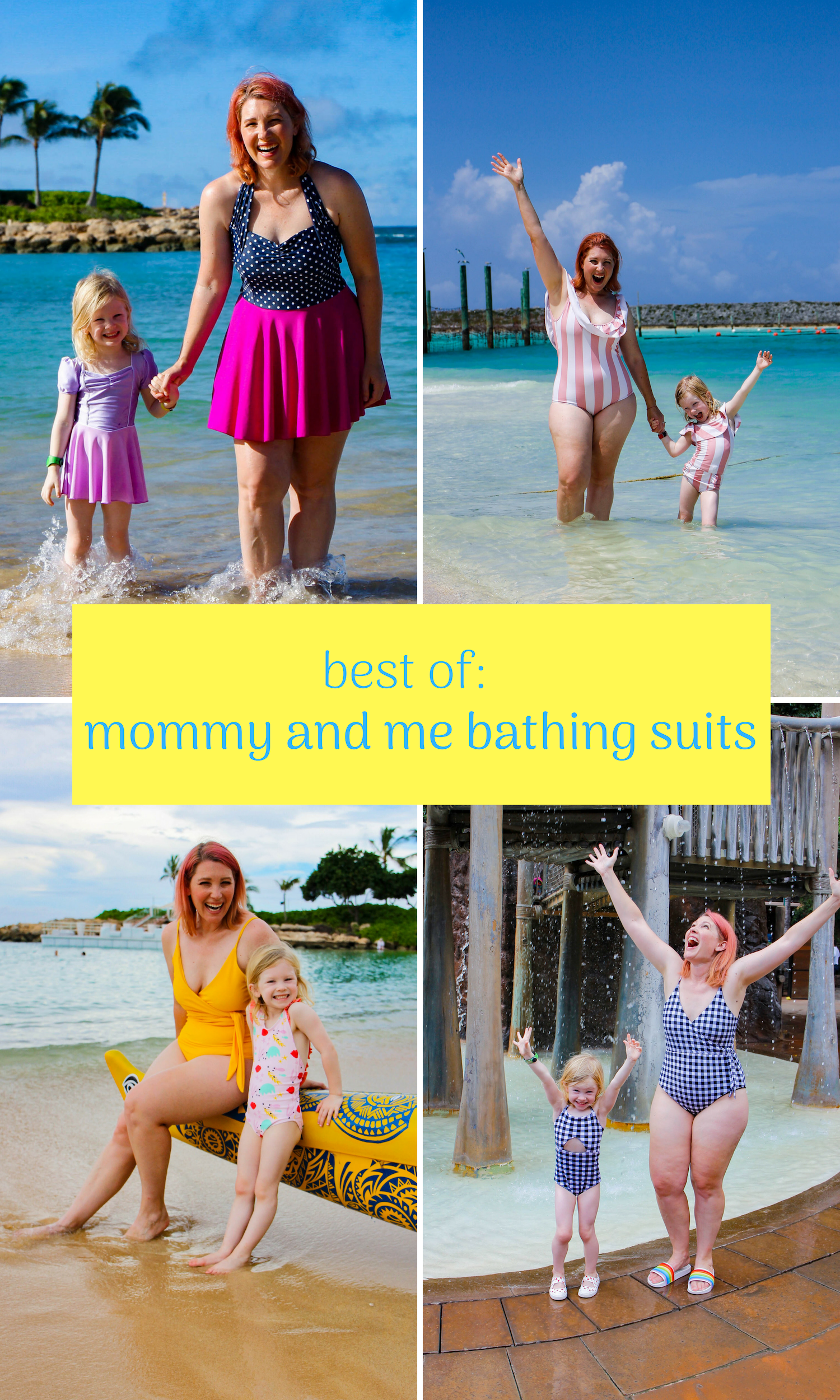 I know, the mommy and me twinning thing is everywhere.  While we don't wear matching outfits on a regular basis……one of my favorite times to match with Lydia? Poolside or at the beach.  You guys know I love a great bathing suit (I mean, look at Just Wear the Suit).  My favorite way to show my daughter that everybody is a bathing suit body? Mother Daughter Matching Swimsuits.  In the last few years it's been so much fun to shed my inhibitions, to let go of my insecurities, and to actually ENJOY the summer with Lydia.
I wanted to share some of our favorite companies that make mom and daughter matching swimsuits.  These are all lines we personally own pieces from, and highly recommend!
Mommy and Me: The Best Mother Daughter Matching Swimsuits
Each of these lines do an amazing job of making adorable suits that are also flattering and pear shaped body friendly.  I've purchased from each of these companies multiple times, and I absolutely love what each of them offers.  My biggest tip? Pick a suit that flatters YOUR body type. Mother Daughter matching bathing suits aren't that cute if you feel uncomfortable the entire time.
Kortni Jeane: Kortni Jeane is one of my favorite companies for mother daughter swimsuits…..because they have so many options for a flattering bathing suit.  They release a few prints at a time, and each print is available in a variety of one piece and two piece options for both women and kids (my personal favorites? The double ruffle one piece and the ruffled around top with the extended high waisted bottoms).  We wore our Kortni Jeane suits on our Disney Cruise and our trip to Great Wolf Lodge Anaheim.
Olivia and Ocean: Remember that stunning gingham bathing suit I wore last year when we shot the I Love Mom Bods campaign?  It's by Olivia and Ocean.  They make ADORABLE kids' swimsuits and donate a portion of the profits to water.org.  Their mom suits are a super flattering wrap shape (this yellow version is one of my favorites) and they make adorable complimentary kids' pieces.
Jessica Rey: Aren't these mom and daughter matching swimsuits from Jessica Rey adorable?!?  Jessica Rey's suits are made ethically here in Los Angeles, and are SUPER high quality.  She makes a ton of different style suits for women, but the kids' ones that I'm obsessed with…..are PRINCESS INSPIRED.  Can you tell which princess Lydia was channeling here during our Disney Aulani trip?
If you are on the hunt for the best Mother Daughter Matching Swimsuits, I hope this was helpful! All of these companies are founded by women, and make beautiful bathing suits that will be a blast to wear while matching your mini me at the beach or pool this summer!