On the search for holiday dresses? This cold shoulder dress is flattering, easy to wear and the perfect holiday color!
Funny story about the cold shoulder dress trend. I've sort of avoided it until now. Remember when Lydia and I went to Seattle for the mommy and me shop we curated last spring with Zulily? One of the outfits we styled with them was a cold shoulder dress / tunic and leggings. Well, Lydia tried it on and just couldn't wrap her head around it. She kept telling the photographer that her shirt was broken and pulling on the holes. I mean, out of the mouths of babes, right? I was a little wishy washy about holiday dresses with those exposed shoulders……..I wondered if they were so trendy that I would only wear them for a season. Enter THIS dress. I love the classic forest green color and the subtle velvet belt. I feel like it's a more mature version of a trendy piece and perfect for holiday parties throughout the season.
Shop My Outfit:
/ dress / heels /
pictures by Cindy Green Photo

Ironically, when Lydia saw this dress….she loved it. Maybe the concern about holes was a passing phase?
Holiday Dresses: Cold Shoulder Dress
So let's talk about where to wear this cold shoulder dress. I love that this one is easily dress up or dress down-able. I can totally image wearing it with mule heels to Thanksgiving dinner if your family gets dressed up or to church on Christmas Eve. Add a dressier heel (like this gold pair) and it would be perfect for an evening holiday party or a fancy holiday dinner with friends. Want to get even more use out of it? Add glittery heels and earrings….and wear it for New Year's Eve!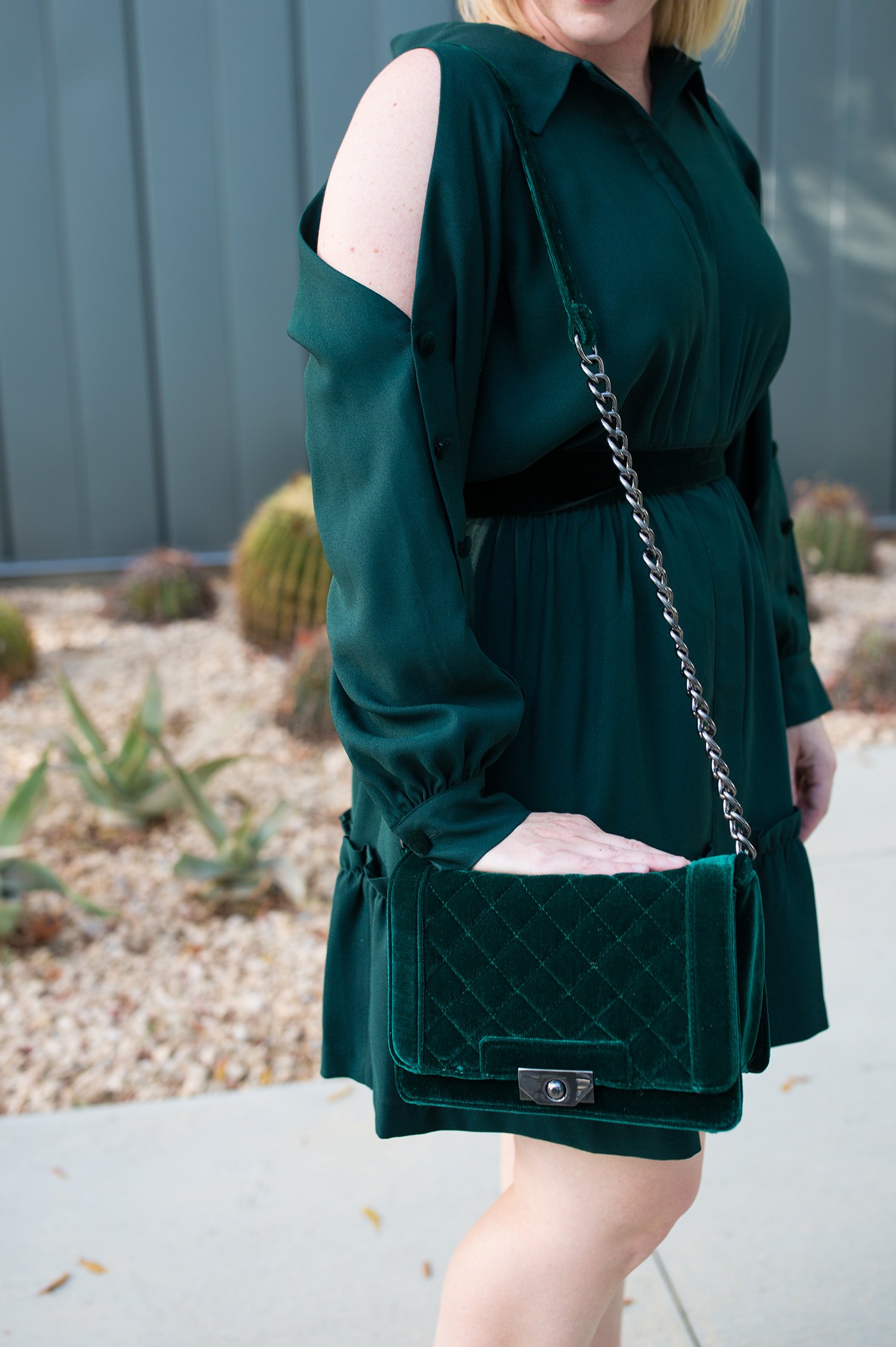 Are you on the search for great holiday dresses? Check out our series that shows TONS of different dress options for all your holiday parties!
If you know a friend who will love wearing this cold shoulder dress for the holidays this year…..then don't forget to use the buttons below to share this post on Facebook, Twitter, or Pinterest so that she can see it too!