Getting ready for summer? These are the best blue swimsuits at a variety of price points!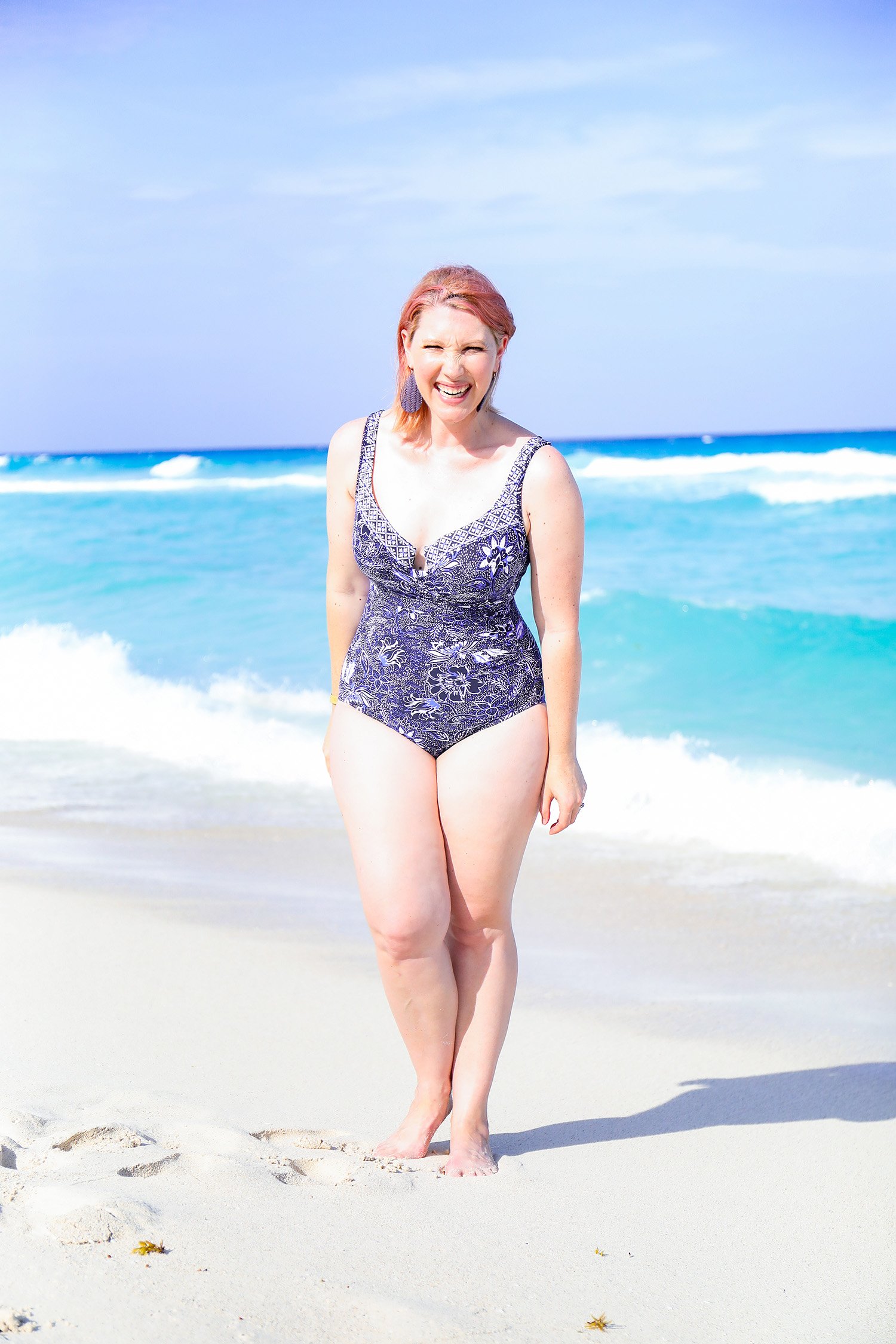 Let's talk summer, and the best summer days.  From the beach to the pool…….the best summer days are by the water.  And something about blue swimsuits to match the blue water? It just screams relaxing summer vibes and feels like the ultimate vacation wardrobe piece.
If you're on the hunt for a great bathing suit that is a classic you can wear year after year? These are some great options!  I love each of these for pear shaped bodies and women with curves……and there are blue swimsuits for every price point.  From bargain bathing suits under $50 to some of the best swimsuits from target to my favorite investment suit from Miraclesuit.…..there are blue bathing suit options for us all!
The Best Blue Swimsuits
If you're wanting one of these blue swimsuits for this summer?  There are so many fun ones! These? My favorite options:
Solid and Colorblocked Blue Swimsuits:
Shop These Suits:

Striped and Patterned Blue Swimsuits:
Striped Time and Tru Suit: Isn't this striped suit adorable? And bonus? It's under $20!!!!

Striped V-neck one-piece swimsuit: I love a refined neckline in a suit, and this one? SO PRETTY!

CUPSHE Women's V Neck One Piece Swimsuit Ruffled Back Cross Swimwear:  This striped suit? One of my favorite blue swimsuits in my closet.  It comes in a ton of colors, but I love the shade of blue they offer, it fits like a DREAM and it's a great price (under $30)!

Isla Plunge One-Piece Swimsuit: I love a patterned swimsuit, and the tied section on this one? Angled perfectly to be super stylish and to accentuate your stunning curves!

MIRACLESUIT PROVENCE D'AZUR SERAPHINA: This suit.  It was one of the suits I wore on my trip to Mexico with Miraclesuit a few years ago, and one that I reach for constantly in the summer months.  It fits like a dream!
Shop The Suits:

Scalloped and Ruffled Blue Bathing Suits:
Shop these Blue Swimsuits: 

Which of these blue swimsuits is your favorite?