Looking for the The Best Swimsuit for Pear Shaped Bodies For Under $50? These tried and true swim suits are a total steal!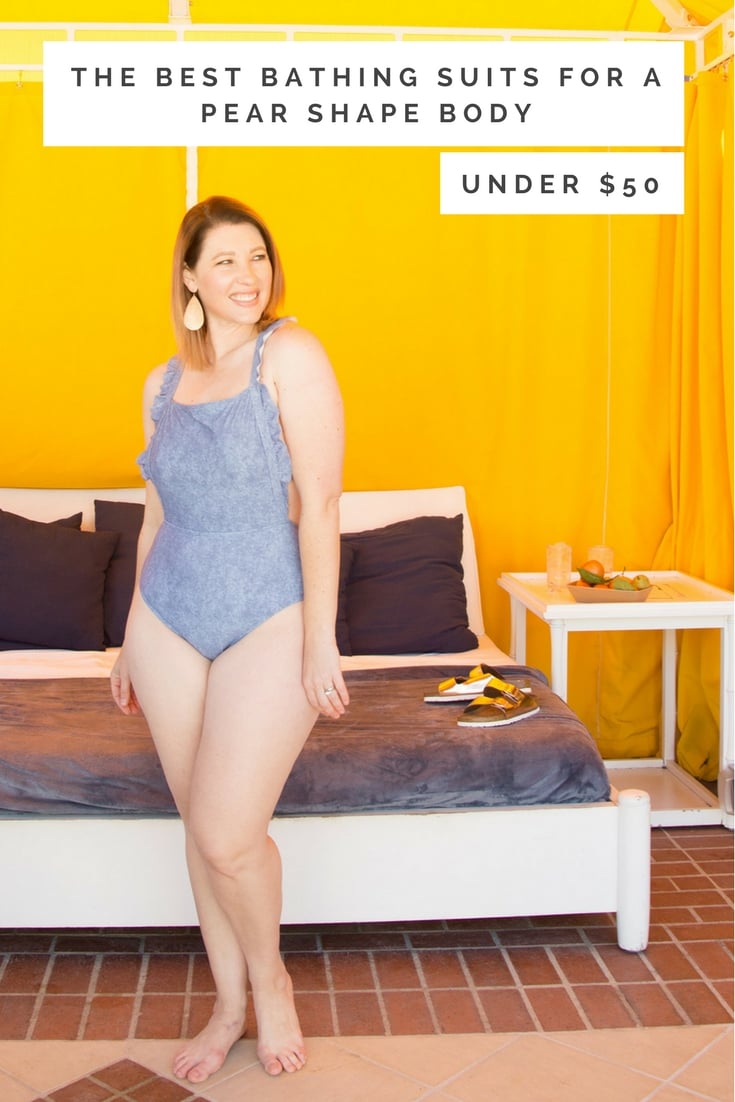 Can you believe we're already talking bathing suits? Yup.  Spring Break will be here before you know it, and then the countdown will be on to summer vacations filled with beach days, pool visits, and summer family vacations.  I know I've been talking a lot about my own experiences wearing a bathing suit (including that time a mom at the pool threw me some serious shade), and I've been sharing a ton of my favorite options for a bathing suit for a pear shape body.  But, have you noticed the PRICES? Finding great bathing suits to flatter my curves that also flatter my bank account? NOT AN EASY feat.  No joke, this has taken MONTHS of research.  But, I finally did it.  I found some great Bathing Suits for a Pear Shaped Body Under $50.  You're welcome.
If you're looking for bathing suits that flatter a pear shaped body, keep the following in mind:
you want to draw the eyes UP…..so details like ruffles, an interesting neckline, fun prints up top……will always flatter a pear shape
don't COVER the curves, flatter them…..I used to try to hide my hips and thighs in boy short bottoms, and they looked TERRIBLE.  The right cut will do much more for your figure than hiding it will
accentuate that waist….pear shaped body types nip in at the waist……so get a swim suit that SHOWS that off……yup, even a two piece or cutouts will work!
The Best Swimsuit for Pear Shaped Bodies under $50
Printed One Piece
You probably think I'm crazy, right? Draw more attention to your curves with a print? YUP.  DO IT.  With a great cut, you can totally rock a printed suit.  I'm loving stripe (like this blue striped one, so CUTE) , fun graphic prints (this color blocked version is PERFECT for summer), and or great florals (I love this brown tropical floral suit) or even this fun leopard print.  Who says we have to hide behind black bathing suits?  Get a great colored print that flatters your skin tone!
A few of my favorite printed one piece bathing suits for under $50:
Solid One Piece
Looking for a great solid one piece (like the one pictured)?  To flatter a pear shape body, my favorite tip? Ruffles and accents.  I love a great off the shoulder suit (like this one for  $30…..INSANE deal) or simple ruffles touches to jazz up a great solid one piece (this ruffle accent? AMAZING!) or even scallops around the neckline (this black one is a TOTAL STEAL) and to draw eyes to my favorite body parts.
A few of my favorite solid one piece swim suits for under $50:

 Bikini
Yes, I'm telling you to wear a bikini.  You can do it ladies! To be honest, if you'd told me a year or two ago that I'd be rocking a two piece bathing suit on the internet….I'd probably have laughed at you.  But, here we are.  On a pear shape body? Think an eye catching top (this black one is a current fav)!
A few of my favorite bikini swim suits for under $50:
Want to see more bathing suit options for a pear shaped body? Check out:
/ Putting my A*s On The Internet Changed My Life /
/ THE BEST BATHING SUIT FOR A PEAR SHAPE BODY /
/ THE BEST BIKINI FOR A PEAR SHAPE BODY /
/ THE BEST WALMART BATHING SUITS /
/ THE BEST BATHING SUITS FROM TARGET /