Working on making family halloween costumes? These 3 No Sew Ideas are easy as pie!
It's that time of year…….the scramble to figure out Halloween Outfits time.  Now, I'm probably not the only one who isn't talented in the sewing and crafting area (RIGHT)?  Around the beginning of October, I normally scour the internet for creative costume ideas….only to find a million that are adorable, but not easy to make.  My goal this year? 5 minute Halloween Costumes for families.  Simple, easy costumes that anyone can recreate with glue and the right accessories.  If you're on the hunt for last minute halloween costume ideas, these will be right up your alley!
I let Lydia pick two of the ideas, and the other…..was all mine (you can guess which was my idea versus hers).
Family Halloween Costumes: 3 No Sew Ideas
Each of these costumes is based around a simple piece of clothing from Primary.  I love their inexpensive, comfortable items as a base in my daughter's wardrobe.  And when we think family halloween costumes? I know that they will ALWAYS have whatever color and item I need.
Looking for MORE family halloween costumes? This article has a TON of cute and easy to make ideas  and THIS one? Has 52 more ideas!
Quick Homemade Halloween Costumes: Mary Poppins
This one may have been my favorite.  It might be Lydia's little hat.  Or just how ridiculously easy this one was.  I ordered gloves, my broom and my hat, and Lydia's mini Mary Poppins hat.  The only diy part? Adding that little red bow tie to her dress.  This one literally took under 3 minutes.
Shop Lydia's costume elements:
/ black dress / white tee / knee socks / shoes / mary poppins hat / gloves / bag /
Shop my Costume Pieces:
/ grey dress / hat / broom /
Quick Homemade Halloween Costumes: Mouseketeers
Ok, truthfully…..Lydia didn't know what inspired these family halloween costumes.  So then we went down a rabbit hole of photos of the ORIGINAL Mickey Mouse Club.  These costumes are my total favorite.  SUPER easy to make, and I had the pieces for mine already in my closet.  Iron on letters are ALMOST impossible to mess up, and look polished.
Shop Lydia's costume elements:
/ black skirt / white tee / knee socks / shoes / iron on letters / ears /
Shop my Costume Pieces:
/ black jeans / tee / iron on letters /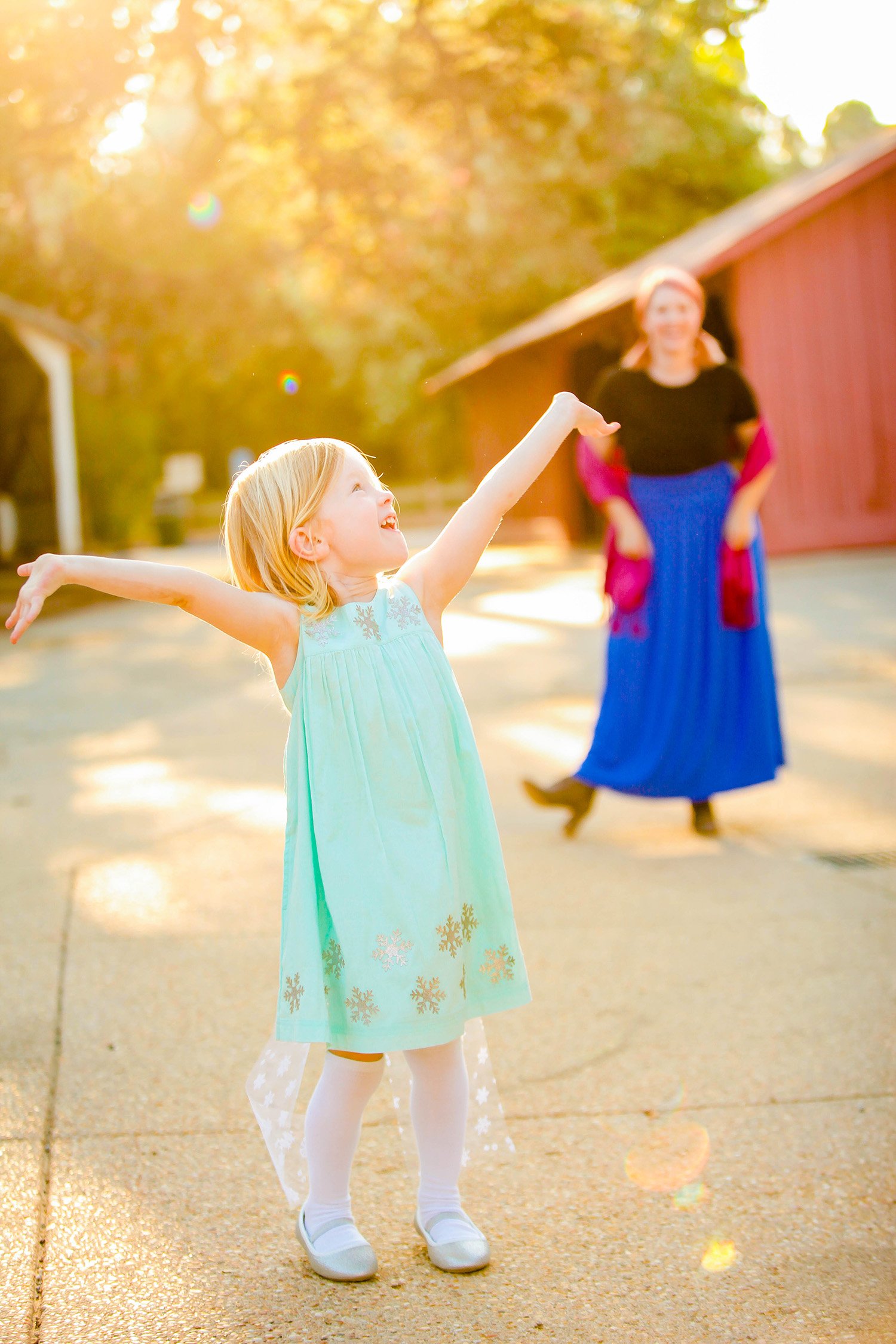 Quick Homemade Halloween Costumes: Frozen
Doesn't every kid on earth want to dress up as Anna and Elsa for Halloween? This was the most intricate costume we made, and it still took under 15 minutes.  We ironed on snowflakes, and I used a hot glue gun to attach simple tulle to the back of Lydia's dress as a cape. If you've got a Frozen fan in your family….this costume is for you (and we made my husband an Olaf costume out of a white baseball hat).
Shop Lydia's costume elements:
/ dress / iron on snowflakes / snowflake tulle / shoes /
Shop my Costume Pieces:
/ skirt / black tee / shawl / boots /
For more Halloween Fun Check Out:
Disneyland Outfits: What to Wear to Disneyland Halloween 2018
10 Mommy and Me Halloween Activities
What are YOUR favorite family Halloween costumes ideas? What will you be dressing up as this year?