Looking for mother daughter halloween costumes that are easy to put together? These no sew costumes are the perfect mommy and me options!
The air has cooled down, leaves are starting to change colors, school has started, and…..Halloween is coming! Anyone else love this time of year? Coming up with Halloween costume ideas is a PROCESS in our household, and one that starts around the Fourth of July (ha).  We've done a ton of fun family of 3 Halloween costumes in the past, but Lydia and I have also done really cute easy diy mommy and me costumes (spoiler there are a lot of Disney ideas in here).
If you are looking for easy DIY Halloween costumes (because yes, we'll still be wearing them even if we're at home)……these are some simple and fun suggestions!
The Best Mother Daughter Halloween Costumes:
Shop All Amelia Earhart Items:

If you're looking for a little girl power costume that's super easy to put together a little less likely to be common place this year……our Amelia Earhart outfits is a perfect costumes fit (bonus if you can recognize where in a Disney Park we took these pictures).  We put these together over a year ago when I wrote an article about the Best Amelia Earhart Books For Kids, and they're a PERFECT casual Halloween costume.  Lydia's headpiece (in my opinion) makes the outfit!
mother-daughter halloween costume: Frozen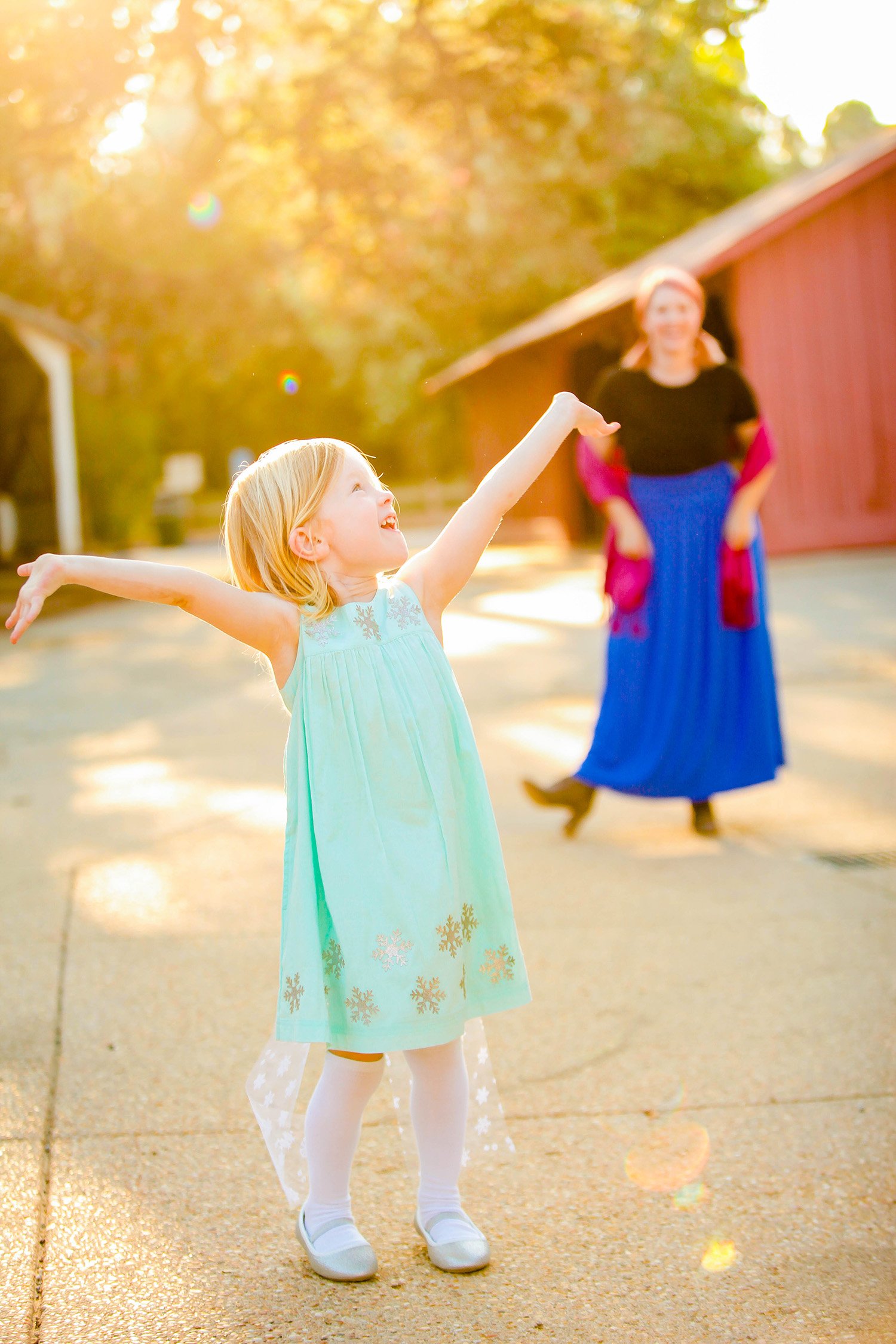 Shop All Anna and Elsa Items:

Got a Frozen fan in your house? Y'all know we're epic Frozen (and Frozen 2 fans)……so a mother daughter costume matching the princesses (or Queens) from our favorite Disney franchise? Was obviously a must do.  This was SUPER easy to make (if you can iron, you can do it) and might be Lydia's favorite costume to date.
mother daughter outfit: Mary Poppins

Shop All Mary Poppins Items Here:

Did Mary Poppins Returns totally reinvigorate your love for the original Mary Poppins?  When the movie released we fell in love with Mary Poppins and the entire Banks family all over again…..and it's been on constant rotation in our household since.  Mary Poppins and a Chimney Sweep is a fun and super easy costume idea……it's ALLLLL about the accessories for this one (hello, look at Lydia's adorable little hat!)
mother-daughter costume: Mickey Mouse Club
Shop Our Mickey Mouse Club Items:

When I was in third or fourth grade, I wore a Mickey Mouse Club Halloween costume, so I had to make a set of MMC mother daughter Halloween matching costumes as a throwback.  The irony? Lydia kept asking WHAT these were….and I realized I needed to show her some original episodes.  These are THE EASIEST to make with items you probably already have in your wardrobe (just add some iron on letters).  And bonus? You can easily add in costumes for all your family members (this is a great one for a mother daughter duo, easy baby costumes, or a whole family option).
Mother Daughter Halloween Costumes: Alice in Wonderland
Looking for an easy and cute costume idea? We planned this one around Lydia's Alice costume. I love that our coordinated outfits were COMFORTABLE and easy. We ordered the accessories, and then just wore sweat pants and tee shirts. This is a great way to plan fun mother daughter halloween costumes that truly stand the test of time!
Have you planned mother daughter halloween costumes? What are your favs?