Wondering what to do in Anaheim when you don't have a park ticket? This is the complete guide to Downtown Disney!
Now, you guys know we love a Disneyland day……but one of the questions we get asked the most? What should we do on a day we don't have park tickets? Or when our annual pass is blocked out? Downtown Disney is one of my favorite weekend destinations, and has a TON of fun family options!
Downtown Disney: Everything You Need to Know
Parking Info: Not gonna lie, we love love love parking at Downtown Disney, it's SO easy.  How to do it? You can park at Downtown Disney for 3 hours with a $20 purchase and validation from any retailer or you'll receive validation for 5 hours from any table service restaurant.
Downtown Disney Dining (our favorites):
There are a TON of amazing dining options at Downtown Disney.  We love visiting for an evening, eating and then walking around to shop and people watch.
Ralph Brennan's Jazz Kitchen: Jazz Kitchen is a REALLY fun experience (and bonus the food is amazing).  Creole flavoring, live music, and super fun decor? Make every meal feel like a party.  Their food is phenomenal (I'd highly recommend the Boudin Balls) and the live jazz music is top notch.  They're also great with kids, so this is perfect spot for a family meal.
Catal: Looking for a great happy hour? Catal is your spot.  It's the perfect place to relax and get away from the crowds.  They also have AMAZING brunches, and do really fun special occasion options (we loved the Catal Easter Brunch and will definitely be doing their Brunch with Santa this holiday season).  Our favorite brunch item? The Chicken and Waffles are TO DIE FOR!
Black Tap Craft Burgers and Shakes: If you love a good milkshake…..the CrazyShakes at Black Tap will be your new favorite thing.  From the Bam Bam Shake (filled with Fruity Pebbles) to the Cookies and Cream Supreme, their Instagram-famous milkshakes are delicious and a ton of fun.  Bonus? Their burgers and other meal items are ALSO great, and the environment is playful and fun.  Perfect for a quick meal.  Pro Tip: if you'd like just a milkshake, there is a to go shake window and the line moves VERY quickly.
Splitsville: Bowling AND great food? Splitsville is a GREAT family outing spot. We first visited Splitsville when we were down for Lydia's Disneyland Birthday weekend.  This hip bowling alley has great food, and is perfect for families who have super active kids.  We reserved a bowling lane, and ate THERE.  I love the option of ordering a full meal to your lane.  They have great seating areas, and the service is impeccable!
Starbucks: Another fun time to visit Downtown Disney? Morning playdates.  I love to visit for a couple hours before it gets crowded, to grab a coffee at the Starbucks and to explore a bit.  Lydia loves window shopping and checking out all the decor around the resort.
Downtown Disney Shopping:
From window shopping to massive shopping sprees, Downtown Disney has fun and unique shopping options that are perfect for getting that pixie dust fix!
World of Disney: World of Disney has the largest selection of Disney merchandise on the West Coast. It's a stunning store with fun, immersive displays and I can GUARANTEE you'll find something for everyone.  Be sure to look for the animated posters that come to life!
The Disney Dress Shop: If you love Disney style and Disneyland outfits, then the Disney Dress Shop is a must visit.  They carry stunning pieces inspired by Disney magic (and even have adorable mommy and me sets).  Lydia loves checking out the latest prints and patterns!
The Lego Store: The Lego Store displays are so much fun (be sure to check out the dragon), and they have a great interactive play area outside.  We usually pick up a Starbucks and visit that area early in the morning, and it's the perfect way to kick off the day!
Wonderground Gallery: Wandering Wonderground's Gallery is one of our favorite after dinner activities.  This space is filled with Disney art, and often has signings for the artists.  Plus, it's a perfect place to buy unique gifts and home decor!
Disneyland Hotel and Grand Californian:
Did you know that you can visit all three Disney resort hotels without a park ticket? While you can't do things like SWIM without a room key, there are plenty of fun things to check out at each hotel (plus they're always decked out for the holidays)!
Disneyland Hotel: The Disneyland Hotel is my personal favorite because it's so……Disney-ish.  It's really fun to walk around and look at the displays in each tower lobby.  There are adorable tea cup tables in the main lobby, and a ton of cool topiaries around the property.  Tangaroa Terrace Tropical Bar & Grill has GREAT food (you can do mobile ordering or table service) and they usually have live musicians in the late afternoon and evening.  Plus, if you'd like a Disneyland Character Dining experience without going into the park…..Goofy's Kitchen is a great one! And if you're looking for adult style dining, Steakhouse 55 is AMAZING.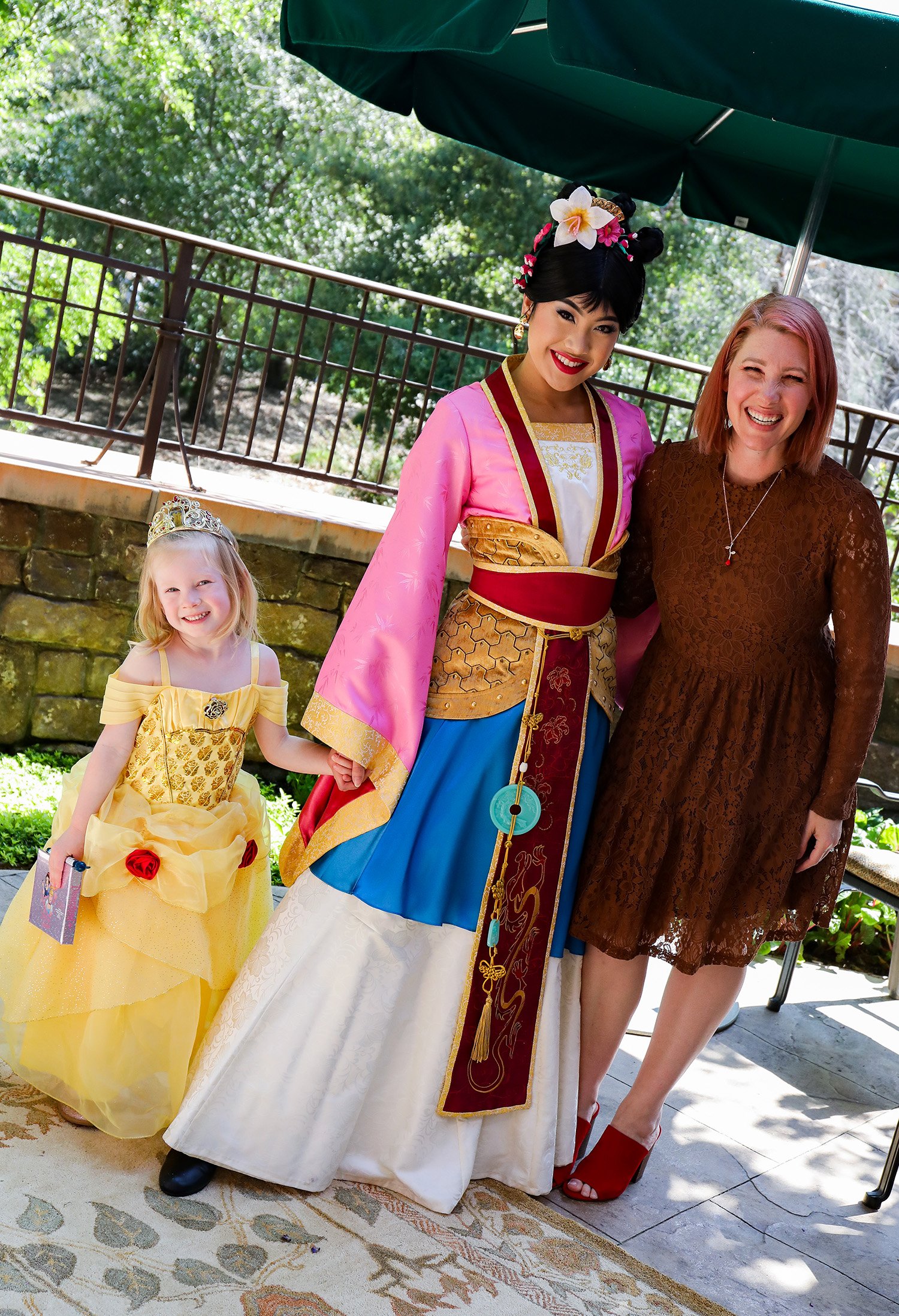 Grand Californian: Looking for a relaxing, air conditioned place to take a break from the parks or to visit on a day you don't have a park ticket? Grand Californian is always my top recommendation for relaxing.  The lobby is STUNNING.  There's a television with mini rocking chairs where kids can sit and watch cartoons, a live piano player during some parts of the day, and there's always the amazing gingerbread house display there over the holidays (they even have carolers at times).  The Grand Californian has an amazing spa, and many awesome dining experiences.  The Princess Adventures Breakfast is absolutely magical, and Storytellers Brunch is also really fun.
Have you visited Downtown Disney? What are your favorite places to eat and shop?