Heading to the Happiest Place on Earth? These polka dot outfits are the perfect Disneyland Outfits!
Let's be honest…..when it comes to our favorite Disney Characters…..Minnie Mouse is at the top of our lists right (or at least top three)? She's a fashion icon and the inspirations for the BEST polka dot outfits.  For our latest round of Disneyland Outfits? I wanted to share our favorite park outfits inspired by Minnie.
Disneyland Outfits: Polka Dot Outfits
The weather at Disneyland can varies GREATLY by season and and even by time of day.  It can be warm during the days and pretty cold when the sun goes down.  My biggest tip when coming from out of town for Disneyland Vacations or planning a longer Disneyland day?  Bring layers or options that work AS layers.  If you're looking for more info on what type of Disneyland Outfits to wear by season or time of day……check out my DISNEYLAND OUTFITS FOR EACH SEASON blog post, it will help you decide what to pack if you're coming from out of town depending on time of year.
When you're planning polka dot outfits……think fun colors.  For me? Red or blue or yellow…..are all colors we see all over Disneyland.  Especially when you are planning to take pictures these colors will look GREAT against the fun backdrops of Disneyland or Disney California Adventure.  And pro tip? If you're looking for fun places to take Minnie Mouse themed pictures? Toon Town is my personal favorite.  It's colorful, fun and you can even walk through Minnie's house!
Shop all Polka Dot Pieces: 
This polka dot dress? One of my favorite items that I grabbed from Amazon last year.  It's super versatile and great for warmer days at the park with a pair of sneakers or sandals.  Add my favorite new Minnie necklace and you're set (especially for a nicer dinner at Carthay Circle or Steakhouse 55).
/ polka dot dress / sneakers / necklace / ears (similar) /
Now let's talk simple polka dot accessories.  These belts, wallets and bracelets? Some of our absolute favorites.  They're the perfect way to create polka dot outfits out of any basic pieces.  Plus, they're a GREAT price.  This outfit is great for late spring into early summer when the weather is perfectly warm without being overly hot.
/ belt / kids belt / bracelet / wallet / shoes /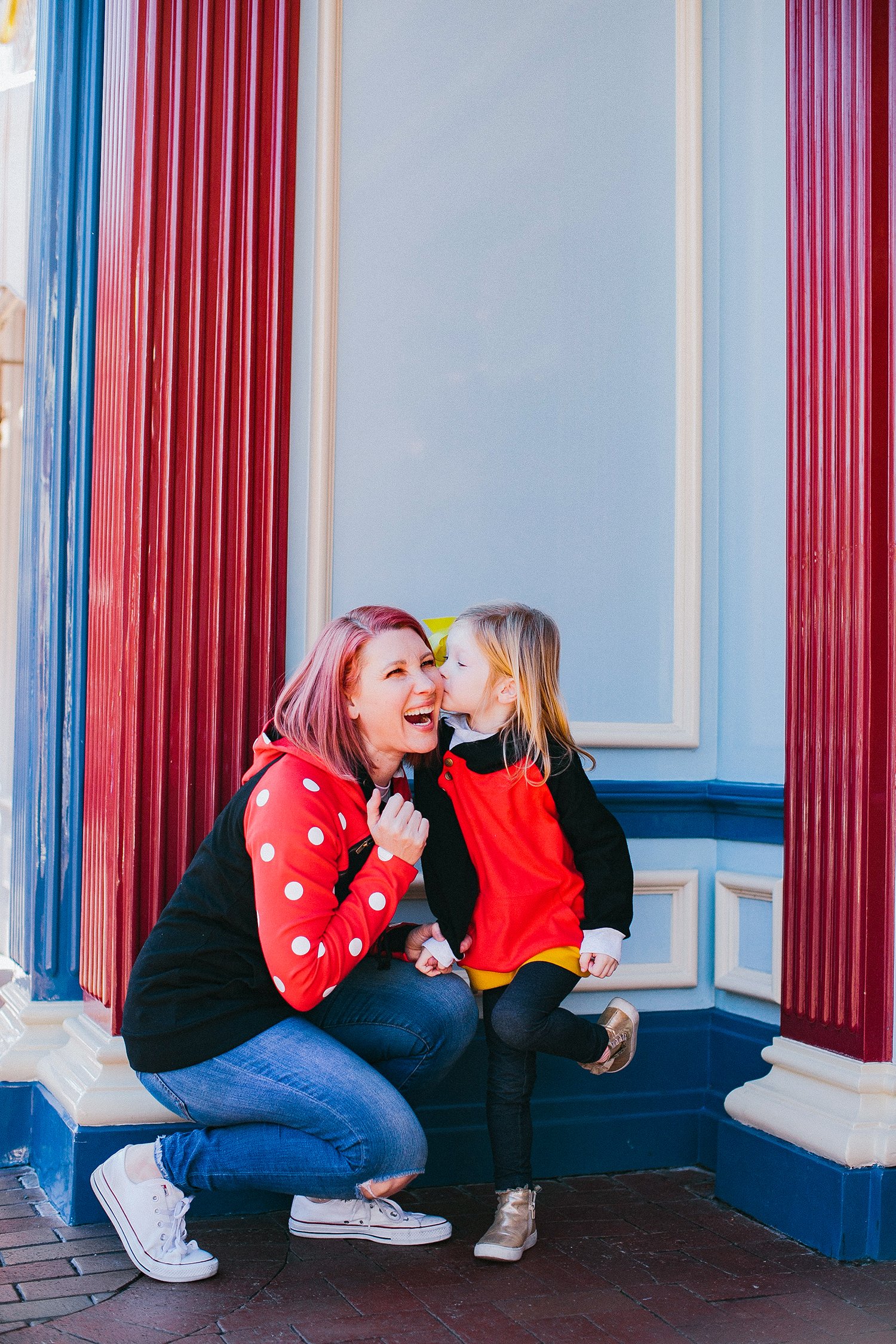 Heading to Disneyland during the cooler months? Layers are KEY.  And these Minnie and Mickey hoodies? Are some of our favorites.  They're heavy enough to warm you up and look great with jeans and sneakers.  We usually bring a jacket, and store those in the lockers during the day.   Then add a jacket and beanie to these outfits at night for chilly evenings.
/ minnie adult sweatshirt / minnie kids sweatshirt / jeans / sneakers /
Looking for a more subtle polka dot outfit? This is the polka dot skirt that I've been raving about.  It's a killer price and super flattering.  Add a minnie mouse tee and red sneakers? And you're totally prepared for the best Disney day.
 / polka dot skirt / minnie mouse tee / sneakers /
So what do you think? Out of all these polka dot outfits is there one you'd add to your Disneyland outfits closet? And which looks like it's the best fit for your style?