Want the scoop on the latest Disneyland character breakfast? We tried the new Disney Princess Breakfast Adventures at Napa Rose inside Disney's Grand Californian Hotel……and I'm telling you EVERYTHING you need to know.
Thank you to Disneyland Park and Disney Family for hosting us at the Disney Princess Breakfast Adventures media event.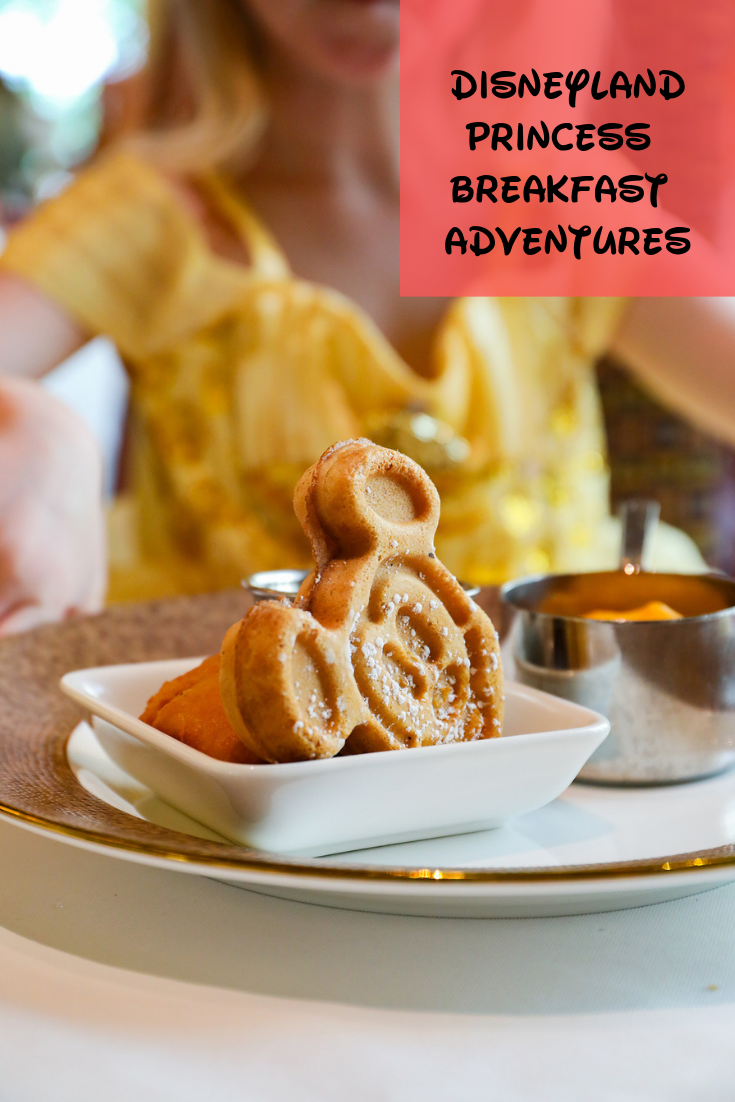 We DID IT.  We tried out the latest Disney Character Breakfast.  In fact, we've done it twice now (once for media event when it first opened and once more recently with social distancing in place).  And I'm super excited to share every detail of both experiences (don't worry, both times were just as magical as any breakfast filled with Disney princesses can be).  You guys know that Disneyland Character Dining is our thing.  In fact, we've tried every single Disneyland Character breakfast, lunch and dinner available at the Disneyland Resort.  So when the news broke that the Disney Princess Breakfast Adventures was coming to Napa Rose at the Grand Californian, my question wasn't if we were going…..it was when.  We're a princess loving family (I mean we even just checked out the Disney Princess Subscription Box), and character dining? It's our THING.  It's my top recommendation for every family coming to the Happiest Place on Earth.  You get a chance to sit, relax, eat great food, and the characters come to YOU.
Disney Princess Breakfast Adventures: What You Need to Know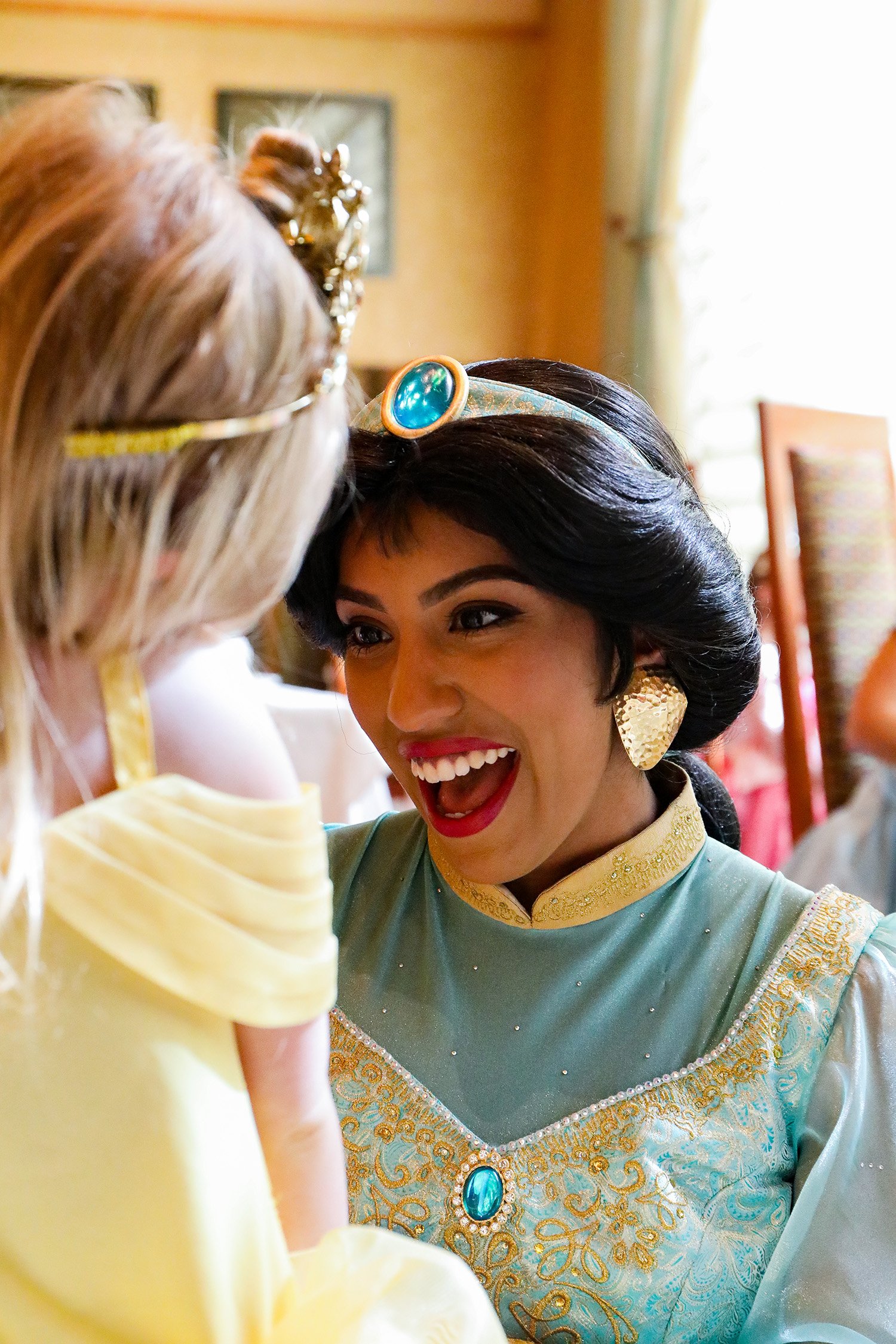 The Agenda:  
Pre-Pandemic: Disney Princess Breakfast Adventures is organized into three main components.  The start of the Adventure, the Dining Experience, and the special Princess Interactions.  Upon entering Napa Rose, we were lead into a beautiful waiting area where we met our Breakfast Adventure Guide and our first princess.  While we waited to be sat in the main dining room, there were adorable tic tac toe games to play, a musician playing princess themed music, and Rapunzel interacted with each guest.  After a short period of time, we were lead into the dining area where a beautiful tablescape awaited us (complete with a napkin folded like a rose).  After being seated, we enjoyed a full three course meal and a buffet (see below in the food section for all food details).   The meal moved at a slow and relaxed pace, and while we ate…..four princesses came up to our tables.  We visited with Tiana, Belle, Aurora, and Jasmin.  After our dessert course, we were escorted outside to the patio for three special princess interactions (see below in the experiences section for more details).  After our last interaction, our Disneyland Princess Adventures experience was over and we exited with a very special parting gift.

Post-Reopening: The agenda during the CURRENT breakfast is similar, but makes more use of private patio areas (I thought Disney did a GREAT job with this).  It's important to note that all character meet and greets took place outdoors.  Upon entering the Napa Rose, we were still lead the waiting area and there was still a guitarist playing.  We played a fun tic tac toe game, and then were invited by the hostess to head outside to a small patio off the waiting area where we got to spend a bit of time with….TIANA! She is one of our favorite characters, so this was a PERFECT start to the three course meal.  For each character interaction, there was a fancy rope that divided the guests from the princesses.  With that spacing, all were able to distance but still visit and take pictures.  We spent QUITE a bit of time with Tiana and then headed back to the waiting area to finish our Tic Tac Toe game.  Soon after, we were seated in the dining room for our three-course breakfast.  Princesses did not come to the table during dining, instead we visited them on a second private patio.
The Characters: 
Pre-pandemic: We saw 8, yes I said EIGHT princess during this Disney Character Breakfast experience.  It's the most characters I've ever seen at a Disneyland Character Dining experience, and it was by far the most time that I've ever seen a character spend with each guest.  We visited with Rapunzel in the bar area and waiting area.  While dining, we got to see Tiana, Belle, Aurora and Jasmin.  For the special experiences, we visited with Mulan, Pocahontas, and Ariel.
Post-Reopening:  One of the most magical breakfast features for this experience is….the princess interactions.  They are so unique and are truly why we book this meal.  I have to admit, I was worried that the magic would be less….and I was 100% WRONG.  We still saw eight princesses, and it was all outdoors.  Instead of princesses visiting at our table, we were able to get up at our leisure to visit 3 princesses at a time outside on the patio.  We visited multiple times and were able to see Rapunzel, Cinderella, Ariel, Mulan, Jasmine, and Pocahontas.
The Food: The food was the best part of the Disney Princess Breakfast Adventures (and that's saying alot because I loved loved loved seeing all the princesses).  From start to finish, the menu was amazing (and I was impressed by how much of it my picky preschooler ate).
What We Ate (and what we thought):
First Course: fresh-baked pastries, scones, lemon curd: The scones were DELISH, and the lemon curd was divine.  I love that there were multiple options in our pastry basket.  There was definitely something for every palette.
Second Course: this course was FILLED with amazing, princess themed plates.  The Banana Wrap was an amazing brulee crusted roll with a berry compote.  The Magic Carpet Ride Parfait is a delicious Chia and Granola Parfait with Mango, Kiwi and Coconut.  The Tangled sandwich is a Open Face Ham and Cheese Sandwich with Cranberry Cream Cheese.  And the lobster rolls came complete with a dinglehopper.  My personal favorite? The lobster roll was AMAZING.  My daughter's favorite? She loved the Magic Carpet Ride Parfait.
Buffet / Main Course: After the second course, we visited the buffet.  And it was probably the best buffet I've been to in my life.  It's filled with hot entrees like scrambled eggs, bacon, artisan turkey sausages, fresh fruit, seasonal vegetables like roasted tomato and asparagus, mickey chicken and waffles (with our favorite mickey waffles of course), beef sliders with bbq sauce and pineapple salsa.  The chicken waffles are AMAZING and a do not miss item.  You can also order omelets to be made to your liking.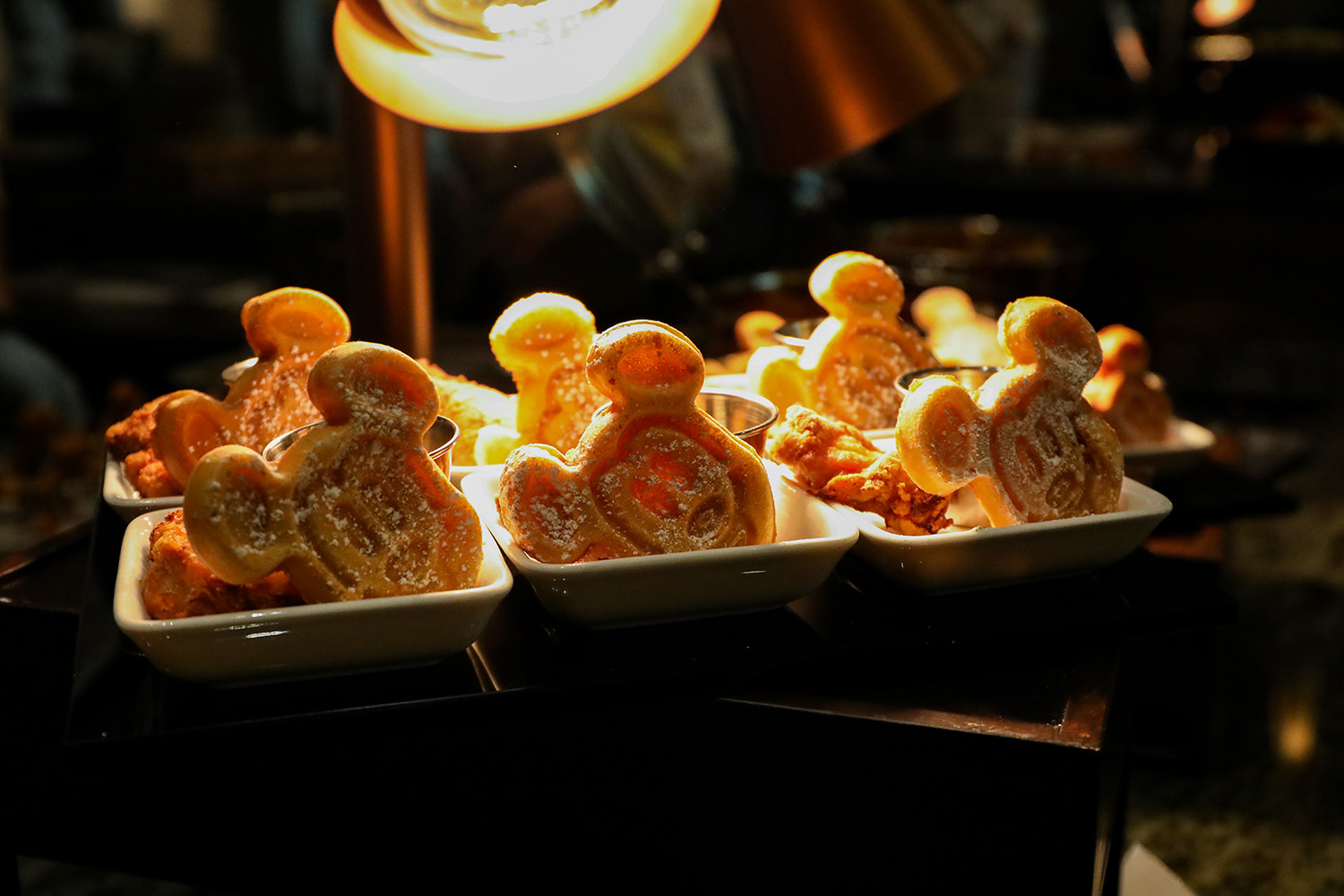 Third Course: DESSERTTTTTTT! The final course is the sweetest, and we all know that there are no desserts like Disney desserts.  Prepare yourself, because these are absolutely divine.  From the chocolate princess cake pops to the seashell macaroons (you guys know I love me a good Disney macaroon) to the most delicious petite raspberry tarts….the Disney Princess Breakfast Adventures dessert course is the perfect ending to a stellar dining experience that little princesses and princes alike will LOVE.
The Experiences: One of the most unique parts of the Disney Princess Breakfast Adventure is the patio experience.  After dining, each table is escorted outside for three special interactions with princess who were NOT inside the dining room.  First, we sat for story time with Mulan.  Our group of three girls and three moms spent at least 15 minutes with Mulan.  We each had time to take pictures, chat with her and then the girls sat with her on a small rug while she told them the story of her own family.  After that they practiced warrior poses together.  Second, we had a meet and greet with Pocahontas.  She taught the girls about bravery, and practiced special hand signals with them plus talked to them all about Meeko (her pet raccoon).  Our final experience was an exclusive photo opportunity with Ariel.  We entered a small room, where Ariel greeted each guest and then a Photo Pass Photographer took pictures.  We were able to take pictures ourselves as well, and then Ariel showed the girls how her dress twirled just like theirs.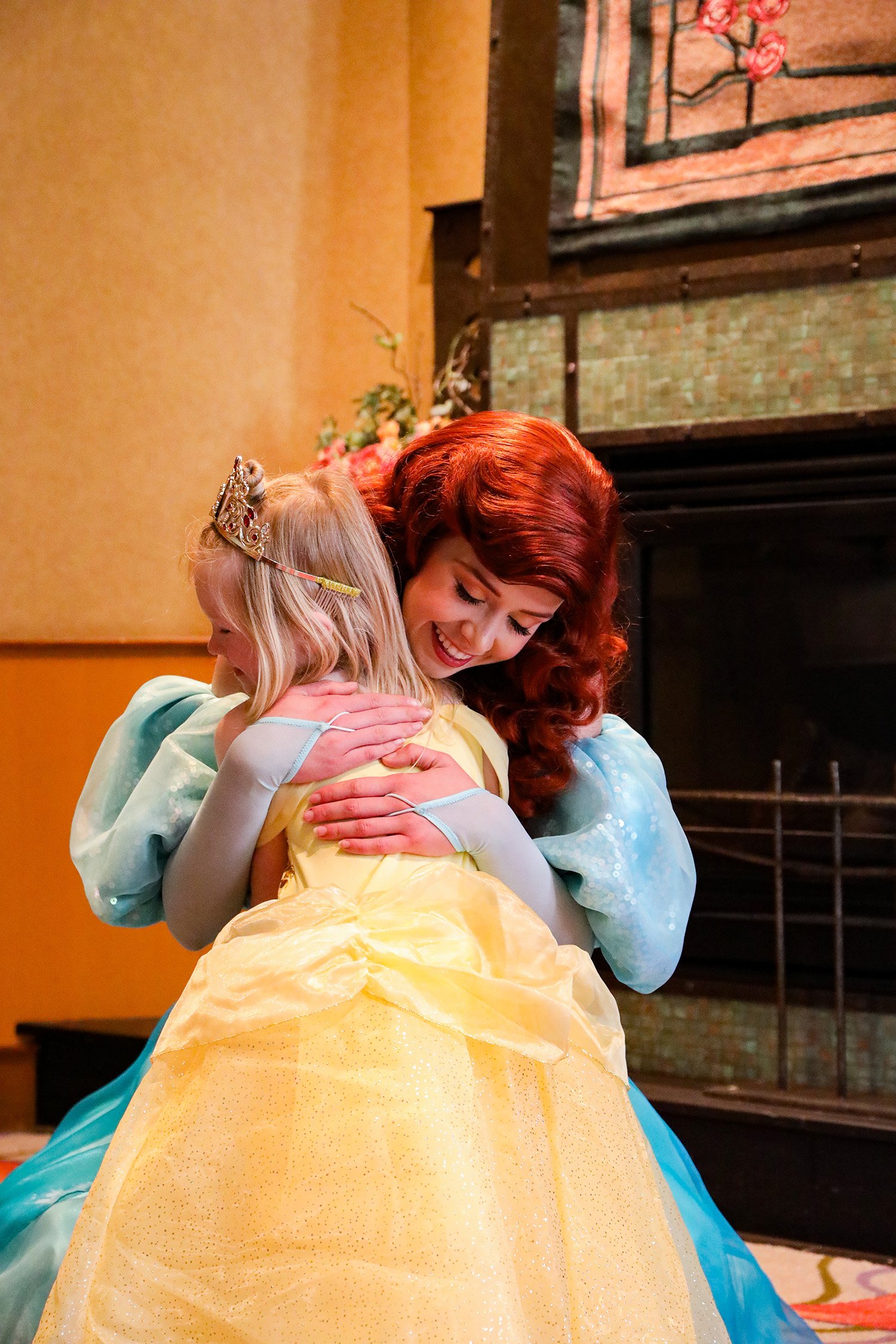 Having this much time to interact with characters is absolutely amazing.  I love that the children were encouraged to chat with each princess and ask questions.  I also loved that the princess focused on strong character traits when they talked to the guests.  I heard discussion about bravery, honoring family, working hard, reading……and my girl power, Dream Big Princess heart soared with each interaction.
The Gift: At the end of the experience, each guest received a special keepsake.  It was a small drawstring bag with the Disney Princess Breakfast Adventures logo.  The first time we visisted they also received a special necklace with a tiara on it, and chocolates with the experience logo.  When guests ENTER the experience, each guest is given a choice of an autograph book and a special pen.  Recently, we received the bag and a special button along with a puzzle.  Lydia was overjoyed BOTH times with her gifts.
The Price: The Disney Princess Breakfast Adventure is $125 per guest (ages 3 and up).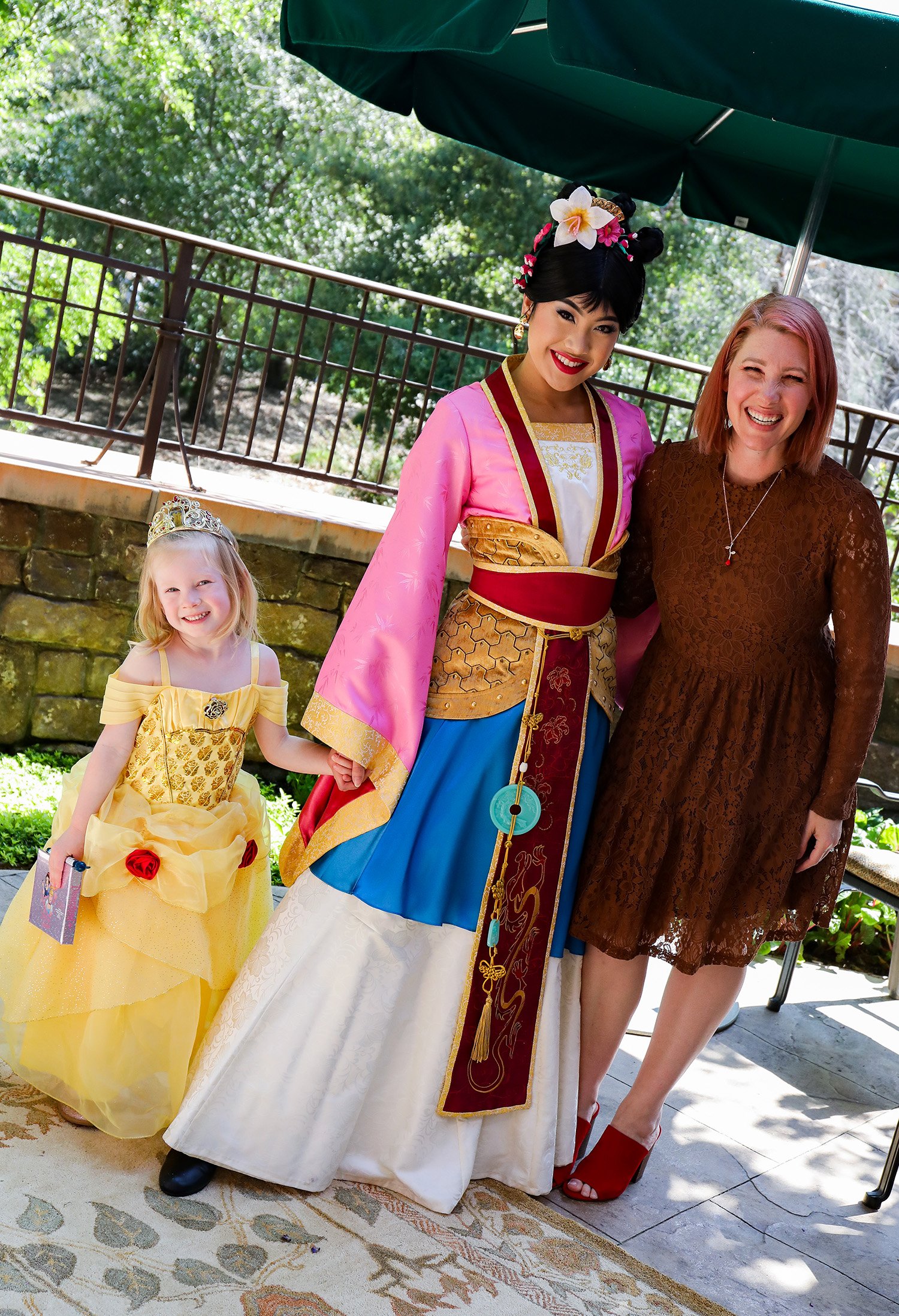 The Verdict: I have to be honest,  I was a little concerned about the price of this Disneyland Character Dining experience.  I went into wondering if I would feel it was worth the price tag.  And I left knowing I'll be back.  It is 100% worth every penny.  This dining experience is so unique.  The food is AMAZING.  The ambience and decor is perfection.  Every detail from rose shaped napkins to tic tac toe games for younger diners has been thought of.  The character interactions are intimate and there are more of them than you'll get ANYWHERE.  This is the perfect place to celebrate a special birthday, a graduation, even a bachelorette party.  If you have a princess lover in your family…..it's an absolute must do.  Even if that princess lover is YOU.