Let's talk leggings.  I tried on over 17 pairs, and I'm sharing the three BEST pairs of black leggings for a pear shape body!
I know, I know.  We all wear black leggings more often than we'd like to admit.  They're a total staple in most women's wardrobes.  And yes, they are pants.  At least in my book.  In September of 2017, you guys asked for my recommendations for the BEST ones.  And, no joke…..I tried on more than 17 pairs for research purposes.  From luxury to bargain pairs….I tried them ALL.  Any pair someone raved about, I tried.  And these? Were my total favorites for us pear shaped ladies…..this summer, I went back and tried MORE pairs.  Low and behold, my favorites? The exact same ones I picked originally.
From casual wear with a comfortable sweatshirt to dressed up with a tunic and boots…….black leggings are a piece that should be a part of everyone's wardrobe.  And a great fitting pair? Will change your life.  And apparently, once you've found your true loves……you'll be committed forever, ha!
Which Black Leggings Should You Buy?
THE BEST SCULPTING BLACK LEGGINGS
Spanx Seamless Leggings (size large, $68):  These have been my mainstay black leggings for the last five years.  They're a great stretchy material, and I love that they have a very subtle seam (the current version has a seam on the outside and inside, just an FYI).  They're high waisted and do a great job of lightly sculpting without feeling uncomfortable.  Not gonna lie, I'm a little scared of shapewear…….being uncomfortable ALL day just sounds dismal.  But these? I wore them to work at school all the time, and they're GREAT.  They last a whole day without me feeling like I'm being sucked in.  They don't stretch out, and they wash and wear beautifully.  If you're looking for sculpting leggings….these are my top pick (plus they have a really fun pleather version if you're looking for a hipper black legging)! Worth every penny!
THE BEST BARGAIN BLACK LEGGINGS
Aerie Chill Leggings (size large, $20): I own these leggings in an embarrassing amount of fabrics and colors (I recently bought grey, olive and burgundy in addition to another solid black pair).  These velvet ones were limited edition over the holidays, but I also own the shine version and the matte version.  They're high waisted, stretchy, and thick enough to qualify as pants instead of tights.  I love that they don't stretch out throughout the day, and I double love that they aren't a million dollars.  If you're looking for black leggings that don't cost a TON, these are definitely the way to go (they also have sales a LOT)!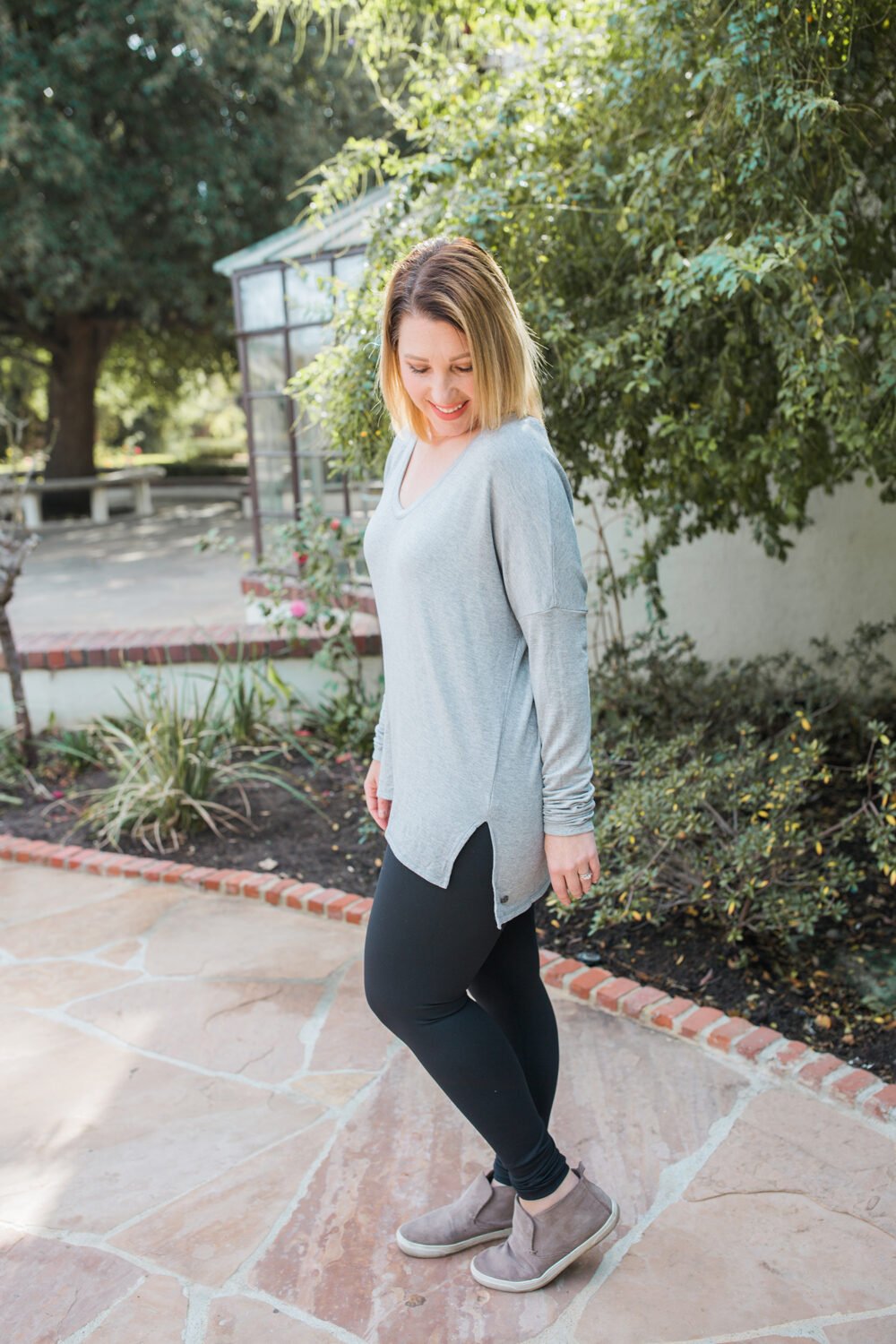 THE BEST STAPLE BLACK LEGGINGS
Zella Live In High Waist Leggings, Size Large: Yes, the rumors are true.  Zella leggings are AMAZING (I actually did a full review about them HERE).  While I usually think of Zella leggings as workout wear, they're my favorite everyday black leggings.  Stretchy without being too much, high waisted, and just the right thickness.  They wash and wear easily, and don't stretch out AT ALL.  I'm OBSESSED!
Don't forget to check out more of my staples for a pear shaped body series:
/ the best jeans for a pear shaped body / the best workout pants for a pear shape body /
If you have a friend with a pear shape body who rocks black leggings on a regular basis (or should)…..then don't forget to use the buttons below to share this post on Facebook, Twitter, or Pinterest so that she can add them to her wardrobe too!