Let's talk jeans……..I'm sharing (after 5 years of research)  the best jeans for a pear shape body type!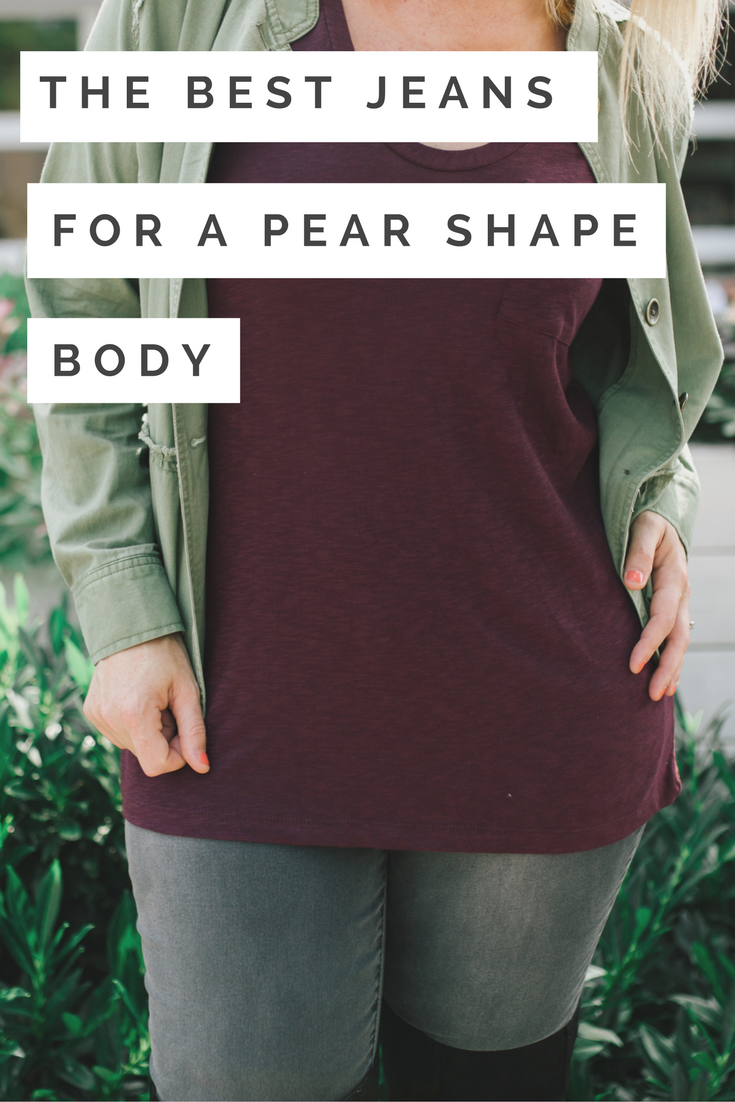 I can't even believe how long I've been working on this blog post.  I started it almost three years ago and have updated it twice as new styles released (I mean bootcut jeans are back and we're all wearing straight leg jeans these days too).  One of the hardest things to find if you have a pear shaped body? Jeans.  Jeans for a pear shaped body are a challenge.  One pair fits the thighs and not the waist and the next pair fits your waist and is too small on the hips.
So, I started doing research…..I tried on EVERY pair of jeans that were recommended for pear shape bodies.  These four pairs of jeans? Fit like a dream (I own all of them), and they come in a variety of prices.  They represent a variety of styles, and are all jeans that I own personally and would HIGHLY recommend.
A quick review: a pear shape body means that your upper body is narrower than your lower body.  A pear body shape tends to have a smaller waist and wider hips….which makes jeans especially challenging because….there's almost always that extra fabric in the waist.  It's helped me to try jeans with stretch, or a higher rise jean that nips in at the waist already.  And these? Are some the best pairs of jeans I've found, and the ones that I reach for over and and over as those perfect pair of jeans options in my closet (these are perfect for everyday outfits, my favorite teacher outfits, and dressing up).
The Best Jeans for a Pear Shape Body
When it comes to denim style and color, I'm ALLLLLL over the place.  I love dark colors for evening and stretchy jeans for long days at Disneyland.  I want to encourage you (all women, not just us curvy women) to take some time to REALLY find the right fit for YOU when it comes to denim.  At the end of the day, there is no ONE style that is best for anyone.  Confidence and feeling great is your BEST FRIEND.  That's the most important thing, finding a great option for this wardrobe staple that works for YOU.
Shop all jeans: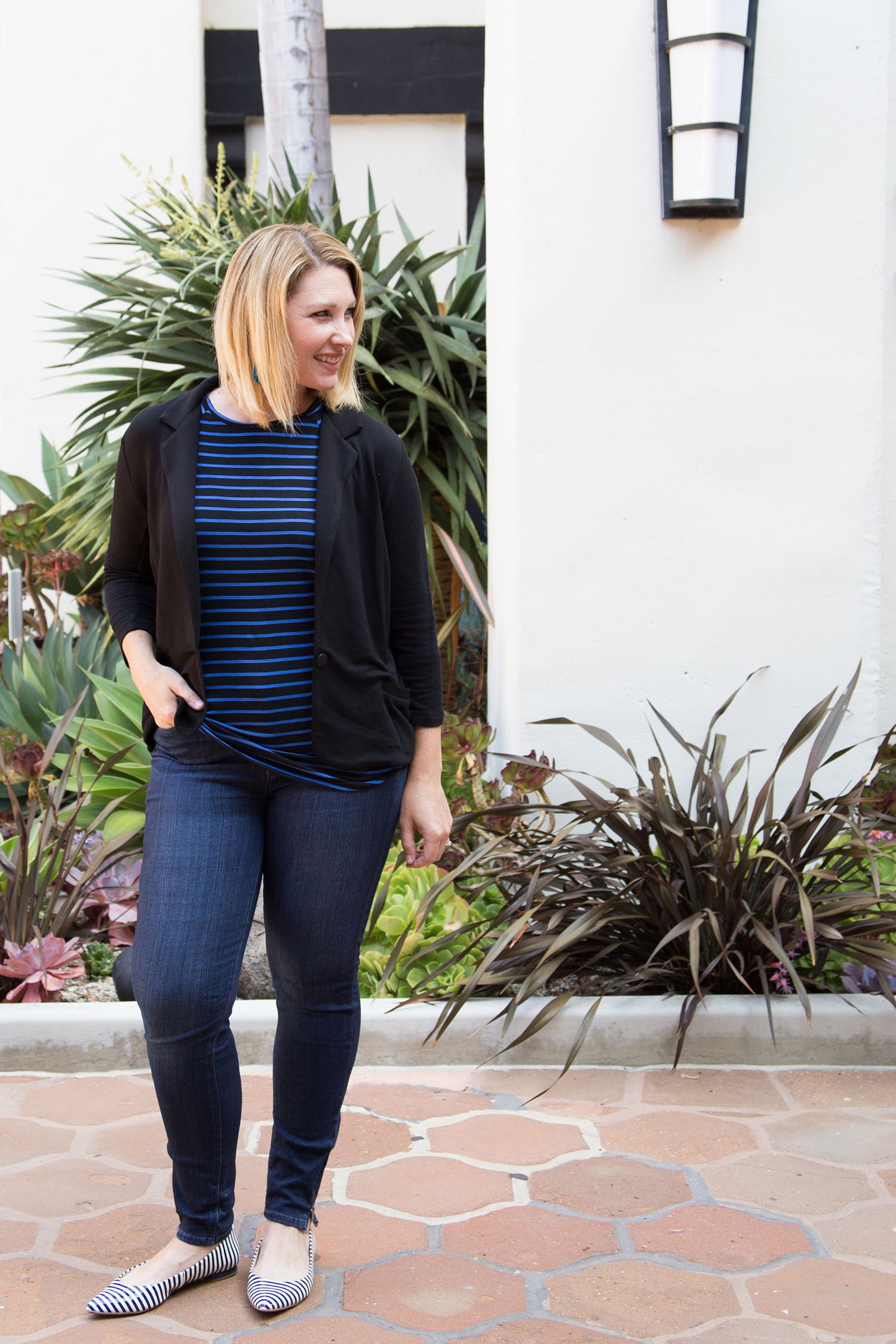 Paige Denim Verdugo Ankle Skinny Jeans (size 30, $199): These jeans were my first nice pair of jeans after having Lydia.  They fit like a dream, coming in a variety of washes, and last amazingly well.  I've owned the same pair for almost six years and they're good as new….if you're looking for high rise jeans, these are a great option. They're also VERY versatile and easily shift from casual days at home to being a great choice for the office with a blouse and blazer.
DONNA ANKLE WITH CUT RAW EDGE HEM (size 10, $89.50 ): This pair of distressed jeans from Kut from the Kloth is a recent favorite (discovered during the Nordstrom sale this summer).  If you're on the hunt for distressed skinny jeans that look mature, they're a great find.  These are distressed enough to be on trend without being too much.  I love the fading, and the slight raw hem at the ankles.  They're a light enough wash for summer wear, and can easily be layered in the winter.   They hit right above the hips and have a great amount of stretch.
KELSEY HIGH RISE ANKLE FLARE WITH RAW HEM (size 10, $89.50): OMG buy these now! Flare ankle jeans to flatter a pear shape were definitely the hardest to find.  In fact, I tried over 15 pairs.  And these? Are so comfortable and fit like a dream.  Plus, they're a great price.  If you're on the hunt for When it comes to denim style and color, I'm ALLLLLL over the place.  I love dark colors for wide leg jeans, these are IT.  For me, they're the perfect jeans for relaxing around the house or wearing with a tee shirt and sneakers to a baseball game.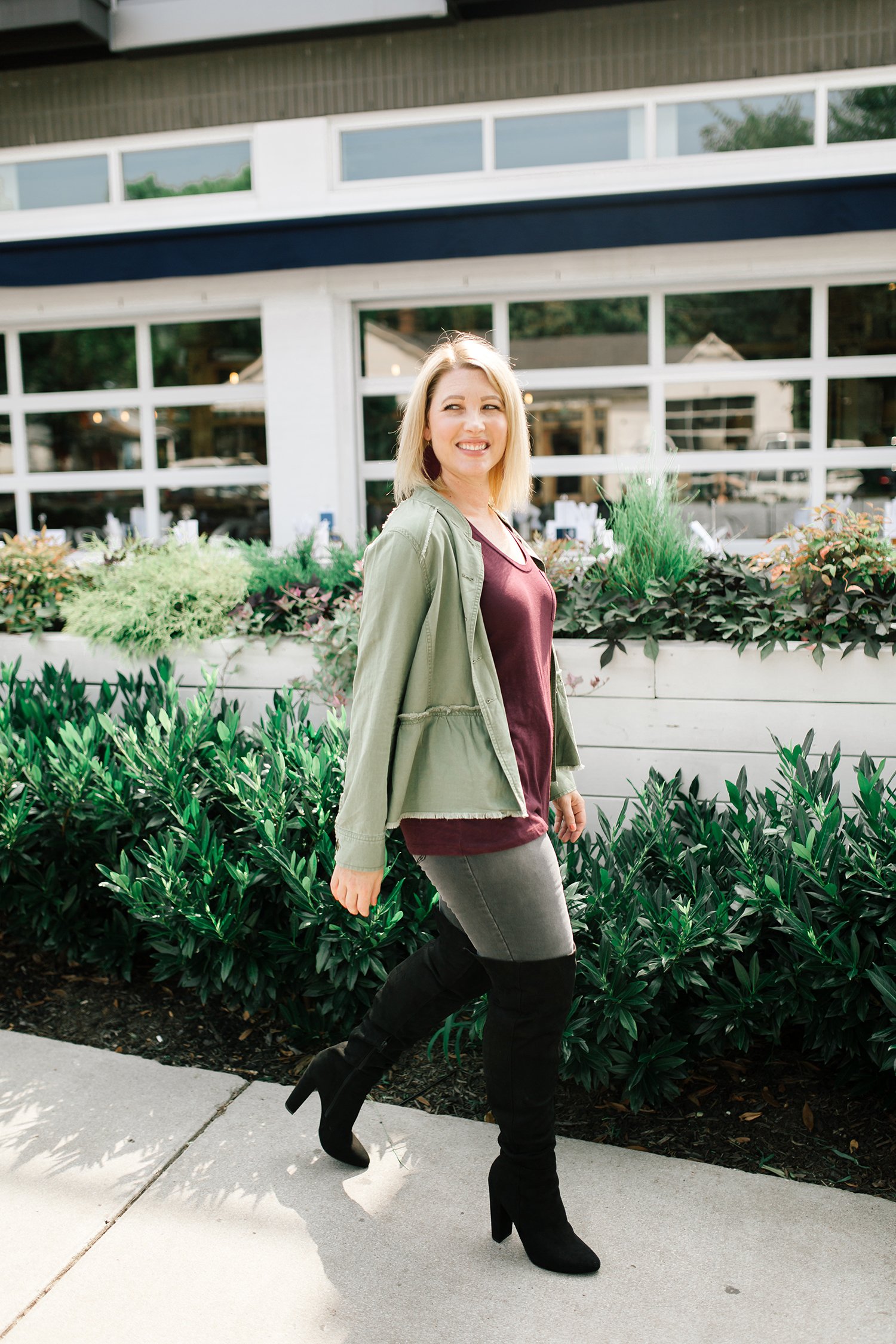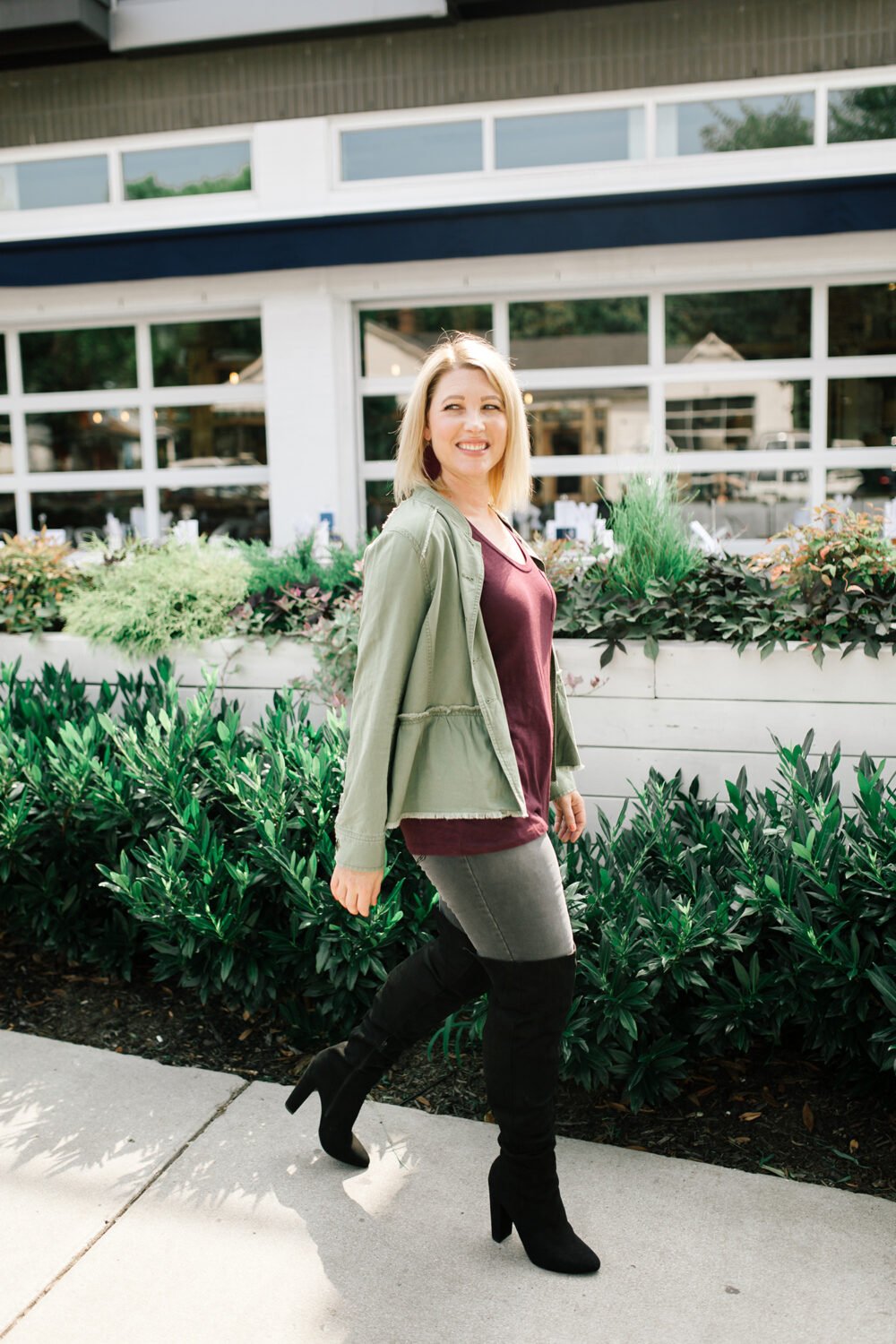 Wit & Wisdom Ab-solution Stretch Ankle Skinny Jeans (size 10, $78): These amazing grey jeans were another Nordstrom Anniversary Sale find.  They fit perfectly, don't stretch out during wear and come in a TON of colors.  I bought my first pair two years ago, and now I own them in three shades.  They've held up VERY well and I recommend them all the time.  Bonus? They have an elastic waist.  So basically, the comfort of leggings and the style of jeans…..they're GREAT for larger thighs and a small waist since they have the ability to adjust with all that stretch.
Free Assembly Women's 90's Original Straight Denim Jeans (size 12, $27): In my experience finding flattering jeans for a pear shape body that aren't pricey can be….challenging.  But these? Some of the best mom jeans I've tried.  Warning, these have no stretch and are a little bit stiff (think classic jeans not more modern stretch jeans), so I'd suggest sizing up if you are in between sizes.  In my opinion? These are your best bet for bargain jeans and come in light colors as well as darker colors.
If You Love Styling Tips for a Pear Shape Body Check Out:
/ shorts for a pear shaped body /
/ sundresses for a pear shaped body /
/ bathing suits for a pear shaped body /
/ wedding guest dresses for a pear shaped body /
Now, what are YOUR favorite jeans for a pear shape body?!?