Looking for lightweight jackets? This is the ultimate guide to the best jackets for cool but not super cold weather!  
Ok, so this is probably the most California post I've written in a long time (aside from the obvious beach and bathing suit recommendations or Disneyland information) but…..if you live in an area with more moderate winter temperatures (or you are looking for transitional season jackets) then this is for you.  Now, not to really drive it home…..but most Southern California winters the temperature rarely drops below 55 degrees.  Yes, it's cool at night, and in the morning but the middle of the day and most times? Lightweight jackets are all you need.  From a jean jacket to a great moto jacket……most of my winter jacket wardrobe is filled with not very heavy jacket options.
If you've got a pear shaped body like me, I love that these jackets fit me well…..they may work for you too!
Lightweight Jackets: The Ultimate Guide
Looking for a great jacket? These are my favorite options and styles.  They'll be usable for years to come and are classic styles that every woman needs in her fall or winter wardrobe!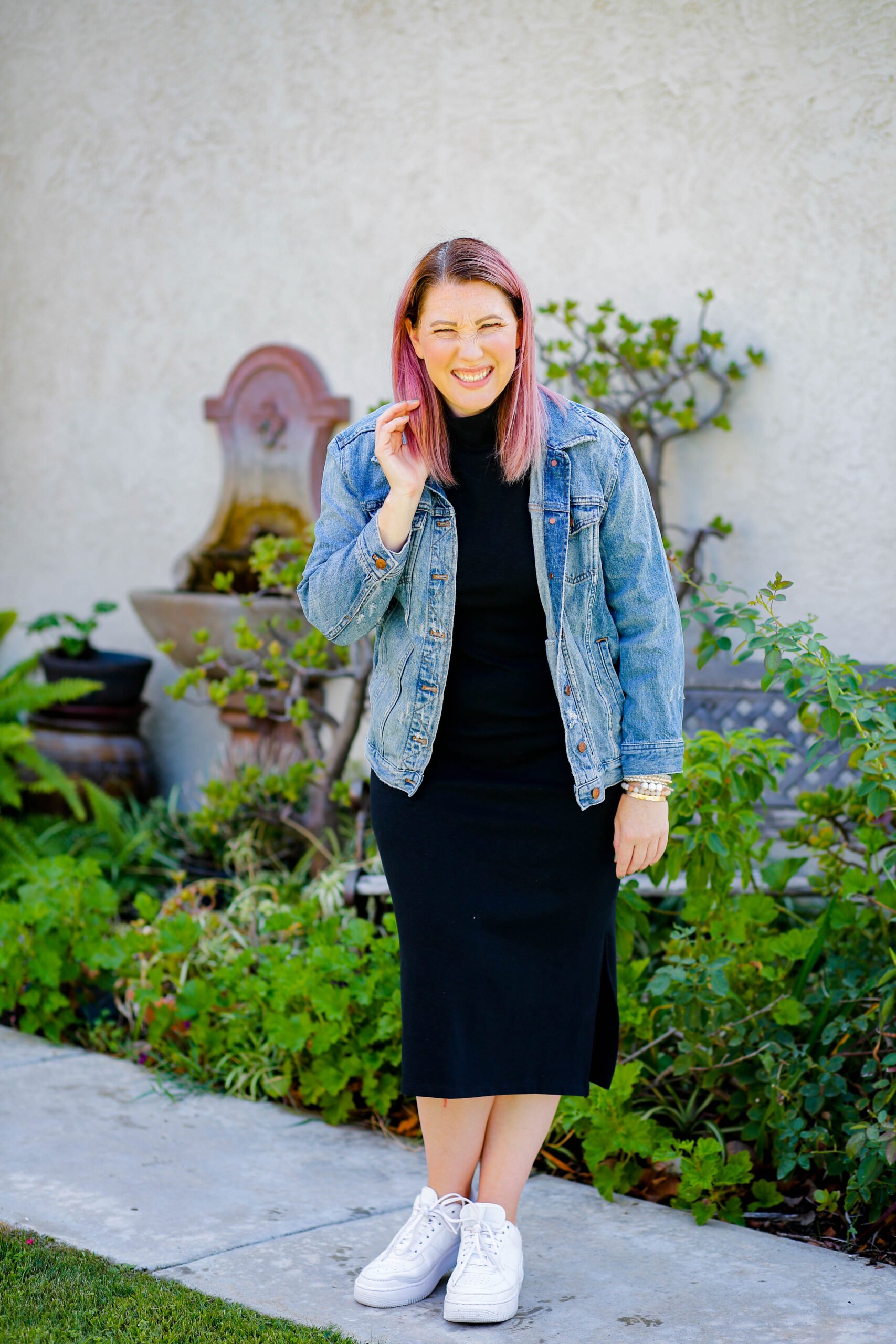 Jean Jacket: Nothing compares with a great jean jacket…..I own two that I've worn consistently for the last couple years, and they'll be on repeat for the entire fall and winter season.  This one? The Madewell jean jacket (I wear this in a medium).  And my other favorite? ABLE's version (use CARLY_20  to get 20% off it).  They're both super high quality and are in perfect condition after a LOT of wear.  Looking for a bargain version? Old Navy has a great option!
Shop my Favorite Jean Jackets:

Teddy Jacket: The minute I feel a slight chill in the air, teddy jackets are my favorite.  There's something great about a soft cozy jacket even if it's not THAT cold (relative term, cause for me? it's freezing).  This teddy jacket was a total bargain (under $50) and it's roomy enough for layering (I got it in a size medium).
 Shop my Favorite Teddy Jackets:

Military Inspired Jacket: I love a great military inspired or band inspired jacket and this one? That I got recently from ABLE? Fits like a DREAM ( I wear a medium and you can use code CARLY_20  to get 20% off).  It's a great option for lightweight jackets….and can easily be worn with jeans and a long sleeved tee or a dress and boots.
Shop my Favorite Military Inspired Jackets:

Leather Jacket: Who doesn't love a great leather jacket? A suede version or more classic leather? Is a style that you'll have for YEARS to come.  In fact, I'd argue a leather jacket is something you can invest in once and keep for most of your adult life.
Shop my Favorite Leather Jackets:

What do you think about lightweight jackets? What is your favorite style?