Can you believe the time is here? We are sharing our favorite options for Easy Family Christmas Pictures Outfits!
Yup, 'tis the season.  It's time to start planning family Christmas pictures outfits.  I know, a lot of people are groaning right now.  One of the questions that I get asked the most this time of year? Easy options for family christmas photo outfits.  Clothing items that will look great in pictures, that you can…..actually wear again.  Occupational hazard, as a blogger….we take a LOT of family photos (some with me and Lydia on our own and some with the whole family).  After a few years, I've really honed what I think looks great in images and what doesn't.
A Few Tips for Family Christmas Pictures Outfits:
Think about the Location: Think about WHERE you are taking the pictures.  In the woods? A field? An urban setting? That will greatly affect what type of clothing you want to wear.  We always try to pick interesting locations or to ADD something interesting to them.  Shooting in a random field? Bring a special quilt to sit on……it will add personality to your images.  Does your family love ice cream? Think outside the box and take pictures in jeans and tees in front of your favorite brightly colored ice cream shop.  Let that location choice dictate the style of clothing.
Pick One Stand Out Color at Most: I loveeeeeee bright colors (clearly).  But when photographing groups of people? Too many bright colors can clash or take away from YOU.  When planning outfits, pick one or two colors that will run through all your wardrobes.  We love pops of red for Family Christmas Pictures Outfits….it always looks festive.
Comfort is Key: You know what's not CUTE in pictures? Uncomfortable kids.  And uncomfortable clothes? Make for uncomfortable children.  We try to stick with soft, comfortable pieces (shameless plus, you guys know I LOVEEEEE June and January clothing for kids and it's the perfect way to find comfortable pieces in whatever color you need for group photos – use code LIPGLOSSANDCRAYONS for 20% off).
When Looking at Prints, Shop the Same Retailer: I tend to shy away from prints in family photos for the most part.  However, if we want to add stripes, polka dots, or plaids……I buy items from the same retailer or brand.  It's the only way to insure that the prints are THE SAME.  It can be really cute to pair a few buffalo plaid pieces with your favorite jeans and sneakers or boots.  We've even done simple stripes with dark denim or similar colored sweaters with leggings.
A Few of My Family Christmas Pictures Outfits To Date:
Lydia and I took these fun fall family photos last year (it was before my pink hair obviously) and they're some of my favorites.  The pops of yellow stood out perfectly (all the clothing and shoes came from Old Navy — they always have GREAT options for coordinating colors).
A few of my favorite Old Navy Items for Family Coordinating This Year:

Years later, these are still my favorite Family Christmas Pictures Outfits.   The pops of red are perfect against Christmas Trees, and those red beanies? We've worn them about a million times for pictures (we used them for our Christmas Story pictures this year).
A few of my favorite Red Items for Family Christmas Photo Outfits: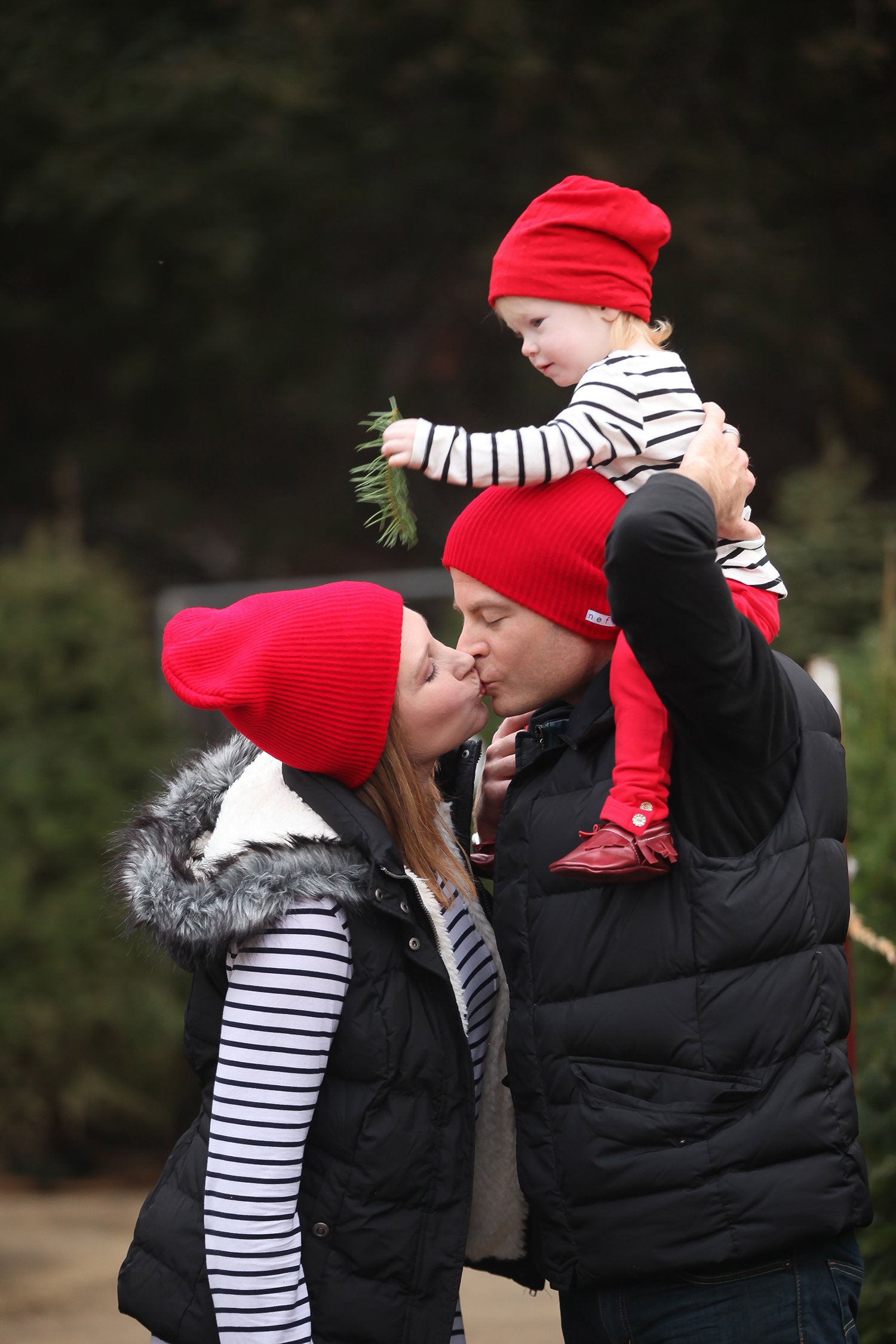 Remember our big Disney Cruise trip and our day at Walt Disney World?  We decided to take some family photos during the trip.  For these? I knew that Toy Story Land had tons of bright colors (mostly blue, red and yellow), and decided to work within that color scheme.  Simple pops of red, blue, and a dash of grey? I was really glad I did a bit of research in advance because the colors in our outfits were PERFECT.
Now, don't kill me…..because this idea is a little extra.  But family pajamas? A total hit for family photos outfits every single time.  Yes, that means you'll be wearing them in public for the pictures, but….how cute are they?
A few of my favorite family pajamas options:

Want to see MORE Family Photos Outfits? Check Out:
10 Tips for Making Family Photo Sessions A Breeze