Looking for the best black maxi dress outfits? These are four simple ways to style one, that you'll be able to wear for years to come (and using pieces you probably already own).
A black maxi dress that I LOVEEEEEE has been on my must find list for the last few years.  I tried a ton, but nothing REALLY hit it home for me, until……this one.  It was part of my mystery box from Universal Standard, and I squealed when I pulled it out of the box.  The fabric is SO soft, it's a GREAT length and cut, and a totally classic style that I know I'll be able to wear for YEARS.  Bonus? It's draped beautifully, and is loose without hiding my pear shaped body.  I can see it being the perfect travel piece, there are a million ways to wear it by switching accessories and elements.  Heels and a great necklace for a nice dinner? Perfect.  Sneakers and Mickey ears for one of my best outfits for Disneyland yet? Absolutely.
Sizing wise, I'm 5 feet 5 inches, and normally wear a size 10 to 12.  This black maxi dress? Is a Universal Standard Extra Small (be sure to check their sizing charts, they have an amazing size range and their own sizing system).
Black Maxi Dress: 4 Ways to Style One
Now, let's have some fun.  I'm at the point in my life where I consider price per wear when buying pieces like this one.  Is it worth investing in higher quality items if I can wear them a LOT? Absolutely.  And this dress is the perfect example.  A black maxi dress will never go out of style, and I love that I can style it a TON of different ways.
These? Are my favorite four black maxi dress outfits with items you may already own.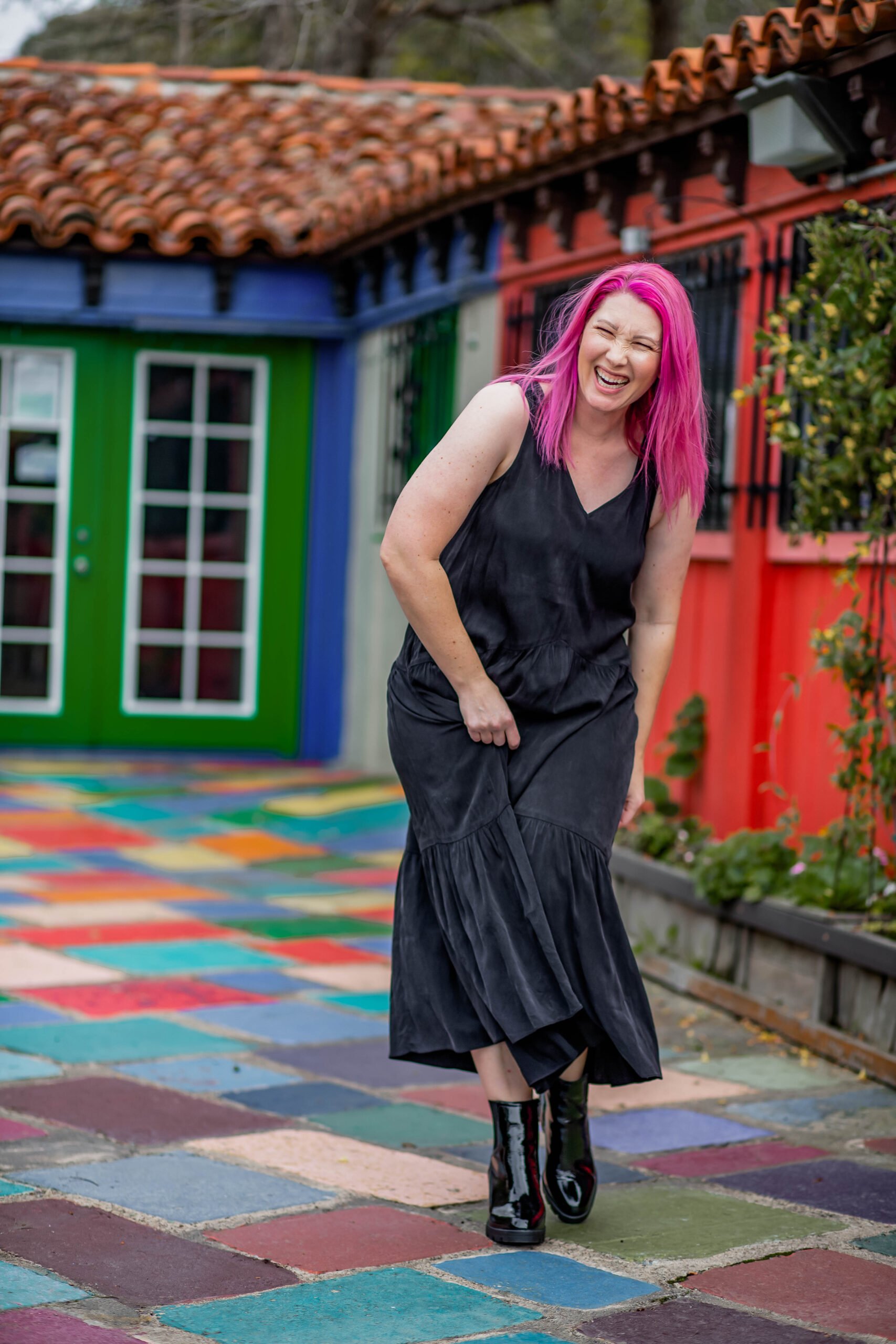 Basic Black: We have have simple black pieces we love in our closet.  They're great for mixing and matching and look HIP.  Can't you imagine wearing this to a hip cafe in New York or a fun concert here in San Diego?  The black jean jacket is another Universal Standard piece that I've already gotten a ton of use out of, and these boots? I LOVE how on trend yet comfortable they are (thanks Naturalizer).
Shop these Items:

Sporty and Comfortable: Now, y'all know I love my Converse.  In fact, I have an entire guide to Converse Outfits……so this should come as no shock.  Pair this black maxi dress with a pair of Converse and a simple jean jacket and you're set for an everyday casual look.  This is perfect for running errands, day outings, even for family photos in fall or spring during more mild weather.
Shop These Items:

Nude Pieces (and the Cutest Hat): I know, I know.  This hat is the CUTEST right? In fact, it's one of my favorite hats for women that is under $50 and I own it in two colors.  I love that it adds a little edge to a simple black maxi dress without being too much.  I paired it with light lug sole boots for cooler weather, and in warmer months? You could switch for Birkenstocks or platform sandals.  Perfect for a day to night look or a fun girls' dinner.
Shop These Items:

Fancy It Up: Not to be biased, but this is my favorite of all the black maxi dress outfits.  Can't you see wearing it in Paris or to some fun party on New Year's Eve?  The polka dotted top is one of my favorites and I love how easily it layers under the dress.  Add block heels and a great lip color? And you're dressed up and ready to go!
Shop These Items:

What do you think? Do you own a black maxi dress that you love? If not, HIGHLY recommend this one…..it's absolutely worth EVERY cent.  And if you have outfit ideas, leave them in the comments so we all can get some more ideas!