Looking for an easy recipe to make with your kids? Peanut Butter Protein Balls are delish, and a ton of fun to make!
Lydia has been getting more and more into helping in the kitchen, and so we've ben trying out a ton of different recipes that make cooking with kids fun and EASY.  We grabbed some great cookbooks for kids and stocked up on easy to use baking equipment and we've been testing out easy to make snack options.  These peanut butter protein balls were a huge hit, made with all items we had in our pantry, and taste DELISH.  Plus, they're easy enough that your kids can make them pretty independently!
Peanut Butter Protein Balls
The beauty of this peanut butter protein balls recipe? It's super flexible.  You can replace peanut butter with almond butter or wow butter or whatever version works for your household.  Old fashioned oats can be granola if you'd prefer.  Lydia prefers white chocolate chips, I love regular chocolate chips.  We've done raisins instead, and dried cranberries.  You'll definitely need honey to help bind the mixture together.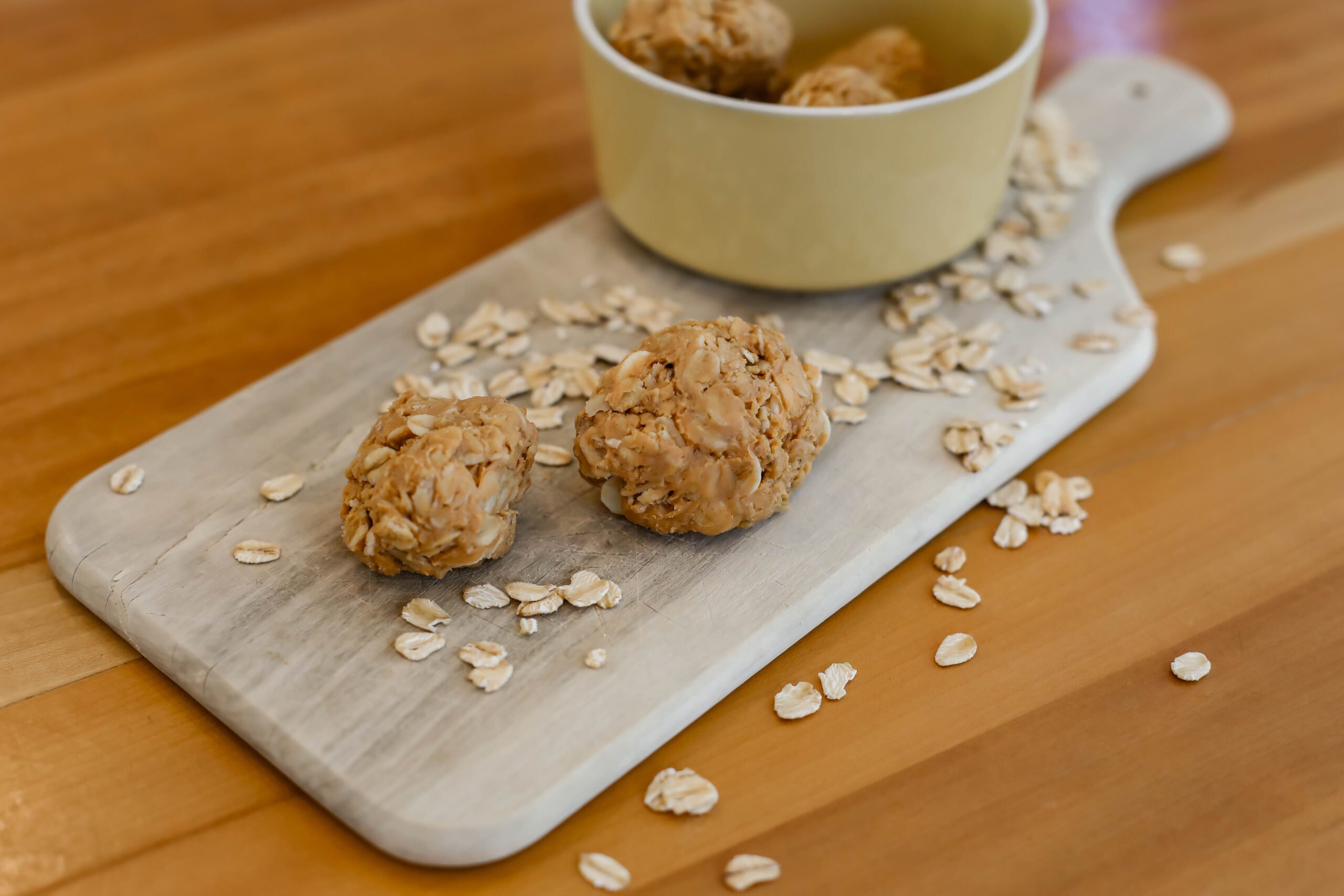 Ingredients:
1 cup old fashioned oats
1/2 cup peanut butter
1/3 cup of chocolate chips or white chocolate chips
2 tablespoons of honey
1 tsp vanilla
optional: coconut, ground flaxseed, wheatgerm, raisins or dried cranberries
Directions:
Easy peasy.  I promise.  Dump everything in a bowl.  You can stir with a spoon, mix with a mixer, or you can let your kids smoosh everything together with their hands (just prepare to wash the honey off their palms, ha).
Cover the bowl with plastic wrap, and chill in the fridge for at least an hour.
Remove the bowl from the fridge, roll mixture into small balls.  Store in the fridge in an airtight container until ready to eat. But watch out, they'll go fast!
Looking for more fun recipes? Try out:
If you try these peanut butter protein balls, let me know what you decide to put into them! I can't wait to hear your favorite combos!