Raya and the Last Dragon is the latest Disney Princess to enter the Disney Family…….and this? A full guide to the film, our review, and a few products you MAY want to buy to celebrate!
This is a BIG one.  One of the most highly anticipated Disney releases of 2021…….and the introduction of a new princess, the first Southeast Asian princess……Raya from Raya and the Last Dragon.  Yes, we've seen the movie, in fact….we've watched it twice already.  There is so much to say about this beautiful film, and I know that y'all have a lot of questions…..so let's get into it.
I talked a bit about the Raya and the Last Dragon characters after we had the chance to attend an early press day (on zoom) and to learn about the film.  But at the time? We hadn't seen the movie (we previewed about twenty minutes of footage that day).  Now? We've seen every last minute.
The story? Raya and the Last Dragon takes place in the fictional land of Kumandra, and follows the journey / quest / life mission of…..Raya (who we are over the moon excited to welcome to the Disney Princess family).  Early in the film, we learn that for centuries in Kumandra dragons and humans lived together in harmony.  When an evil force threatened the land, the dragon sacrificed themselves and saved humanity (yes this is shown in the film).  500 years later and during "starting time" in the movie, the evil returned, and……left Raya as the lone survivor.  The movie jumps to "current time" where this empowered girl and warrior? Sets out to find…..the last dragon with the hope of restoring her cherished land to what it once was and rescuing those she loves.  And that……is the story of……Raya and the Last Dragon.  It chronicles Raya's journey, the characters she meets along the way, celebrates the beauty of Southeast Asian cultures, and reminds us that girls can be warriors AND princesses.
 "I don't think we had any idea of how the world would become by the time this movie came out, especially when it comes to the injustices to the Asian American community right now. And, I guess I'll just be frank. There have been some times where in the last 365 days there's been a lot of negative imagery and words said about Asians. So it's hard not to appreciate that this movie's coming out and-and kind of giving a counterpoint and just telling a positive story that just celebrates Asian American skin and Asian American lives, and Asian American people. Because with any group that's underrepresented,  when you only see stories where you're seen as the bad guy or a thug or what have you, it starts to paint a very negative picture of you for those who don't ever get to know you, who never get to be in the room with you. And so, I think step one is representation and really being out there, both behind and in front of the camera, with the stories we tell and then just being out there, so we can acknowledge that this world is all of us, not just any one of us. Because without that, I don't know how we get better, so I'm- I'm appreciative and grateful that this movie's coming out when it is." -QUI NGUYEN, screenwriter
Raya and the Last Dragon: A Mom's Review and Guide
Let's start with how to watch Raya and the Last Dragon.  This is a unique movie release, because there are multiple options.  It will be showing in movie theatres where they are open.  Raya and the Last Dragon will also be available with premier access on Disney+ (just like Mulan was).  What does that mean? The film will cost $30, and then it will be available in your Disney+ account to watch anytime you'd like as long as you are a Disney+ subscriber.
My Thoughts: This is the type of movie that makes me PROUD to love Disney as much as we do.  It pays homage to a beautiful culture, and shows our children princesses can look just like THEM.  The amazing cast and creators of the film did a beautiful job creating a story that is engaging and fun for kids, with elements of multiple Southeast Asian cultures that adults will appreciate.  And the story itself? Is filled with characters that are oh so lovable.  This is definitely a more "mature" animated film.  It's not a musical, and the plot takes a little longer to develop.  It has a beautiful message, and my prediction? This may be the first in a series of multiple Raya movies.
Lydia's Thoughts: "I really liked it, Sisu was really cute and I loved Tuk Tuk. Raya was really strong and brave, I loved seeing her trying to save her family."
Is it Scary: While there are scary "concepts"……the evil taking over, and dragons disappearing, I don't think this movie has "scary scenes".  This portion of the story is at the very beginning and done in a way that I don't think will upset kids.  Lydia wasn't scared at all, and barely mentioned the scene.
What Ages Is It Good For? I think this will be a HUGE hit with kids ages five and up.  At age seven, Lydia LOVED it and keeps asking to watch it again (which shows me that the premier access will be worth the cost).
Raya and the Last Dragon: Products and Activities
Like all Disney movies, Raya and the Last Dragon has some really fun activities and products to accompany the film.
Want to explore Kumandra (the land in the film)? Disney Animation has a really cool website all about it!
There are also some REALLY fun products to celebrate all things Raya.  Lydia has been working her way through this LEGO set and LOVING it, we HAD to buy a Raya costume, and the Sisu the Dragon toy that Shop Disney sent us? Lydia's been sleeping with it every night since it arrived.
You can shop all our favorite Raya products here: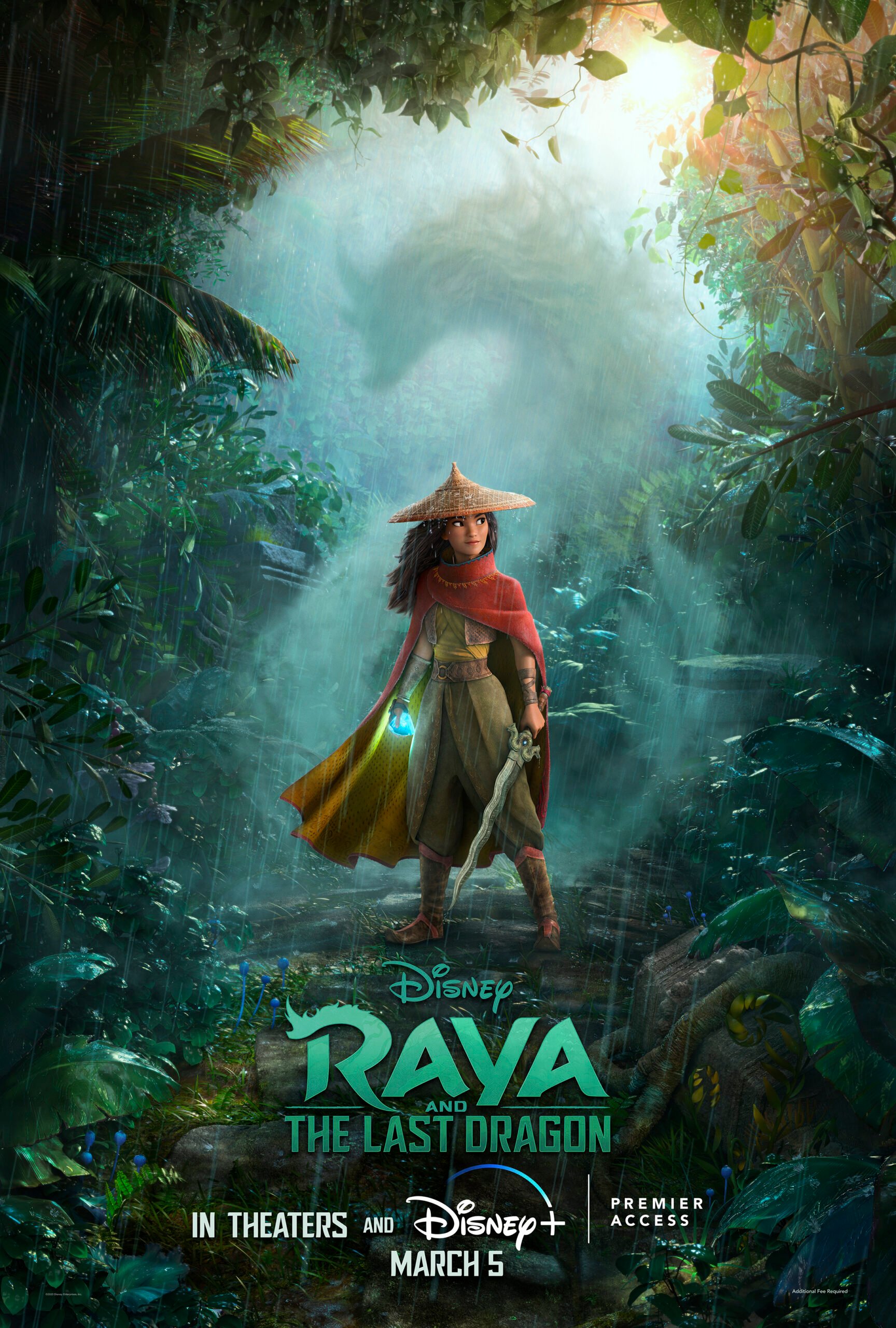 RAYA AND THE LAST DRAGON opens in theatres and on Disney+ with premier access on March 5th.