Wondering how to wear sneakers with a dress and still look stylish? You've come to the right place! Let's discuss ways to wear your favorite of sneakers with a fun dress for a casual look that you'll love.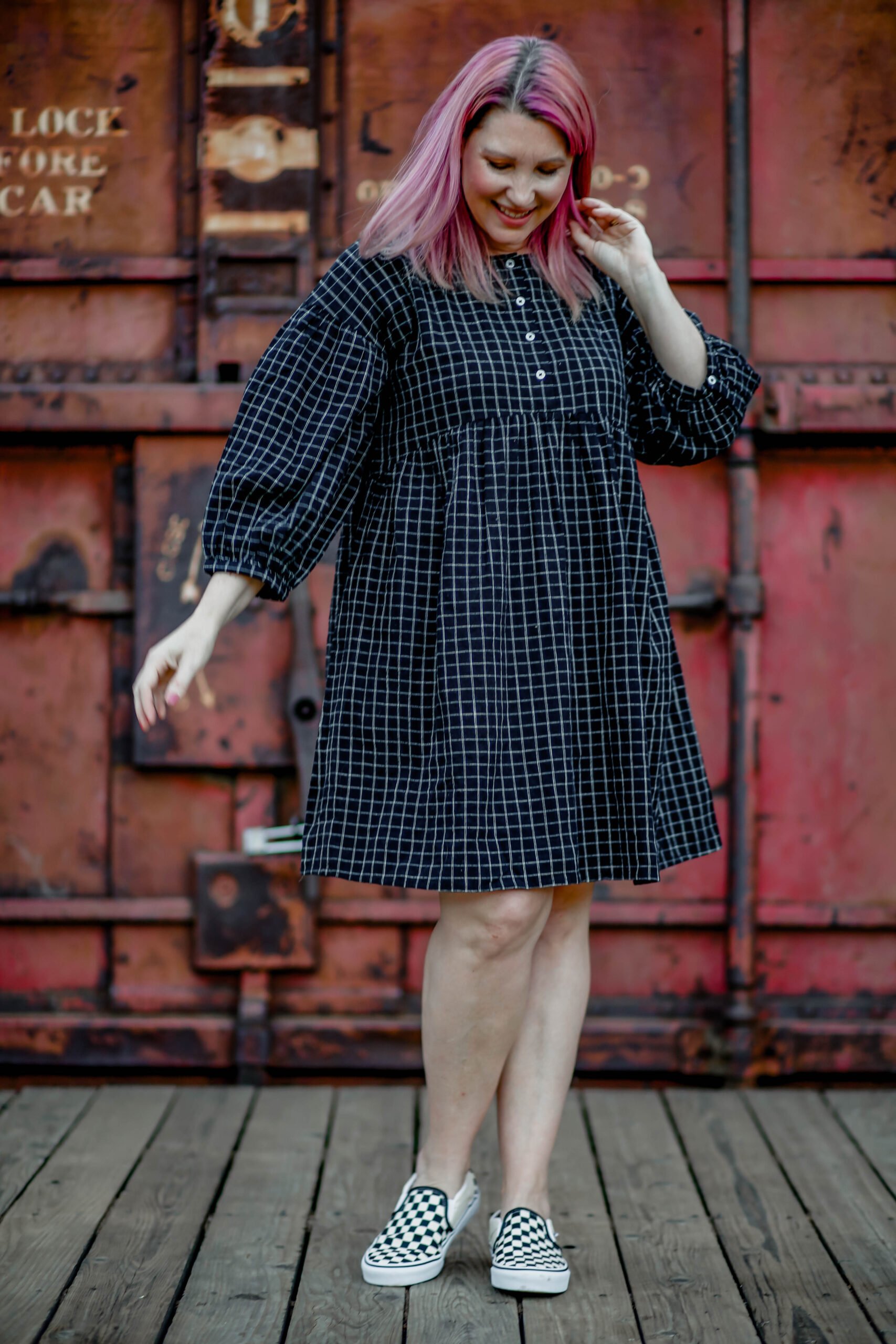 Confession: I'm a casual wear aficionado.  A comfy outfit super fan.  There was a time in my younger days a long time ago when I walked uphill both ways to school in the snow (just kidding)…..but there WAS a time when I wore wedges and heels ALLLLL the time.  From a trip to the grocery store to a night on the town.  But now? Casual style all the way.  My favorite day to day outfits? Athletic footwear and a fun dress on my pear shaped body make me feel girly and stylish and are comfortable enough for all day wear, I'd pick them over my favorite jeans any day!
From my favorite Disneyland outfits to teacher outfits when I was in the classroom…..these are it.  In fact, when I travel these days? I usually bring a pair of sneakers or two, and work my outfits around those.  I find that when I pack fancier shoes, unless it's for a specific event like a wedding or baby shower or a fancy dinner?  They don't even leave my suitcase or hotel room.  In the interest of packing light, I try to plan outfits in advance and pack the sneakers if that's REALISTICALLY what I'm going to wear.  It's time to be honest about my shoe choices (ha).  Those heels are mostly gathering dust, and I'm fine with it.
If you're wondering how to wear sneakers with a dress and to pull together a fun and simple look that you can wear from morning to night…..then this is for YOU!
How to Wear Sneakers With a Dress
Get ready, these tips for putting together a fun and simple sneaker outfit will help you maximize items from your current wardrobe and to get more use out of your basic sneakers.  I promise, for casual wear? There is a right sneaker for every outfit style.
My favorite Sneakers for Wearing With a Dress: 
Trying to figure out exactly which dresses and sneakers combinations are right for YOU? Gentle reminder: there are no hard and fast rules when it comes to style.  Fashion is supposed to be FUN.  Try different sneakers and dresses from your closet and decide which YOU LOVE ON YOU.  That's the best outfit, the one that makes you smile!
Frequently Asked Questions: 
Which sneakers do you wear with dresses the most? We all have a few tried and true pairs of sneakers right? My go to pairs? My Nike Air Force Ones for chunkier sneakers, my slip on vans, and my latest obsession? My Rothy's sneakers. They're SO COMFORTABLE and I love that they're machine washable.
You go to Disneyland a lot, do you wear dresses with sneakers there? I probably wear dresses to Disneyland more than I wear pants.  And of COURSE, at Disneyland sneakers are the best shoe option.  So yes I do.  At Disneyland? It's the Air Force Ones or Rothy's Sneakers for me.  They're comfortable enough with enough support to do ALLLLL day long.
What can I wear with a fancier piece like a leather skirt or nicer dress? Want an elevated look? Try a tailored pair of sneakers like these from ABLE or Stan Smiths from Adidas.  Both are sleek and trendy and look a bit more elevated.
Can I wear my regular gym shoes? They're sneakers, right? Ok, yes they are sneakers.  But your gym shoes? They're function over fashion.  Plus, I can guarantee they're dirty and not exactly prepared for a cute outfit vibe.  My running shoes are covered in dirt from outdoor runs and scuffed up from home gym workouts and rides on my at home bike.  Fashion sneakers and gym sneakers…..long story short? They're not the same.
What color of sneakers is the most versatile? For me? It's always a classic pair of white sneakers.  They're always in style, they go with everything, and I can GUARANTEE you'll get a ton of use out of them.
What about formal events? Is it ok to wear sneakers to a more formal event like a wedding?  Now, I may sound like an old lady here but….nope nope nope.  As much as I love sneakers for a casual outfit, they're not for dressing up or a formal event.  Stick with day to day wear for these looks!
Are more expensive sneakers worth the investment? This really depends on your use level.  For me? I wear sneakers and expect a lot from them.  From my days as a teacher where I was on my feet ALLLLLL school day to days visiting Disneyland now?  A supportive and well made sneaker makes a huge difference.  So I'd rather buy LESS pairs, but invest in sneakers that feel comfortable for all day wear.  My picks for investment sneakers? Rothy's sneakers for ultimate comfort (and bonus points for being machine washable) and Air Force Ones (the chunkier heel provides support for long days).
Did this help you to figure out how to wear sneakers with a dress? Which combination is your favorite and what can you create from the sneakers and dresses you already own?