Sailing away soon? Let's talk about what to wear on a Disney Cruise. These are all the outfits I wore on the Disney Wish Cruise Ship and a few tips for what to pack on any Disney Cruise!
/ yellow dress / yellow romper / white sandals / mickey sandals /
This wasn't our first time on a Disney Cruise Ship.  In fact, our sailing on the Disney Wish Cruise Ship was our third Disney cruise.  And this time around? I felt like I had a much better grasp on what to wear on a Disney Cruise.  This helped me to minimize packing extra items (for our first Disney cruise I didn't know what to expect, and ended up bringing way more than we needed for our cruise on the Disney Dream).  Now? I know to pack enough but not too much, and I always leave room for the fun items we buy during each sailing!
If you're sailing the high seas, this will help you to know what you need for your sailing (if you're also visiting Walt Disney World, I'd suggest packing separately for that).  We did two suitcases for our trip.  The goal? One would be opened only during our time in the parks and one would be for JUST the cruise part of our trip.  It really helped to keep everything more organized.
A few things to note, there are certain things you will NOT need on a Disney Cruise (might as well leave this space in your suitcase for souvenirs, ha)!  
A Few Packing Tips 
Do Not Worry About Packing: 
a hair dryer (each stateroom has one available if you need it)
iron or steamer (there is one in the laundry area on each floor if you need it but mostly? I just hang what I'm wearing the shower room and it steams out the wrinkles)
formal clothes (unless you are planning on going to one of the adults only restaurants you won't need formal clothes)
a ton of different shoes (I usually do a pair of nicer sandals, a pair of flip flops and a pair of tennis shoes and that's plenty for the trip)
Don't Forget to Bring: 
sunscreen (this may be overkill, but I bring a bottle a day…..it's expensive on the ship and better to have extra on hand)
aloe vera gel (when we get a ton of sunny days in a row during vacation, I usually apply aloe vera every night even if we aren't sunburned…..it helps a ton by the end of the week)!
dramamine or motion sickness bands (we've only needed them one night on any of our Disney cruises, but it was definitely a good thing to have on hand just in case)
sunglasses
a hat
What to Wear on a Disney Cruise: Outfits for the Disney Wish
For easy packing? The good news is that you'll have very little need for true formal dress options.  As long as you are following dress code for dining seatings, you'll be able to go anywhere.  For regular dining rotation, it's fairly casual (I wouldn't do a swimsuit or swimsuit cover-ups).  You can easily do casual dresses for most of the main dining rooms.  For us? We love to plan themed nights for outfits that are cruise casual but go with the theme of our dining (yes that can mean princess dresses for kids or a black maxi dress and mickey mouse ears for me).
What to Wear on a Disney Cruise: First Day Bag
The first day on any of the Disney ships will look almost the same. After you board, you'll have some time before you head to your state room and before the Sailing Away party. My biggest suggestion? A day bag. Carry it on with you. It should have your passport or birth certificate and all important documents, flip flops, bathing suits, and (if you're in Florida) rain gear. We usually eat lunch on the ship and then head to the pool area until our stateroom is ready. You'll usually get your suitcases delivered to your room a little while after you get into, so you SHOULD have your first night of the cruise outfit by dinner.
Disney Cruise Line Ships Outfits: Disney Wish Dining Rotation
On 4-night cruises like the one we did on the Disney Wish Cruise Ship , there is no formal wear needed unless you are dining at Palo or Enchante (the two adults only dining options on the ship). For the regular dining rotation on your cruise itinerary, you'll visit 1923, Arendelle: A Frozen Dining Adventure and Worlds of Marvel. For these? We planned on casual attire that coordinated with each theme, and it was a ton of fun and a great excuse to have fun without a strict dress code.
1923
On the Disney Wish, 1923 is definitely the most traditional fancy restaurant. It pays homage to the year the Disney Studios were founded and is decorated in stunning memorabilia. While you don't necessarily need an evening gown, I would suggest somewhat nice attire. For all dinners, Robbie wore a polo shirts, nicer shorts, and comfortable shoes (closed toed). To 1923, Lydia wore a Minnie Mouse themed jean skirt and mickey ears. I wore a simple sundress.
Worlds of Marvel
Trust me…..Marvel fans, you'll want to dress the part for this. Our Marvel day was the day we boarded the ship, so I have to be honest, our outfits weren't as pulled together as I would have liked. In fact, Lydia had JUST finished an appointment at the Biddibi Bobbidi Boutique, so she attended the dinner as Princess Jasmine (ha). I'd suggest wearing red, white and blue to this dinner, and any fun Marvel gear you have (costumes included for kids).
Arendelle: A Frozen Dining Adventure
THIS WAS WHAT WE PLANNED FOR THE MOST. Listen, we are epic Frozen fans, so it was more a matter of….which attire we wanted to wear to the dinner. I put a couple of our favorite pieces on our disney cruise packing list and we ended up wearing everything. I wore a blue nap dress, and Lydia wore her new favorite frozen themed skirt and top along with her Pandora necklace with an Olaf charm.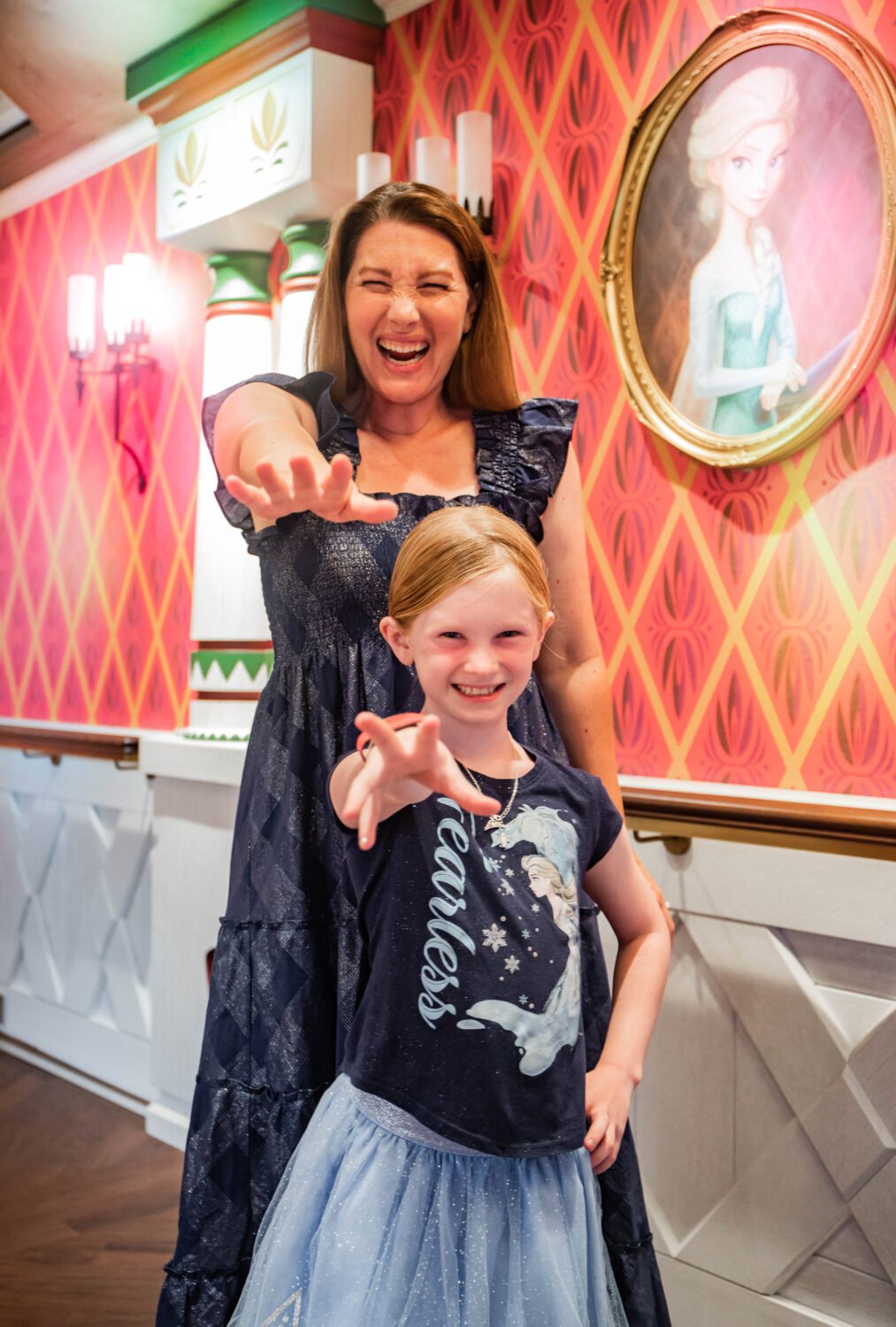 What to Wear on a Disney Cruise: Castaway Cay
One of the most fun parts about a Disney Cruise? The day at Castaway Cay, Disney's private island in the Bahamas. It's one of my favorite places in the world, with the bluest water you've ever seen and the calmest vibes you'll feel anywhere.
A couple tips on what to wear and what to pack in your beach bag:
bathing suit (seems obvious but…..pretty important….we normally just wear ours off the ship)
wear shorts and tank tops or a cover up…..you don't need a full change of clothes, but you may want something to wear on top of of your swimwear at lunch (optional, it's SUPER casual and all outdoors)
sunscreen (listen, this is the most important thing to bring along…you don't want a sunburn to be your dinner accessory)
What to Wear on a Disney Cruise: Pirate Night
Now let's talk about some extra fun. There is a special pirate night on every Disney cruise ship from the all new Disney Wish to the Disney Magic or the Disney Wonder. And yes, PEOPLE GO ALL OUT in their pirate gear. These special nights are one of the most fun parts of a sailing night. You can wear full pirate costumes, or just wear what you wore to dinner that evening. On our first sailing, we did full on costumes. The second cruise we did? I made themed sweatshirts. This sailing? I'm not going to lie…..just wore our regular attire. Anything goes here. You can make this a whole thing, or just walk up to the pool deck the fireworks
What to Wear on a Disney Cruise: At Sea Day Outfit Ideas
On our cruise, we had a full day at sea (depending on your itinerary and the length of your sailing you may have one or more than one). This is a great time to wear fun and casual clothing. For our at sea day, we normally start with room service breakfast (remember this is included in the cost of your cruise and I love eating on the verandah while I watch the ocean go by).
For me? I always think it's a good idea to pack an extra bathing suit and cover up plus a complete outfit with tennis shoes (I bring one pair for the entire trip) in case I want to do something NOT swimming related. On our last sailing? I ended up at the adult pool the whole time, so this outfit wasn't used….but better to have it right? I just brought an extra sundress, which was easy and it didn't take up much space.
There you have it! From pirate attire to bathing suits to casual wear this should cover pretty much everything you need for a disney cruise vacation. There are laundry spaces and a laundry service available on board if needed, so you should be fine as long as you pack the basics!
Luckily a Disney Cruise is casual and most of the time you'll be swimming, beaching and relaxing. You can easily wear the same stuff more than once and be perfectly comfortable. I WOULD suggest packing more than one bathing suit (we usually do two or three suits for a 4 day sailing). If you want to really knock it out of the park, you can do themed Disney Bathing Suits…..it's a ton of fun!
Have you been on a Disney cruise ship? Leave any tips for what to wear on a Disney cruise in the comments!