Looking for the Best Rides at Magic Kingdom that every member of the family can enjoy? These are your best options with low or no height limits!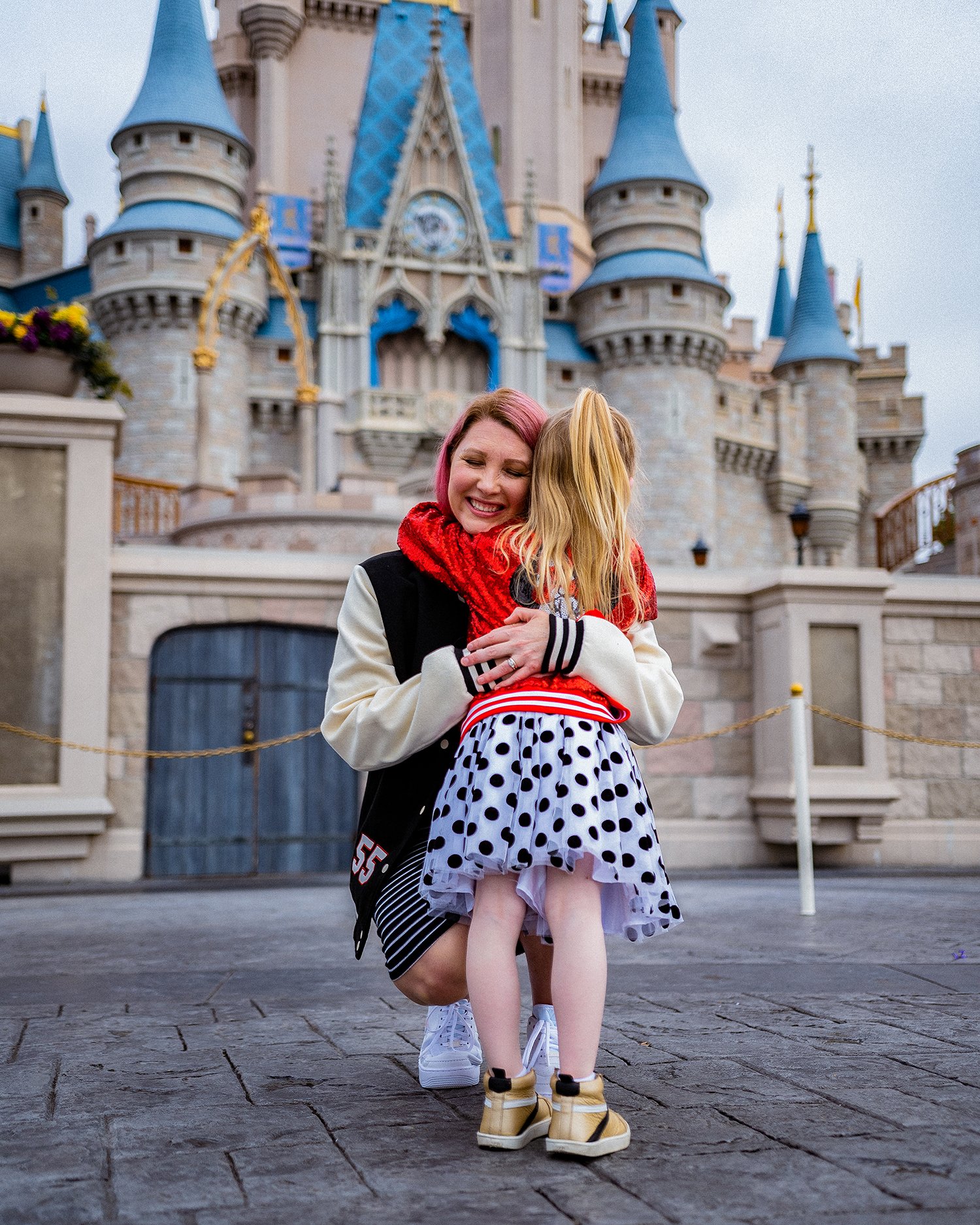 Are you planning a family trip to Walt Disney World? When Lydia was in Kindergarten, we took the Mommy and Me trip of a lifetime.   We had the best time exploring Disney World and finding all the best magic kingdom rides for both younger and older kids.  We wore our Walt Disney World outfits, we visited all the parks, and we even did a short Disney Cruise with a stop at Castaway Cay! 
We seriously did it all (minus a few thrill rides).  Now that we've visited the Walt Disney World Resort quite a few times, I wanted to create a guide for how our whole family tackles each park and all our favorite disney world rides and attractions.  Just so you know, I'm terrified of roller coasters and anything heights related.  So this guide to the Best Rides at Magic Kingdom? You're not going to see Seven Dwarfs Mine Train ANYWHERE on my list.  This is a perfect guide for traveling with younger kids or those with limitations…..all of our ride and activity suggestions have low height limits or none of them and they aren't….scary.
A few things that have helped a lot when planning for a great ride day and for setting expections:
disney genie +
if you want to insure getting on the most popular rides (whether you're in disney's magic kingdom, disney's hollywood studios , epcot or animal kingdom) then genie+ is worth every penny. One purchase for the day PER person works in any and all disney theme parks so you can park hop and still use your reservations. You'll be able to one at a time reserve all the most magic kingdom attractions and then for the Seven Dwarfs Mine Train you can also separately pay for and make individual lightning lane selections
pick your favorite ride in advance and start with the most popular rides
especially with little kids , it's important to set expectations. We usually sit down the night before and EACH select one priority attraction or experience. Then I map out when to do THOSE three things. We obviously do plenty of others and usually end up with a whole list of rides to tackle, but I map the rest AROUND those priorities.
use the my disney experience app
wait times for rides at the magic kingdom park (or any disney park) can vary GREATLY throughout the day (with the long lines tending to spike midday and afternoon) for the best attractions. The My Disney Experience app shows you wait times in real time (also it will let you know if any attraction is temporarily closed). My suggestion? If you want anything from the train ride to space mountain to pirates of the caribbean to big thunder mountain railroad to splash mountain to the magic carpets of aladdin ….watch the app for lower wait times.
The Best Rides at Magic Kingdom (and Activities) With Low Height Requirements:
The Magic Kingdom is a must visit during any Walt Disney World trip……hello, it's the classic.  From the Castle to the characters…..you'll see every Disney dream come true inside this park.  I'd suggest planning a full day or two if you can for Magic Kingdom and definitely set aside some time for a fun character dining (Cinderella's Royal Table and Crystal Palace are both super popular and with good reason ) plus time to walk around and really explore.
For reference: I've added  * to the rides and activities we DON'T have at Disneyland, those are always a priority to us
Sorcerers of the Magic Kingdom*
The Sorcerers of the Magic Kingdom is a really fun scavenger hunt that is free to participate in all over the Magic Kingdom.  The story? Hades has hatched an evil plan to take over, and it's your job to save the day.  The quest starts at the Firehouse on Main Street, where they'll give you a map and spell cards plus a key card.  There are 20 stops on the search, where you battle the Villains and cast spells.  This is definitely something that takes some time, we've actually never finished the whole thing ( I think if you have two days in the Magic Kingdom you'd have plenty of time)!
Main Street
The Dapper Dans: Seeing the Dapper Dans is a Disney must do.  This talented group is so unique and a fun activity in between rides.  You can check the my disney experience app for performance times!
Disney Enchantment*: We saw this amazing fireworks show for the first time during our last trip, and it was ABSOLUTELY amazing.  Definitely worth snagging a spot early, and making sure that you sit with a great view.  We sat to the right of the castle (facing it) and it worked perfectly for us.
Move It! Shake It! MousekeDance It! Street Party*: Got a Mickey and Minnie super fan? Then the street party is a ton of fun. This adorable dance party happens a few times a day (check the Disney World app for times) and is SUPER interactive (plus just the right amount of time for kids with not the longest attention spans).
Tomorrowland
Astro Orbiter: Board a spaceship and soar to the highest part of the park.  You'll get a killer view and it's a ton of fun. Note: I'm scared of heights but this attraction doesn't bother me AT ALL. I think because it moves fairly slowly and doesn't have drops.
Buzz Lightyear's Space Ranger Spin: If you've got a Toy Story fan, then this is a must do.  Fire your laser gun, and work together to fight the evil Emperor Zurg!
Monster's Inc Laugh Floor *: This is one of our family's favorites, and bonus? It's a great way to sit down and enjoy some air conditioning in the summer months.  This adorable comedy show stars your favorite Monsters, and is unique each time (they interact with the audience)….so it's worth a repeat visit. I can't recommend this unique experience enough, it's so cute!
Tomorrowland Transit Authority PeopleMover *: A total Disney World classic, and on EVERY list of the Best Rides at Magic Kingdom.  This relaxing tour of Tomorrowland is about ten minutes long and a great way to see everything! Bonus? Get a Joffrey's coffee (also something we have very little of at Disneyland) and sip it while you enjoy the view.
Walt Disney's Carousel of Progress*: This is a total Disney classic. Follow a family through 4 generations and see technology evolve (I love seeing what the imagineers THOUGHT we'd move towards in the future).
Fantasyland
Cinderella Castle*
Yes, we have a castle at Disneyland…..but it's not Cinderella's.  The castle is stunning, and worth a walk through.  It's also WAY bigger than the Disneyland castle. Take some time, look at all the unique details. If you CAN, book a meal at Cinderella's Royal Table. It's a really fun and unique experience.
Dumbo the Flying Elephant
Dumbo is always a must do.  Disney World's Dumbo ride is located in the adorable Story Book Circus area. It's a great spot for younger kids.  You can visit the characters in circus gear and explore. You can even check out Dumbo's foot prints in the ground all over the area!
Enchanted Tales with Belle*
This is one of my favorite things to do at Disney World.  In any park.  This adorable interactive play involves the audience.  Children take on roles from Belle's story and get to walk through her cottage and the Beast's Library. They even meet the princess herself.
It's a Small World
A total classic.  This ride is relaxing, and watch out…..that song will be stuck in your head for the rest of the day!
Mad Tea Party
The teacups are the best, even just to watch.  They are a fast, spinning ride……so be prepared! Of note, YES we have this attraction at Disneyland but it looks VERY different at each park. The Disneyland Mad Tea Party is an open air ride. The Walt Disney World Version has a beautifully decorated roof. It's really fun to compare the two!
The Many Adventures of Winnie the Pooh*
Yes, we do have a Winnie the Pooh ride at Disneyland. But it's totally different.  This is, in my opinion one of the best rides at Magic Kingdom for toddlers.  The cue (the waiting area) is super interactive and the ride itself is ADORABLE.
Mickey's PhilharMagic
Another great spot to relax, this short 3d movie is a ton of fun (and yes, has AC).
Peter Pan's Flight
This ride is pure magic.  Fly over London, and take the second star to the right straight to Neverland.  Sweet, and perfect for all ages.
Prince Charming Regal Carousel
Even the youngest visitors will love a carousel ride.  This normally doesn't have an epic line, and is a great evening ride option!
Under the Sea – Journey of the Little Mermaid
Now here's the deal, the ride is similar to the Disneyland version. But the queue? The path to the ride? Is ABSOLUTELY amazing and totally unique.  You literally go Under the Sea.  I love it so much! This is worth a visit just to see the queue!
Frontierland
Tom Sawyer Island: Looking for a spot to explore and blow off some steam? This may not be a ride, but it's certainly an adventure.  Take a boat to the Island and explore. This usually closes after dark, morning is my favorite time of day to visit.
Liberty Square
Haunted Mansion:  The Haunted Mansion is one of our favorites.  It can be a LITTLE scary for younger kids if ghosts bother them. But it is a ton of fun and definitely a must see if they're comfortable! While we DO have this attraction at Disneyland…..there are some differences in the queue. Therefore, if you're a Haunted Mansion superfan, it's worth a visit!
Liberty Square Riverboat: Kids of all ages (and grown ups too) will end up classifying this as one of the Best Rides at the Magic Kingdom. I guarantee it.  It's relaxing, you get a killer view, and perfect for seeing more of the riverfront.
Adventureland
Jungle Cruise: With the Jungle Cruise movie being such a hit, this is sure to become increasingly popular.  Come for the jokes, and stay for the relaxing float down the river.  The guides on the Jungle Cruise are amazing, and you get a unique experience every time!
The Magic Carpets of Aladdin*: This unique ride is absolutely adorable, board your own Magic Carpet and soar. I love the theming around this attraction. It's a great little spot to visit with younger kiddos and a perfect starter ride.
Swiss Family Treehouse: This walk through is a ton of fun. Take your time and check out the intricate details of each "room". 
Have you been to Walt Disney World? What do you think are the Best Rides at Magic Kingdom (or activities)?
Want more ride ideas? Check out our article about the Best Rides at Animal Kingdom!