Let's talk princess books for your favorite little princess.  From the classic board books to the non-traditional, these princess books for toddlers are must owns for every family!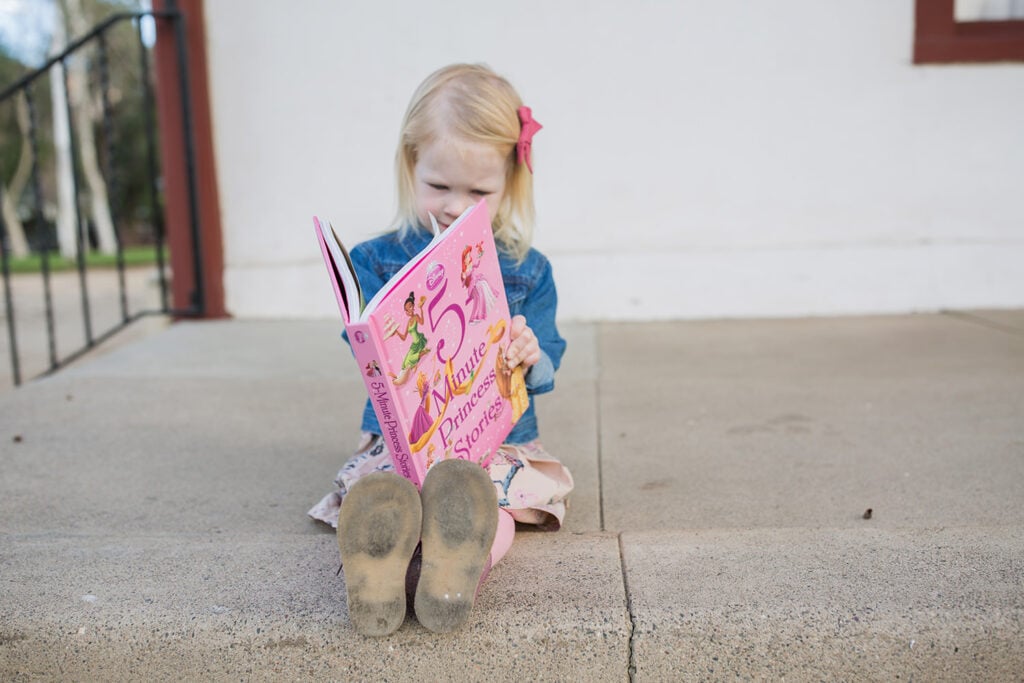 Anyone else have a kid who is totally obsessed with all things princess? When Lydia was a toddler, she would have worn princesses dresses all day everyday if I'd let her.  Young children love a classic fairy tale .  From Snow White to all the disney princesses to the slightly less well known children's books depicting more modern princesses …. there are a TON of options that make princess books for toddlers a great addition to your bookshelf.  These are also great gift ideas for birthdays or holidays!
Now I know what you're thinking.  Princesses? Is that really the empowering type of literature I want my kids to read?  Here's my favorite part about princess books and fairy tale books.  There are about a million options within the subject.  This list?  Above all, is filled with diverse characters, strong role models and unique and interesting princesses who rescue themselves.  Therefore, my goal? To use my daughter's princess obsession to open up new concepts and great role models for her.  Because isn't that what great books are all about?!?  From Cinderella Books to Interactive Books for all ages…..books allow us to imagine, dream and learn.  These 11 Princess Books for toddlers ? Do exactly that and therefore are great first books options for the tiniest fairy princesses in our lives.
11 Must Own Princess Books for Toddlers
This list of princess books will hopefully be the start of a larger collection in your family.  From
a traditional tale to some of our favorite disney movies…..I've included a bit of everything for
little readers who love a fantastic story that includes just a bit of magic.
Shop my Favorite Princess Books for Toddlers :
Every mom should own this book.  Inspired by the author's own son, this book tells the story of a boy who loves…..all things princess.  This book has beautiful illustrations and is an absolutely fantastic story that reminds us how important it is to support just who our children are.
This beautifully illustrated story features Grace who wants to be chosen as a princess in her town parade.  Her class does research about what a princesses dress should look like and discovers that princesses wear a diverse wardrobe.  From China to an african village in Kenya to some of the most classic tales…..this book does an amazing job of showing young readers that all princesses are magical.
This adorable story shares a princess who wants to joust like her brothers.  When she is denied the opportunity, a disguise helps her prove that she too should be able to participate.  This princess book for toddlers and preschoolers is a great way to talk about girl power and how we can do….anything.
I love this story of a princess rescuing a prince.  This story has sold millions of copies, is a total classic and therefore a must own for young girls to remind them that they….don't always need to be rescued.  It's also a perfect book for a little activity after…your kids can make princesses dress out of their own paper bags.
Lydia's initial book from this series was a gift from teacher at my old school and
as a matter of fact it's a total favorite in our household.  I love the story of this princess who, in disguise rescues those in need. This series is so much fun to read and a GREAT inspiration for Halloween costumes or year round dress up (what more could you ask for from great princess books for toddlers … right?)
Yes, this classic is a must own.  We still love it as much as I did when the movie released.  It's always a fun option to really create a series of activities around this story.  You can watch both the animated film and live action beauty and the beast after reading the picture book.
We ordered this book a couple years ago, and it's absolutely adorable.  The book is filled with recipes from  Rapunzel's Frying Pan Eggs to Ariel's Sea Turtle Cupcakes.  Lydia begs to make recipes from it almost every weekend.  The Disney Princess Cookbook is also a great way to get your toddler or preschooler to try new foods and to be involved in helping in the kitchen.
Got a Star Wars fan in your family? Then this is one of the best princess books for you! This is the story of Princess Leia, and the illustrations are GREAT.  If you're headed to Disneyland's Galaxy's Edge anytime soon, then this is the perfect preread.  Your family will understand the storyline (and this is a great toddler friendly way to introduce Star Wars).
This classic story is a must read for all princess lovers.  I love the Little Golden Books version that shares some stunning illustrations and the story of a princess who is just try to….get some rest. Trust me, your kids will love this one!
This princess story shares a little girl asking her mom all about what princesses can and cannot do.  The book shares that the inside is more important than the outside and is written in plain language kids can relate to.
Finally, this anthology of classic princess stories is one of Lydia's favorites.  The book is a fun, quick read. You can go through one story a night for MONTHS.  We used to bring this book with us while traveling and then use it for bedtime stories each evening.  It's a great holiday or birthday first option.  Also, fun idea? During your next Disneyland vacation….you can bring this book and have the princesses sign the title page!
What are YOUR favorite princess books?  Did I miss any?