We got to go on the maiden voyage of the Disney Wish Cruise Ship out of Port Canaveral, and this? The ultimate guide and everything you need to know before sailing on the new ship!
Well, we did it. We got to sail on the latest addition to the disney cruise line fleet, the Disney Wish Cruise ship and what an experience it was! Disney fans have been eagerly awaiting this new ship (and trust me when I say, we are included in that group)…….and let me start by saying…..wow it was even better than I expected!
We have sailed on the Disney Dream multiple times, and been to Castaway Cay (disney's private island in the Bahamas), so I knew this would be AMAZING.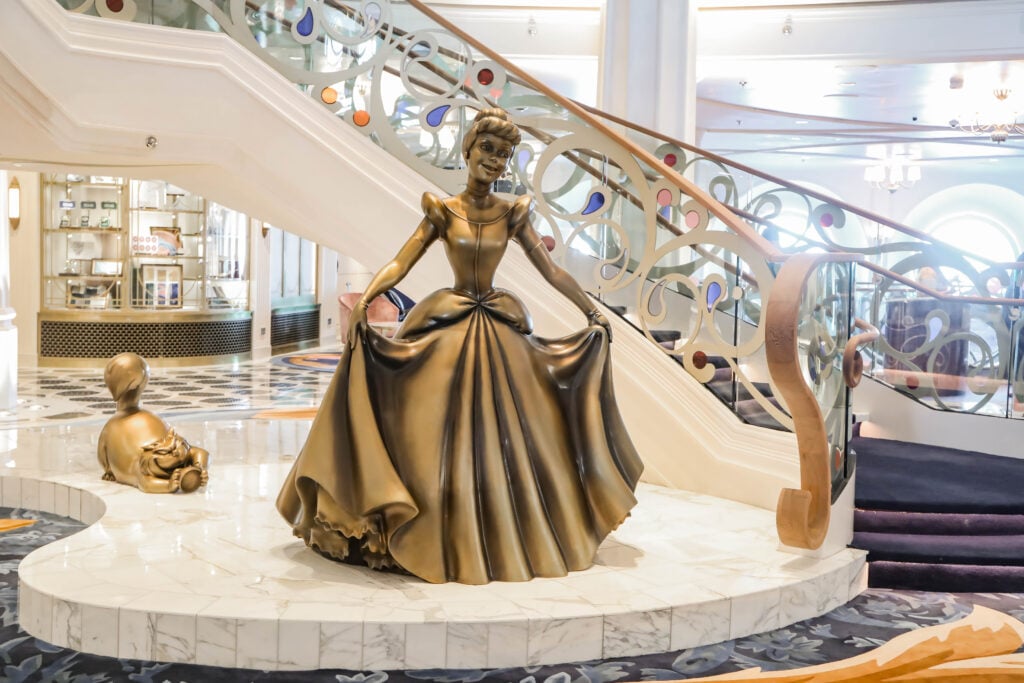 There is something so special about Disney Cruises, they really bring the maximum level of Disney magic with everything from killer dining to little moments that can't be replicated elsewhere. But THIS SHIP? They truly brought it to a new level.
The amazing thing about the Disney Wish Cruise Ship? In my opinion, the teams that built this amazing vessel took all the phenomenal things about other Disney ships, and added to them. They truly thought of every detail.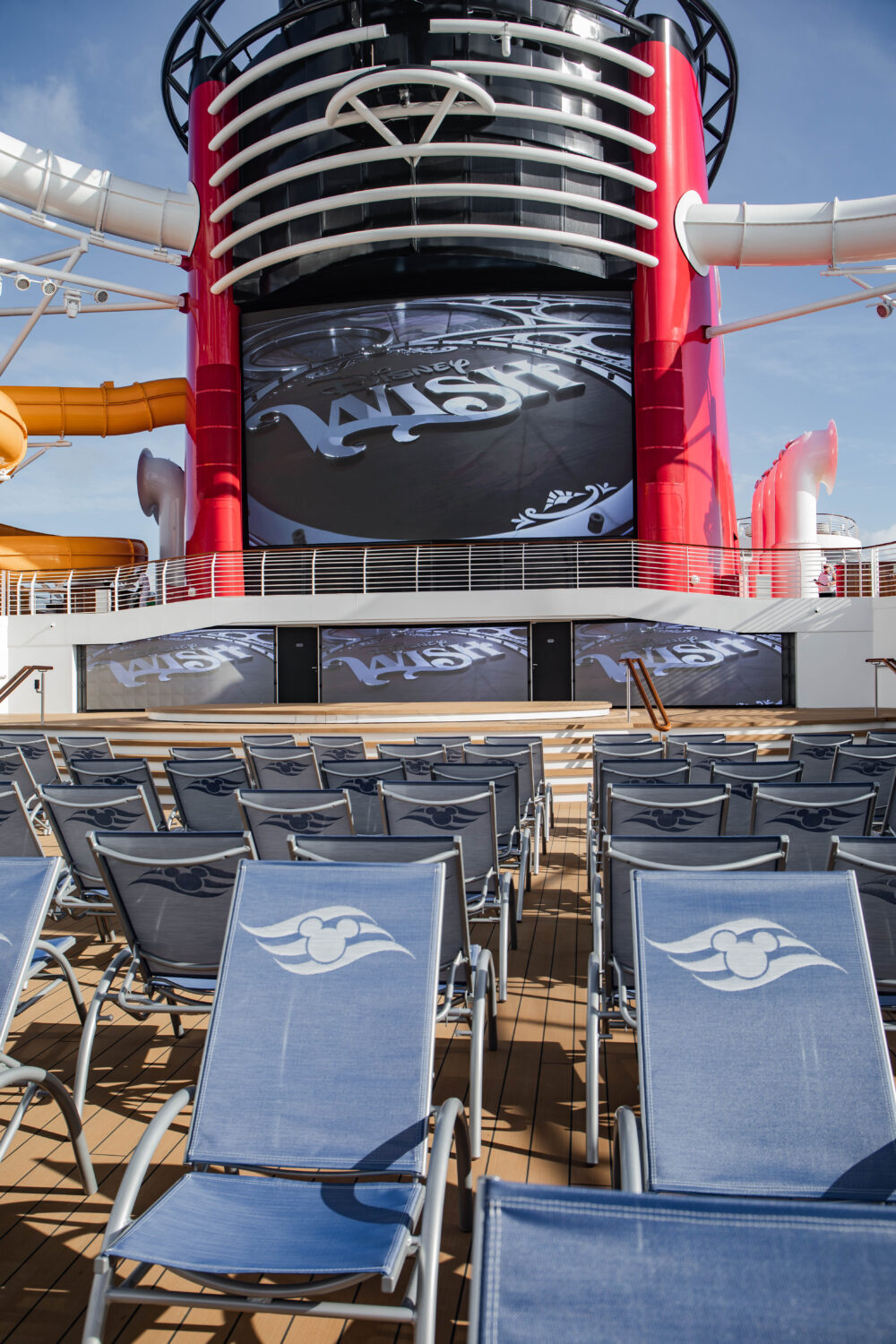 Everything We Learned during a 3-Day Sailing on the Disney Wish
If you are planning to sail soon on the Disney Wish cruise ship, or are considering booking a sailing on the disney cruise line's newest ship…..this blog post will outline everything you can expect from dining to special experiences.
The Disney Wish Cruise Ship: What You Need To Know
Disney's fifth ship is absolutely breathtaking. It's filled with beautiful details, and I absolutely loved walking around and just…..taking it all in. From the beautiful grand hall to the upper decks to the first disney attraction at Sea…..there is a LOT to enjoy.
My biggest suggestion? Try to get an early boarding time. You can spend a few hours exploring BEFORE you access your stateroom. It's a great time to eat lunch, check out the different communal areas and even swim (pro tip pack a small beach or duffle bag with suits or wear them under your clothes).
Disney Wish Cruise Ship Special Merchandise and Unique Programs
One thing that I truly love about the Walt Disney Company is it's commitment to the Make a Wish Foundation. The Disney Wish is yet another way Disney will be enhancing the lives of wish kids and supporting the important work of Make a Wish as a part of their longstanding partnership. Disney has announced that a stateroom on the Disney Wish Cruise Ship was donated to benefit the foundation, and they will also be selling exclusive Wish merchandise that will give 10% of all profits to the Make a Wish Foundation (these items will be available on the cruise ship with SOME of them also being sold on Shop Disney). In addition, all present, past and future wish children will be considered godchildren of the disney wish. Pretty cool right?
You can see our unboxing of the Disney Wish Limited Edition Collection Here
The ship also has exclusive Loungefly bags, Dooney and Burke bags and Pandora charms. If you're on the hunt for a special souvenir, there will be plenty of options!
Disney Wish Dining Rotation
The evening dining room rotations are one of my favorite things about disney cruise line ships. Every ship from the disney fantasy to the disney dream to yes…..the Disney Wish Cruise Ship has three fun and unique experiences based on Disney history and disney characters.
Not gonna lie, I've been looking forward to THIS particular dining rotation since Disney announced the dining rotation for the first time in a Disney Parks Blog broadcast over a year before the new disney wish cruise ship ever sailed.
Just to clarify, when you register for your cruise you will select either the earlier or later seating for dinner (we always do the 5:45 earlier dining time with a family cruise….otherwise it just feels too late for younger kids). When you board, you'll be given your rotation (meaning which experience you'll have on which night). No need to worry, everyone gets to do ALL of them!
1923 Restaurant
This was SUCH an elevated dining experience….honestly, I felt like I was in a fancy restaurant back home. 1923 is designed to pay homage to the year the Walt Disney Studios was started, and it's filled with beautiful art and pieces inspired by Disney films. The entire space is divided into two sides (the Roy and Walt Disney dining rooms). Instead of one large room, it feels like you are eating in intimate smaller dining rooms filled with beautiful china, table settings and portholes that have a lovely view of the ocean.
I will say, parents this is the only dining in the rotation without "entertainment" so it's definitely the most grown up. If there is ONE night you'd like to have your kids eat earlier (at Marceline Market or Mickey & Friends Festival of Food), you can drop them at the kid's club and do this as a date night…..and it would be the perfect night for it.
We personally ordered the salmon and the filet. I also got the ahi tuna appetizer and Robbie had soup. The ahi tuna appetizer was one of the best items I tried the ENTIRE trip, highly recommend!
Arendelle – A Frozen Dining Experience:
EKKKKKK! This is the one that I was waiting for! The first frozen-themed dining experience ANYWHERE. This frozen dining adventure is a combination of dinner and theater, yup….expect a full on Anna and Elsa show complete with special effects. Honestly? This totally surpassed my expectations and I would have gone twice if we could!
The show is interactive, great for kids but funny for adults and really makes the dinner courses flow perfectly. I love that it tells the story of Anna and Kristoff's engagement party, and really works in music from all our favorite Frozen movies and shorts (it even included a never made it to the movie song that made these epic Frozen fans smile a little bigger).
The characters do come to the tables and wave, but they will ask you to stay seated. At this time, no autographs, but you can take pictures.
The Arendelle – A Frozen Dining Experience Menu:
We personally ordered the Elsa's Royal Baked Scallops and the Blushing Oakeris Chilled White Wine Asparagus for appetizers. I'm not going to lie, I was sort of annoyed that I picked asparagus until it arrived. AMAZING. It was absolutely delish. And for entrees? I did the Juniper Spiced Roasted Chicken Breast and Robbie did the King Agnarr's Dry-rubbed Roasted Pork Tenderloin. Do NOT skip this roasted chicken, it is absolute perfection.
Worlds of Marvel
Fans of the marvel cinematic universe? THIS IS FOR YOU. This dining experience is filled with Marvel-inspired foods and some VERY cool experiences (you can even use a special button at your table to shrink and grow things like Ant-Man and Wasp). This is also a stellar place to interact with some of your favorite Marvel characters and to get to experience some pretty silly and unique Marvel storytelling.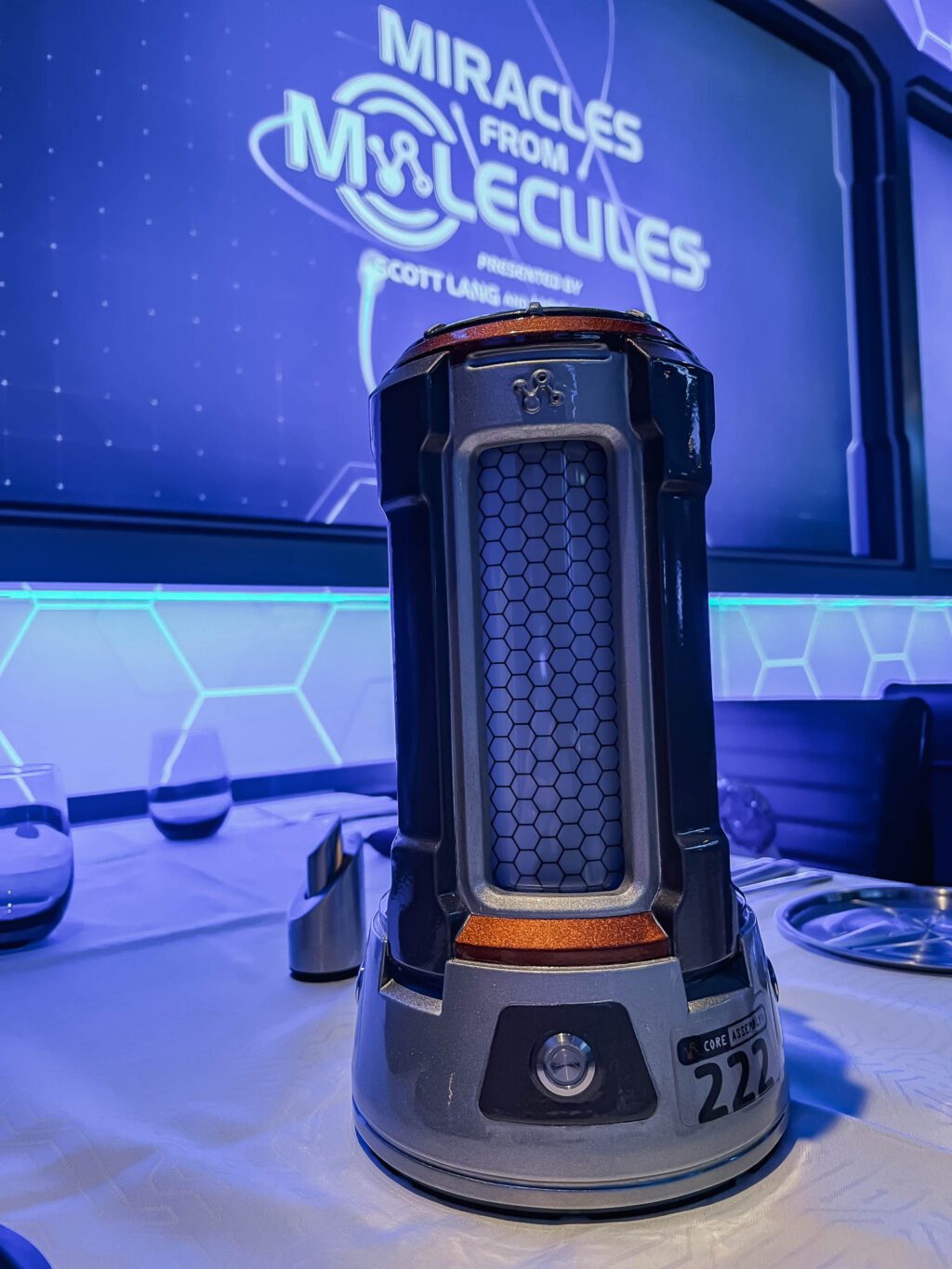 You'll see Ant Man and Wasp walk through the dining room in person (fair warning they do NOT stop to do meet and greets but they DO wave and interact with your kids) and then you see some pretty cool clips of all your favorite characters on screens around the room. The dining experience does a great job of creating an interactive story and made the dinner flow really nicely.
The Worlds of Marvel Menu:
We personally ordered the Berbere Spiced Pork Chop and the Seared Turbot Filet. Both were lovely. I will say, I liked the salmon at 1923 MORE when it came to fish during out trip……but if you are looking for a lighter fish option, this is a great one.
Disney Wish Cafes and All Day Dining Options
In addition to the evening dining rotation, there are a ton of all morning, afternoon and evening dining options on the Disney Wish Cruise Ship. I'd keep these options in mind for snacks too, since you (or your family) may get hungry throughout the day and will want to know where to go.
Mickey & Friends Festival of Foods
Headed to the pool deck? Then THIS IS THE OPTION FOR YOU. This open all day food option has 5 unique food offerings: Mickey's Smokestack Barbecue, Donald's Cantina, Daisy's Pizza Pies, Goofy's Grill and Sweet Minnie's Ice Cream. You can eat at your seats by the pool, or in the shaded seating area near the Festival of Foods itself…..and don't forget to check out the adorable Mickey Mouse theming in this area.
Lydia LOVEDDDD the pizza from Daisy's Pizza Pies and OMG I got the best burrito bowl made at Donald's Cantina……this is a stellar lunch option either on the day you board or your on ship day.
Joyful Sweets
Every Disney Cruise Line ship has a special dessert and sweets shop, and the Disney Wish Cruise Ship is no exception! If you love Inside Out…..this is for YOU. Joyful Sweets pays homage to the Headquarters from Inside Out (you know the area in Riley's mind where her emotions and memories live) and it has the CUTEST details (plus some really fun merch and amazing desserts). It's worth noting, the desserts at Joyful Sweets are an additional charge, but we usually go to the dessert shop once a cruise to browse and once to get something special on the last night. Highlights for us? The Inside Out cupcakes, and the memory sphere dispenser. This machine asks you to turn a wheel until your very own sphere comes out…….it's filled with a toy and jawbreaker.
Marceline Market
This all day food hall has SO many options, I can guarantee even the pickiest eater will find something they love. This is a super casual, walk up experience……filled with the cutest food stalls each themed to a different Disney animated character or movie. There are options for everyone (and a ton of plant based choices if that's your thing!) We visited for breakfast each morning, they also have a VERY nice coffee bar inside where you can grab lattes for an additional fee.
Enchanted Sword Cafe
Coffee friends…..I had to. Listen, I have an entire blog post about where to get fancy coffee at Disneyland…..so I had to explore fancy coffee on the Disney Wish cruise ship, right? Let me tell you, the Enchanted Sword Cafe on the 5th floor delivers. Fancy coffee, the cutest bar area and cafe tables. They do latte art on your drink, and it's….pure heaven. I highly recommend dropping you family by the pool and taking an hour to sip a latte with the Disney Wish logo while reading a book. Bliss.
Disney Wish Cruise Ship Staterooms
Let's talk staterooms on the Wish. I was especially excited to experience these after getting a first look at renderings of the new cruise ships' rooms. From the royal suites to the traditional staterooms, each option on the Disney Wish is filled with magical details and has comfort in mind.
A few of my favorite elements of OUR stateroom (we were in a Deluxe Oceanview Stateroom with Verandah):
this probably goes without saying but….the verandah itself. I love sitting on our own little patio and watching the ocean go by, it's just SO peaceful!
there is plenty of space to sleep for a family, our stateroom had a queen bed, single convertible sofa (that cast members will set up each evening while you're at dinner), and single pull-down bed (they only pull it down if you are traveling with a family or group of four)
storage: the Disney Wish cruise ship staterooms have a SURPRISING amount of storage including closet space and space under the bed to store your suitcases (this is always something I worry about on a cruise, so was worth noting)
H20 Plus® spa, bath and shower products (if you've stayed on property at a Disney hotel then you know how amazing these products are)
Theming: Each floor is themed to a different princess and the rooms have lovely, subtle theming to match. We were on the 11th floor (which I loved because we were pool level and food level), and our room was Little Mermaid themed.
Disney Wish Activities
Every Disney ship has a set of exclusive and unique activities and the new disney cruise line ship is no exception. We love using our day at sea to try out all the fun activities (and then to obviously get in some pool times). Highly suggest a similar schedule (or if you want few people, you can always do these activities during a dinner seating or a port day).
Disney Uncharted Adventure: This was actually REALLY hard for me to conceptualize until we experienced it ourselves. But the best way I can explain it? If you have used Disney Play in the parks, it connects you to little fun elements you can unlock with your phone (via bluetooth). This? IS LIKE THAT BUT ON THE SEA. This will take your family on an adventure with Captain Minnie (the storyline states that an evil force attacks the Wishing Star, and its magic is divided into pieces that land in far-off lands. You will explore the ship to save the day!
The Little Mermaid and Disney Seas the Adventure: Each Disney Cruise ship has an amazing and unique entertainment venue. Now listen……don't sleep on the shows on the Disney Wish Cruise Ship or any other Disney ship. They are TOP notch, and amazing experiences. Usually there is a different show each night (you can find info in the Disney Cruise Line Navigator app). There will be two performances a night, which work around the dining rotation seating times.
The Disney Wish Cruise Ship will have an all new adaption of The Little Mermaid, an original show called Disney Seas the Adventure, and Disney's Aladdin – A Musical Spectacular. Most of the time the adaptions on the cruises are about an hour to an hour and a half at most.
Disney Wish Pools and Deck
One of the BEST things about your day at sea on the Disney Wish (or really any Disney cruise ship)? Absolutely time by the pool and exploring all the dun activities on the deck. And the Disney Wish? Has some all new and super fun elements that are 100% a don't miss in my book.
Aquamouse: the first Disney Attraction at Sea: THIS is one of the most exciting things on the new Disney Wish Cruise Ship…..the AQUAMOUSE. Now, Disney Cruise Ships have had water slides….but this? Is a unique experience. It's a……experience. Think a combination of water ride / movie / attraction. You'll ride through a twisting tube AND see some pretty cool animation.
Make this a priority, it's truly unique to the Disney Wish Cruise Ship. I have to say, I wasn't SURE what this would be like in real life. I couldn't QUITE picture it, but….I LOVED IT SO MUCH. Heights and drops normally scare me. But this didn't bother me at all. You'll ride in an inflatable raft, and it does move fairly quickly but no scary drops.
Toy story splash zone: the Disney Cruise pool deck areas ALWAYS have a super cute splash zone for younger kids, and the toy story theming on the Disney Wish? It's absolutely adorable and definitely perfect for smaller kids!
Disney Wish Adult Areas
The Disney Wish has some VERY cool adult areas that are perfect whether you are traveling with an adults only party or if you've sent the kids in your group to the kids' club.
Hyperspace Lounge
Hyperspace Lounge: This is it. The star wars lounge. I have to be honest, during past Disney Cruise trips, I've barely visited the adult bars and lounges….but this trip? I made it a priority. The Hyperspace Lounge was THE place to be during our sailing. In fact, we needed to make a reservation. It's fairly small, and I imagine that will be the case on most sailings for awhile. If this is something you'd like to experience, I highly recommend stopping by when you board to make a reservation for whatever day and time you'd like. For Star Wars fans? It's a must see. The lounge is totally immersive, and stunning. You'll see space go by in a window behind the bar, the seating is…..perfection and the drinks? Perfectly curated and perfectly themed. It's an experience and one that you will absolutely be glad you had.
Note: Children are allowed in the Hyperspace Lounge before 9 pm. After that? It's adults only.
The Bayou
The Bayou: Y'allllllll! I can't rave about this adorable lounge enough! It is STUNNING. The entire ceiling is covered in magnolias, it's the perfect shades of green and has the most beautiful Princess and the Frog touches plus serves beignets and some fancy drinks (they are open in the morning for coffee and mimosas). And at night? You'll find some pretty great music. It's absolute perfection and was one of my favorite spots on the ship.
Disney Wish Kids' Club
Now, Disney Cruises always have a great kids' club. But THIS KIDS' CLUB? It elevates the already wonderful experiences we've had with kids' clubs on a Disney cruise to a whole.new.level. The entrance to the Kids' Club on the Disney Wish? IS A SLIDE. Yes, you can check your children in to one side of the Grand Hall, and they'll slide down a level into the Kids' Club (this was a big hit).
But what struck me? Teacher hat on? The attention to detail in this stunning space. It is absolutely created so that every child can find something they love. There are themed rooms, an art area, an imagineering lab, quieter spaces and louder spaces, areas that are lighter and darker and….the cutest pixar themed bathrooms I've ever seen.
There is also a Small World themed nursery that is absolute perfection. It has beautiful places for babies to do floor play, colors to stimulate brain development, beautiful peaceful rest spaces and the cutest train that goes around the entire area.
Even the most hesitant kids were BEGGING to go back by day two.
A few things to note for new to kids' club families
Your child can have them text you at any time. If your child asks for you, you'll immediately get an alert in your Disney Cruise Line app as will any adult who has been approved to pick them up.
You and your child will set a password, even if you are ON the list to pick them up, you will need to know the password to take them out of the Kid's Club
The Kid's Club doesn't need reservations and it's open until midnight usually
There are open houses on the first day and most mornings, if you or your children feel nervous you can visit WITH them during that time to explore and get a sense of what it is, it's a great way to help kids warm up to kid's club
Disney Wish Prices
The Prices on the Disney Wish Cruise ship vary based on type of state room and number of guests as well as time of year. I think it's important to take into account WHAT is included in the price of sailing. Your food and drinks (aside from alcoholic beverages or fancy coffees) are all included as is the kid's club and a visit to Castaway Cay (if that is on your itinerary). Lunch on the island is also included. For reference, we got wine at dinner each night and fancy coffees and our total bill on the ship for those was under $200.
Phew, that was a lot of information. But, I can't stop raving about the absolutely beautiful experience that Disney Cruise Lines have created with the Disney Wish. We can't WAIT to sail on it again!