Love Pixar Movies? This is what we know so far about Luca (and the latest Luca Pixar Trailer)……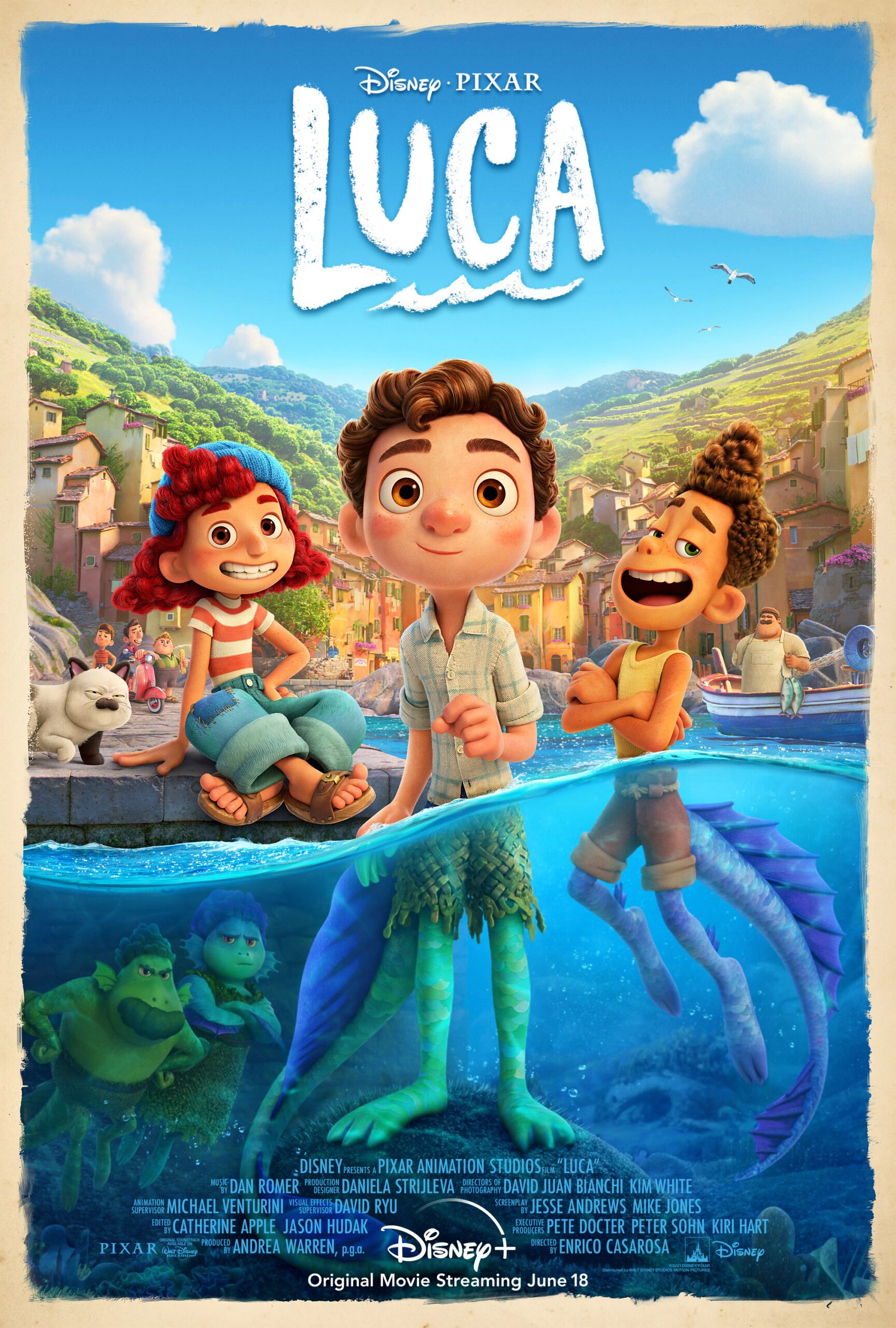 When I first heard about the newest Pixar movie, I GASPED and teared up a bit.  My own family? Immigrated here from Lucca, Italy in the 1940s.  In fact, my mom was born here in California but my aunt was born in Italy.  So my sister and I are part of the first full generation to be born here.  Italian culture was a huge part of my upbringing and something that truly connects me to the family I love so much.  And this movie? Is about a boy named…..LUCA.  It take place on the Italian Riviera, and I couldn't be more excited.  I've read every single thing I could find about the movie, and said just about the fastest yes EVER when the team at Disney and Pixar invited me to a virtual early press day to learn more about Pixar's upcoming release and to see more than just the Luca Pixar trailer…..I got to see about 20 minutes of the film!
What We Know About Luca (and the latest Luca Pixar Trailer)
Plot: Pixar's upcoming film, Luca is a love letter to the coastal towns in Italy that have held the same timeless magic and beauty for hundreds and hundreds of years. The film tells the story of Luca and Alberto, two sea monsters who become friends, come of age, and explore the complexity of life above the surface.  The story follows their adventures, and celebrates the beauty of both friendship and Italian culture. Director Enrico Casarosa (who also created La Luna), is from Genoa, and has put his own unique perspective into this passion project around his home country.
Characters: Luca is filled with unique characters, that will be a ton of fun to get to know.  Watch for:
LUCA PAGURO – the main character, a 13 year old sea monster who is shy, introverted and…..totally risk avoiding.
ALBERTO SCORFANO – the sea monster friend that is the polar opposite of Luca, an adventure lover who is sure to bring Luca out of his shell.
GIULIA MARCOVALDO – girl power loving friends, meet your latest heroine.  Giulia is, a powerhouse who recruits Luca and Alberto to help her win a very important race.
ERCOLE VISCONTI – every story needs a villain, or in this case…..a bully.  Ercole is self centered, snobby, and…….the winner of that very important race for as long as anyone can remember.
DANIELA PAGURO – Luca's mother who……wants to keep her son safe and close to home at all times.
LORENZO PAGURO – Luca's dad……a slighty distracted, yet loving parent.
GRANDMA PAGURO – the grandma every kid needs, who encourages adventure and supports bending the rules every now and then.
MASSIMO MARCOVALDO – Giulia's dad, a fisherman who encourages his daughter to dream and explore.
Pixar Luca Trailer:

LUCA is streaming exclusively on Disney+ starting June 18th.