Pixar fans are eagerly awaiting the next big movie release.  This? Is a little sneak peek into the Turning Red characters …..who they are, and why they are important to the cast and creators of the film.
Get ready Pixar movie fans…….Turning Red is coming soon, and from what I've seen? It's going to be……unique, amazing and….something we all need to see.  I had the opportunity to learn more about the film recently directly from cast and creators AND to see the first 20 minutes of the film and what I saw? Made me feel even more excited about this Pixar release than I already was!
So what is this upcoming feature about?
The first feature film from Director Domee Shi ( the creator of the Pixar short film Bao that we all fell in love with) and producer Lindsey Collins …..Turning Red is the story of Mei Lee (voiced by Rosalie Chiang).  Main Character Mei Lee is 1a 13-year-old girl and we get to join her as she comes of age, experiences body changes, a slightly overbearing parent, cultural divides, and oh so much more.  But the unique part of the story? Mei discovers that her body changes bring about a unique shift…..whenever she gets excited…..she changes into a giant red panda.  As if the chaos of adolescence isn't tough ENOUGH!
Y'all know I'm all about the open dialog when it comes to puberty, body changes, and life….so this Pixar movie is pretty much upcoming film perfection in my book.
The Turning Red Characters: Who Are They
The Turning Red characters are voiced by……an amazing group of actors and brought to life by the talented animation team at Pixar Studios.  You can expect to see: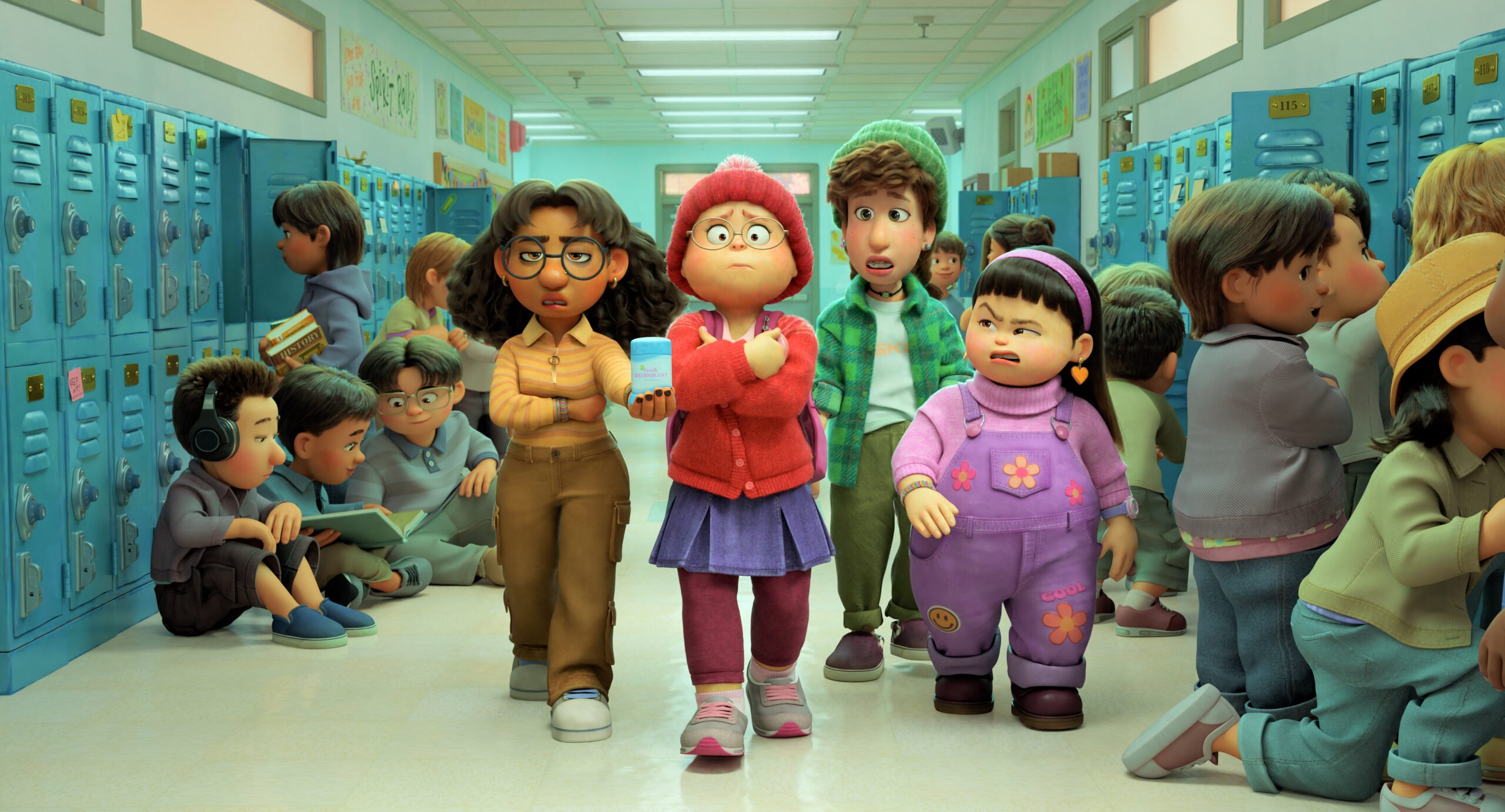 Mei Lee (voiced by young actress Rosalie Chiang): A slightly dorky 13-year-old girl who straddles her life at school, being her mother's dutiful daughter , and…..discovering the unfortunate reality of puberty.  She realizes that as she grows, she suddenly transforms into a giant red panda whenever she gets excited or stressed.
Ming Lee (the amazing voice of Sandra Oh): Mei Mei's overprotective and strict mother (not going to lie, moms….you'll relate to QUITE a few scenes)…..she's a lot more lovable than you might expect.
Miriam (voiced by Ava Morse): One of Mei's friends and fellow middle schooler.
Priya ( voiced by Maitreyi Ramakrishnan ): one of Mei's friends and potentially the most mature friend in the group.
Abby (voiced by Hyein Park):  another of Mei's friends
 Jin Lee (voiced by Orion Lee): Mei's father.
Mei's grandmother (voiced by Wai Ching Ho )
 Tyler (voiced by Tristan Allerick Chen): Mei's classmate.
Devon (voiced by Addie Chandler): Mei's secret crush.
Pop Star Boy Band 4*Town voiced by Jordan Fisher, Josh Levi, Topher Ngo, Finneas O'Connell, and Grayson Villanueva
Why are the Turning Red Characters and a Red Giant Panda Important to the Cast and Creators?
Now, y'all know how strongly I feel about representation in film and children's entertainment.  I loved hearing WHY the Turning Red Characters are important to the amazing people who created this film (especially Academy Award-winner Domee Shi, who I fell in love with after hearing her speak about her creation of her short Bao a few years ago).
"So back in 2017, as I was promoting my short film Bao….a lot of people kept asking me why is Bao a boy?  Why is this little dumpling a boy?  And I was like oh, because I only had eight minutes to tell this story, for a mother/daughter story, I'd need an entire feature film to unpack that.  But luckily, I was soon given the opportunity to do a lot of unpacking when Pixar asked me to pitch some ideas for a feature film." -Domee Shi 
"Turning Red is just inspired by this universal struggle of growing up and trying to figure out how to honor your parents but also stay true to yourself.  And for Mei Lee in the movie, the red panda is that magical spark that sets off this internal conflict within herself.  Uh, 'cause up until that point, Mei thinks she has it all figured out, like we all did before we woke up one day and realized all of a sudden, we're covered in body hair, we smell funky, and our emotions are all over the place, and we're hungry like all the time." -Domee Shi
"We want to use the red panda in this movie as an adorable metaphor for the scary, unadorable, awkward, and cringy, uh, changes we go through during this age.  And more specifically, we want to explore the nuances of Asian parent child relationships and dealing with change and all of the intergenerational conflict and how it shapes who we become." -Domee Shi
"I think for Mei, her struggle is very unique and specific to a lot of immigrant kids, a lot of Chinese kids, in that she genuinely loves her mom.She looks up to her mom like this-this-this perfect goddess woman that she's scared of, but also, like, loves and wants to, like, impress.And she genuinely wants to keep their relationship close, but she's realizing throughout the movie that it's becoming impossible, because she's growing up in this western environment, in Toronto, with her friends, and she's growing into a different person from her mom, and that's kind of the-the thing that she has to, um, kind of come to terms with." -Domee Shi
"I am hopefully, you know, blazing the trail and one of many more, uh, Asian storytellers to come, uh, not just from Disney and Pixar, but just, you know, in the industry in general." -Domee Shi
Turning Red is the first Pixar film (full length animated feature film) with a primarily Asian main cast, and also as an Asian woman as a director from Pixar Animation Studios , and I can not WAIT to see the full movie.
TURNING RED is streaming exclusively on Disney+ starting March 11th .