Disneyland Magic Bands are here and they're totally new for disneyland resort guests. This is the ultimate guide to magic bands in disney's west coast theme parks. It will outline the benefits for all new magicband options and why you would (or would not need one) for your next disneyland trip!
Well, it happened. They arrived, magic bands are officially bicoastal and are in action at the disneyland park and disney california adventure park . I have to be honest, I'm a magic band super fan. We used them during each of our walt disney world resort trips and I loved how they truly streamlined so many processes. From opening hotel rooms to scanning into the parks themselves, I love how they make the park experience so much easier. Therefore, I was PRETTY excited when Disney announced that disneyland magic bands were coming our way.
Disneyland Magic Bands : What Are They
Let's start with the basics. The disneyland magic bands (and the disney world magic bands) are wearable tech bracelets that help to make your theme park visits easier. They use a rechargeable battery for power, and as of october 26th they are available to all disneyland guests (they launched a week earlier for cast members and disneyland magic key holders but now are available to the general public ). This wearable device has been a popular item at other disney parks and it was a highly anticipated addition to disneyland.
Shop disneyland magic bands :

disneyland magic bands : what can they do
There are two types of experiences disneyland magic bands can offer. This section will outline how a these new bands can streamline actions you already participate in when visiting disneyland. Reminder, you can continue to do these things as you've always done. However, a disneyland magicband will make them easier and more streamlined.
Park Entrance:
It may seem obvious but all disneyland visitors need a reservation along with their ticket. When you head to the gates (either at Disneyland or Disney California Adventure) you'll need to scan in. You can do this with a physical ticket, a ticket in the disneyland app or the magicband plus . Having done all three…..let me tell you, this is a HUGE benefit. I love not having to pull my phone out. and not worrying about wifi or cell phone coverage. It is so easy it is for each member of my family to scan themselves in with their disneyland magic bands instead of me scanning them ALL in with my phone.
Lightning Lane:
Planning to use Genie+ for a day at the resort? This additional paid experience is the new version of Disneyland's fast passes. You pay the daily fee and you'll be able to reserve lightning lane entrances for certain popular attractions. These reserved lanes are shorter and allow you do a TON more attractions. When you make the reservations, you'll have a reservation in your disneyland app. Normally you pull out your phone and scan it into the kiosk at the lightning lane entrances for each ride. But with disneyland magic bands you can scan in using your magicband plus instead. The biggest benefit for me? Is that my child can scan HERSELF in. I don't need to scroll on my phone to each lightning lane reservation for our whole party. I love that this is an option, it really does make things easier especially with kids in tow!
Disney Photo Pass:
There's nothing like a great vacation photo. Disney photo pass is an amazing option for getting some really fun pictures during a visit to the disneyland resort (and remember magic key holders — photo pass is included in your key….so don't forget to use it). Usually after taking pictures with a disney photopass photographer, they'll scan a special qr code in your disneyland app. The photos then upload to your disneyland app usually within an hour or so. I have to be honest, the code isn't the easiest to navigate to. So I love that with my magic band, I don't need to. Your photo pass photographer can just scan your disneyland magic bands and your photos will show up in your disneyland app later. Easy as pie!
Disability Access Service Return Times: Disability Access Service (DAS) is a program offered at the Disneyland Resort theme parks to assist Guests who have difficulty tolerating extended waits in a conventional queue environment due to a disability. The DAS system allows guests who are participating in the program to receive a return time for attractions instead of waiting in line (you can see more on setting this service up if needed for your trip HERE ). As of now, you CAN use your Magic Band+ to scan in for return times at attractions that have lightning lane capability.
disneyland magic bands : special activities
In addition to the make it more convenient aspects of disneyland magic bands , there are some pretty cool additional experiences that only magic band users will get (in my opinion, these are the absolute best part of this new to us wearable technology ). These are special moments that really enhance your trip and I love that as magic keyholders we'll be able to enjoy these experiences each and every time we visit the disneyland resort.
Enhanced Nighttime Spectaculars:
If you love World of Color, Fantasmic! or other nighttime shows…..then this is a really fun addition to the experience. Your MagicBand plus will glow with color and pulse in time to the music during the shows. It will also work with the holiday version of World of Color! There are also some additions and reactions in Avenger's Campus from your disneyland magic bands so be sure to check that out.
Bounty Hunting in Galaxy's Edge:
This was hands down our absolute favorite part of having Magic Bands at Disneyland. This fun interactive quest in galaxy's edge prompts you to search for virtual bounties all over black spire outpost (you'll be earning galactic credits and it's so much fun).
So how does it work? You'll scan your Magic Band into the bounty board in Galaxy's Edge across from Savi's Workshop and the Droid Depot. After scanning your band your bounty hunt will begin. Your band will start to vibrate and you'll begin to explore. As you get closer to your target your band will turn green and start to vibrate faster and faster. If you get further away, it will turn red. The targets are USUALLY in the panels you'll see on the walls all around the area.
When you FIND your target, the band will light up with PURPLE lights. Then you head back to the bounty board to collect your credits. You can also scan with the Play Disney app to SEE your bounty. Warning the hunts get harder and harder as you work your way through!
Where to Buy Disneyland Magic Bands
Shout out to my college bestie for sending me this question bright and early this morning. You currently have a couple options when it comes to buying Disneyland Magic Bands for your upcoming Disneyland trips.
You can absolutely order them online from ShopDisney and they'll arrive in advance. This is my top suggestion so that you can activate and set them up BEFORE arriving at the parks.
Shop Magic Band+ options:

You can also buy them at both Downtown Disney and inside both parks. They are currently available at:
Disney Magic Bands: Frequently Asked Questions
Are Magicbands a requirement?
Absolutely not. But I do recommend them. You can scan yourself into the parks with theme park tickets or the disneyland app. You can also use the disneyland app for lightening lanes. So the basics you'll need? You can do on your phone. HOWEVER. The extra elements and activities are fun. Phones lose charge. I love NOT having to pull my phone out constantly during a park visit.
Are there child sized magic bands?
All disney magicband bracelets can be sized to a child sized option. They come with a perforated spot on the bracelet where you can tear to make it smaller for smaller wrist sizes. You'll probably want to use the child sized option up until about age 10. After that, the smallest adult sizing will do just fine. My 8 year old is ALMOST at the end of the kids sizing.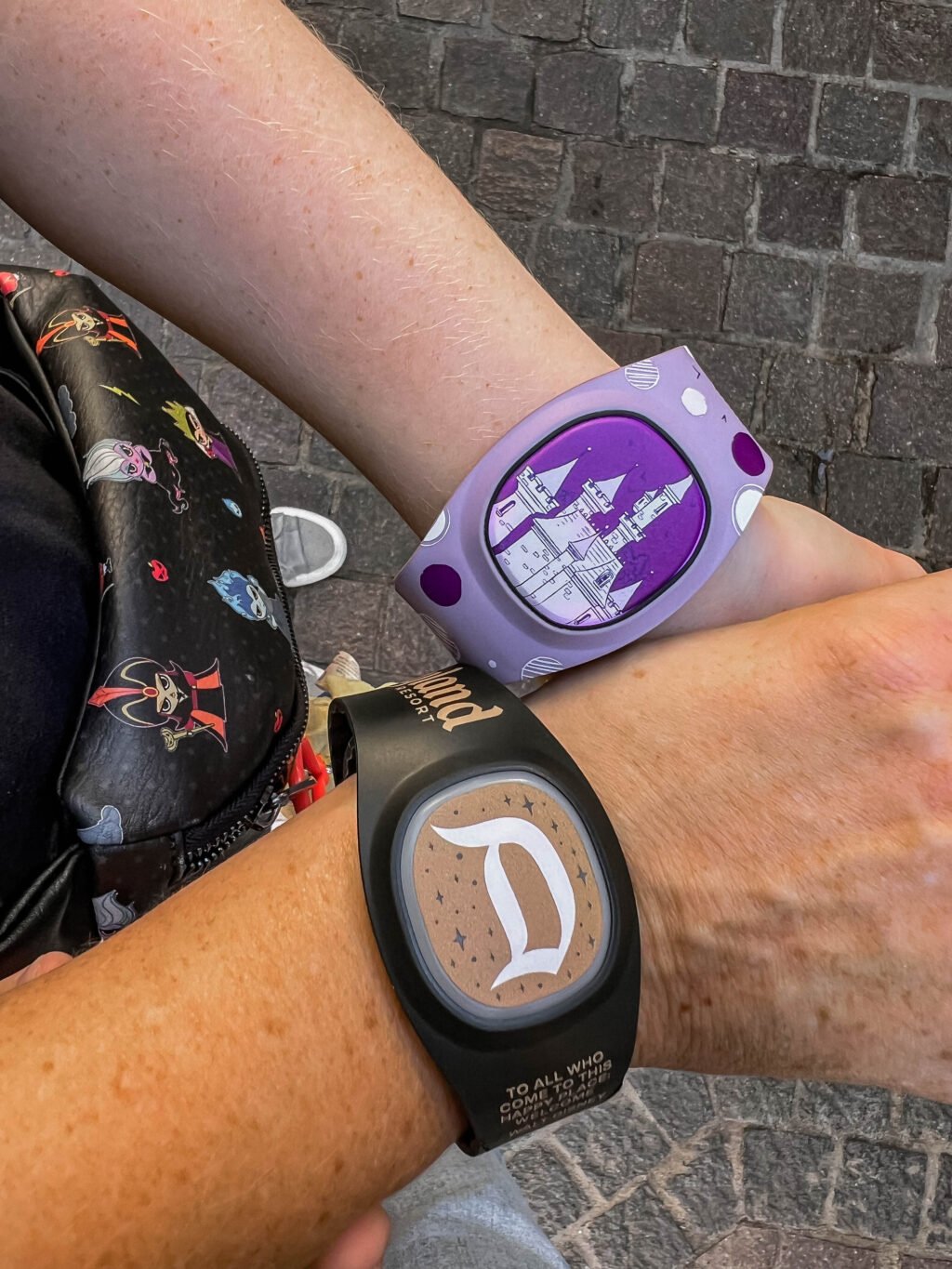 Can I use an old Magic Band from Walt Disney World?
While you CAN use magic bands from both parks, you need to be sure it's one of the new bands . The new magic band plus is available in both locations and is the only one that works at disneyland.
At Walt Disney World you can use your Magicband as a hotel room key, can you do that at Disneyland?
This is one of the things I was most excited about when getting this technology at our home park. It's such a lovely addition when staying on property. It has been confirmed this is COMING to Disneyland, but it's not available YET. Stay tuned!
At Walt Disney World you can use your Magic Band to pay for things and connect it to your Apple Pay, can you do this at Disneyland?
Not yet. In all likelihood, this is coming. But as of now, this is not available at Disneyland. I've gotta be honest, this is one element that I'm REALLY hoping rolls out sooner rather than later. I love the idea of being able to leave my phone tucked away for most of a disney day or that my child could get herself a bottle of water without me needing to pull out my wallet.
Can I use ONE Magic Band at both Disneyland and Walt Disney World?
Yes, IF it is a Magic Band+. Original Magic Bands or Magic Band 2 bracelets will not work at Disneyland. The newest version? Works at both and you can easily switch in the app to which account you'd like it to access.
Can a Smartwatch be used instead of a MagicBand?
As of now, you can not use a Smartwatch in place of a Magicband at Disneyland. The Magic bands have built in technology that is not currently able to connect to commonly used smart watches in anaheim.
How much do Disneyland Magic Bands cost?
Magic Bands are currently being sold at three price points ($34.99, $44.99 and $54.99). The lowest price point magic bands are solid colors. You'll find options that feature Disneyland logos and your favorite characters at the higher price points. There are also Magic key exclusive options and holiday options.
Setting Up Your MagicBand
How hard was the set up? This was a LOT easier than expected. We bought our magic bands in Disney California Adventure. The bands were totally charged. It took me ABOUT five minutes from opening the box to ready to go. You'll open your magic band and then follow the instructions on screen. You basically scan a QR code and then it allows you to select WHO in your disneyland app you want to apply that band to. After that it will give you a quick update to your band (this took about 3 minutes) and the band is ready to wear.
Directions from Disney:
Once your MagicBand+ is in hand, follow these three simple steps to set it up:
Step 1: Power on MagicBand+ by pressing on the button on the back once and tap the band to the back of your phone.
Step 2: You'll be directed to open or download the Disneyland app.*
Step 3: Follow the instructions in the Disneyland app to link the MagicBand+ to your Disney account, assign it to your ticket or pass and pair it to your smartphone.
Disneyland Magic Bands: Are they Worth It?
So, do I think Disneyland Magic Bands are worth the money? In my opinion? Absolutely. As Magic Key holders who go all the time, I know we'll get a ton of use out of them even before they add in more features and options. I love that they make scanning into the parks and lightning lanes so easy. And I absolutely love bounty hunting in galaxy's edge. It's a great add on activity during busy park days.
Now for a vacation? While these aren't a requirement, they something that will make your visit just a bit easier. If you'll be using genie+ and lightning lanes during your visit, then I definitely recommend getting magic bands. They'll make that process a whole lot easier and smoother.
I'm curious. Are you planning to try out disneyland magic bands? Have you used them at walt disney world? And what are you most excited to try here at Disneyland?
I can't wait to hear your thoughts as you try out disneyland magic bands for yourselves!