Staying at one of the Disneyland resort hotels? These Disneyland Hotel Tips will help you to get the most out of your disneyland vacation!
From Disneyland breakfasts to Disneyland character dining…..I love sharing our favorite tried and true tips for Disneyland vacations. If you are planning to visit the Happiest place on earth, and to stay on property at a disney hotel? Then these are some must know tips to get the MOST out of your stay.
All of the disneyland resort hotels offer some pretty awesome perks beyond your hotel room itself. I always suggest arriving earlier on your check in day and leaving as late as possible. Even better? Schedule a non-park day during your trip. It's a great way to adjust to any time differences, to get settled, and to truly enjoy all of the different options that your disneyland hotel will have to offer. This may be my biggest of all disneyland hotel tips!
Want to book a discounted Disneyland Hotel Package, Click HERE for Discounts from Undercover Tourist
Undercover Tourist is an amazing Disney partnered Travel Agency that is able to pass some stellar deals on to us. We've done two trips purchased through them recently and I was SUPER impressed at how much we saved (on both the hotel itself and tickets for my mom).
Disneyland Hotel Tips: Which Property???
Being fairly local to Disneyland (we live in San Diego and are Magic Key holders)…..we do staycations at the Disneyland park often. Sometimes we stay at a good neighbor hotel (recommendations for those HERE). But every now and again? We love to do a special stay at an on property hotel. These are my best picking a Disneyland hotel tips for on property stays.
Fair warning, I always have a REALLY hard time which of the disney-owned hotels to select. They're all totally unique and each offer their own special way to enhance a visit to the disney resorts.
disney's grand californian hotel
Looking for a stellar high end experience filled with disney magic? The Grand Californian is truly a unique experience. It's beautifully upscale, with lovely standard rooms. It houses the tenaya stone spa if you REALLY want to compliment your park days with a massage and relaxation. The pool area is LOVELY and themed to the california redwoods. They also rent cabanas and for the record getting one is on my bucket list.
The most amazing part about the Grand Californian? If you're looking for hotels walking distance to Disneyland….this is literally as close as it gets. The Grand Californian has an entrance DIRECTLY into the Disney California Adventure park. When we stayed there? It was AMAZING, hotel guests do get that earlier access to the park (this used to be called magic hour and now is called early entrance). Imagine walking RIGHT in, thirty minutes before everyone else. Rides? Photos? A stroll with few other guests around? You can do it all.
The Grand Californian also has some of my favorite dining options anywhere on property. It's amazing when they are just steps from your room (or your spot by the pool). You can do Storytellers Cafe (a character breakfast in the morning), or Napa Rose for luxurious dining (which also houses the Princess Breakfast Adventures in the mornings). Another option is my personal favorite casual spot the Craftsman Bar and Grill. Lastly there is the Hearthstone Lounge for drinks. Additionally, there is also an amazing sweets stand in the hotel lobby. It's perfect for grabbing a treat and sitting to listen to the piano player who is often sitting in the center of it all.
Highlights: Luxury Hotel / Direct Access to Park / Great Pool Area / Stellar Dining Options
Click here for discounted rates on the Grand Californian from Undercover Tourist
disneyland hotel
If you're looking for the CLASSIC Disney Magic themed experience…..there is nothing like the Disneyland Hotel. Every corner is filled with thematic elements (and if I'm being honest….it's my favorite of all three on property hotels…it's a total classic). Each of the towers ( the Fantasy tower, the Adventure tower and the Frontier tower) is themed to a different land from the Park (you can check out the displays on the bottom floor of each tower to see some cool Disney history). And the disneyland hotel rooms? The headboards have a light up mural that is SO special!
The pool area is amazing (there's even a monorail waterslide that is absolutely ICONIC), and the Disneyland Hotel has multiple dining options. If you're looking for some extra character time: Goofy's Kitchen which is the PERFECT character dining dinner option.
In terms of park access, you have a couple options when staying at the Disneyland Hotel. You can walk through the downtown disney district to access the front gates, and main theme parks entrances (this is about a 5-10 minute walk depending on your pace). In addition, you also have the option of hopping on the monorail just a short walk from the Disneyland Hotel and getting off right inside Tomorrowland (this is always my daughter's pick).
Highlights: Pool with Monorail Waterslide / Direct Access to Downtown Disney / Disneyland Themed / Early Entrance
Click here for discounted rates on the Disneyland Hotel from Undercover Tourist
disney's paradise pier hotel
If you are looking for the most budget friendly on property option for Disneyland? Then the Paradise Pier Hotel is your best bet! It's an easy walk through the downtown disney district to the gates (and has a special new direct entrance), has an adorable pool and really cute beach and disney characters theming. It's a great family friendly option at a good price!
Highlights: Budget On Property Option / Great Pool Area / Early Entrance
Click here for discounted rates on the Paradise Pier Hotel from Undercover Tourist
Disneyland Hotel Tips: Dining
Let's talk dining options at the hotels. Some of my favorite meal options on disney property are at the Disneyland hotels. Pro disneyland hotel tips point: remember you don't need a park hopper ticket (or a single park ticket) to dine at the hotels. I always try to do a fun dining experience upon arrival or before departure. It adds to the fun without a park entrance and is a great way to ease your way into or out of the magic.
All on property hotels have room service, and you can always get food delivered from the downtown disney district….but these are great options for both quick service and sit down options.
Disney Grand Californian Dining Options
Craftsman Bar and Grill: The Craftman Bar and Grill are newer dining options at the Grand Californian, and a bit of a local's secret. This is an outdoor only dining experience overlooking the pool, and it has some LOVELY food at very good price points. They've got some great kids' options, and killer cocktails if that's your thing.
Disney Grand Californian: Character Dining
Disney Princess Breakfast Adventures: If you are looking for the best way to meet princesses without ANY long lines ….this is IT. The Disney Princess Breakfast Adventures (the breakfast offering at Napa Rose inside the Grand Californian) is absolutely an amazing experience. This luxurious character breakfast offers gourmet food (literally some of the best brunch food I've had ANYWHERE), and a TON of personal time with the princesses. It does come with a higher price tag, and is the perfect place for a special birthday or graduation celebration.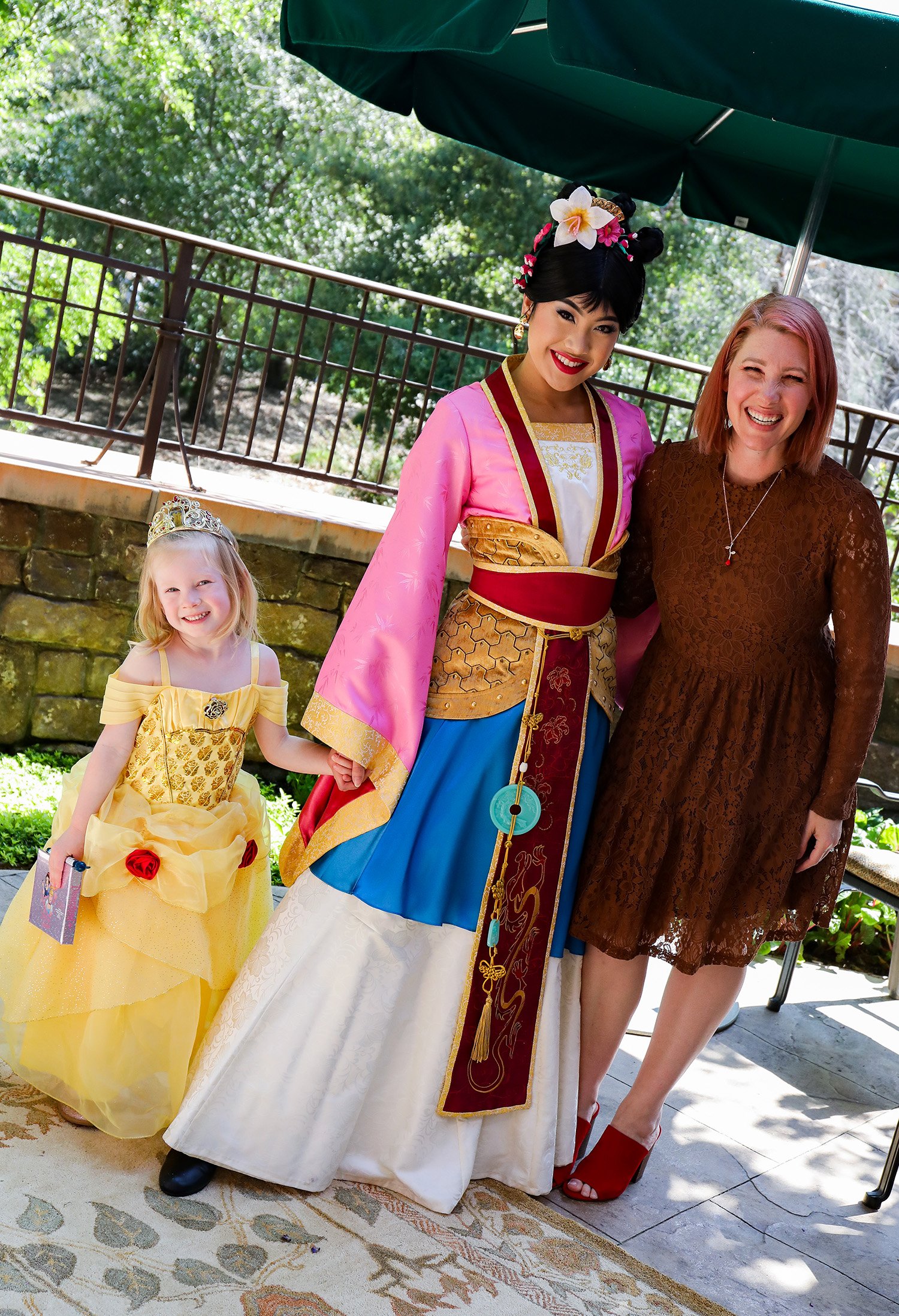 Storyteller's Cafe: Looking for a character brunch that isn't QUITE as pricey? Storyteller's Cafe is my favorite affordable character meal. The food is STELLAR ( it is a buffet, so you'll have PLENTY of opportunities to fill up on fuel for the day), and I love the character's in their adventure outfits. Storyteller's Cafe becomes a non-character dining experience for lunch and dinner (and is still beautifully themed).
Disneyland Hotel
trader sam's enchanted tiki bar: if you are looking for relaxing vibes, amazing food, and a great place to meet up with friends….the enchanted tiki bar (inside or outside) is one of my favorite options anywhere on property. They have a great menu, and some nights even have live music. You can always check for a walk up list in the disneyland app (this will allow you to put your name in line).
coffee house: looking for a quick breakfast before early entry? I can't recommend the coffee house highly enough. They are open from 6 am to 6 pm, and have a great variety of pastries, fresh fruit, oatmeal, cereal and coffee (both drip and espresso drinks). The BEST part? You can mobile order FROM YOUR ROOM. If you are trying to book it over to the front gates for an early entry, and want to make it in the best time possible? Mobile order your breakfast at 6:15 or so, and mark that you are present when you leave your hotel room. By the time you go down in the elevator and walk over…..your coffee will be waiting for you. This is also the best place for an afternoon iced latte when you're hanging out at the e-ticket or d-ticket pools at the disneyland hotel.
tangaroa terrace tropical bar and grill: This polynesian quick service spot next to the pool at the Disneyland Hotel has some AMAZING options (and nice shaded tables). They do mobile order, and can get quite busy during lunch time…..so I'd suggest putting in an order earlier in the day and selecting the time you'd like your lunch to be ready (this is perfect for days by the pool or if you come back to your hotel midday for a break). They also serve a STELLAR breakfast for a good price (one of the best deal tips I have for on property breakfasts).
disneyland hotel tips: character dining
goofy's kitchen: goofy's kitchen is the ONLY dinner time character dining offered, and one of my disneyland hotel tips. The first day of your stay , when you arrive? Do the hotel pool, and then book a dinner at Goofy's kitchen. You'll have time to unpack, get settled, see a TON of characters, and get a good night's sleep before hitting the parks the next morning.
disney's paradise pier hotel
The Paradise Pier Hotel is gearing up for a big refurbishment, and does not currently offer dining.
Disneyland Hotel Tips : Additional Benefits
Now, here is where the Disneyland hotel tips get REALLY good. There are a ton of special perks that the general public doesn't have access to. If you are staying at any of the on property hotels, there are some fun perks in the hotels but also inside the disney california adventure park or disneyland. Take note of these for your upcoming disney vacations (these apply to all room types). These add ons REALLY up the quality of your hotel stay!
Disneyland Hotel Tips: At the Park
Early Entry: want to cut down on ride wait times? Then early entry is about to change your disney life. Guests staying at any disney hotel can enter both disneyland and disney california adventure thirty minutes early for a limited group of rides, shopping or pictures (you can see the list of rides in each park here). You do need a park reservation and ticket or also you can use a reserved day on your Magic Key if you are a keyholder. My daughter and I tried out early entry the first week it was available and did three rides in california adventure in 32 minutes. I was VERY impressed with how efficient it allowed us to be with our tip (bonus disneyland hotel tip, you can ALSO do early entry on your check out day if you have a park reservation and ticket or key).
Special Entrances: Disney recently added a NEW dedicated entrance to disney california adventure for guests staying at any on property hotel. Instead of walking all the way through the Grand Californian, there is a gate to the right of the Grand's entrance that can be opened with your hotel room key. You'll follow a shaded path to a security area and ticket entrance that leads you right into DCA by the Jumpin' Jellyfish attraction. I love this addition to the on property hotel perks, it really cut down on park entry time!
Next Day Package Delivery: don't want to carry your purchases around all day or back to the hotel? On property guests can have their items delivered to a specified location their hotel the next day (details HERE). This is a stellar option for heavier packages or if you don't want to get a locker in the parks!
Disneyland Hotel Tips: At the Hotel
New Summer Pool Parties (July 1 – August 31, 2022): This summer, Disney introduced the cutest character pool parties. Minnie attended at each hotel at a designated time, played poolside games and then did a small meet and greet with kids. This is a great way for younger kids to see Minnie in a very relaxed setting!
Guest Activities: Disney has introduced a variety of seasonal guest activities on property. They've done character appearances, and even did a learn to draw Disney characters at Hearthstone Lounge. Also, they had lessons on how play the ukulele and dance the hula at the Disneyland Hotel over the summer. You can check with the front desk upon check in for the latest offerings!
Disney Fitness Classes: If walking around the park during the day isn't enough for you….then you can always check out the fitness center at each hotel. However, there are also some REALLY fun classes. There are on hotel property classes but……the most exciting to me? There is a power walking class that takes you through disney california adventure before opening and a boot camp in DCA as well (you can ask about these at the fitness center or front desk). How fun does it sound to POWER WALK through the park as the sun rises? Count me in!
Click HERE for discounted Disneyland hotel and ticket packages from Undercover Tourist
Did these Disneyland hotel tips help you to prepare for your next stay??? Leave your best tips in the comments for all of us to read!