Wondering if you should watch Safety on Disney+ as a family? This non-sporty mom is giving you my opinion on who this movie is perfect for!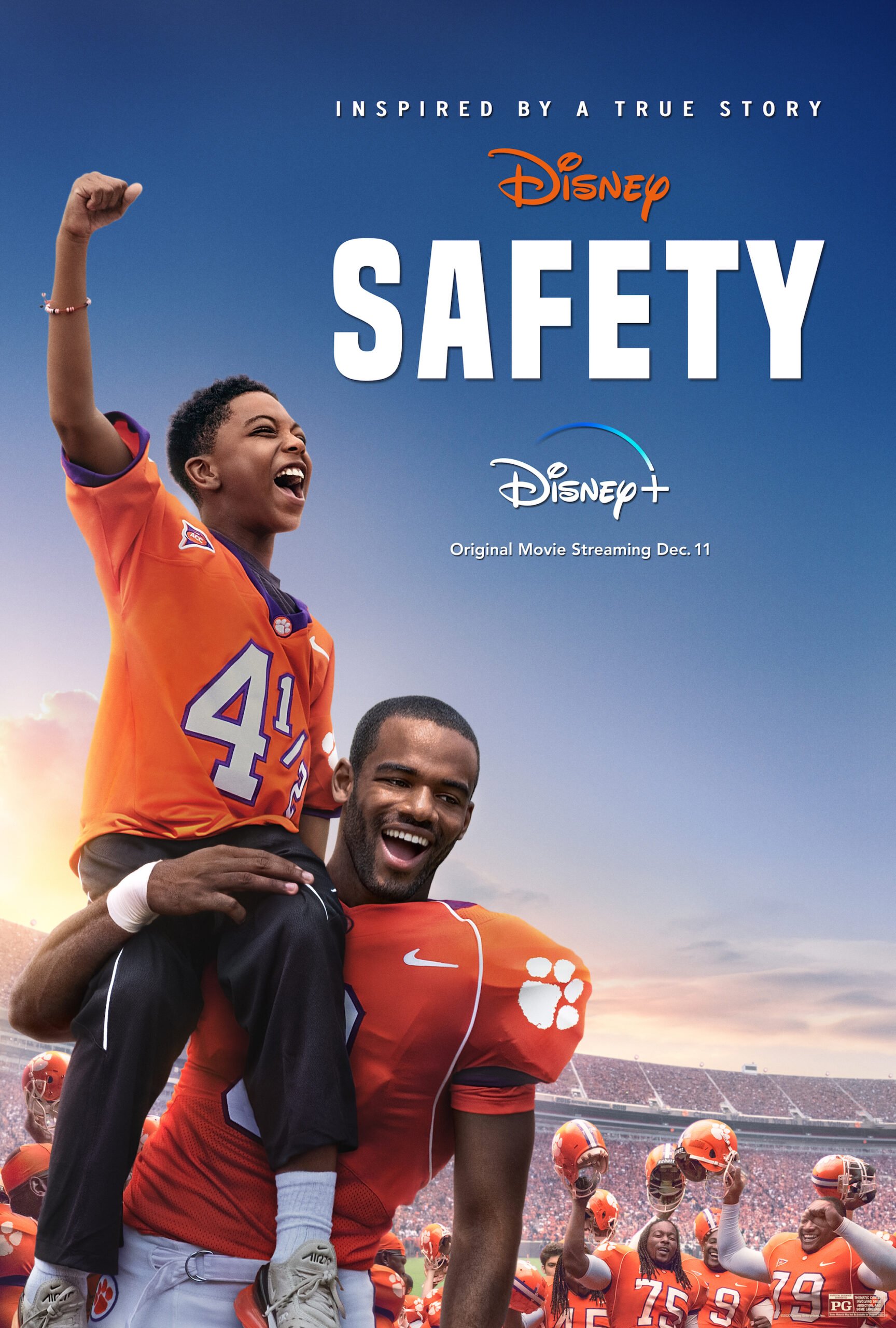 I know NOTHING about football.  In fact, I've never even gone to a school with a football team.  My small private high school didn't have one, and my college? Well, University at California at Santa Barbara has a surfing team instead.  However, when Robbie and I met…..I was introduced to the religion that is college football in the South.  My South Carolina born and raised husband is a diehard Gamecocks (University of South Carolina) fan.  And their rival school? I quickly learned to hate the Clemson Tigers.  Ironically, Robbie's best friend and Lydia's godfather is a Clemson fan and alumni.  He has made sure Lydia and I have our orange and purple Clemson gear just to keep the rivalry going.  And I've learned that during college football season? Watching games is a requirement.
My point? I heard QUITE a bit about the movie Safety on Disney+ before we even had the opportunity to screen it (from both sides). Safety is inspired by the real life story of former Clemson University football safety Ray McElrathbey.  As a college student and athlete at Clemson, Ray and his younger brother Fahmarr faced circumstances that face way too many children in our country.  Addiction made it impossible for their mother to maintain custody of her younger son.  Safety shares the story of Ray's commitment to better his life and the life of his brother along with how the Clemson community truly supported both brothers (sorry Robbie, but I might like Clemson just a bit more after seeing this movie).
Safety on Disney+
"What Ray represents, he represents integrity because he succeeded while maintaining a focus on education, a focus on excellence, which in his case was on the playing field, and most importantly, taking care of his family." – Reginald Hudlin (Director)
I LOVED THIS MOVIE.  I may not love football, but I love a story about community and overcoming and Safety is about both of those.  I cried multiple times.  I followed Ray McElrathbey and was so happy to see him thriving as an adult (and devoting time to mentoring children).
Who Should Watch: Safety is a live action film, and it's rated PG.  My suggestion? Ages 8 or 9 and up for this one.  Maybe younger if you have a Clemson or college football fan who will enjoy the epic game scenes (they even filmed one during an actual game at Clemson).  These are definitely important, yet mature issues (addiction, custody) and I'd definitely consider if they are issues you think your child is ready to address.  But parents? Tweens and teens? Football fans? It's a must watch (and bonus for those of us who were actually IN COLLEGE during this time…..the soundtrack is EPIC).
SAFETY is streaming exclusively on Disney+ starting December 11th
For more Disney+ recommendations check out:
25 Days of Christmas Movies on Disney+