If you are planning a trip to San Diego, and trying to decide whether to visit the san diego zoo vs safari park …..then this is for you! This is the ultimate guide to the different locations, from a southern california local and a san diego zoo and safari park frequent visitor.
Welcome to San Diego. Where the beaches are perfect, the tacos are the best and……our zoo is one of the most popular attractions in the country. Now, the San Diego Zoo is popular with good reason. It's natural habitats are stunning and the San Diego Zoo Wildlife Alliance's work to protect endangered animals is recognized worldwide.
When we have friends or family looking for things to do in San Diego with kids……we get the SAME question. A LOT. And it always is some form of……which to visit, the san diego zoo vs safari park. Now to be honest, this is like asking a parent to pick their favorite child. I honestly love both the original San Diego Zoo and the san diego safari park . They're unique and totally different and BOTH are worth a visit if you have the time.
Looking for a deal on ticket prices for the san diego zoo vs safari park or both? I always suggest the go san diego pass from Undercover Tourist. You can choose how many days you'd like to use it and it gives you access to a TON of san diego attractions and amusement parks (including san diego zoo tickets , safari park, Legoland and a BUNCH of museums) for a killer discount.
I honestly do love both and we visit both equally. My biggest suggestion timing wise is to try to allot a whole day for each location during a longer San Diego trip. You'll see different animal species and have the option for some totally unique and different experiences at each location.
san diego zoo vs safari park : which to visit
Let's start by talking location. This is one of the biggest misconceptions about the san diego zoo and san diego zoo safari park. They are NOT located close to each other (they're about 35 miles apart). The San Diego Zoo (the larger and original location and the most visited zoo) is located in balboa park which is close to downtown and the heart of san diego. The safari park (which used to be the san diego wild animal park ) is about 35 miles north of downtown san diego in escondido .
If you are staying downtown, in the coronado area, la jolla or the mission bay area…..then the san diego zoo will be a pretty easy uber ride. On the other hand, the safari park is pretty difficult to reach without a rental car. There isn't any public transportation that drops off close to the safari park entrance.
San Diego Zoo
location: 2920 Zoo Drive, San Diego, CA 92101
parking: the san diego zoo has free parking in all the lots around balboa park
The San Diego Zoo is about 100 acres and houses over 12,000 rare and endangered animals. The zoo's residents are made up of over 650 species and subspecies. The Zoo also has a botanical garden, which houses more than 700,000 plants (with close to 3,100 different species). The zoo is definitely easily walkable and is organized nicely and pretty easy to follow on a map (there is an external perimeter with multiple paths and walk throughs across and through).
san diego zoo dining :
There are plenty of easy and casual dining options around the zoo that are great for eating with younger kids….but a few special and unique options. Albert's is a higher end, sit down option with great food and a private patio (reservations can be made here, they always book up….so make them in advance). If you're a coffee person, I highly recommend Jungle Java or Zoo Brew for lattes and espresso drinks.
san diego zoo tours :
There are a variety of tours offered at the zoo, some are an additional fee and some are free. The guided bus tour is about 35 to 45 minutes long and is included in your admission. It's narrated and a great way to see a lot of the zoo easily.
Discovery Cart Tour : The Discovery Cart tour is about an hour long, and is fairly affordable at $57 a person. This is a great way to customize your trip for a part of the day!
Inside Look Tours : These guided tours are about an hour and a half long (done in a group). They offer different options from a giraffe tour to a polar bear tour to a paws and claws tour. You can pick one that is the best for YOUR group (these start at $90).
san diego zoo unique exhibits , encounters, and experiences :
skyfari aerial tram: The skyfari is one of my daughter's favorite things (and when you're deciding to visit the san diego zoo vs safari park you may want to know that it's ONLY at the zoo). This fun aerial experience gives you a stellar view of the zoo and the surrounding balboa park area.
Early Morning Cheetah Experience: Got a cheetah lover in your family? This cart tour is a GREAT option. You even get to see areas not open to the public!
Animals in Action Experience: If you're looking for a special experience for ages 5 and up, this is a great choice. You'll see exotic cats climb and jump from up close!
Crazy About Cats: This morning cart tour takes place before the zoo opens and gives you special access to see all the wild cat species at the zoo.
Early Morning Explorers: This four times a year event gives kids ages 3 to 12 early access to Wildlife Explorers Basecamp along with some really fun special activities. This is run by Doctor Zoolittle and is supposed to be a ton of fun!
san diego zoo animals not to miss :
There are so many great animals to see at the zoo, but there? A few of my personal favorites.
polar bears : The polar bears plunge area is so much fun, you can see the polar bears above and below the water (watching them swim is my favorite part). It's a great place to sit and relax (and they have a snack stand right there).
red pandas : Now, if you didn't love red pandas before Turning Red released…..you probably do now. These adorable creatures are so much fun to watch (there are four of them in residence. Our giant pandas have been returned to China, so these smaller ones are your best bet to visit.
komodo dragon : The komodo dragon habitat is fairly new at the san diego zoo (it opened when the wildlife explorers base camp opened). It's really fun to see the world's largest living lizards in their natural environment!
San Diego Zoo Safari Park
location: 15500 San Pasqual Valley Road, Escondido, California 92027-7017
parking: There is a fee to park at the Safari Park. General parking (automobiles and motorcycles) is $20 per vehicle. RV parking starts at $38.
In comparison to the San Diego Zoo, the San Diego Zoo Safari Park is HUGE. It's 1,800-acres and is home to more than 3,600 animals representing over 300 species. The Safari Park has amazing animal enclosures that allow animals to roam, and to live in very large habitat areas. It also has a rhino rescue center, labs and places to service the animals that aren't accessible to the public, and research facilities. When it comes to walking around, the san diego zoo vs safari park definitely offer some differences.
The Safari Park is bigger, and not laid out in as much of a circle. There are two main sections leading off from the middle , you can do one area then return to the center and head the other way.
san diego zoo safari park dining :
Just like at the zoo, you'll find plenty of quick and easy food options, but a few of my favorites? Tucker Truck in Walkabout Australia has fun options, Safari Coffee Outpost near the entrance has GREAT lattes, and the Rift Sand Bar has drinks and KILLER ice cream sandwiches. If you're looking for a unique dining experience, then the new Watering Hole at Kijami Overlook is an amazing option for higher end dining (make reservations HERE).
san diego zoo safari park tours :
While the San Diego Zoo has more traditional tours….the safari park has….safaris. Most safari experiences are an additional fee and but there is a pretty great option included in the price of your ticket. The africa tram tour is about 25 minutes long and is included in your admission. It's narrated and takes you on a pretty amazing ride around some of the savanna habitats ….this is totally different access than you get walking. Warning, this is a popular experience and gets fairly busy during the middle of the day. I'd suggest walking through nairobi village and heading towards the africa tram earlier in the day if it's a priority for you.
You can see more info on the other safaris HERE.
If you're looking for the absolute best safari option……and something that is a totally unique experience …..I highly recommend the Roar and snore safari. There is nothing like waking up near the lions and right next to elephant valley .
san diego zoo safari park unique exhibits , encounters, and experiences
In my opinion, the san diego zoo safari park really shines when it comes to unique experiences and encounters. The larger space has allowed them to create some really amazing animal encounters.
Tiger Trail: I absolutely love the tiger trail inside the Safari Park , it honestly feels like you're walking inside a jungle. You'll see tigers (from VERY close up), tapirs and fishing cats. There's also a great shaded area where you can sit and get a snack.
Cheetah Run : The cheetah run is a VERY popular experience to watch at the Safari Park. At 3:30 each day, the cheetah…..RUN. You 'll see them in their natural element running as fast as they can after prey. People do line up pretty early to see this……but you can also get reserved seating as part of the sun up cheetah safari .
Balloon Safari : If you want to see the Safari Park from the air, the balloon safari is an amazing option. You'll go up about 400 feet in a hot air balloon and will get to spend about 15 minutes looking down at the Safari Park. This is an additional fee.
Petting Kraal : There is not a petting zoo at the San Diego Zoo, but there is a petting area with goats inside Nairobi Village— the hours are 10 a.m. to 4:45 p.m. each day.
san diego zoo safari park animals not to miss :
Walkabout Australia : This is the newest exhibit to open at the Safari Park and it's absolutely amazing. You'll see kangaroos and wallabies hopping all around the area.
Bat House: The bat house is small, but a lot of fun to visit.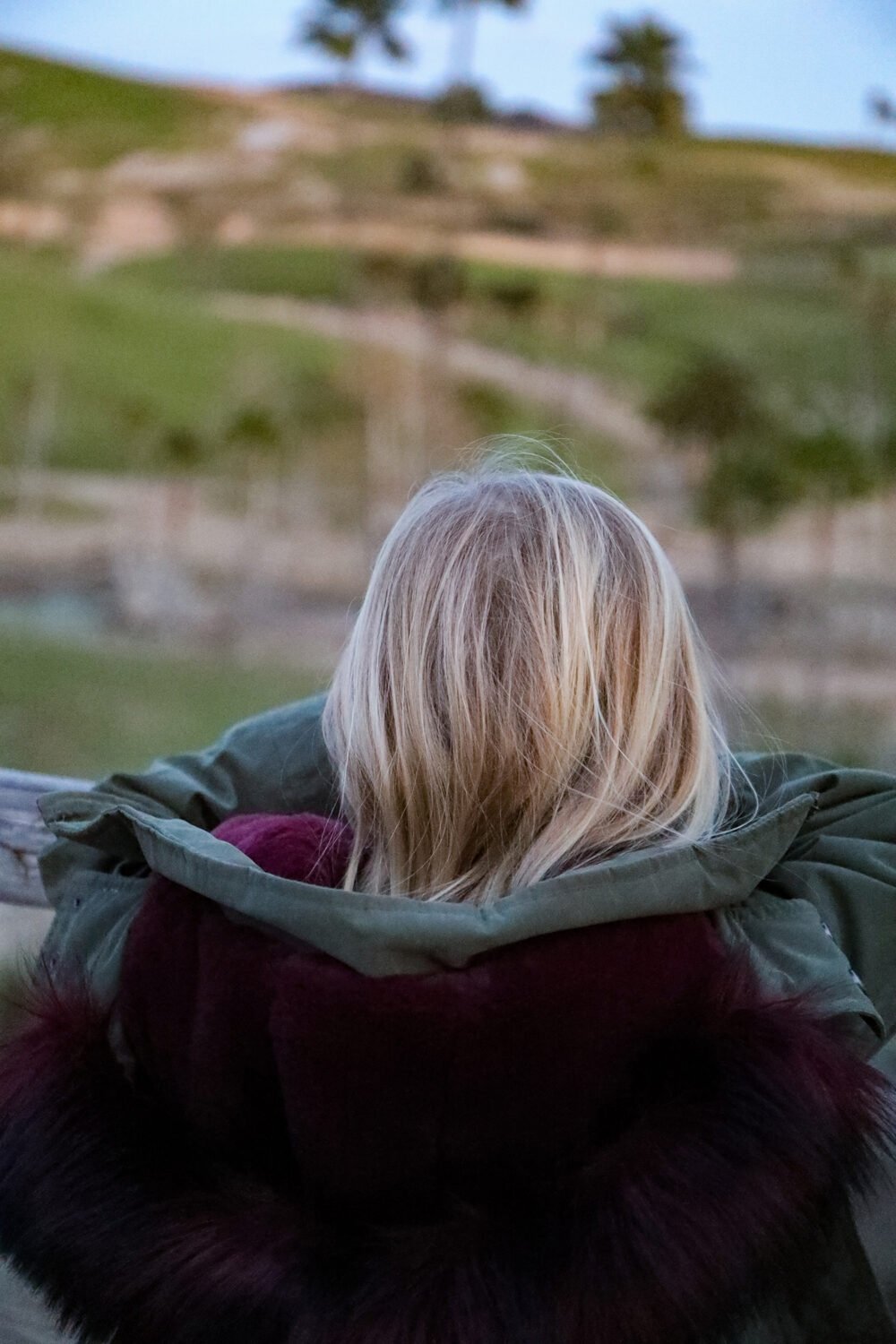 Giraffes and Elephant Valley : There is something really special about seeing the giraffes and elephants in such large enclosures , they have so much space to roam. Definitely a must visit and something that is truly unique at the Safari Park.
My final tip? Whether you choose the san diego zoo vs safari park …..wear comfortable shoes and easy to walk in clothes. You'll be spending a whole day exploring and in the summer months it can be warm so dress accordingly!
Whichever location you choose, you'll have an amazing time. I highly recommend visiting both if you can on your next trip to San Diego.