Gearing up for a trip to Legoland? This list is a full guide to the best Legoland California Rides for younger kids!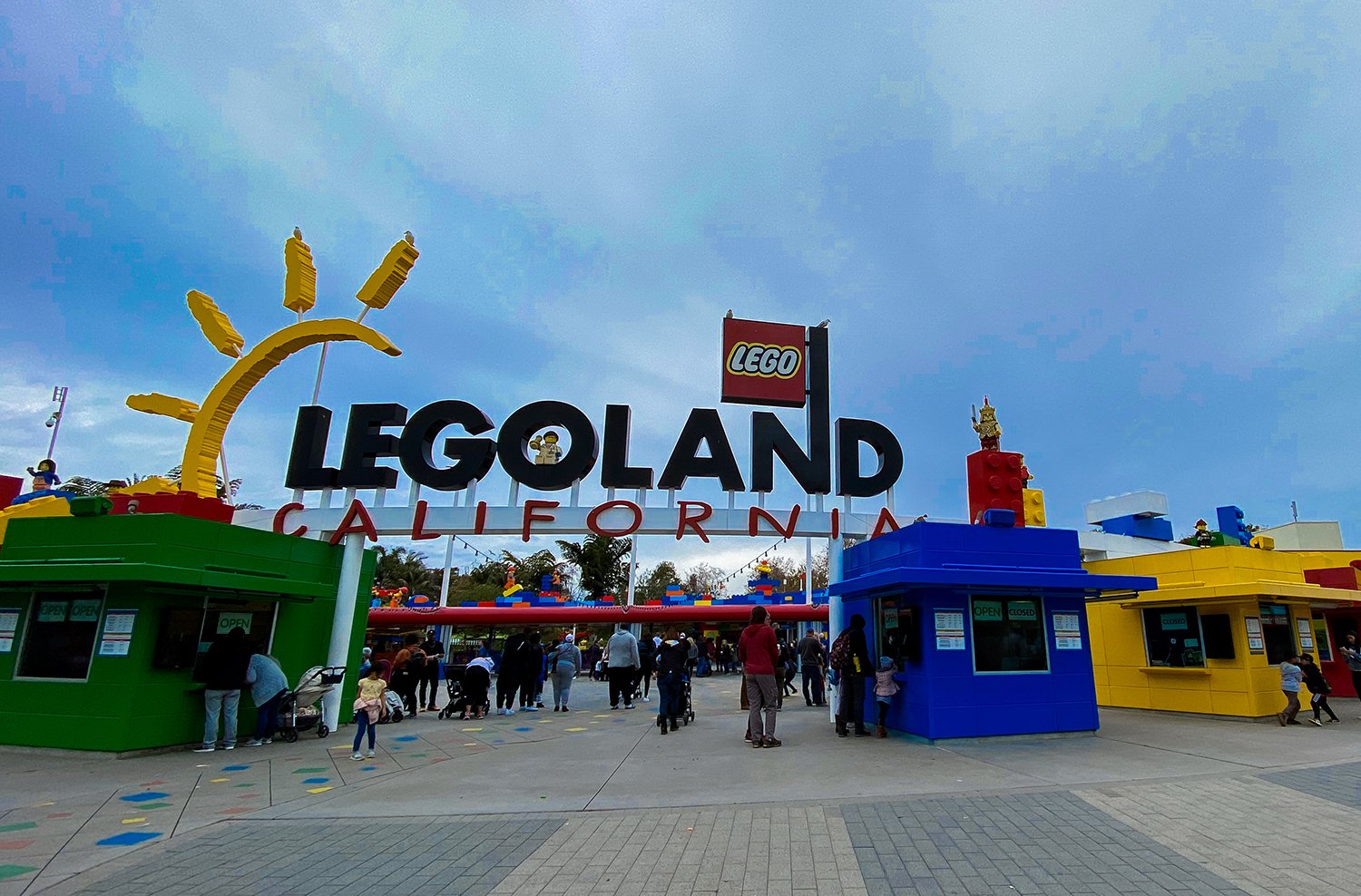 We did it.  Our first trip to Legoland as San Diego residents.  And we had a total blast!  We live pretty close to the park, and Lydia had been begging to visit since we moved to San Diego this summer (it was literally number one on her San Diego Family Bucket list that she made the week we moved).  We visited the park with friends who are passholders, and we had so much fun testing out the rides (plus found some pretty great food options).
We're in that in between stage.  Lydia doesn't want to just do "baby rides" but some of us (raising my hand) are a little scared of full blown roller coasters.  The great news? There are a TON of Legoland California Rides that are perfect for those in between aged kids.
CLICK HERE TO GET DISCOUNTED LEGOLAND TICKETS
Our Favorite Legoland California Rides
Legoland is a perfect size for a one or two day trip.  And it's laid out in a way that makes it easy to travel the park slowly and easily.  We started our day in Explorer Island and walked in a giant circle, finishing in Lego® Ninjago® World.  All in all we arrived around noon and left a little after five pm.  We could easily have done another day (there were a few rides we didn't get to)……..but it felt like an enjoyable and relaxing pace.

LEGO® NINJAGO® WORLD
Cole's Rock Climb: I wouldn't call this a ride, but it's a perfect get your wiggles out spot.  This mini rock climbing wall is a great play spot…..Lydia loved it!
Kai's Spinners: These spinning stands are in the Ninja training area, and a great place to play in between rides (perfect for preschool and up).
Lego® Ninjago® The Ride: I'd heard a TON about the Ninjago ride, and this was our first time experiencing it.  WE LOVED IT! This virtual reality ride takes you through a ninja training.  You wear 3d glasses and actually get to throw "fireballs".  It was really fun and even the line cue is interactive and in theme!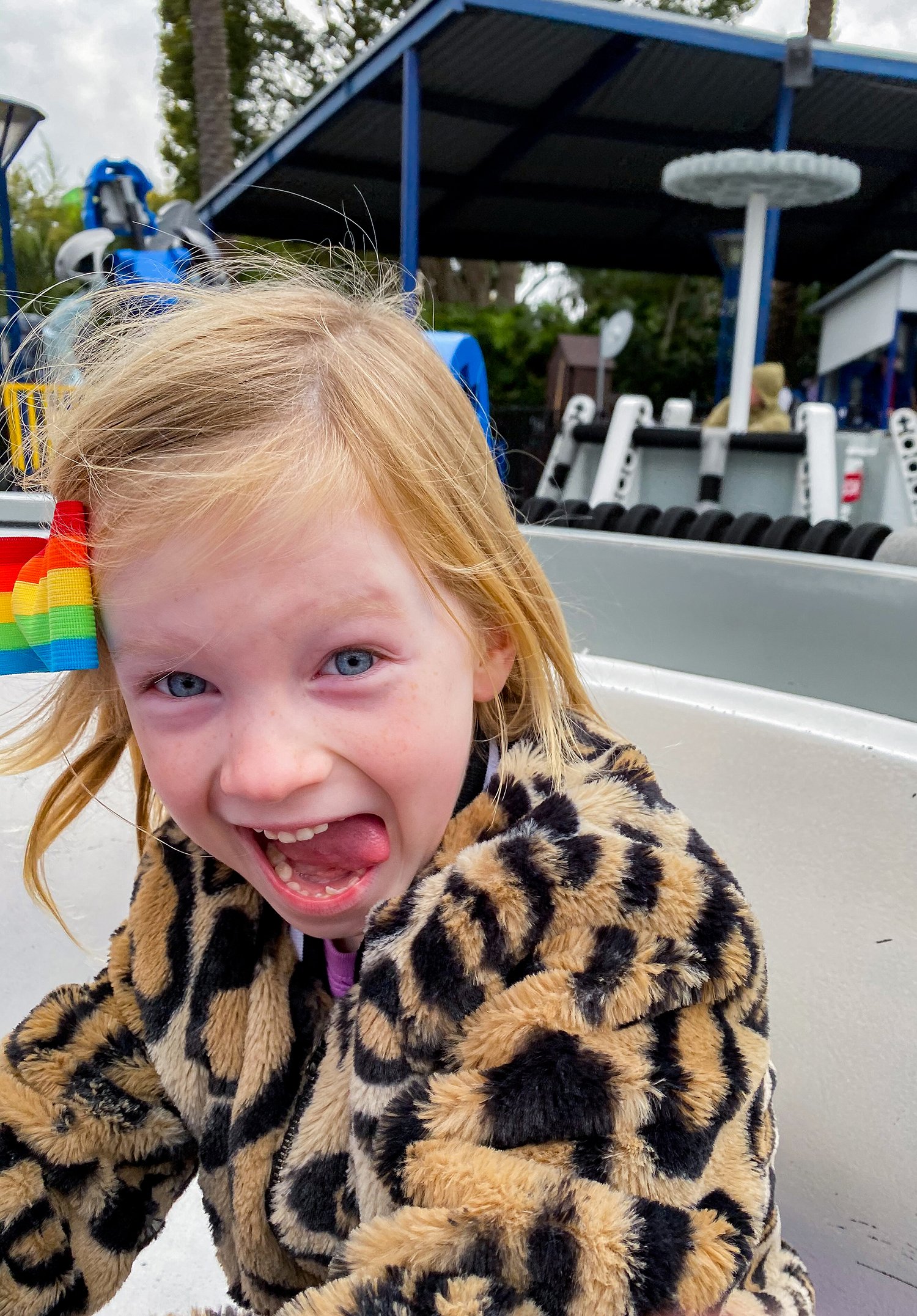 IMAGINATION ZONE
Bionicle® Blaster: Love spinning rides? This is a GREAT one! We easily fit three kids and two adults into one car and the kids had a blast spinning as FAST as humanly possible.
LAND OF ADVENTURE
Beetle Bounce: The minute Lydia saw this ride, she was SOLD.  Rides are launched about 15 feet up toward LEGO scarab beetles, then drop down and bounce up again.
Cargo Ace: This airplane ride is always a hit with younger kids, it's a ton of fun!
CASTLE HILL
Royal Joust: The kids went NUTS when they saw this ride.  Riding on LEGO horses? It's the cutest thing!
PIRATE SHORES
Captain Cranky's Challenge: Surprisingly, this ride was my favorite.  Yes, it went up in the air.  Yes, I'm afraid of heights.  This massive pirate ship spins and twirls, but it doesn't go THAT high.  And it gives you a great view of the park as a whole!
MINILAND USA
Coast Cruise: This was our final ride of the day and is possibly my top recommendation of all the Legoland California Rides.  The slow and easy boat tour takes you through all of Miniland……and seeing the amazing LEGO structures? Was so inspiring.  We came home and Lydia spent hours building with her LEGOS.
FUN TOWN
Driver License: There are two options of this driving course, one for preschoolers and one for older kids.
Duplo® Playtown: Technically, this isn't a ride it's a play area.  But it was so much fun that I wanted to include it.  This adorable play area is perfect for younger kids (and a great break for parents).
Kid Power Tower: This tall tower lets you rise to the top of the park powered by a belay and rope system (and it rotates so you get to see EVERYTHING).
EXPLORER ISLAND
Fairy Tale Brook: This adorable ride takes you through some amazing fairy tale scenes and displays, it's really fun to get inspiration for at home building!
Safari Trek: If you've got an animal lover, this ride is a must do.  I loved seeing the intricate designs and animals up close.
BONUS INFO: We loved loved loved our lunch choice.  We got salads, soups and sandwiches at The Garden Deli and Cafe in Miniland (and there is a killer coffee shop attached to it where I got a GREAT latte).
Have you visited? What are your favorite Legoland California Rides?