Gearing up for a trip to the Legoland California resort? This list is a full guide to the best Legoland California Rides and activities for younger kids and has everything you need to know to plan a visit!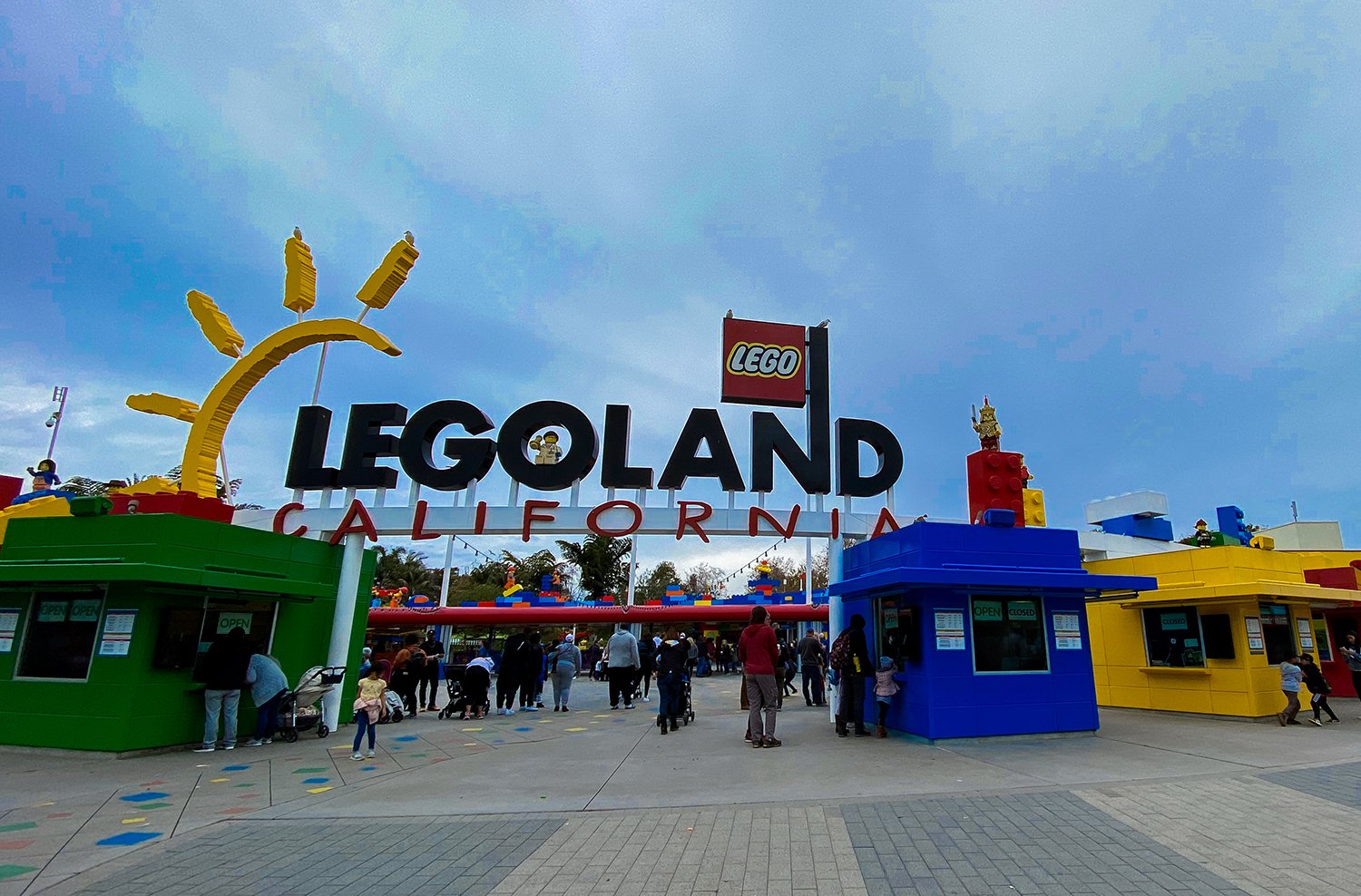 Do you have a LEGO bricks lover in your house? Us too.  In fact, one of our favorite local places as San Diego residents for a little escape the normal routine option is  Legoland .   It's the closest of any Southern California amusement parks and absolutely perfect for a day or weekend trip.   We visited the park with friends who are passholders when we first moved to San Diego, and we had so much fun testing out the rides (plus found some pretty great food options).  Then we visited ago for a Halloween celebration, a couple family trips, the opening of Lego Movie World and Lego Ferrari Build and Race (the latest major attraction to open).
If you're planning a trip to the Legoland theme park here in San Diego……then this is a must read! As you plan the best things to do in San Diego with kids……this DEFINITELY needs to be on your list!
17 Don't Miss Activities and Rides at Legoland California
We're in that in between stage.  Lydia doesn't want to just do "baby rides" anymore. But some of us (raising my hand) are a little scared of full blown roller coasters.  The great news? There are a TON of Legoland California Rides that are perfect for those in between aged kids.  Lydia loves seeing characters, and loves hands on activities, but is mainly looking for things for middle age kids.  As locals, we love a mix of rides and other activities that we can mix in which will have shorter wait times.
CLICK HERE TO GET DISCOUNTED LEGOLAND TICKETS
Legoland is a perfect size for a one or two day trip.  And it's laid out in a way that makes it easy to travel the park slowly and easily.  You can easily do a weekend at the Legoland Hotel or Castle Hotel and enjoy everything Legoland has to offer (don't forget they also have the Legoland water park and the Sea Life Aquarium which are a great time too outside the main park).
Our Favorite Legoland California Rides and Areas
Pro tip: the legoland app will help you navigate the park and to anticipate wait times, so be sure to download the mobile app before you start your visit (it has an interactive map and park hours listed to help you plan)!
We usually start our day in Explorer Island and walked in a giant circle, finishing in Lego® Ninjago® World.  Attractions, play areas and rides at legoland california are laid out in a sort of large circle, so it's pretty easy to just….make your way around slowly.  Most visits, we do about 11 am to close.  We don't get to EVERYTHING, but do get a fair amount.

LEGOLAND CALIFORNIA RIDES AT EXPLORER ISLAND
Fairy Tale Brook: This adorable ride takes you through some amazing fairy tale scenes and displays, it's really fun to get inspiration for at home building! This is perfect for all ages, and tends to have fairly short wait times.
Safari Trek: If you've got an animal lover, this ride is a must do.  I loved seeing the intricate designs and animals up close…..it's relaxing and a perfect start of end of day ride option.
LEGO® NINJAGO® WORLD
Cole's Rock Climb: I wouldn't call this a ride, but it's a perfect get your wiggles out spot.  This mini rock climbing wall is a great play spot…..Lydia loved it!
Kai's Spinners: These spinning stands are in the Ninja training area, and a great place to play in between rides (perfect for preschool and up).
Lego® Ninjago® The Ride: I'd heard a TON about the Ninjago ride and it's become a serious family favorite.  WE LOVED IT! This virtual reality ride takes you through an actual ninja training.  You wear 3d glasses and actually get to throw "fireballs" along with some of your favorite characters.  It was really fun and even the line cue is interactive and in theme!  This ride does tend to have a long wait, especially during spring break or summer vacation (if this is a priority during your Legoland theme park experience….I'd head here FIRST).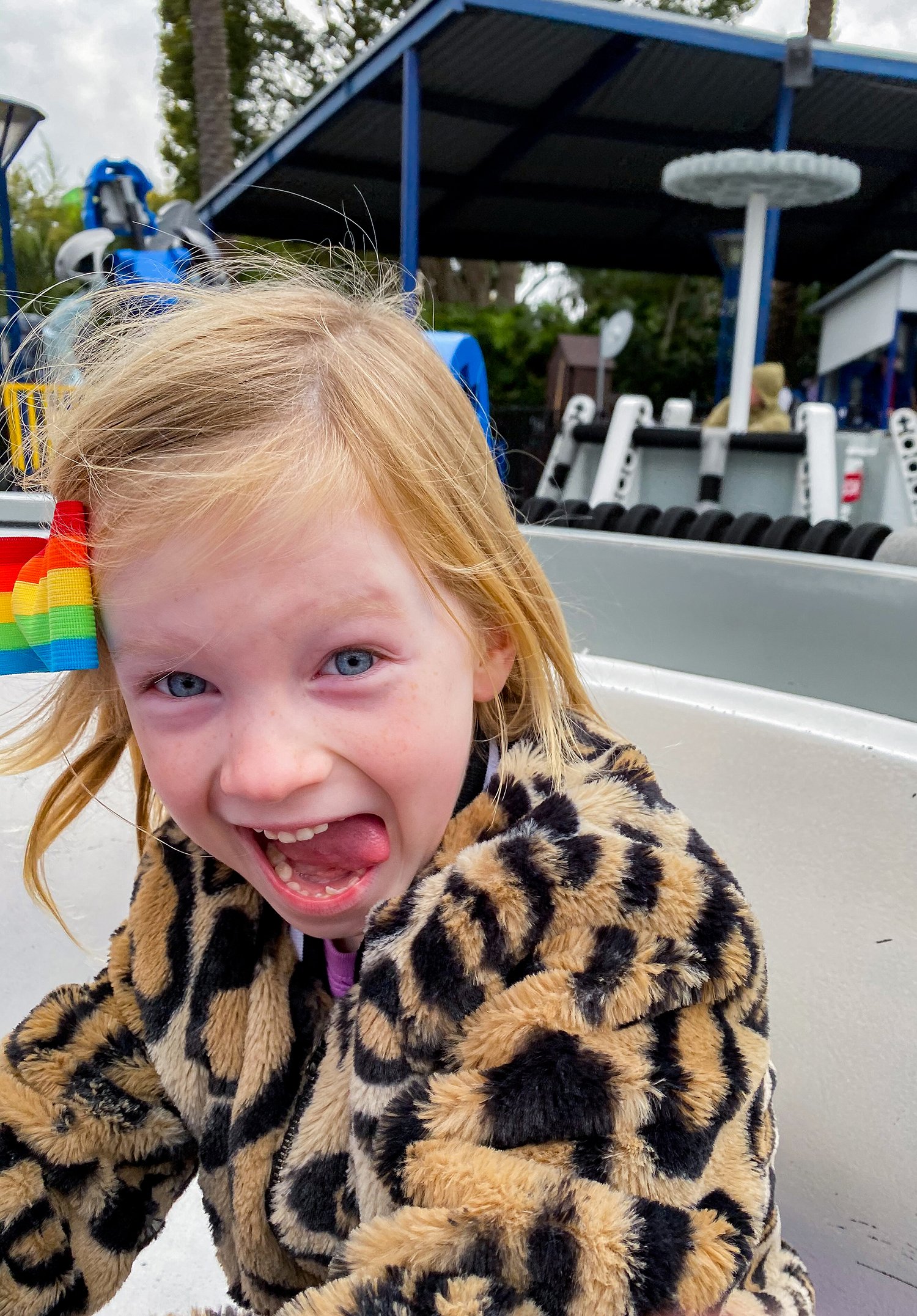 IMAGINATION ZONE
Bionicle® Blaster: Love spinning rides? This is a GREAT one! We easily fit three kids and two adults into one car and the kids had a blast spinning as FAST as humanly possible.
LAND OF ADVENTURE
Beetle Bounce: The minute Lydia saw this ride, she was SOLD.  Rides are launched about 15 feet up toward LEGO scarab beetles, then drop down and bounce up again.
Cargo Ace: This airplane ride is always a hit with younger kids, it's a ton of fun!
CASTLE HILL
Royal Joust: The kids went NUTS when they saw this ride.  Riding on LEGO horses? It's the cutest thing!  This is another super popular ride and it tends to have long lines.  I'd try this one either morning or end of day.
PIRATE SHORES
Captain Cranky's Challenge: Surprisingly, this ride was my favorite.  Yes, it went up in the air.  Yes, I'm afraid of heights.  This massive pirate ship spins and twirls, but it doesn't go THAT high.  And it gives you a great view of the whole legoland california theme park!
MINILAND USA
Coast Cruise: This is a great option for final ride of the day and is possibly my top recommendation of all the Legoland California Rides.  The slow and easy boat tour takes you through all of Miniland (from San Francisco to New York City)……and seeing the amazing LEGO structures? Was so inspiring.  We came home and Lydia spent hours building with her LEGOS.
FUN TOWN
Driving School (and Junior Driving School): There are two options of this driving course, one for preschoolers and one for older kids.  This is so much fun, especially because there is a specific option for younger children.  They'll love driving their car and getting their own mini license.
Duplo® Playtown: Technically, this isn't a ride it's a play area.  But it was so much fun that I wanted to include it.  This adorable play area is perfect for younger kids (and a great break for parents).
Kid Power Tower: This tall tower lets you rise to the top of the park powered by a belay and rope system (and it rotates so you get to see EVERYTHING).
The LEGO MOVIE WORLD
This new land at Legoland California is a TOTAL blast.  We were there the day it opened, and I honestly think it's my favorite area in the entire theme park.  It's adorable, colorful, and has some great areas for younger kids to play.  The center of the land has a huge slide and climbing area (Benny's Playship) and there is a LEGO building area that is nicely shaded for warmer months.
Emmet's Flying Adventure Ride: This is one of the most popular rides at Legoland California and I can see why….it's a total blast! You ride on…..wait for it….a triple decker flying couch and go on an adventure (shown on a full-dome virtual screen) through cloud cuckoo land and a ton of other familiar scenes from the lego movie universe.  If your whole family loves the LEGO movies, then this will be a big hit!
Unikitty's Disco Drop: Not going to lie….I watched this one from the ground (I'm afraid of heights), but my family loved it.  This is a drop tower ride, and it has a killer soundtrack……so much fun!
LEGO® Ferrari Build & Race
The newest addition to the attractions and rides at Legoland california is truly a unique experience (in fact, there is nothing else like it in the United States).  If you love cars, or your kid does, or you love stem / steam experiences….this is a total BLAST (in fact, we're already planning another trip back).  The Ferrari Build and Race area has three separate sections, all of which house a fun and interactive experience.
Section one? Has a ton of REALLY cool gear, and a LIFESIZED Ferrari built out of Legos (plus there will be a LEGO pit crewmember there to take some pictures of your family).  Section two? Your kids (or let's be honest YOU) get to build their own mini-cars out of LEGO bricks and then test them out on multiple race tracks (there is also a DUPLO area for younger kids).  The final section? You will SCAN your car (or virtually build one) and digitally race it against other cars on a track based on Pista di Fiorano.  Lydia is already asking to visit again so that she can build more cars!
Food and Shopping at LEGOLAND California
There are a ton of great food options at Legoland California.
Our Favorites:
salads, soups and sandwiches at The Garden Deli and Cafe in Miniland (and there is a killer coffee shop attached to it where I got a GREAT latte).
If you're looking for a unique treat? granny's apple fries are DELISH (these are sold at a food stand in Castle Hill)
Everything is Ramen is located in the Lego Movie World and has REALLY good Ramen and kids' meals
Knight's Smokehouse BBQ in Castle Hill has a TON of seating and delish options if BBQ is your thing
I hope that these tips will help you to plan your next trip to Legoland California.  It's a great place to visit while you are in
San Diego
whether you are local or here for a family vacation.
Have you visited ? What are your favorite Rides at Legoland California?