If you've found yourself in San Diego, you're in luck….welcome to our hometown, we love it here! This sunny Southern Californian city is known all over the world for its miles of sandy beaches, year-long perfect weather, breathtaking views, and family-friendly nature and this? Is the ultimate guide to the best things to do in San Diego with kids.
San Diego is the perfect spot for a family vacation. From big attractions like Disneyland, Seaworld, and Legoland to culturally rich streets flooded with historical museums, unique art galleries, and a mouth-watering range of restaurants and cafes, there is no shortage of things to do with the kids here.
No matter what time of year you visit, beauty and fun can be found in San Diego. Keep reading for some of the best things to do in San Diego with kids! 
Best Things to Do in San Diego with Kids
Things to Do in Balboa Park with Kids
The largest urban cultural park in the US is home to tons of educational museums, many lush gardens, historical buildings, the San Diego Zoo, and much more. With something for everyone, Balboa Park is the perfect location for a family day out. Check out my top places below!
San Diego Zoo
The world-renowned San Diego Zoo is on top of my list of things to do when visiting San Diego with the kids. Home to over 3000 rare and endangered animals and a beautiful display of over 700,000 exotic plants, this zoo is one magical place!
As part of San Diego Zoo Global – an organization dedicated to saving species worldwide – any money you spend here will go directly toward animal care and environmental conservation. Not only will you and the kids have a wonderful day out, but you'll also be helping save the planet in the process!
We absolutely love the Zoo, are members and visit regularly (pro tip: there is GREAT coffee at Jungle Java).
< get discount san diego zoo tickets HERE >
Spanish Art Village

Spanish Village Art Center is the hidden gem of Balboa Park. Filled with charming pottery pieces, paintings & glass, your inner artist will love this place.
The center showcases a wealth of talented contemporary artists from diverse backgrounds. Visit one of their many free-entry studios to observe artists as they create purchasable masterpieces right before your very eyes, or sign the kids up for one of their various art camps – be sure to book ASAP as spaces fill up quickly!
This is also one of our favorite unique places to take family photos in the spring because of all the bright colors!
Natural History Museum
The San Diego Natural History Museum is the home of incredible fossils, fun scavenger hunts, and educational exhibits that portray the wonders of local geology, ecosystems, and history. From young to old, every member of the family will come away from here having learned something new.
Old Globe Theatre
The Old Globe is San Diego's oldest professional theatre and one of the most outstanding theatre complexes in the US. Located in Balboa Park, the theatre company produces a diverse mix of classic and modern productions, including around 15 musicals and plays and nearly 600 performances each year.
The Old Globe's outdoor venue, The Lowell Davies Festival Theatre, is home to the summer Shakespeare Festival – the perfect event if you have any budding actors in the family!  And during the winter? The Grinch play at the Old Globe is a San Diego tradition that is a TON of fun!
El Prado
Enjoy lunch and dinner at one of San Diego's favorite dining spots after a long day of sightseeing in the heart of the bustling Balboa Park. Featuring a diverse menu of Latin-inspired Californian dishes (Lydia loves the butternut squash ravioli and banana chocolate pan cotta) and both outdoor and indoor seating, you can sit down to a delicious feast at El Prado any time of the year! 
This place can get pretty busy in peak times, so I recommended making a reservation in advance to guarantee a spot!
Fleet Science Center
The Fleet Science Center will blow your mind with its incredible range of educational pieces, including interactive exhibits that explain the working of gravity, a virtual reality adventure simulator that will whisk you through the cosmos, and a variety of immersive films that will connect you and the kids to the power of science. 
The science center is the perfect place for science enthusiasts, both young and old, to investigate, explore, and unleash their curiosity as they marvel at the wonders of our universe! 
And if all of this exploring has got you hungry, the center provides a delicious selection of hot food, snacks, and drinks! Lydia did a weeklong camp at Fleet Science Center last summer and absolutely loved it!
San Diego Model Railroad Museum

As North America's largest model railroad museum, the San Diego Model Railroad Museum will take your breath away. Here, you'll find scale and model railroad track layouts, each with more detail than you could ever imagine. The museum has different model trains running every day with special themed layouts during the holiday seasons. This place is a toy train enthusiast's dream!
La Jolla with Kids
Known for its rugged coastline and breathtaking views, La Jolla is the perfect family destination. Featuring an incredibly picturesque beach surrounded by panoramic views and with a bunch of small beaches nearby, including Wipeout Beach to the south and Shell Beach to the north, it should definitely be on your list of things to do with the kids in San Diego!
Take a trip out to the sandstone cliffs of La Jolla Cove in the morning to see a myriad of cute (but smelly) sea lions before heading over to Children's Pool to check out the Harbor seals as they chill out on the small stretch of beach that was originally meant for kids after lunch!
Belmont Park: Roller Coasters AND the Beach
Belmont Park is San Diego's favorite seaside amusement park. A simple stroll around the grounds is free, but you'll need tickets for the games and rides.
The park features tons of entertaining amusements, including carnival rides, an arcade, laser tag, mini-golf, go-karting, and delicious ice cream! 
You'll also stumble across some delicious family-friendly restaurants, including a sandbar on the beach, that are sure to fill the kids' tummies after a fun-filled day. 
Seaworld San Diego

SeaWorld San Diego alone draws tourists from all over the world and for good a reason! Here, the whole family can enjoy fun rides, up-close animal shows, and a huge range of interactive educational experiences.
There are attractions for every age group, from Sesame Street Bay of Play for young kids to The Manta and Electric Eel roller coasters for older teens. Plus, you can add on a day at Sesame Place!
It's best to plan for an entire day here, but most activities can be squeezed into a half-day if you're short on time! As a mom who has been here more times than I can count, I can tell you that most guests spend an entire day here. However, a fun half-day is doable if short on time.
< get discount tickets to Seaworld HERE >
LEGOLAND California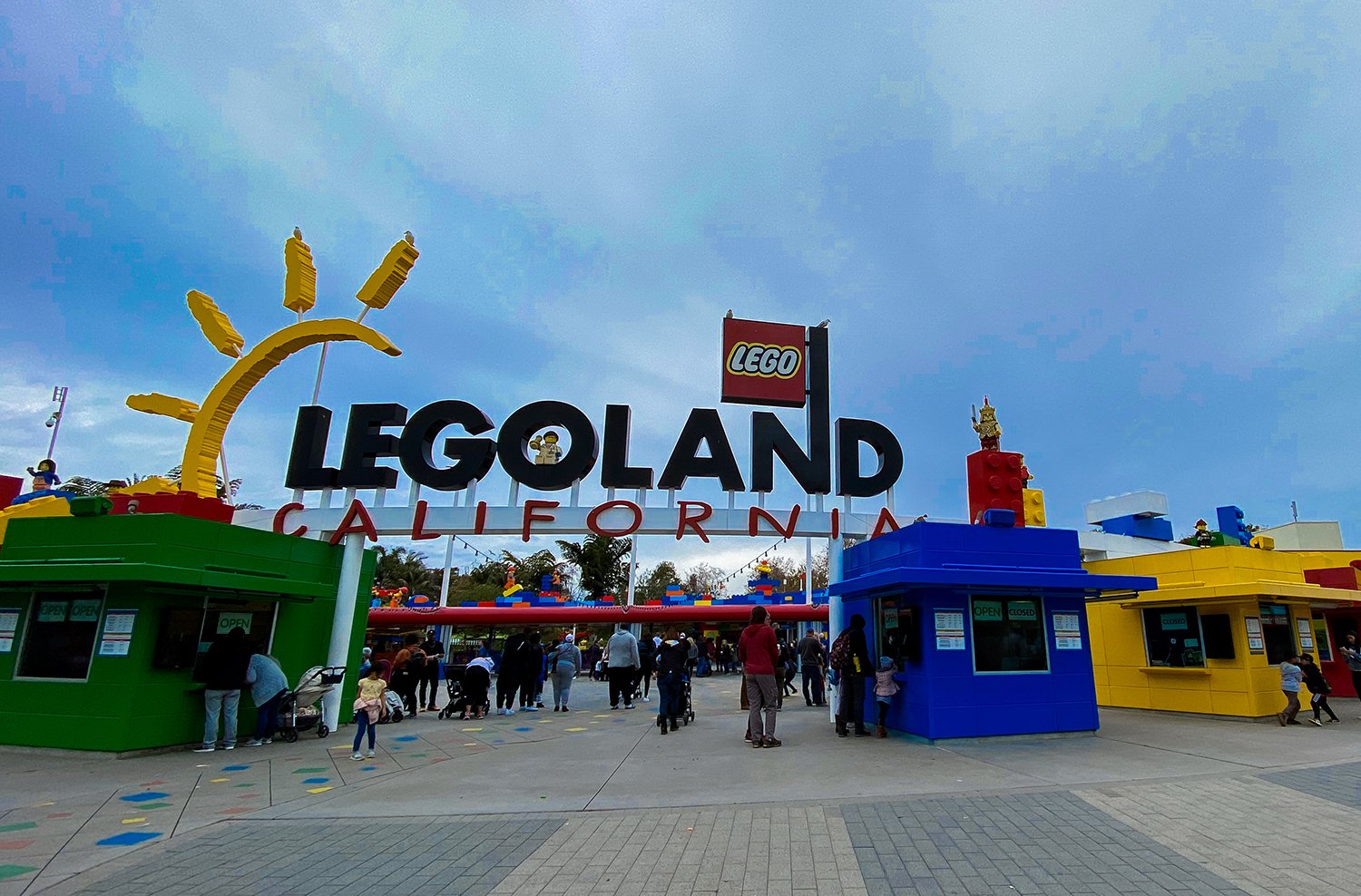 Legoland California is undoubtedly one of the most popular things to do in San Diego with kids. The resort includes all the wonders of Sea Life Aquarium and Legoland Water Park. The park can be visited in just half a day, but if you're planning on making a mini-getaway out of it, The Legoland Hotel is the perfect spot to rest your head for the night!
Legoland California is the perfect choice for young families (between the ages of 2-12).
< get discount Legoland tickets HERE >
San Diego Tide Pools
Tidepools (also known as rock pools) are shallow pools of seawater that form on the rocky shore. Tide pooling season is a truly incredible time and runs roughly from November to March when daytime low tides reveal a spectacular array of sea creatures, including sea anemones, sea cucumbers, starfish, hermit crabs, and more! 
Wrap the kids up warmly and get ready to discover the wonders of the sea on this magical day out!
A few of my favorite spots:
Cabrillo National Monument Tide Pools: Located close to Cabrillo National Monument, this is one of the best protected rocky areas to see tidepools in California and sees over 300,000 people each year! The best time to visit the tidepools is during the fall and winter months, when the spectacular pools can be seen during park opening hours.
Sunset Cliffs Natural Park: Located at the base of the cliffs, you'll find the huge tidepool area. There is a staircase that leads down to the beach, providing easy access to the pools. The area is usually covered in algae, so be careful not to slip! 
Dike Rock Tide Pools: The tidepools found at Dike Rock are not as enormous as the other locations but are just as incredible. With a huge variety of marine life living here, you are almost guaranteed to see something cool!
San Diego Zoo Safari Park
With over 2600 animals, including giraffes, elephants, and lions, roaming through enormous free-range enclosures, the San Diego Zoo Safari Park is the perfect family day-out. Tour through the park on your own or book one of the popular safari tours, such as the free Africa Tram tour or the Caravan Safari. 
Feeling adventurous? Have a go on the Skyline Safari zipline and marvel at the scenery as you pass over some of the animal enclosures!  Or want a truly unique experience? One of our absolute favorite things we've done since moving here was the Roar and Snore camping experience at the Safari Park. Lydia also did a weeklong summer camp at the Safari Park last summer and LOVED it.
Tip: The animal enclosures are quite spread out, so make sure to wear your walking shoes!
< get discount tickets for the Safari Park HERE >
New Children's Museum

The New Children's Museum believes in the use of hands-on arts and crafts exhibits and activities to stimulate the imagination, creativity, and critical thinking in kids and families. With super inventive and engaging experiences, The New Children's Museum is the ideal place to introduce children of all ages, from toddlers right up to teenagers, to art in a way that resonates with them. It's one of my favorite places in San Diego!
Tip: Babies under one year enter for free!
Old Town San Diego
As the birthplace of California, Old Town San Diego is the ideal fun half-day visit with kids. Here you'll find The Whaley House – a super cool haunted house – a bunch of free museums that highlight early Californian life and exhibits featuring Spanish and Mexican local history.
When you're finished exploring the grounds, make sure to visit one of the many restaurants for some delicious and authentic Mexican food and watch one of the many free shows and performances happening around you!
Birch Aquarium

Birch Aquarium at Scripps is one of the best things to do in San Diego with kids – especially if they're marine life lovers!  Lydia loves visiting, it's a perfect place to take visitors and the view from the outdoor space is AMAZING!
With 60 habitats of fishes from the Pacific and the tropical waters of Mexico and interactive, educational exhibits that teach about the importance of marine conservation, the kids will be entertained for hours.
Point Loma
A jagged peninsula known for its tide pools, educational exhibits, and beautiful sunsets, Point Loma has something for everyone. Take a look at some of the best things to do in Point Loma below!
Liberty Station
Liberty Station is one of the coolest, most vibrant spots in all of San Diego.
A former naval training center, Liberty Station is now an enormous commercial area that is home to a bunch of quirky bars, tasty restaurants, and unique stores.
At Liberty Public Market, you'll find undiscovered art galleries, while inside the renovated military barracks, you'll stumble across several small museums that are sure to capture the kids' attention.
The streets around Liberty Station offer endless exploration for both you and the kids – if you're lucky, you might even catch one of their seasonal events while sitting in one of their many grassy lawns! 
We have an entire family guide to Liberty Station, and it's one of our favorite weekend destinations.
Best Things to Do in San Diego with Kids: Mission Bay
With soft sand and minimal waves, Mission Bay beach is best suited to young families and is a haven for water sports enthusiasts. Take your pick from stand-up paddleboarding, kayaking, aqua cycles, and much more. As the largest man-made aquatic park in America, Mission Bay is the perfect family adventure spot!  Visiting for longer? We did a staycation at the Mission Bay Resort and it's an amazing location for a relaxed weekend.
Solana Beach

Nestled between Del Mar and Encinitas, you'll find Solana Beach, a charming coastal community with tons of fun outdoor and indoor activities for families of every age range to enjoy. For a small kid-friendly beach, you'll want to take a visit to Fletcher Cove Beach. Just above the beach, you'll find Fletcher Park, a grassy area filled with playgrounds, picnic tables, restrooms, and parking.
Maritime Museum Of San Diego
Climb on board some of the most historic sailing vessels in the US. The Maritime Museum of San Diego houses one of the largest collections of ships – some of which still sail if you're lucky enough to catch them!
The museum includes the B-39 submarine from the Soviet era and the Star of India, the world's oldest active sailing ship. The whole family will love it!
Hamilton Children's Garden
Situated in the San Diego Botanic Garden, Hamilton Children's Garden is heaven for kids. 
The garden runs a program called SAPLinGS that aims to introduce your little ones to science, art, and play through fun and engaging activities designed to stimulate young minds and encourage curiosity.
With its magical treehouse, grass maze, bird watching tours, stunning coastal views, and a plethora of walks through 29 gorgeous gardens to choose from, there is something here for every age all year round!
Coronado Island
Boasting nearly two miles of award-winning beach and an endless amount of family-friendly activities, including beach volleyball, swimming, and firepits, Coronado Island can't be missed.
The calm waters and a wide, flat sandy beach makes this beach great for young families with safety concerns. If you're really lucky, you might even catch a glimpse of Coronado's neighborhood dolphins and seals – how exciting!
Coronado has 12 parks, including Spreckels Park and Centennial Park, which is the perfect spot to watch the sunset over a breathtaking view of the San Diego skyline.
Tip: This is a dog-friendly spot, so make sure to bring your pooch along for the ride!
Best Things to Do in San Diego with Kids: USS Midway Museum
With 60 exhibits and 29 restored aircraft, the USS Midway Museum celebrates one of the longest-serving aircraft carriers in the US. Kids (and the kid in you) will love learning about life on the USS Midway as they are guided through the engine room and galley, discovering pieces of history in every corner!
There really is so much to do in San Diego with the kids! I hope that these ideas will help you as you plan one of many memorable vacations with your family in the city we love to call home.
What are some of your favorite things to do in San Diego? Let me know in the comments!