Looking to get into the christmas spirit? As we go into the holiday season, this is the ultimate guide to the best christmas lights san diego has to offer!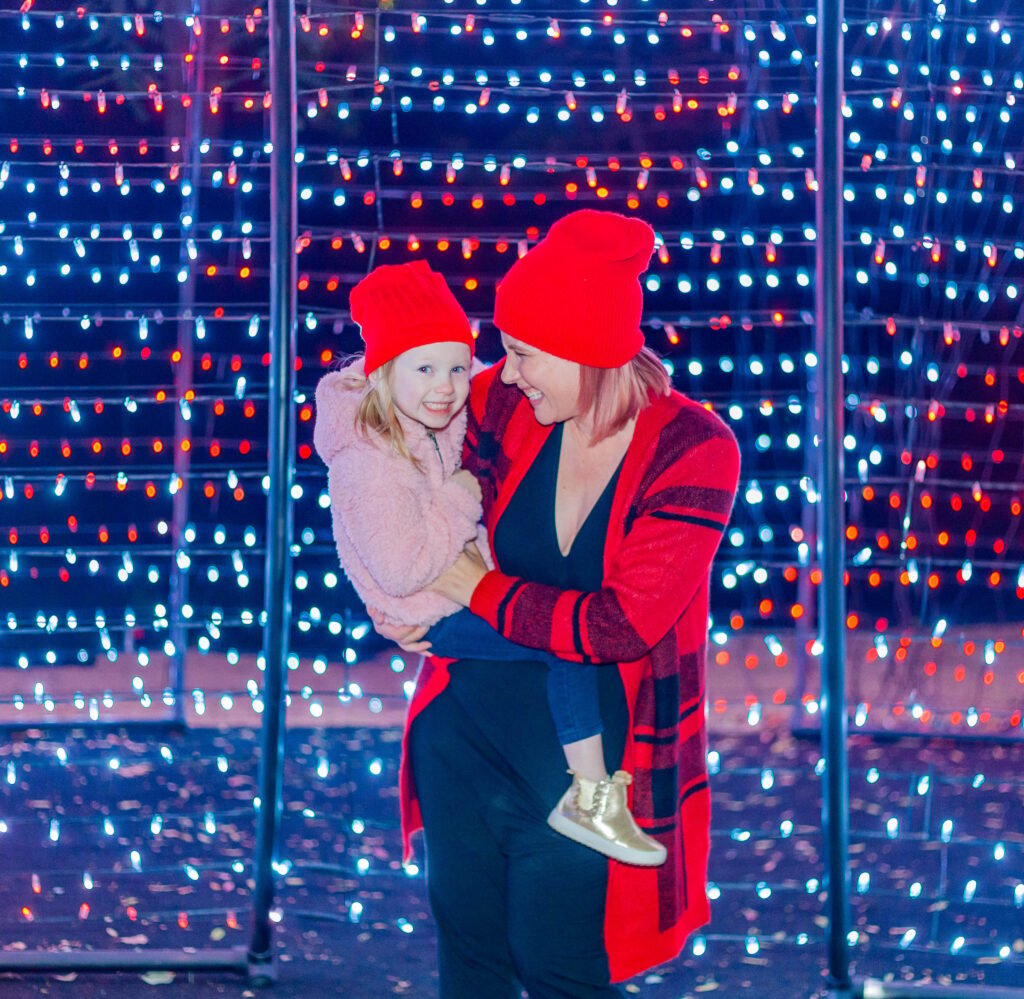 I love this time of year. From the caroling to the tree decorating and hot chocolate in fancy christmas mugs to the christmas books by the fire, it's the best. And one of my absolute favorite Christmas traditions? Driving or walking around to see christmas lights. San Diego has some amazing light displays, both at private homes and neighborhoods and at some really cool local businesses and pop ups. This? Is the ultimate guide to the best christmas lights san diego county has to share.
The Best christmas lights san diego has to offer:
I thought it would be best to divide this festive lights guide into two sections. First, one will outline local stellar christmas lights san diego neighborhoods have each year. Next, one will share light installation options from businesses and destinations. Lucky for you, there are plenty of options in both categories. I can guarantee there are some really fun places to visit and to get into the holiday spirit.
Local Neighborhoods
These neighborhoods are about as close as san diego gets to a winter wonderland. We may not get snow, but we can christmas cheer with the best of them. As you plan trips to these neighborhoods, be sure to pay attention to specifics about timing and parking. They also each have their own guidelines and hours. Therefore for the best experience you'll want to know that information. Driving through these neighborhoods is one of our favorite holiday traditions. I hope that you enjoy it too!
Candy Cane Lane:
This is one of the original christmas lights san diego spots, and it's a FUN visit. This neighborhood in Poway is comprised of three big culdesacs and they REALLY go all out. This neighborhood titled candy cane lane is fun because it's SUPER interactive. There are usually stands and stations in some of the driveways and tons of music playing. It's like a giant holiday party. Warning: this is a one way in neighborhood with a dead end, therefore it's a slow drive. You can EASILY park outside and walk in, or drive slowly through. You'll know you're in the right place when you see the line of cars. Be prepared for a 20-45 minute wait on busy nights.
/ location: Hickory St Poway, CA 92064 /
dates: end of November to New Year's Eve / click here for more info /
Christmas Card Lane:
This Rancho Penasquitos neighborhood is so much fun, and is truly unique. I've never seen anything like christmas card lane anywhere else in San Diego. The neighborhood of around 200 families bands together to create a montage of giant christmas cards. Each family selects a theme and their yards display a giant handmade, themed christmas card. They're stunning and each is totally original!
/ location: Oviedo Street and Black Mountain Road, San Diego /
dates: early December to New Year's Eve / click here for more info /
merry-tage court :
Listen, if you want to see the most ALL OUT christmas lights san diego has…..then head to Stonebridge in Scripps Ranch. These residents take their holiday cheer VERY seriously. There are always really fun themed houses. Last year we saw an amazing Hanukkah house, a couple Star Wars houses and a Frozen themed house that were phenomenal.
/ location: stonebridge Parkway and merritage Court in Scripps Ranch /
dates: early december to new year's eve from 5:30 to 9:30 pm /
Belardo Lights in Tierrasanta:
This special holiday lights display has a unique story that makes it even more magical. The Belardo Lights display was built years ago by a father who wanted to create a special holiday tradition for his sons with autism. It's coordinated by computer, and you can even tune into a local radio station for music coordinated with the lights. This one draws san diegans from all over the county. It's a ton of fun.
/ location: 5306 Belardo Drive, San Diego / dates: early December to December 27th /
Carlsbad Christmas House:
Looking for some christmas lights san diego can share in north county? The Carlsbad Christmas House is run by one amazing family. It's won awards. It draws visitors from near and far to enjoy this home being totally transformed into a Christmas Village. They usually do a food drive for visitors which also adds a lovely give back component.
/ location: 7607 Romeria St. Carlsbad, CA  /
dates: early december to new year's eve / for more info: click here /
Businesses and Special Experiences
Now let's talk businesses and special experiences. From christmas trees to candy canes and also hot chocolate to live music, there are some truly unique christmas lights san diego local business spots and fairs that are holiday must sees.
san diego bay parade of lights and Mission Bay Christmas Boat Parade of Lights :
Looking for something totally fun and that only san diego can offer? A christmas lights san diego boat parade needs to go on your holiday bucket list. Want a fancier experience? Book a dining spot at seaport village or a spot on the water for hot cocoa and treats and watch the boats go by. Both of these parades are a ton of fun and also a great way to see lights.
/ Mission Bay: Saturday, December 10 from 5:30 p.m. – 7:30 p.m.
/ more info here /
San Diego Bay: December 11 and December 18, 2022
/ more info here /
san diego zoo jungle bells:
The San Diego Zoo offers a truly unique holiday experience. From amazing christmas lights san diego zoo style to entertainment throughout the zoo…..this annual event is a ton of fun and can be an all day family affair. Admission is included in regular san diego zoo memberships or tickets.
/ dates: 12/9 to 1/1 / buy san diego zoo tickets here /
legoland:
We absolutely love Legoland. Therefore this holiday event is at the top of our list each year. From their tree lighting ceremony to holiday shows and also holiday characters, the park is filled with christmas songs and fun. And bonus? This is also included in the cost of admission.
/ dates: 11/19 to 1/8 / buy legoland tickets here /
hotel del coronado
Imagine San Diego's most iconic hotel draped in strings of lights. Before dark, the Hotel Del Coronado has holiday treats for sale, ice skating on the beach, special activities (we signed up for a gingerbread house decorating class). But after dark? Their complimentary 11-minute light show takes place every 30 minutes from 5-9pm nightly. I'm excited to experience this for the first time this holiday season!
/ dates 11/17 to 1/1 / book rooms at the hotel del coronado HERE /
san diego botanic garden
This holiday season, we have a new addition to the christmas lights san diego has to offer. Lightscape is coming to the San Diego Botanic Garden. This one mile walk through installation has light tunnels and amazing displays and is a great addition to the Encinitas area.
/ dates 11/ 18 to 1 / 1 / more info here /
Holiday Market at Petco Park
Ok Padres fans, we may not be dressing for a baseball game these days….. but there is still a lot of fun happening at Petco Park. The Gallagher Square Holiday Market is returning this year. It's a holiday marketplace, a christmas light display, and also has some pretty great holiday food options. This is a must do for the Friar Faithfuls!
/ dates 12/1 to 12/23 / more info here /
And there you have it. The ultimate guide to all the best christmas lights san diego has to offer this year. Which of these will you be visiting?