Are you gearing up to watch Pixar's latest release? This Turning Red review from each member of the family will help you decide what ages the movie is best for!
Here we go…..the latest release from the Pixar movies team.  Pixar's Turning Red is a streaming release and will be available on Disney Plus on March 11th.  This is NOT a premiere release, meaning you don't pay an additional fee to watch.  Anyone with a Disney+ account will have full access on premiere day.  The best way to watch? In my opinion? Try doing a group watch with Disney+ and watch with your friends.
Turning Red Review
Turning Red Plot: Turning Red is the first feature film from Director Domee Shi ( the creator of the Pixar short film Bao that we all loved so much when it premiered in front of Incredibles 2) and producer Lindsey Collins …..Turning Red is the story of Mei Lee (the voice of Rosalie Chiang).  Main Character Mei Lee is a 13-year-old girl experiencing a LOT of changes as are the other Turning Red Characters.   We get to join her as she comes of age, experiences body changes, a slightly overbearing parent (mei's mother, the voice of Sandra Oh), cultural divides, and a whole lot more.  But the unique part of the story? Mei discovers that her body changes and the hormonal shifts of puberty bring about a unique change…..whenever she gets excited…..she changes into a giant red panda.  As if the chaos of adolescence isn't tough ENOUGH…..Turning Red explores the importance of family, supportive friendships, and learning to be proud of who you are as you change and grow.  It takes place in the early 2000s, so pixar fans who now have elementary and middle school aged kids? You're going to especially love the catchy soundtrack and references to the good old days before social media.
Turning Red Running Time: Turning Red has a 1 hour and 40 minute run time.
Turning Red Rating: Turning Red Age Rating is PG.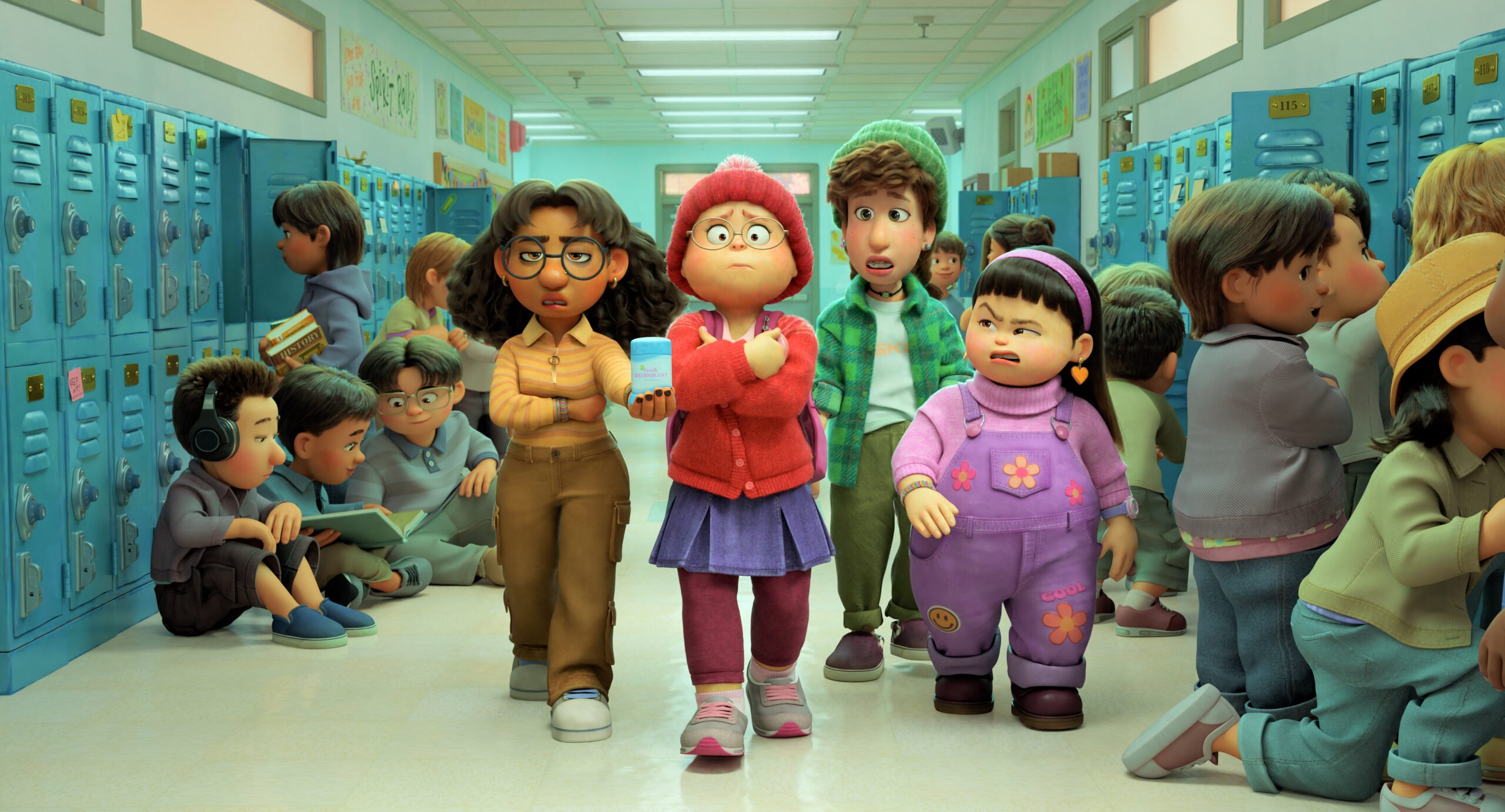 My Thoughts: I have so much to say about this film (this Turning Red review could go on for days).  I knew after seeing the short Bao that Domee Shi  was a unique and important voice.  So many of us will relate to this cute coming of age story.  We get to watch as a mother's dutiful daughter starts to explore her own identity and how that effects her relationship with her family and her friends.  I love love love that we have a Pixar film explicitly talking about the menstrual cycle, and that it shows an emotional mother-daughter relationship that ebbs and flows.  This is a different kind of plot for a Pixar film, and I'm here for it.  Wonderful story, female director, fun characters (I mean, who doesn't love the fact that they created a fictional boy band)……my only complaint? I really do wish that Turning Red was getting a hybrid streaming and theatrical release (if you are in Los Angeles, they are doing a release at El Capitan and it would be pure joy to see this sentimental story on the big screen).   But overall? This was a home run for me.  I think it's so important that we continue to move the needle with films that share layered stories and films that normalize discussions we want to have with our children.  It truly makes me wonder if a whole generation of kids will look at their first period differently.  Media is powerful that way!  This may very well be my favorite of all the recent Pixar projects.
Lydia's Thoughts: "Turning Red is one of my favorite movies.  I really like it because the movie isn't scary and it's really funny.  I think it's funny when Mei Mei is so worried because she's turning into a red panda.  But it's really no big deal, she's so cute.  My favorite of her friends is Miriam because she is so cheerful and she supports Mei Mei when she is stressed."
Is it Scary: Not at all. The only remotely scary thing is this movie is the visual of a slightly dorky 13-year-old turning into a cute red panda.
What Ages Is It Good for: When it comes to family films, this is definitely a reasonable rating and honestly? I think that the PG rating is spot on.  I think that the themes that may have caused the PG  rating are more of a family choice about when to discuss.  The movie addresses: puberty and the menstrual cycle (which I have to be honest, I applaud Pixar and think this is a GREAT way to discuss this with kids), crushes and romantic feelings.  If those are topics that your family has openly discussed or topics you'd like to open dialog around, I don't think there is a too young age for this one.
Turning Red: Activities and Merchandise
Like all Disney movies, Turning Red has some really fun activities and products to accompany the film.

Turning Red will be available on Disney+ on March 11, 2022.