After years of using…..another machine……I decided to try THIS.  After a few months, I'm ready to still the tea (or coffee in this case).  My full Nespresso Vertuo Next review…….and my thoughts….is it worth the money?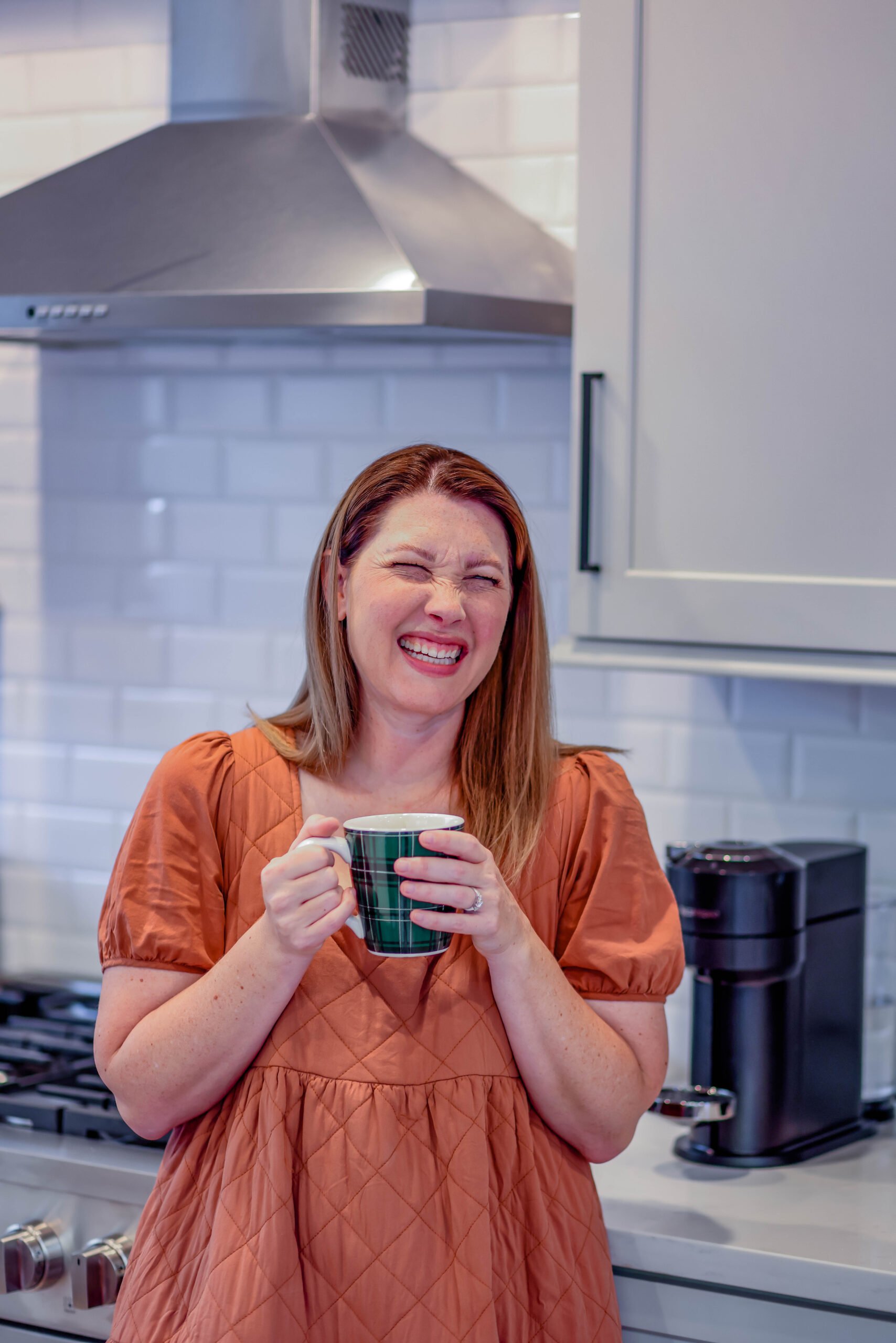 If you follow me over on Instagram, then you know about the great Nespresso machine debate.  A few months ago, I started thinking about upgrading the coffee maker in our kitchen.  We had a keurig, and it was FINE.  There was nothing wrong with it.  I just, wanted higher quality coffee and had heard RAVE reviews about Nespresso machines.  Every coffee drinker I asked said there was NO comparison between these two capsule coffee machines.  Now to be honest, I couldn't imagine it would be THAT different.  It's coffee, right? Homemade coffee? And, I knew that the Nespresso capsules were more expensive, so I was fairly apprehensive.  But, WOW…..I think these were the most responses I've EVER gotten about something on Instagram.  Y'all swore this was the BEST coffee machine for home use on the market.  That it would change my life.
So, I justified it.  For research purposes.
Nespresso Vertuo Next Review: Is it Worth the Money?
Shop Nespresso Vertuo Next:

Overall Thoughts: I have to say…..y'all were RIGHT.  This coffee pod machine is worth every single penny.  I love a good coffee drink a few times a day…..and I'm SHOCKED at how much better my at home coffee drinks taste than they did with the OTHER machine (the one I used in our home coffee station).  The Nespresso pods cost more than my other coffee pods…….which was one of my biggest hesitations.  But, WOW are they delicious.  I've done both the flavored options (my favorite) and the traditional coffee (Robbie loves a regular smooth coffee so this is his favorite) and loved them both.
A few points on how the machine works.  This specific model (the Vertuo Next) is the newest  of all the Nespresso vertuo machines, the smallest and the most sleek looking (primarily because the removable water tank is in in the BACK of the machine instead of on the side).  To clarify (I didn't know the difference): the Vertuo line makes a ton of different sizes and types of coffee drinks (carafe, coffees, and espresso drinks).  A regular Nespresso machine from Nespresso's original line is ONLY espresso drinks.  Nespresso has a guide to all machines HERE.
The Nespresso Vertuo Next has a removable drip tray (I take it off usually because it's built for a smaller mug than I tend to use) and a storage section that houses used coffee pods until you empty it (fills up after about 7-8 used pods are deposited).
Overall? The drinks are DELISH.  I love the different flavor pods and coffee capsules options.  The coffee tastes as good as a fancy drink any coffee lover would order at a local coffee shop ( you can get multiple styles and sized from a traditional single espresso to a gran lugo which is closer tp a full coffee drink, or even a pour over.  I did struggle with the hot water, my machine seemed to stop heating the water and my drinks were luke warm.  This was easily solved with a quick factory reset but it did take a little bit of online searching to figure out the problem and solution.  The machine has bluetooth connectivity so it will usually alert you in an app if there is an issue, and you can start the machine from your phone if you want to.
Ease of use was high.  I didn't need any help setting up the machine or figuring out how to make drinks.  It's pretty much just set up and push a button.  The brewing process does take longer than other machines (keep in mind this is making a more traditional espresso drink than standard coffee and the machine also makes that amazing thick crema).  The machine does run out of water fairly quickly, so my only complaint? I do wish it had a slightly larger water reservoir.
Price: While the Nespresso Vertuo Plus machine isn't necessarily THAT expensive (I've linked to a few of the best prices for it)…..my main concern was the cost of the vertuo pods.  They're at the higher end of pricing for this type of machine that uses larger capsules.  But now, after tasting them? I can see why.  They're so high quality (and I do keep my eyes open for sales).
Shipping Time: Shipping time for Nespresso products has been STELLAR.  Everything arrives quickly (more quickly than I've expected).
Environmental Impact: I was definitely worried about the level of waste that these different pods may create.  Nespresso has a great recycling program.  With each order, you can request a prepaid recycling bag (no cost to you at all).  When it's full, you set up for UPS to pick it up and it will be recycled by the company.  My only struggle was finding a spot in our kitchen for used capsule storage until the bag is full and ready to be picked up.
So the final word in my Nespresso Vertuo Next Review? In my opinion? It's worth EVERY penny.  I'm so happy I bought this machine!