Wondering if a pura diffuser is worth the money? This pura review will help you decide!
Hey there, fellow relaxation enthusiasts! If you're like me, you're constantly on the hunt for that little slice of tranquility in the midst of our crazy, fast-paced lives. That's where the Pura Diffuser steps onto the scene, promising to turn any room into a serene haven. Buckle up as we dive into the ins and outs of this sleek gadget in a way that feels like we're just chatting over coffee.
Elevate Your Space with the Pura Diffuser: A Candid Review
I'm not going to lie…..I bought our pura diffuser on a whim. I saw a lot of people raving about their pura smart home diffuser purchases all over the interwebs and…..I wanted to see if it was really worth the hype. Spoiler, our pura smart home fragrance diffuser is one of my favorite purchases of the year.

Unboxing & Instant Charm: pura diffuser
Let's talk about first impressions. The moment you pop open that pura smart diffuser box, it's like you're entering a world of fancy relaxation. Inside, you'll find the pura device itself, a couple of clean fragrance vials, a power adapter, and a user manual. The diffuser's design? Minimalist chic. It's got this smooth, matte finish with curves in all the right places. So, it's not just a pura smart fragrance diffuser ; it's a piece of decor that blends seamlessly with your space. We bought the white version, but it comes in black now as well!
High-Tech Comfort
Now, let's get into the cool stuff. The Pura Diffuser isn't just a pretty face – it's got brains too! With its smartphone app, you're in control. Adjust the intensity of the pura fragrances , set custom schedules for when you want that aromatic hug, and get this – you can manage multiple diffusers from your pura app . Total scent domination, right? And the best part? The app is as easy to use as your favorite social media platform. I love that I can control intensity of the scent, set separate schedules for weekdays and weekends, and generally adjust things to create the scent experience I want at any time.
Mix and Match Aromas
Ever thought about what lavender and vanilla could do together? The Pura Diffuser lets you explore that fun side of your favorite fragrances and scents. It's got this nifty two-vial system that lets you blend pura scents so that you can experiment. So, if you're feeling adventurous, you can create your own signature scent that matches your mood or the vibe of your space with different fragrances and options. The option to control fragrance intensity keeps things just right – not too overpowering, not too faint. You can control every detail of your home fragrance experience (pretty cool, right?!?).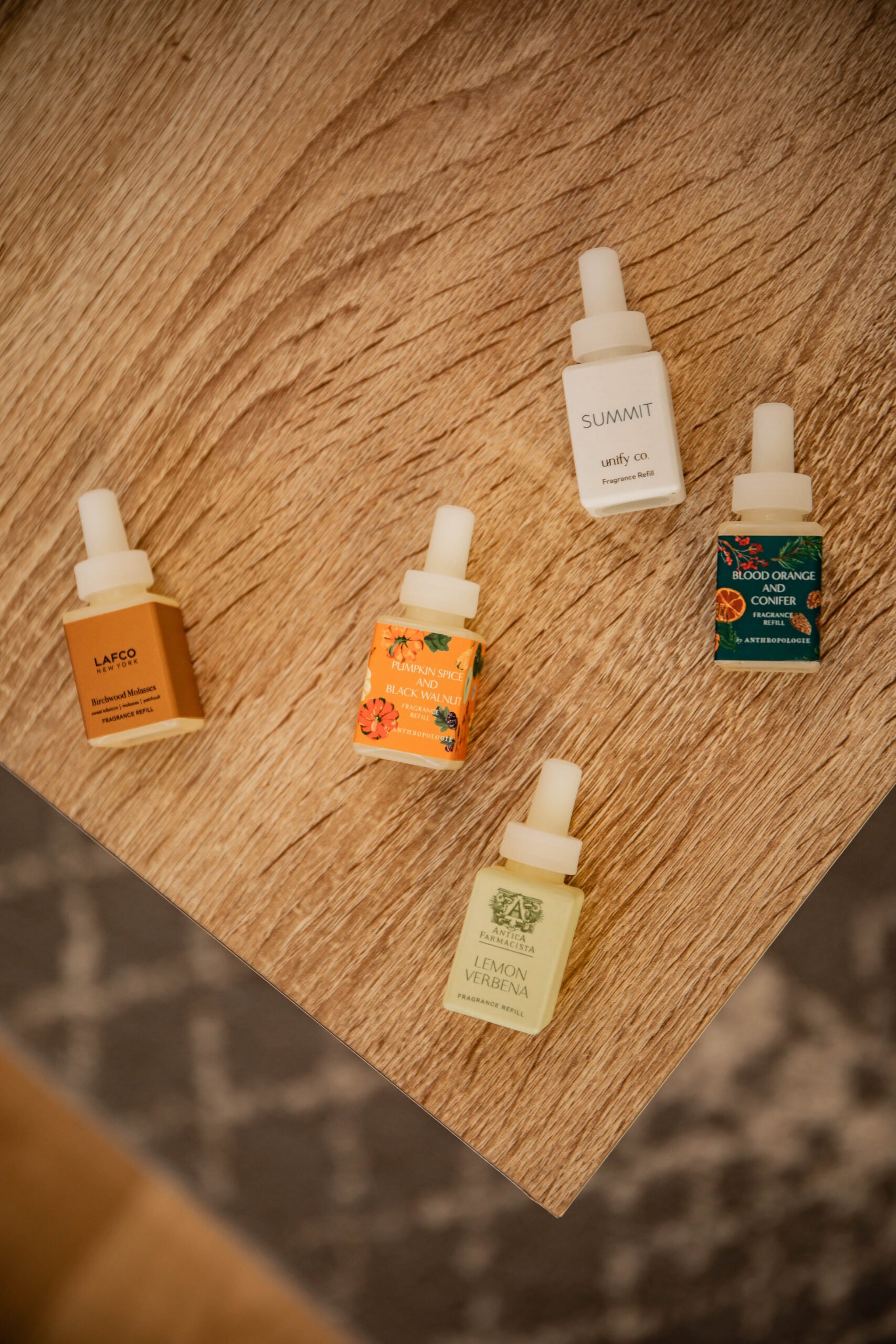 Aroma Galore
Let's talk scents. Pura offers a bunch of pura home fragrance vials that cater to your every whim. From crisp and breezy to warm and cozy, they've got you covered. These smart vials are like little potions – they're carefully crafted and last surprisingly long. And guess what? They're not super expensive either, especially considering how much mileage you get out of them. You can even set up a monthly subscription amount once you get a handle on how often you go through a single vial or two.
Green and Clean: How the pura diffuser is ecofriendly
Sustainability is the name of the game, and Pura knows it. The diffuser is all about being eco-friendly. The fragrance vials are recyclable, so you're not adding to the planet's burden. Plus, it's energy-efficient – so you can have your zen without cringing at the electric bill. The fragrance vials last for weeks depending on how you use them, making them way more economical than traditional candles. I also love that this a great option for families with younger kids who may not want candles out and about.
The Zen Zone
Alright, so how does it all feel in practice? Well, picture this: you walk into your space after a long day, tap a few buttons on your phone, and voilà – you're engulfed in a gentle, delightful scent. The diffusion is even and calming, with no overpowering moments. And did I mention how quiet this thing is? It's like a soothing whisper in the background. Your space feels like a sanctuary, it's so fun to play around and see how a new scent changes the vibe.
Scheduling Serenity: Fragrance on Your Terms
Oh, and before we wrap up, let's talk schedules – because your well-being shouldn't be restricted by time. The Pura Diffuser isn't just a one-time aromatic wonder; it's a lifestyle enhancer. With its scheduling feature, you're in the driver's seat. Imagine waking up to a burst of invigorating citrus in the morning or coming home to a calming chamomile lavender embrace after a hectic day. The pura smart device lets you set the stage for your mood, ensuring that the fragrance dances to your tune, whether you're at home or away. It's like having your personal aroma concierge, and I love it.
A Whiff of the Favorites: Pura's Most Popular Scents
Now, let's talk about the star players in Pura's fragrance collection. They've got an array of scents that have become instant classics. "Coastal Breeze" is like a breath of fresh air from the ocean, infusing your space with a light and revitalizing aura. If you're into cozy evenings, "Vanilla Cashmere" wraps you up in a warm, inviting embrace. "Wild Fig" takes you on a journey through a sun-dappled orchard, while "Amber Woods" brings the grounding essence of a forest walk. And let's not forget "Tuscan Citrus" – a zesty, uplifting melody that awakens your senses. The pura x antica fragrances are VERY popular (some of my favorite scents ) and they even have a vial that smells like the capri blue volcano candles that are so trendy.

Pura's most popular scents have a way of transforming your space into an olfactory wonderland, adding that extra layer of charm to your Pura Diffuser experience.
Verdict – Worth the Hype?
Drumroll, please! The Pura Diffuser earns its spot in the spotlight. It's not just a device; it's an experience. The blend of high-tech control and the natural art of aromatherapy is a match made in heaven. The design adds a touch of elegance to any room, and the app? It's like having a scent DJ in your pocket. The option to blend fragrances and the commitment to sustainability are cherries on top. If you're seeking to transform your space into an oasis of calm and sensorial delight, the Pura Diffuser is more than worth the investment. We actually just bought a SECOND one for our bedroom.
So there you have it, folks. If you're craving relaxation, a dash of luxury, and a sprinkle of tech magic, the Pura Diffuser might just be your new best friend. Your space deserves that aromatic upgrade, and Pura delivers it in style.