Planning a visit to the LEGOLAND California Water Park ? Then you need to read this first. This is the ultimate guide to the water park at the legoland california resort.
We absolutely love the water park at the Legoland California resort. A visit is included in any resort hopper ticket and is a great addition to a weekend at the legoland hotel or castle hotel and your san diego vacation . The water park is super fun for younger children and older children alike. It has a nice variety of activities included in the water park ticket and promises a day filled with laughter, excitement, and fun in the sun.
To ensure that your visit is a great experience , I created this comprehensive guide designed to assist families in making the most of their experience at the Legoland California Water Park .
Legoland California Water Park: What You Need to Know
Planning Ahead
Tickets and Hours: Purchase your legoland ticket in advance (you can get discounted Legoland tickets HERE). Check the park's operating hours to plan your visit accordingly (the Legoland California Water Park normally opens about an hour after the rest of legoland park). If you have early access to Legoland as hotel guests ….this is a great time to do a couple of rides or to visit lego movie world since it's close to the legoland water park entrance.
Weather Check: Since the water park is outdoors, be sure to check the weather forecast. Bring sunscreen, hats, and other protective gear for sunny days, and consider bringing light jackets for cooler temperatures.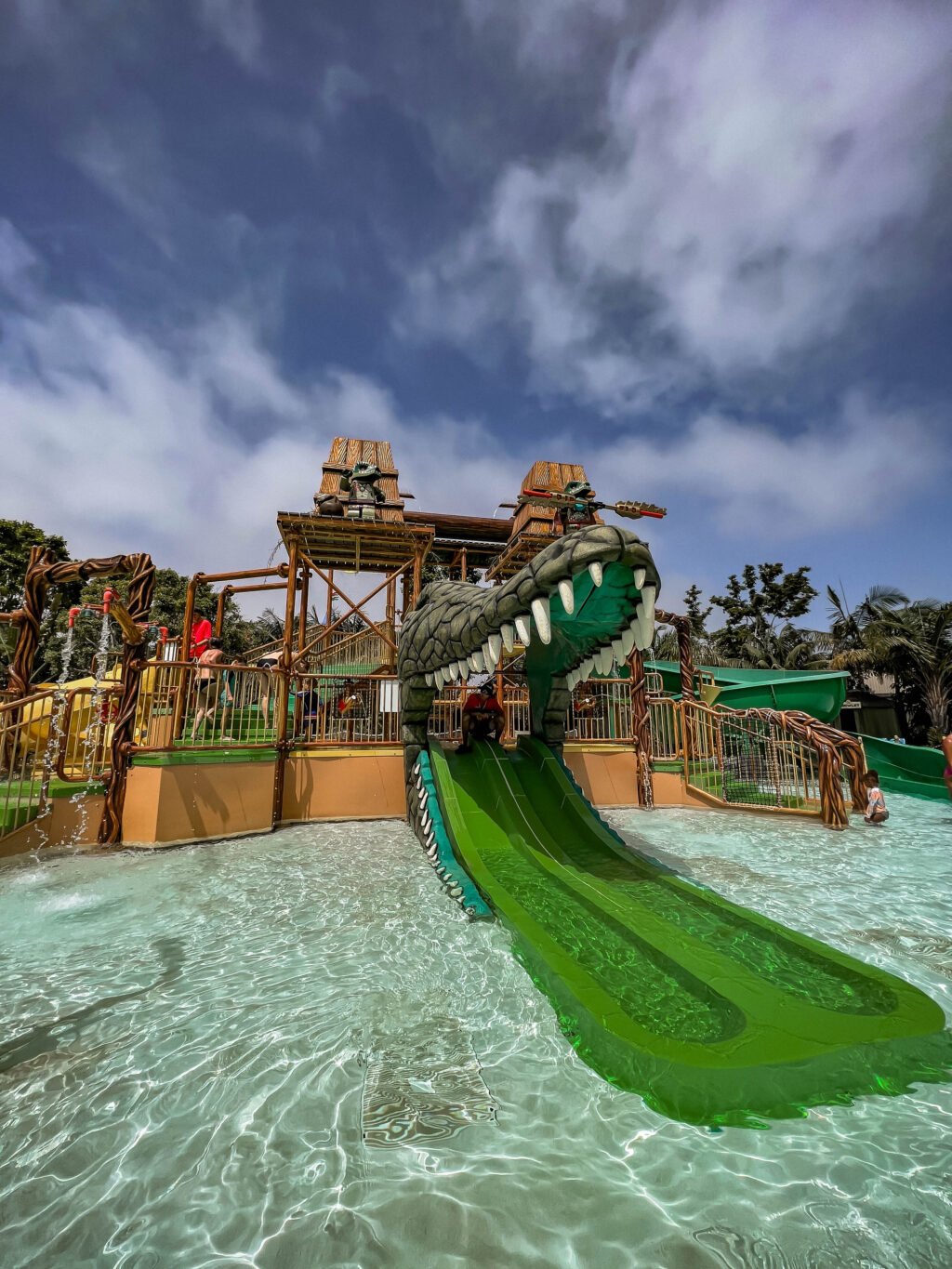 What to Pack
Swimwear: Don't forget swimsuits for everyone in the family. You'll likely spend most of your day in the water, so be prepared!
Sun Protection: Sunscreen, hats, and sunglasses are essential to protect your family from the California sun. Reapply sunscreen throughout the day, especially after water activities.
Towels: While the park provides designated drying areas, bringing your own towels can be more convenient.
Water Shoes or Flip-Flops: Comfortable water shoes or flip-flops are a great idea for walking around the park and on pool decks.
Change of Clothes: Bring a change of clothes for after your water activities. There are changing rooms available.
Waterproof Bag: Keep your valuables dry and secure with a waterproof bag or pouch (this is the one I use for my phone).
Plastic Bags: This is the one thing I forgot last time we went to the water park……you'll obviously be taking off wet suits at the end of the day (and your beach towels will probably be wet as well). Bring plastic bags to put your wet items in so that the rest of your bag doesn't get soaked as well.
Navigating the Park
Map Exploration: Grab a park map as you enter to get an overview of the attractions, restrooms, food areas, water play areas , water cannons and more.
Plan Your Route: Since the water park can get busy, plan your route to ensure you hit your must-visit attractions early. I'd also suggest grabbing lounge chairs right away unless you've decided to do a cabana rental for the day.
Height and Age Restrictions: Be aware of height requirements and age restrictions for certain rides and slides to avoid disappointment.
Family-Friendly Attractions
DUPLO Splash Safari: Perfect for younger children, this area offers interactive play features and shallow pools along with some fun small slides .
Joker Soaker: This interactive play area features a large water playground, slides, and water
Build-a-Raft River: A family-favorite where you can design and build your own raft before floating along the gentle river…..this was a total blast and gets busier later in the day.
lego chima water park : For an added dimension of excitement, don't miss the LEGO Chima Water Park, a fun area within the LEGOLAND California Water Park. Inspired by the LEGO Legends of Chima series, this section offers a variety of water-based attractions, including the "Lion Temple Wave Pool" where you can ride gentle waves, and the "Cragger's Swamp," featuring slides and interactive play areas. The LEGO Chima Water Park immerses families in the mystical world of Chima, providing an opportunity to engage with beloved LEGO characters while splashing and playing in a uniquely themed environment. It's great for younger kids!
Water Slides
No visit to the LEGOLAND California Water Park is complete without experiencing the exhilarating water slides that promise thrills and excitement for the whole family (these are especially fun with older kids ). From the twisting and turning "Orange Rush" slide to the heart-pounding adventure of "Twin Chasers," these water slides offer a rush of adrenaline as you zoom down their twists and turns, splashing into refreshing pools at the end. Make sure to adhere to the height and age requirements to enjoy these attractions safely.
For those seeking a combination of creativity and excitement, the "Build-a-Raft River" allows you to construct your very own raft using soft lego bricks before setting off on a winding aquatic journey. This fusion of ingenuity and adventure embodies the essence of the LEGOLAND experience, ensuring that your family's day at the water park is filled with endless joy and unforgettable memories.
Safety First
Life Jacket Options: Life jackets are available for free at various locations within the park. Children who aren't strong swimmers should wear one in water attractions and they may be required for young children regardless of swimming ability.
Lifeguard Instructions: Listen to and follow lifeguard instructions at all times….and know that there are lifeguards in each area!
Height and Weight Requirements: Pay attention to the height and weight requirements for rides to ensure everyone's safety.
Food and Drink options
If you're spending the day (or the majority of the day) at the LEGOLAND California Water Park…then you'll need to plan for meals. The water park offers a variety of dining options. There are a few quick service options, you'll find something for everyone. We love "Beach Street Tacos" for a taste of Mexican-inspired cuisine (they have great gluten free corn tortillas and some adult beverages), or visit the "Beach Front Grill" for a diverse selection of pizzas, sandwiches, and salads. Keep in mind that you can bring your own food if you prefer, but be aware of the park's food policies. There are also dessert and snack options.
Lockers and Changing Rooms
During your visit to the LEGOLAND California Water Park, you'll obviously need somewhere to store your items. The park has locker rentals, allowing you to secure your items while you enjoy the water attractions. These lockers come in two sizes to accommodate your family's needs. After you rent yours, you'll receive a bracelet with a bar code. This scannable bracelet will open your locker anytime you need to access something throughout the day.
Additionally, clean and well-maintained changing rooms are also available, ensuring you have a comfortable space to freshen up after your day.
Remember, the LEGOLAND California Water Park is all about family fun. It's a total blast and somewhere you'll want to visit again and again!