Let's discuss the best beaches in san diego. We love living here. From the casual lifestyle to the killer weather……it's absolutely heavenly. And one of my favorite things about it? THE BEACHES. They're also one of the things I get the most questions about when chatting about this VERY popular destination.
Whether you are visiting to go to Legoland or the San Diego Zoo or just for a quick beach vacation…..this will help you decide which beach is right for you.
San Diego, located at the bottom of the southern coast of California, is known for its pristine beaches, year-round sunshine, and breathtaking coastal scenery. Our coastal gem is literally a beach lover's dream come true. Whether you want a serene experience or a fun and lively beach adventure, San Diego has it all. Let's dive into the best beaches our picturesque city has to offer.
best beaches in san diego : the ultimate guide
From North County to La Jolla the san diego area is the perfect place to beach hop. We've visited all of these beaches, and each is perfect to visit for a different reason. I promise, one of these is exactly what you're looking for during high tide or low tide (or any other time of day)!
La Jolla Cove
Nestled within the charming community of La Jolla, La Jolla Cove is one of San Diego's most enchanting coastal treasures. This small, horseshoe-shaped beach is known for its rugged cliffs, dramatic shoreline, and pristine waters teeming with marine life (especially during the spring and early summer when the sea lions have their babies). It is a haven for snorkelers and scuba diving enthusiasts, offering an up-close and personal encounter with colorful fish, leopard sharks, and yes even the sea lions. The protected marine sanctuary at the Cove creates an underwater wonderland that is perfect for exploration..from a safe distance.
Apart from the underwater delights, La Jolla Cove's tranquil atmosphere and picturesque sunsets create an idyllic setting for a romantic stroll or a peaceful picnic (bring a blanket). The sandy beach, although small, is a great spot for sunbathing and enjoying the soothing sounds of the ocean. Visitors can also explore the surrounding area, known for its upscale boutiques, art galleries, and delectable dining options (don't miss the old fashioned candy store and warwick's books). La Jolla Cove is a great option for visitors who want all of the san diego vibes. Fair warning free parking is VERY hard to find…..try driving AWAY from the beach into the shopping area.
Coronado Beach : iconic, vintage and absolutely one of the best beaches in san diego
Located on the enchanting Coronado Island, Coronado Beach has consistently been voted one of America's finest beaches. And with good reason, it's absolutely stunning (and one of my personal favorites for a beach day). Its shoreline stretches for 1.5 miles and is adorned with sparkling, powder-soft sand (yes, it actually sparkles).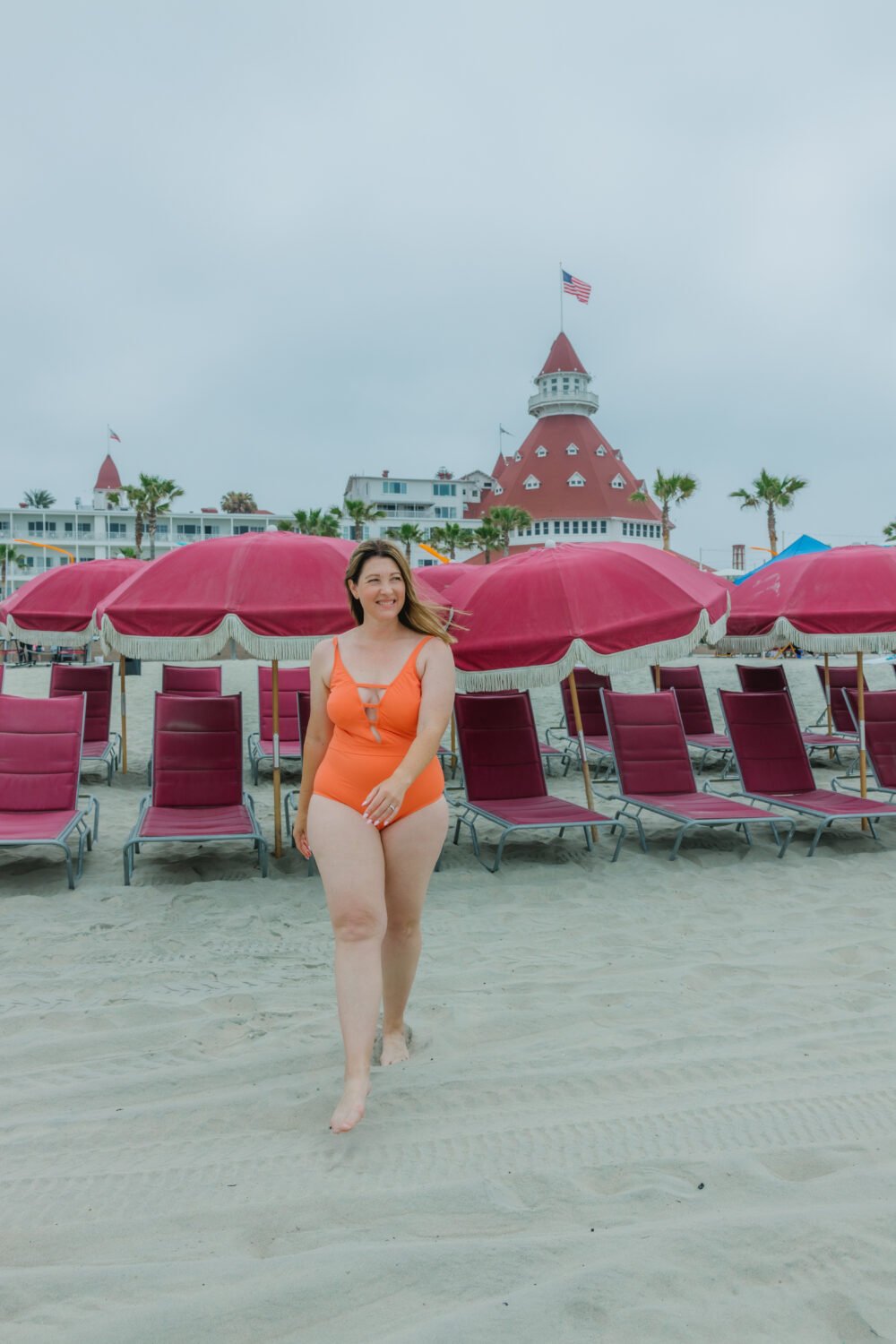 The beach is famous for its iconic backdrop, the majestic Hotel del Coronado, a National Historic Landmark.
Coronado Beach offers a ton of activities for beach goers. The gentle waves and warm waters are perfect for swimming, making it an ideal family-friendly destination. Kids can build sandcastles, fly kites, or splash in the surf. Beach volleyball courts are available for those seeking some friendly competition. Additionally, beachcombers can take leisurely walks along the shoreline, collecting seashells and enjoying the panoramic views of the Pacific Ocean.
Beyond the beach itself, Coronado Island offers a charming downtown area with boutique shops, art galleries, and quaint cafes. Visitors can also explore the Hotel del Coronado, which has hosted celebrities, dignitaries, and even royalty throughout its storied history. A few of my favs at the hotel? The taco stand on the beach, the pizza place and the ice cream shop (all a direct walk from the sand). Coronado Beach provides a quintessential California beach experience that is sure to leave lasting memories.
Mission Beach
For those seeking a lively beach experience, Mission Beach is the place to be. Stretching for nearly two miles, this vibrant beach area offers a plethora of activities and entertainment options. The highlight of Mission Beach is its bustling boardwalk, known as "The Strand," which is perfect for walking, jogging, or biking while enjoying the scenic ocean views.
Mission Beach caters to thrill-seekers with its iconic amusement park, Belmont Park. Here, you can enjoy a variety of rides, including the historic Giant Dipper roller coaster, arcade games, and a plethora of food options (another great ice cream spot). The park's festive atmosphere, complete with cotton candy and carnival games, adds to the excitement of the beach experience. Lydia LOVES visiting!
Water enthusiasts will find plenty to do at Mission Beach. The beach offers great opportunities for swimming, bodysurfing, and boogie boarding. Adventurous souls can try their hand at surfing or rent paddleboards to explore the calm waters of Mission Bay, located on the opposite side of the peninsula. Additionally, beach volleyball courts and basketball courts are available for those who prefer some friendly competition.
The lively atmosphere extends into the evening as well. Mission Beach boasts an array of beachfront bars, restaurants, and cafes that cater to all tastes and budgets. Whether you crave a casual beachside burger or a fine dining experience with a sunset view, Mission Beach has it all. As the day turns into night, the beachfront comes alive with bonfires, live music, and a vibrant social scene. Fair warning, parking here is also difficult. I'd suggest arriving earlier in the day if possible.
Pacific Beach
Adjacent to Mission Beach, Pacific Beach (commonly referred to as PB) is known for its youthful vibe and VERY vibrant nightlife. With its wide sandy beach, picturesque pier, and bustling streets, PB offers a quintessential Southern California beach experience. It's a favorite destination for both locals and visitors looking for a mix of sun, surf, and entertainment.
The wide sandy beach of Pacific Beach attracts sun lovers, families, and beach sports enthusiasts alike. There's plenty of space for sunbathing, picnicking, and playing beach volleyball. The beach is also a popular spot for surfers, as it offers decent waves for both beginners and experienced riders. The iconic Crystal Pier provides a picturesque backdrop for strolling or fishing.
After a day of beach activities, Garnet Avenue, the main street of Pacific Beach, comes alive with an array of trendy shops, eclectic boutiques, and surf stores. You'll also find an assortment of restaurants, cafes, and bars catering to every taste. From casual beachside eateries to trendy rooftop lounges, Pacific Beach offers a diverse culinary scene….there is truly something for every palate!
As the sun sets, Pacific Beach truly comes into its own. The vibrant nightlife scene attracts a young and energetic crowd, with numerous bars and nightclubs offering live music, DJs, and dancing. Whether you're looking for a relaxed beachside bar or a high-energy dance club, Pacific Beach has something for everyone.
Windansea Beach
For a more secluded and serene experience, Windansea Beach in La Jolla is a hidden gem waiting to be discovered (I almost didn't include it in this guide so I could keep it a secret). This picturesque stretch of shoreline is renowned for its dramatic rocky landscape, stunning surf break, and natural beauty. The iconic surf shack at Windansea, built in the 1940s by local surfers, adds a touch of nostalgia to the beach.
Windansea Beach attracts seasoned surfers from around the world who come to challenge themselves against the powerful waves. The surf break is known for its fast and powerful barrels, making it a favorite spot for experienced wave riders. Even if you're not a surfer, watching the surfers ride the waves at Windansea is a mesmerizing sight.
While swimming at Windansea Beach can be challenging due to the powerful surf, the sandy beach is a great place to relax, sunbathe, or enjoy a leisurely walk along the shore. The rocky outcroppings create tide pools teeming with marine life, providing opportunities for exploration and discovering fascinating sea creatures. This is definitely not the beach for families with kids who want to swim or jump the waves.
Due to its more secluded location, Windansea Beach offers a tranquil and laid-back atmosphere. It's a great spot to escape the crowds and enjoy the natural beauty of the San Diego coastline. The breathtaking sunsets at Windansea Beach are particularly enchanting, painting the sky with vibrant hues as the sun dips below the horizon.
Moonlight Beach : one of the best beaches in san diego
Moonlight Beach in Encinitas is another must-visit destination along the San Diego coastline (and one of our family's go to beach spots). Located in the charming beach town of Encinitas, Moonlight Beach offers a laid-back and family-friendly atmosphere. This wide sandy beach is perfect for sunbathing, picnicking, and playing beach games. The calm and gentle waves make it an ideal spot for swimming and bodyboarding, especially for beginners and children.
Moonlight Beach is also known for its well-maintained facilities, including clean restrooms, showers, and a playground, making it a convenient and comfortable choice for families. The grassy park area adjacent to the beach provides a lovely space for relaxation, picnics, and enjoying the panoramic ocean views. As the sun sets, Moonlight Beach lives up to its name, offering a magical backdrop for an evening stroll along the shore or a beach bonfire with friends and loved ones. Whether you're seeking a day of beach fun or a tranquil evening by the ocean, Moonlight Beach in Encinitas is a delightful destination worth exploring.
Ocean Beach

Ocean Beach, or OB as it's affectionately known by locals, is a vibrant and eclectic beach community in San Diego. This laid-back boho neighborhood offers a unique beach experience that captures the essence of our city's free-spirited culture. The expansive sandy beach is popular among surfers, swimmers, and sunbathers. The waves at Ocean Beach are known for their consistency, attracting surfers of all skill levels.
The iconic Ocean Beach Pier extends 1,971 feet into the ocean, providing a picturesque backdrop for fishing, leisurely walks, and panoramic views of the coastline. I love visiting the lively main street, Newport Avenue. The street is lined with an array of surf shops, vintage boutiques, art galleries, and cafes. OB also hosts a vibrant farmer's market every Wednesday, offering locally sourced produce, crafts, and live music. The community's laid-back attitude and bohemian vibe create a welcoming and inclusive atmosphere, making Ocean Beach a favorite destination for both locals and visitors seeking a fun and authentic San Diego beach experience.
Torrey Pines State Beach
Torrey Pines State Beach is a picturesque coastal oasis located just north of La Jolla in San Diego. This beach is famous for its stunning cliffs, golden sands, and pristine natural beauty. As part of Torrey Pines State Natural Reserve, it offers visitors a unique blend of beach and wilderness experiences. The beach stretches for miles, providing ample space for sunbathing, beachcombing, and leisurely walks along the shore. The towering cliffs of Torrey Pines create a dramatic backdrop and offer breathtaking panoramic views of the Pacific Ocean.
Hiking at Torrey Pines
Hiking enthusiasts can explore the various trails within the state reserve, including the popular Torrey Pines State Reserve Trail. It leads to stunning overlooks and showcases the area's diverse flora and fauna. Birdwatchers will also delight in the opportunity to spot rare seabirds and majestic raptors soaring above the cliffs. Torrey Pines State Beach is a tranquil and scenic destination that seamlessly combines coastal beauty with natural wonders. It is a must-visit for nature lovers and outdoor enthusiasts.
And there you have it. Our coastline offers a diverse array of beaches, each with its unique charm and appeal. Whether you're seeking relaxation, adventure, or a vibrant beach atmosphere, San Diego truly has it all. From the dramatic cliffs of La Jolla Cove to the lively boardwalks of Mission Beach and Pacific Beach, and also the tranquility of Windansea Beach, San Diego's beaches offer something for everyone.
So grab your sunscreen, towel, along with a sense of adventure, and immerse yourself in the sun-kissed beauty of San Diego's finest beaches. Whether you're snorkeling in La Jolla Cove, building sandcastles at Coronado Beach, enjoying the vibrant scene of Mission Beach, exploring the youthful energy of Pacific Beach, or seeking solitude at Windansea Beach, San Diego's beaches are sure to create unforgettable memories for all who visit our coastal paradise.