Planning a trip somewhere warm? These tropical vacation outfits ideas are perfect for putting together with items you already have in your closet!
Do you have blue waters and beach days on your calendar? Take it from someone who lives in pretty much an endless summer location (ok, it's not ALL year but San Diego's weather is pretty close to tropical and we do have the palm trees to show for it)….there are some basic pieces that you'll need for all your tropical vacation outfits.  For a tropical getaway, comfortable outfits and easy to wear pieces are key.  The good news? Warm-weather vacations tend to be casual.  You can definitely mix, match and rewear your favorite pieces and get a ton of cute outfits out of the basics.
Tropical Vacation Outfits
From Hawaii (if you're heading to Aulani take me with you) to Mexico ….. there's nothing like a trip to a tropical destination.  To me? The ultimate relaxation comes with sandy toes and a view of the water.  Yes, packing and planning for a beach vacation should be easy.  You'll spend a LOT of time in a bathing suit.  And other than that? You'll need some basics.
A few important things to keep in mind while packing:
Looking for tropical vacation outfit ideas? Think easy fabrics for hot long days especially in humid weather.  Cotton.  Linen.  Breathable fabrics.  Things that breath and wear easily.
For resort wear? Bold colors or crisp white dress or white tee options.  Both do well in fun, sunny climates, plus are easy to style a bunch of different ways.
Accessories are a great way to get more use out of the same linen pants or casual summer dress.   Think beach bags, a straw hat, statement earrings.  I usually pack 2-3 fun accessories to switch things up!
These? Are my top nine pieces to pack for creating tons of tropical vacation outfits with ease.
Maxi Dress: A maxi dress is the perfect easy flowy piece to take you from the warmer weather during the day to sunset dinners.  If it cools off at night you can add a simple light jacket.  Maxi dresses are a classic, so you can rest assured that it's worth investing in one that you love.  You'll wear it year after year and they can easily be worn as a casual dress at home.  Cute dresses always have a use!
Shop the best Maxi Dresses:
2. Bathing Suit: From sexy swimsuits to colorful bikinis to high-waist bikinis…..there are about a million swimsuit options but trust me……a bathing suit is basically tropical vacation dress code.  And if you take ONE thing away from this article, please spend the time finding a swimsuit you love.  It makes a huge difference.  I had a hard time finding bathing suits for my pear shaped body at first…..but now? I know what I love and it makes me so happy!
Shop my favorite bathing suits: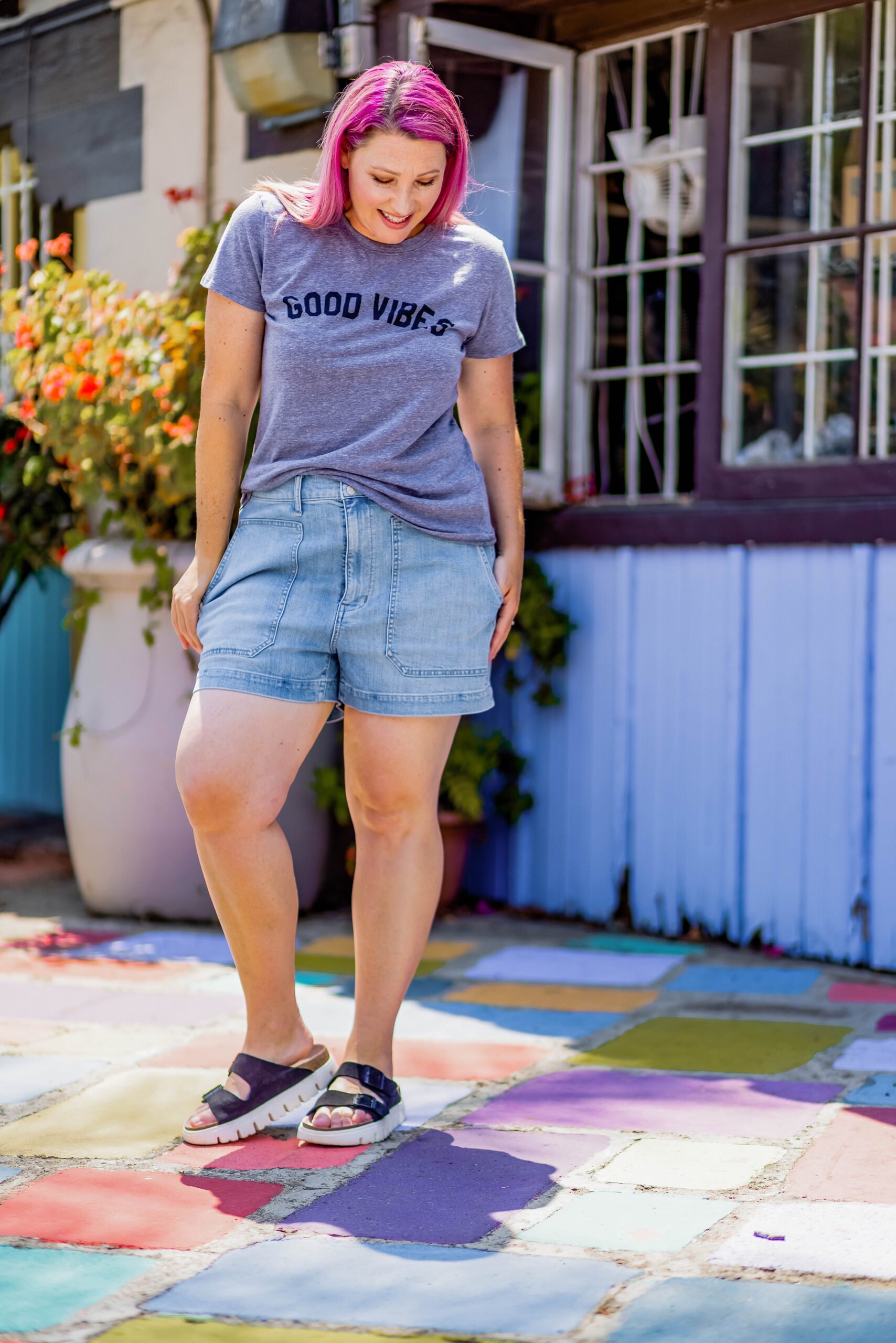 3. Denim Shorts: A classic.  I can guarantee you'll get multiple uses out of a great pair of jean shorts on any place with hot climates and warm days.  Plus, these are a great option for travel outfits and can easily layer comfortably for airplanes and movement.  Wear them with a pair of tennis shoes on the plane, swap out for a breezy blouse and a pair of flip flops for a resort casual look.  You can even wear them with a nicer top and strappy sandals for a resort dinner.
My favorite Jean Shorts for a Pear Shaped Body:
4. Wide Leg Pants: These are always on my packing list.  I love a great cotton pair of wide leg pants.  They're a total classic, super flattering and fun to wear, and perfect for your next vacation.  You can even wear them with a pair of water shoes and a bikini top to lunch.
Shop Wide Leg Pants:
5. Swimsuit Cover Ups: When it comes to tropical vacation outfits, swimsuit coverups are an absolute requirement.  You can do gauzy pants, a great skirt or a tunic……..whatever makes you feel your best!
Shop my Favorite Cover Ups:
6. Paper Bag Shorts: I love love love a great pair of paper bag shorts.  They can be worn with a tucked in blouse, a fun tee shirt, or a cotton tank top.  Dress them up with wedges and great jewelry or wear them with flip flops and your bathing suit.  These are a multiuse piece for your entire vacation!
Shop Paper Bag Shorts:
7. Cotton tanks: Let's talk basics.  A couple cotton tanks will help round out your tropical vacation outfits.  You can layer them in the evening or wear them with shorts or a skirt during the day.
Shop Cotton Tanks:
8. Sun Dresses: A couple great sundresses will round out your vacation outfits perfectly.  I usually pick a couple neutral colored options, one or two white dresses, and a bright print or color.  That will give tons of options for dressing up or down!
Shop Sundresses:
9. A sun hat: There's nothing like a floppy hat to complete any warm weather outfit.  I'd always suggest bringing a sun hat on a warm weather trip.  You can wear it with dresses, to the beach, and……it's as important as packing your sunscreen!
Shop Sun Hats:
Now, I just have one question.  Where are you planning to wear these tropical vacation outfits?