Let's talk summer style.  We're sharing summer staples that flatter a pear shaped body…….these will seriously change your LIFE!
Ok, so I'm as pear shaped as can be.  I have a smaller waist and wider hips and thighs.  Even at 20 pounds lighter (the year I didn't eat carbs in my 20s)……my body was EXACTLY the same shape…..just smaller.  I honestly believe that one of the keys to body confidence and feeling beautiful in your own skin is dressing to FLATTER your body.  So, I'm launching a new series around here (based on feedback from you all).  I'm going to be sharing pieces of clothing that are easy to style and that help work with our body type instead of against it!
Tips for Dressing a Pear Shaped Body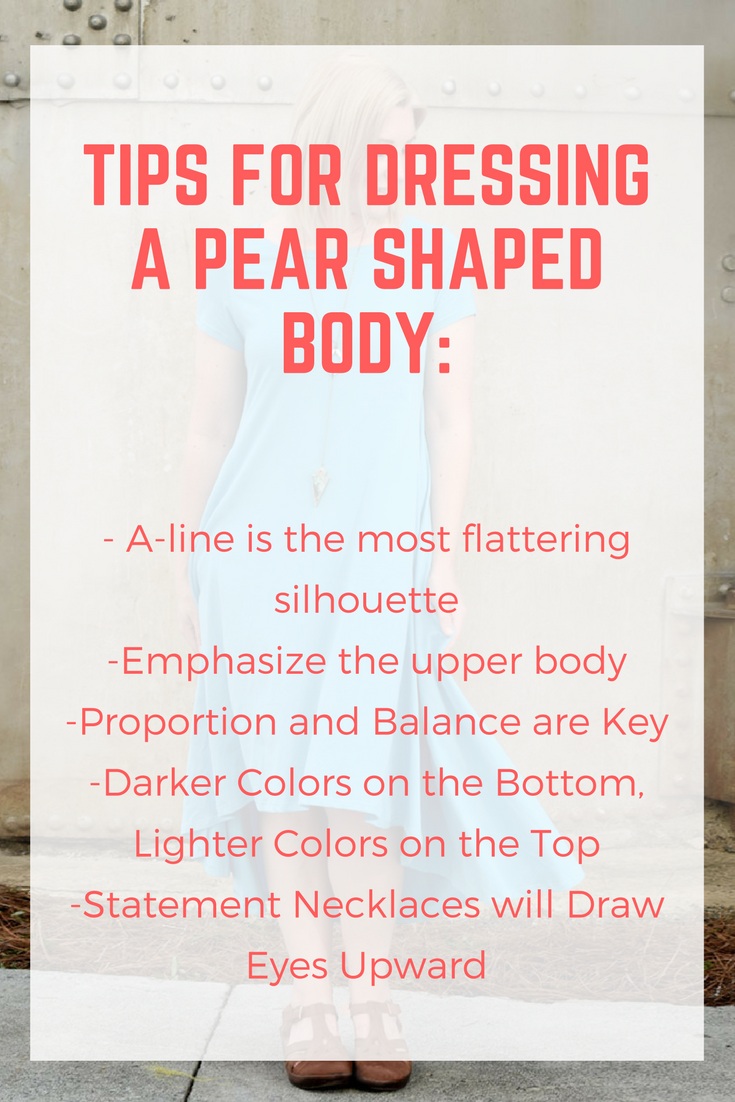 (thanks to my friend Toni Ferrara, professional stylist)
A-line is the most flattering silhouette
Emphasize the upper body
Proportion and Balance are Key
Darker Colors on the Bottom, Lighter Colors on the Top
Statement Necklaces will Draw Eyes Upward
Now for the fun, I wanted to share a few of my favorite summer staples for pear shaped bodies.
Sundresses for a Pear Shaped Body
Sundresses are hard to find when you're pear shaped…..because the proportions on your top and bottom aren't the SAME.  My favorites? Cut in at the waist to accentuate an hourglass figure and hit just below the knee.  I always look for great details and fun colors……
Ruffle Dress: This tiered dress is one I've worn over and over and over again.  It fits really well and is always in style. Bonus? I found a bargain version here for $13!!!
Caftan Dress:  Caftan dresses can be SUPER flattering, or not at all.  The key? Cutting in at the waist.  This classic one is IDEAL for summer.
T Shirt Dress: Now to be fair, this one is more like my favorite every season dress.  It fits PERFECTLY and the gathers are great for wider hips.  I own it in every color.  And wear it ALL the time.
My favorite dresses for a pear shape:

Shorts for a Pear Shaped Body
Shorts are one of the things I've TRULY struggled to find.  My rule of thumb? No super fitted shorts.  As much as I'd love to wear fitted jean shorts, they just don't look flatter on my body type.  I love looser shorts, with a great light colored tee.  Even prints ( I know breaking the rules), when balanced with a great top and statement necklace.
LOFT Rivera Shorts:  These shorts are my GO TO.  If you've got a pear shaped body…..they're super flattering and comfortable.  I own them in a TON of colors and fabrics (including eyelet and printed patterns).
Bike Shorts: Seriously, I'm talking about the best bike shorts. Yes, pear shaped ladies, you can wear them.  I'm sort of obsessed.
My Favorite Shorts for a Pear Shape:

Shirts for a Pear Shaped Body
Am I the only pear shaped woman who feels like shirts are never LONG ENOUGH?  I guess because my hips are on the wider side……I love shirts that hit right BELOW the hip.  I can't tell you how many tops I return because they feel too short.
Aerie Tees: THE BEST.  If you're on the hunt for a comfy, slouchy tees….they're amazing (Both the crew neck and v neck).
Caslon V Neck: If you're looking for a more fitted tee, these v necks are my go to.  And they're a killer price!
My Favorite Tees:

So, give me feedback………do you like posts like this? What are your favorite shorts, tees and dresses for a pear shaped body?