Let's talk summer style.  This? The ultimate guide to dresses for a pear shape (this applies to all dress styles…..both formal and casual)…….these will seriously change your LIFE and make shopping for your pear body type a lot easier.
Ok, so I'm as pear shaped as can be.  I have a smaller waist and a wider hip area and thicker thighs.  Even at 20 pounds lighter (the year I didn't eat carbs in my 20s)……my body was EXACTLY the same shape…..just smaller.  I honestly believe that one of the keys to body confidence and feeling beautiful in your own skin is dressing to FLATTER your body (this is a relative term….this is about finding good choices for YOURSELF, pieces that make you feel happy and stunning).    I'm going to be sharing types of dresses that are easy to style and that I feel my best in……there are no good choices or bad choices when it comes to dressing an hourglass shape……but I would like to encourage you to take the time to find items you love.
Tips for Dressing a Pear Shaped Body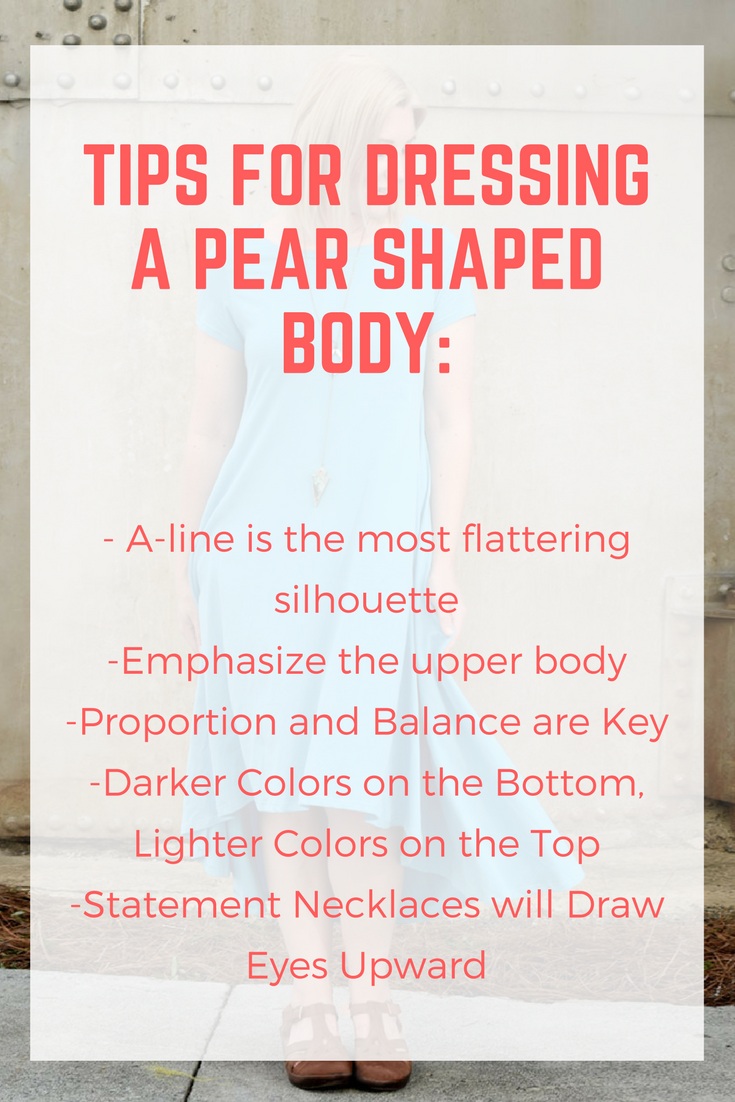 (thanks to my friend Toni Ferrara, professional stylist)
A-line is the most common silhouette worn, it creates a balanced silhouette with wider hips and narrow shoulders
Emphasize the upper body to balance our common body type
Proportion and Balance are Key, so look at fuller skirt options
Darker Colors on the Bottom, Lighter Colors on the Upper half
Statement Necklaces or elements will Draw Eyes Upward
Now for the fun, I wanted to share a few of my favorite dresses for a pear shape.
Dresses for a Pear Shaped Body
Dresses are hard to find when you're pear shaped…..because the proportions on your top and bottom aren't the SAME.  My favorites? Cut in at the waist to accentuate an hourglass figure and hit just below the knee.  I always look for great details and fun colors……that hit in all the right places.
A Line Dresses: This is the classic choice for a pear body shape.  The a-line skirt showcases your defined waist and fits curvy hips with ease.  A line dresses are also a piece that will always be in style…..so you can rest assured that investing in them is a good choice.  They'll be worn year after year.  What is an a line dress? Any dress with a hem that is wider than the shoulders…some of my favorite teacher outfits are a line dresses and a simple shoe!
A few of my favorite a line dresses:
Wrap Dresses: Wrap dresses are another total classic, and one of my personal favorite options for a dresses for a pear shape.  These are a good idea for traveling, and I love that they can be adjusted to truly fit your body with ease.  I love wrap dresses in bright colors and fun patterns (especially for warmer weather).
A few of my favorite wrap dresses:
Puff Sleeves: EKKKKK, talk about romanticizing your life……puff sleeves are a super fun way to balance your top half and bottom half and they're SUPER on trend right now.  I love that they add whimsy and style and can be easily dressed up or down.
Shop Puff Sleeves Dresses:
Tiered Dresses: Tiered dresses are having a moment, and I think they are great options for going from day to night.  I own a LOT of these in both dark color styles and light colors, even bold prints.  From cotton to fancier fabrics, I love that tiered dresses focus on a fitted top and looser bottom.  I even use some of these as bathing suit cover ups!
Shop Tiered Dresses:
Caftan Dresses: Caftan dresses can be SUPER flattering, or not at all.  The key? Cutting in at the waist. I love the vertical lines from a pretty caftan dress……especially wrap styles!
Shop Caftan Dresses:
T Shirt Dress: Now to be fair, this one is more like my favorite every season dress option.  To me? There are two types of t shirt dresses.  A fitted, sheath type and a looser version like this one.  I think BOTH are great options and I own some of each.  I love a fitted dress for layering and wearing year round.  And a looser t shirt dress like this one? So great for warmer weather with sandals or sneakers (bonus, you can use code CARLY15 to get 15% off this one)!
Shop T Shirt Dresses:
So, give me feedback………do you like posts like this? What are your favorite shorts, tees and dresses for a pear shaped body?