Looking for the best one piece swimsuit you can buy on Amazon in 2020? These bathing suits are flattering to your pear shaped body, affordable, and bonus? They have prime shipping!
Here we are.  It's swimsuit season pretty much everywhere (it definitely is here in San Diego).  But this year? In store shopping isn't necessarily an option.  So my goal? To help you easily order flattering swimsuits that you'll love.  And there's nowhere better than Amazon for home delivery.  Right?  Some of my favorite bathing suits? Are the one piece swimsuit amazon ones I own.
The Best One Piece Swimsuit Amazon Carries
A few tips for choosing swimsuits for a pear shaped body:
the goal is to draw eyes towards your neck and shoulder….a decorative neckline, lace, a light color, fun hardware will do that
find pieces that fit well and hug your curves, baggy tops don't flatter a pear shaped body, you want to accentuate that small waist and midsection instead of draping and hiding it
try different colors and fabrics, you'll have your favorites and it's best to stick to those ( I personally love bright colors and bold patterns)
My information: I'm 5 feet 6 inches with a classic pear shape body (smaller on top and wider hips and thighs).  I wear a size 10 to 12.  Usually a medium top and large bottom.  In swimsuits I almost always wear a large in a one piece or a medium top and large bottom in a two piece.
All Suits from My Try On:

One Shoulder Suit (size large): I love the cut of this suit, and it's SUPER comfortable.  This solid brown isn't my usual go to, but it's a great color for summer (also comes in navy).  This one comes with removable cups for support, and is perfect to wear with a simple skirt or shorts off the beach or away from the pool.
Pink Ruffle Suit (size large): Aren't the ruffles on this suit fun? I've owned this one for a couple years, and still wear it ALL THE TIME.  It also comes in a green version with orange ruffles, but I'm partial to the black and pink.  I feel like it's a jazzed up version of a simple black swimsuit and it's a classic I'll wear for years to come.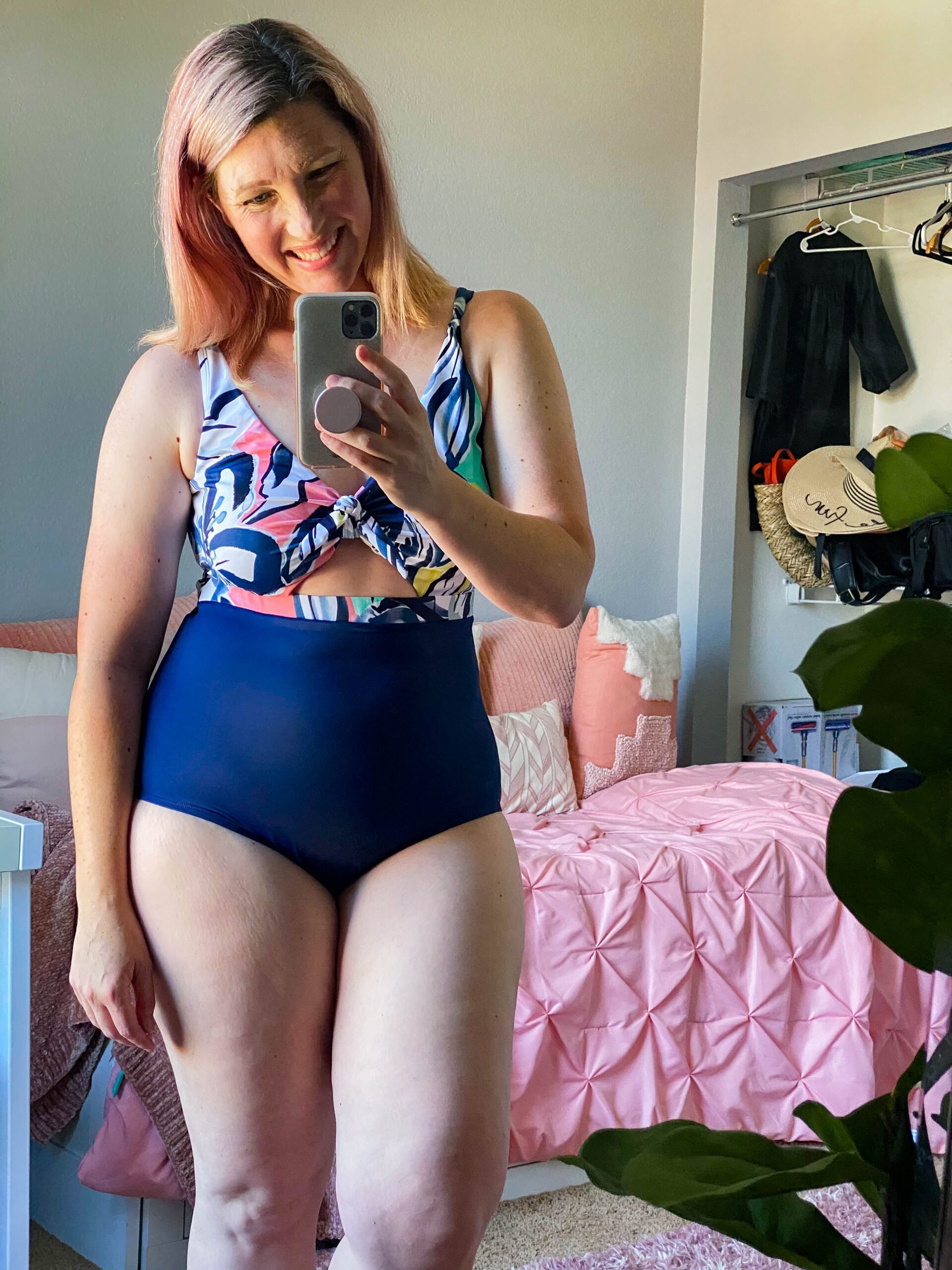 Colorblocked Suit (size large):  I love love love this colorblocked suit.  It's super flattering and has great support.  The print on this top is perfect for a pear shape, and I love the wider straps.  One of my favorites!
Lemon Print Suit (size large): the colors on this one, so cute right?!? I love that this is so bright and fun and the cutouts are small and subtle.  It's a perfect compromise between a one piece and a two piece!  This one felt a little bare on the top for my personal taste but I love the print.
Wrap Color Blocked Suit (size large): Isn't this super flattering? It also comes in a really pretty summer orange and peach color combo.
Striped Suit (size large): Something about stripes like these remind me of summer.  They seem almost like a seersucker print and I love this.  This also comes in pink stripes, a solid pink and a floral version.