Wondering what you can do at Disneyland that isn't a ride? These Disneyland Secrets are the ticket, the list contains over 100 things to do in Disneyland that AREN'T rides!
Yup, 100.  There are over 100 things to do in Disneyland park that aren't rides.  As a Disneyland local, and Magic Key Holder……I get asked the same question a lot.  WHAT DO YOU DO AT DISNEYLAND? If we're being honest, I'm not a huge ride person.  I'm scared of heights.  So my favorite Disneyland Activities? Are mostly non-rides.  These are also great options for more crowded park days and times of year.  And many of them are perfect for younger kids (or older kids who need a little down time).  If you're headed on a Disneyland Vacation, be sure to bookmark this page for future reference!  These things to do in Disneyland are fun, easy and perfect for year round visits.
Disneyland Secrets: 100 Disneyland Activities that Aren't Rides
Disneyland Non Ride Options:
Walk in Walt's Footsteps Tour: This tour is at the top of my Disneyland bucket list.  It's between 3 and 4 hours long and you get to see the inside of Walt's apartment on Main Street (be sure to call (714) 781-8687 ahead to reserve).
Main Street USA:
Dapper Dans: This amazing barbershop quartet performs for about 20 minutes at a time, and is a total blast to see (be sure to check the Disneyland app for times).
Mary Poppins Show: Once a day in front of the castle, Mary Poppins performs along with a band and her friends (it's usually around 1030 am, ask a cast member for details each day).
Piano Player: Want a chance to relax and be entertained? Check out the piano player  Disneyland's Refreshment Corner.  He usually performs in the afternoon and evening!
Crystal Arts Palace: Check out the Crystal Arts Palace on Main Street, it's great for browsing and if you're lucky you can see a few pieces being crafted.
Great Moments with Mr. Lincoln: This really cool display area is often overlooked, and is such a great spot to relax.  The lobby houses The Disneyland Story, an amazing collection of memorabilia tracing the creation of Disneyland (including a model of the park on opening day).
Disneyana: Disneyana is so much more than a store, it's an art gallery….and my favorite part? You can usually see a Disney artist at work in the center of it!
Magic Windows: Ok, they aren't ACTUALLY called Magic Windows.  But they're magic to my five year old.  The Emporium is the largest store on Main Street, and it's windows? You'll see kids crowded around in delight.  Each one pays homage to a different classic Disney movie, and they magically transition from one scene to another.  They're really fun to watch, and I've found the best time to see them without a crowd is the first thing in the morning before a Disneyland breakfast.
Flag Retreat: The Flag Retreat on Main Street is truly special.  It's usually at 4:30 pm (but be sure to check the Disneyland app for daily updates).  This daily ceremony is a must see during each trip to the parks.
Fire Station: If you haven't visited the Fire Station on Main Street, be sure to pop in.  Yes, kids can climb the fire truck (or adults too if you want to)!
Mickey and Friends Band-Tastic Cavalcade: Disneyland always has a parade, and the current version is a ton of fun!  Plus, you get to see Mickey Mouse.
Silhouette Studio: Want to participate in a classic Disneyland activity?  Visit the Silhouette Studio, and watch the artists at work….and buy a unique piece to remember your day at the happiest place.
Disney Railroad: I'm not sure if you'd classify the Disney Railroad as a ride…..I'd classify it as a relaxing break spot.  You can visit the Station at the front of Main Street, and ride the train if you'd like!
Main Street Cinema: Main Street Cinema is one of our first stops on most Disneyland trips.  We pop in to see Steamboat Willie for a few minutes, and somehow….it's rarely crowded.  Disney magic?!?
Fireworks:  The fireworks and nighttime shows at Disneyland are always magical.  And a must see.
Corn Dog Truck: Looking for iconic Disneyland food? Visit Disneyland's Little Red Wagon, towards the end of Main Street near the Plaza Inn for Corn Dogs (it's also one of my favorite places to take pictures at Disneyland).
Market House (aka Starbucks): This Disneyland version of Starbucks has a really fun sitting area with checkers games (and be sure to tell your kids or the kids at heart in your party to listen to the phone on the wall).
Fantasy Land:
Princesses at the Royal Hall: Got a princess fan in your family? Then visiting the princesses at the Royal Hall is perfect!  You'll meet 3 princesses in a row, it's always a surprise which three it is!
Sleeping Beauty's Castle Walk Through: Did you know that you can walk through Sleeping Beauty's Castle (and experience the story of Aurora)? It's really fun (slightly dark inside) but a quick and easy experience.
Pull the Sword from the Stone: Be sure to stop by the Sword in the Stone (right in front of the carousel), and to wait your turn to try to pull it out!
Visit Pixie Hollow: Pixie Hollow is an often overlooked walk through.  It's only open until dusk, so be sure to visit in the daytime.  Tinkerbell is often there for a meet and greet, but if she's NOT, you can usually still walk through (and it's absolutely adorable).
Bibbidi Bobbidi Boutique: One of my biggest suggestions for a special celebration (like a Disneyland Birthday), is always to visit the fairy godmothers in training at the Bibbidi Bobbidi Boutique.  You can make an appointment for a lot less than you'd expect, and its a totally magical experience.
Get Pixie Dusted: Want a little magic WITHOUT a Bibbidi Bobbidi Boutique appointment? Stop by and you can ask for Pixie Dust!
Storytelling at the Royal Theatre: Storytelling at the Royal Theatre is one of my favorite Disneyland shows.  They always have kids sit in the front on mats, and us grown ups get a little break on the benches (plus, sometimes the characters from the show come out after for a meet and greet).  Usually there is a Beauty and the Beast show part of the day and a Rapunzel show during the other part.
Mickey and the Magical Map: Another great (and much larger) show? Mickey and the Magical Map.  It's filled with all your favorite Disney characters, a ton of musical numbers and even bubbles!
Swing Dancing Saturday nights: The Royal Theatre? Transforms into a swing dancing hall on Saturday nights.  It's a sight to see!
Gaston's Tavern: If you've got a Beauty and the Beast fan, then stopping by Gaston's Tavern is always fun (try the grey stuff)!
Snow White Grotto: looking for a quiet spot in the park? Face the Castle from the Main Street side, and look to the right.  The path leads to Snow White's Grotto.  This beautiful fountain is peaceful, and often has a princess milling about.
Penny Arcade: Visit the Penny Arcade for some fun machines (and the Candy Palace for treats)!
Tomorrowland:
Tomorrowland Terrace Dance Party: For the last year or two, Disneyland has been having themed dance parties at the Tomorrowland Terrace.  They're usually from about 7:30 pm until 10:30 or 11 pm.  Characters stop by, there's a dj and it's a TON of fun.
Star Wars Launch Bay: If you've got a Star Wars fan, Galaxy's Edge shouldn't be your only stop.  The Star Wars Launch Bay in Tomorrowland is basically a Star Wars interactive museum, it's really fun!
Pizza Planet: Pizza Planet is more than a place to eat, it's a total experience.  The murals alone? Are worth a visit!
Adventureland:
Visit Rosita at The Tropical Hideaway: One, there's dole whip.  Two, cult favorite Rosita is housed in this new cafe…..and she's got jokes for DAYS.
Enchanted Tiki Room: Looking for air conditioning? This adorable show is a DISNEYLAND classic.
Tom Sawyer Island: Ok, technically you have to RIDE a raft to get to the island.  But this is another overlooked gem.  You could spend hours exploring this adorable island (there's even a pirate's lair).
Tarzan's Treehouse: Need to get some wiggles out? Let your kids explore Tarzan's Treehouse built into an 80-foot tree!
Explore New Orleans Square (and the Haunted Mansion): Is it even a trip to Disneyland without walking around New Orleans Square (munching on beignets) and taking a peek at the Haunted Mansion?!?
Critter Country:
Pooh Corner: Pooh Corner is an adorable store but, you could spend hours just LOOKING at the building details (plus there's a meet and greet area right outside where you can usually see your favorite residents of the 100 acre woods).
Briar Patch: Stop by the Briar Patch near Splash Mountain for a GREAT selection of ears and hats!
Build a Droid: My all time favorite Galaxy's Edge activity? Building a droid at the Droid Depot.  It costs $99, and is such a unique experience……plus you get a totally customized item to bring home!
Build a Lightsaber: Huge Star Wars Fans will want to visit Savi's Workshop where they can build their own lightsabers (for $199).
Oga's Cantina: want a cocktail inside of Disneyland? Oga's Cantina is your best bet (and your only bet outside of Club 33). Plus, it's right next to the Millennium Falcon.
Blue or Green Milk: Stop by the milk stand and decide which is better…..blue or green milk (blue is my personal favorite).
Black Spire Outpost Shops: The entire Black Spire outpost shops area is amazing.  Beautifully built, totally immersive and filled with unique items you won't find anywhere else!
Creature Stall: The creature stall is not only a great store, but so much fun to visit.  You can see tons of "pets" on display!
Toydarian Toymaker: My other favorite spot to visit? The toymaker's shop.  It's filled with stunning pieces of handiwork and a great place to grab gifts!
Frontierland:
Mark Twain Riverboat: Does this count as a ride? Debatable.  I call it a relaxing location.  You can ride the riverboat, and enjoy the views of the park.  It's perfect on a warm day!
Fantasmic: Looking for an evening show? Fantasmic is often overlooked and it's AMAZING!  Be sure to get to Frontierland early to grab a great spot!
Explore the Golden Horseshoe: The Golden Horseshoe has some REALLY cool Disney history (including a secret box that Walt himself installed) and tons of fun entertainment.  From a magician to dueling piano players, it's a great spot to relax and take a load off.
ToonTown:
Post Office and Jail: Toontown has a ton of great places to explore……the post office (and the jail) are perfect for younger kids.  Be sure to spend a few minutes checking out the mailboxes at the post office, they're unique to each character!
Goofy's Playhouse: Got a toddler or preschooler? Goofy's Playhouse is a must visit.  There's an adorable slide, and the house itself has a really fun piano.
Donald's Boat: Donald's boat is another fun location to explore.  Be sure to climb up to the top, you'll get a killer view!
Chip n' Dale Treehouse: Chip and Dale's house is at the very back of Toontown and is absolutely adorable.  Be sure to climb all the way to the top!
Mickey and Minnie's House: Mickey and Minnie's houses are great for character meet and greets, but they're also open to explore when the characters aren't available.
Buena Vista Street:
Five and Dime Show: Love a good jazz performance? The Five and Dime Show makes its way down Buena Vista Street a few times each day (check the app for times).
Citizens of Buena Vista Street: Wondering who those random characters are? They're the citizens of Buena Vista street.  Stop and interact, they're a total blast!
Carthay Circle Lounge: If you love Disney history, then the Carthay Cicle lounge (and the upstairs dining room) is a must visit.  You'll see tons of Disney history related to Walt Disney and the creation of Snow White (plus they have some killer cocktails)! It's also one of my top Disney California Adventure Photo Spots!
Hollywood Land:
Disney Junior Dance Party: The Disney Junior Dance Party is a total favorite in our family.  This adorable show is air conditioned and indoors, it's just long enough for young kids and super interactive. There's even a special Halloween version of it available only during the Oogie Boogie Bash!
Anna and Elsa Meet and Greet: Got a Frozen fan in the family? California Adventure has some REALLY fun ways to Let it Go (aside from shopping for Frozen 2 merchandise, ha)!  The Anna and Elsa Meet and Greet tends to have a short line, and is always a blast (plus, you actually get to knock on Elsa's door and ask if she wants to build a snowman…..it doesn't get better than that)!
Animation Academy: The Animation Academy is totally underrated.  These 25 minute classes take you step by step through a specific character sketch lead by a Disney animator.  They're free with park admission, and you get to bring your sketch home.
Turtle Talk with Crush: This adorable show is a great option for young kids.  They'll get a chance to interact with Crush (yes he talks to the audience).  The parents? Get a break, but beware….Crush can see you too and loves calling out the grownups playing on their phones in the back, ha!
Frozen Show: The Frozen Show at the Hyperion is literally a broadway level performance.  It's almost an hour long, and is a total blast for any Frozen fan (check the Disneyland app, the show happens a couple times each day).
Mickey's Philharmagic: This 12 minute 3d movie just made it's way to Disneyland this year.  We saw it at Walt Disney World, and were so excited when it made it's way to our home park.  They also have a really cute waiting area with coloring pages in between shows.
The Beast's Library: The Beast's is a total hidden gem.  This amazing room switches magically as the rose's petals fall.  To find it, follow the signs to the Sorcerer's Workshop inside the Animation Building and KEEP going through the back.
Sorcerer's Workshop: The Sorcerer's Workshop inside the Animation Academy is filled with really cool gadgets and displays, perfect for little animators!
Carsland:
Carsland Lighting Ceremony: The lighting ceremony is one of you only know if you know things at Disneyland.  It's not on the app, but you can ask a Carsland cast member for more info.  Each evening at dusk, there is a ceremony in front of Flo's V8 Cafe as they light the neon lights around the land for evening.  They play a special song, and you can see each building light up…..plus kids usually get a special button for participating.
Flo's V8 Cafe: The cafe itself is always a fun spot to visit.  Grab a spot inside and enjoy the tunes (along with speciality milkshakes).
Cozy Cone Motel: If you're looking for Cars themed meet and greets, the Cozy Cone Motel is the spot.  Grab a snack from one of the cones and wait in line to meet your favorites!
Pixar Pier:
Lamplight Lounge: The Lamplight Lounge is one of my favorite non-Character Dining spots.  The brunch is AMAZING, and the location is perfect.  Plus the decor? ADORABLE if you love Pixar!
Pixar Pier Games: Next to Toy Story Mania is a row of adorable arcade games.  You can buy a game card, fill it with credits and play a ton.  My personal favorite game? La Luna.  Every player gets a prize.
Pixarmonic Orchestra: Be sure to check the Disneyland app for show times, the Pixarmonic Orchestra is a ton of fun to see!
Artist at Knick's Knacks: Want to see an artist in action? There is usually a Disney Artist drawing away at Knick's Knacks (this is also a perfect spot to kill time waiting for a Lamplight Lounge reservation)!
Bing Bong's Sweet Stuff: This fairly new spot is a ton of fun to explore, and has some exclusive treats available only at Bing Bong's.  Want a serious sugar rush? Try one of the memory refreshers!
Paradise Gardens Park:
World of Color: At night, the World of Color stuff is an absolute don't miss.  You can grab a physical Fastpass early in the day next to the Little Mermaid ride.  This beautiful projection show is absolutely magical!
Art Area: Most times of the year, there is a seasonal art project available for kids.  It's usually at the small tables in front of the Little Mermaid ride or further down close to the Corn Dog Castle.
Grizzly Peak:
Redwood Creek Challenge Trail: Another hidden gem.  The Redwood Creek Challenge Trail is filled with amazing activities.  It pays homage to the giant redwoods of California, and has REALLY cool walkthroughs that share tons about California Wildlife.  There's also a fun ropes course, a slide and climbing area, rope swings, and a cave where you can discover your own spirit animal.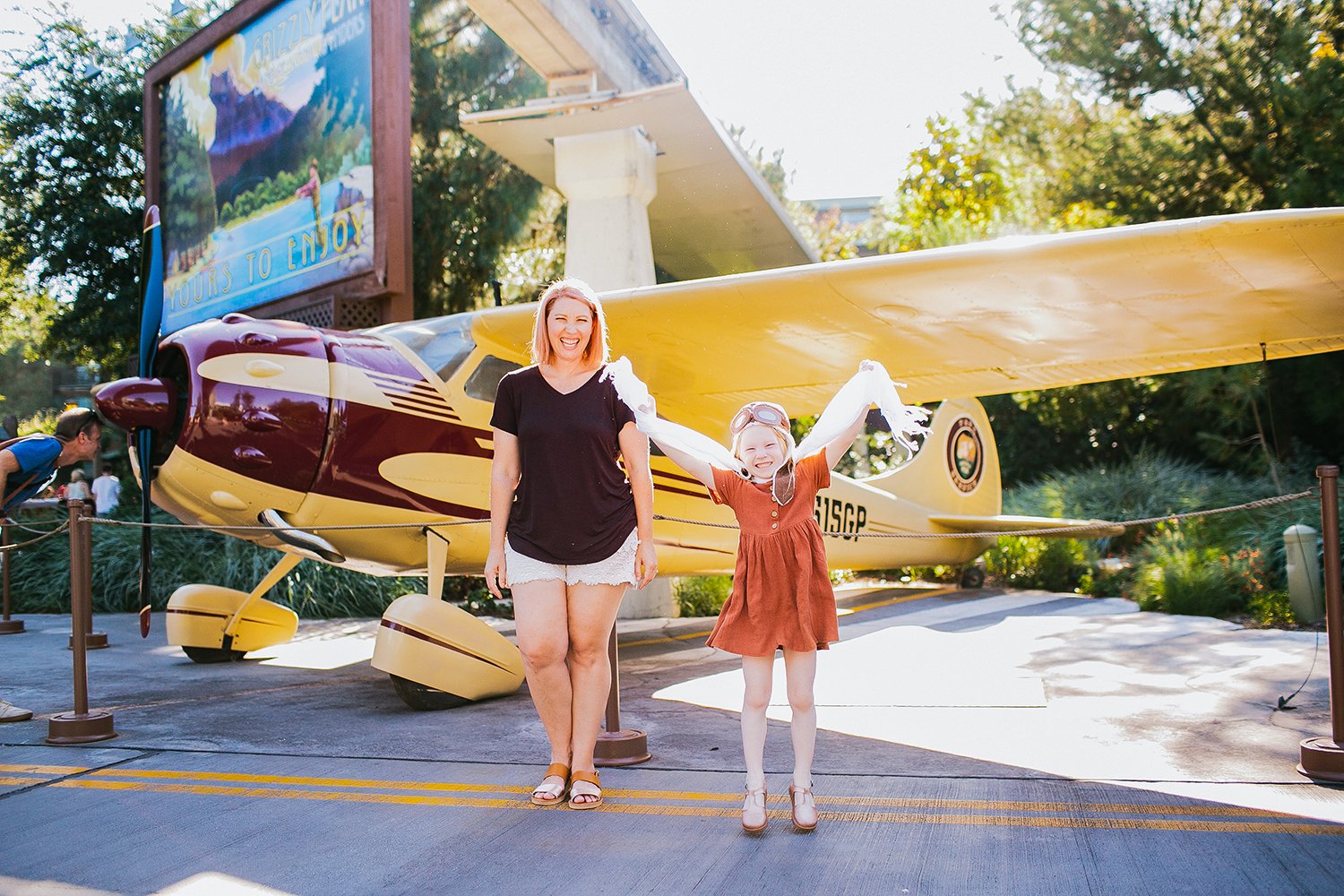 Grizzly Peak Airfield: Love airplanes? Check out the Grizzly Peak Airfield (in front of Soarin Over California)….it's fun to explore and a great meet and greet spot.
Pacific Wharf:
Wine Flight at Wine Country Trattoria: Looking for grown up activities? Sit, relax and grab a wine flight at Wine Country Trattoria (or on a warm day order a frozen rose……it's DELICIOUS).
Bakery Tour: The bakery tour is another underrated activity, walk through to see the bread being made, then grab some to bring home!
Walt Disney Imagineering Blue Sky Cellar: The Blue Sky Cellar is a hidden gem.  It's usually quiet, it's cool inside and shows really fun models of projects that are currently being worked on inside the parks!
Chocolate Samples: Want a little treat? Stop by the Ghirardelli® Soda Fountain and Chocolate Shop, they usually are giving out chocolate samples!
All Parks:
Pin Trading: Pin Trading is a really fun activity at all Disney parks, and a great way to get a small piece of merchandise after each trip.  We collect pins on a necklace, and then visit various stores and locations to "trade" our pins with cast members.
Holiday Decorations: No one does holiday decor like Disney.  Be sure to take some time to walk around and enjoy whatever current decor is up!
Disney Play app: The Disney Play app is a fun way to interact with the park (especially in line).  Download before entering, and follow the prompts in different locations for great and unique offerings!
Buy a Ballon: Is it even a Disney trip without a balloon? Remember most balloon vendors are cash only!
Pressed Pennies: There are over 150 different pressed penny options inside Disneyland.  Be sure to check out this map for locations and details!
Take Pictures: I had to say it right? There are so many fun Disneyland Photo Spots and Disney California Adventure Photo Spots…..be sure to plan out a few of each!
Grab a Popcorn Bucket: Want to join in one of the biggest Disney trends? Popcorn Buckets are IT!  Disney releases limited edition buckets many times a year.  You can grab them at any popcorn stand, they're awesome take home options!
Collect Autographs: Be sure to stow an autograph book in your Disneyland bag.  Collecting autographs is a fun way to interact with all the characters you see around the parks!
Downtown Disney:
Crazy Shakes at Black Tap: Looking for truly instagrammable food? The Crazy Shakes at Black Tap are stunning, delicious and a ton of fun!
Bowling at Splitsville: We spent an evening bowling at Splitsville for Lydia's Disneyland Birthday last year, and I loved it!  The food is amazing, and we all had a blast!
Wonderground Art Walk: If you love Disney art, then Wonderground is a must visit.  Wander through and enjoy the displays!
Catal Brunch: We checked out Catal's Brunch for Easter last year and were blown away.  The food is amazing (they also have a killer happy hour)!
The World of Disney: The World of Disney is one of the biggest Disney retail stores on the West Coast, and it's also a STUNNING venue.  Think interactive, and fun.  Be sure to stroll through at least once!
Hotels: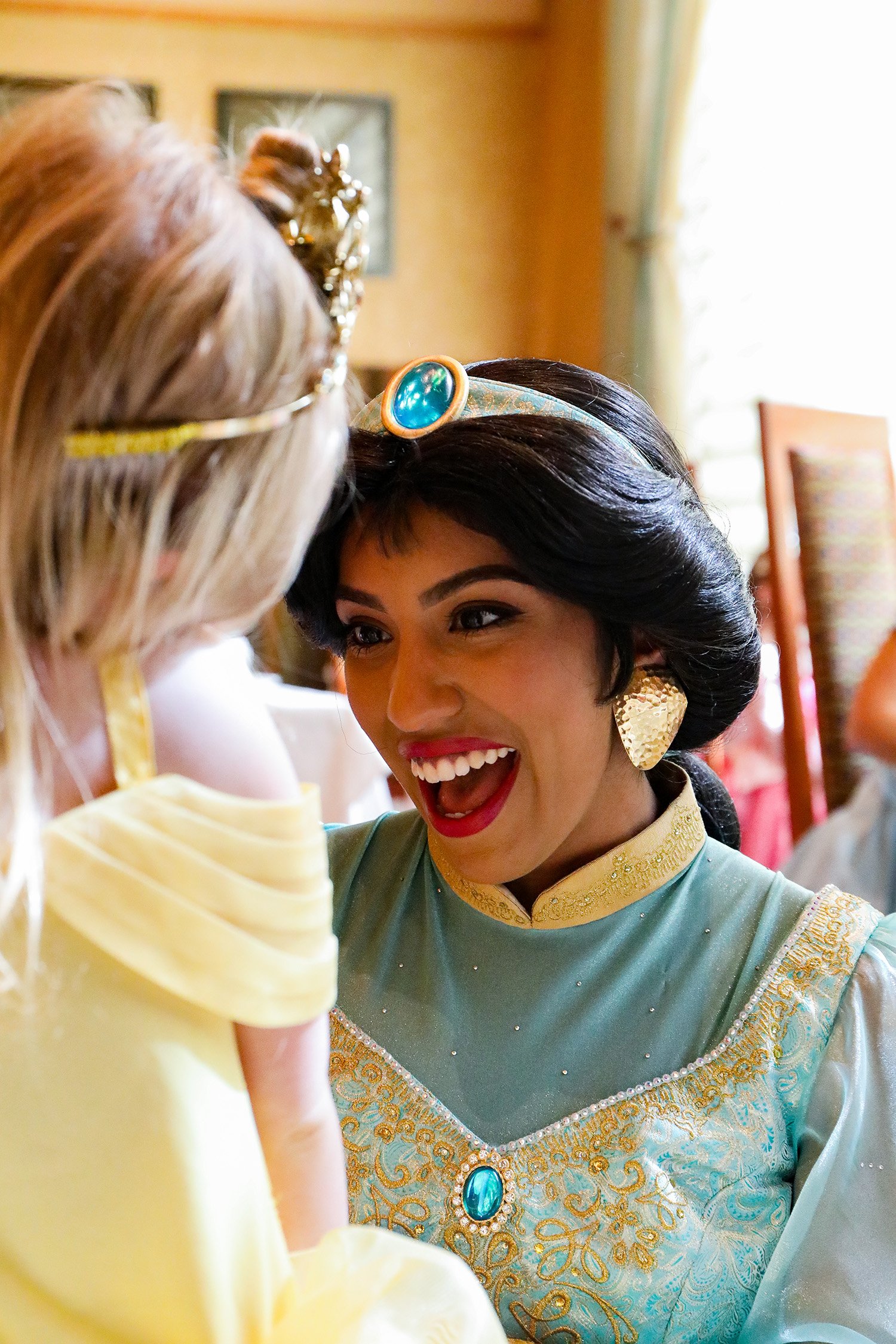 Princess Breakfast Adventures at Napa Rose: Looking for a truly unique experience? The Princess Breakfast Adventures inside the Grand Californian are ABSOLUTELY magical.  They're perfect for a special occasion!
Goofy's Kitchen: Looking for Disneyland Character Dining Options? Goofy's Kitchen is inside the Disneyland Hotel and it's the ONLY character dining DINNER option.  It's perfect for travel days if you arrive and don't have a park ticket!
Donald's Seaside Breakfast: For brunch, Donald's Seaside Breakfast inside the Paradise Pier hotel is a great, mellow option.  If you are looking for a smaller and quieter Character Dining Experience…..this is always my recommendation.
Storytellers Cafe: For foodies? The brunch at Storytellers Cafe is definitely the best Disneyland Character Dining experience, the food is AMAZING and a pretty good price!
Ok Disneyland fans…..what things to do in Disneyland and non-ride experiences did I miss???