Heading to Disneyland Christmas 2019? This ultimate guide will share all the best eats, activities, entertainment offerings and fun!
Thank you to Disneyland for hosting our visit.
Let the countdown begin, Christmas is ALMOST here and that means that Disneyland Christmas 2019 (aka Disneyland Holidays 2019) is here now.  From Santa to parades to the BEST holiday food, no one does the holidays like Disney.  It's become a family tradition for us to kick off the holidays at the Happiest Place on Earth, and this year there are more fun things to do than ever before.
For those of you headed to the Parks, I wanted to share all the options and then my top recommendations (plus each of our favorite Disneyland Christmas 2019 activities).
Disneyland Christmas 2019 takes place from November 8, 2019 to January 6, 2020.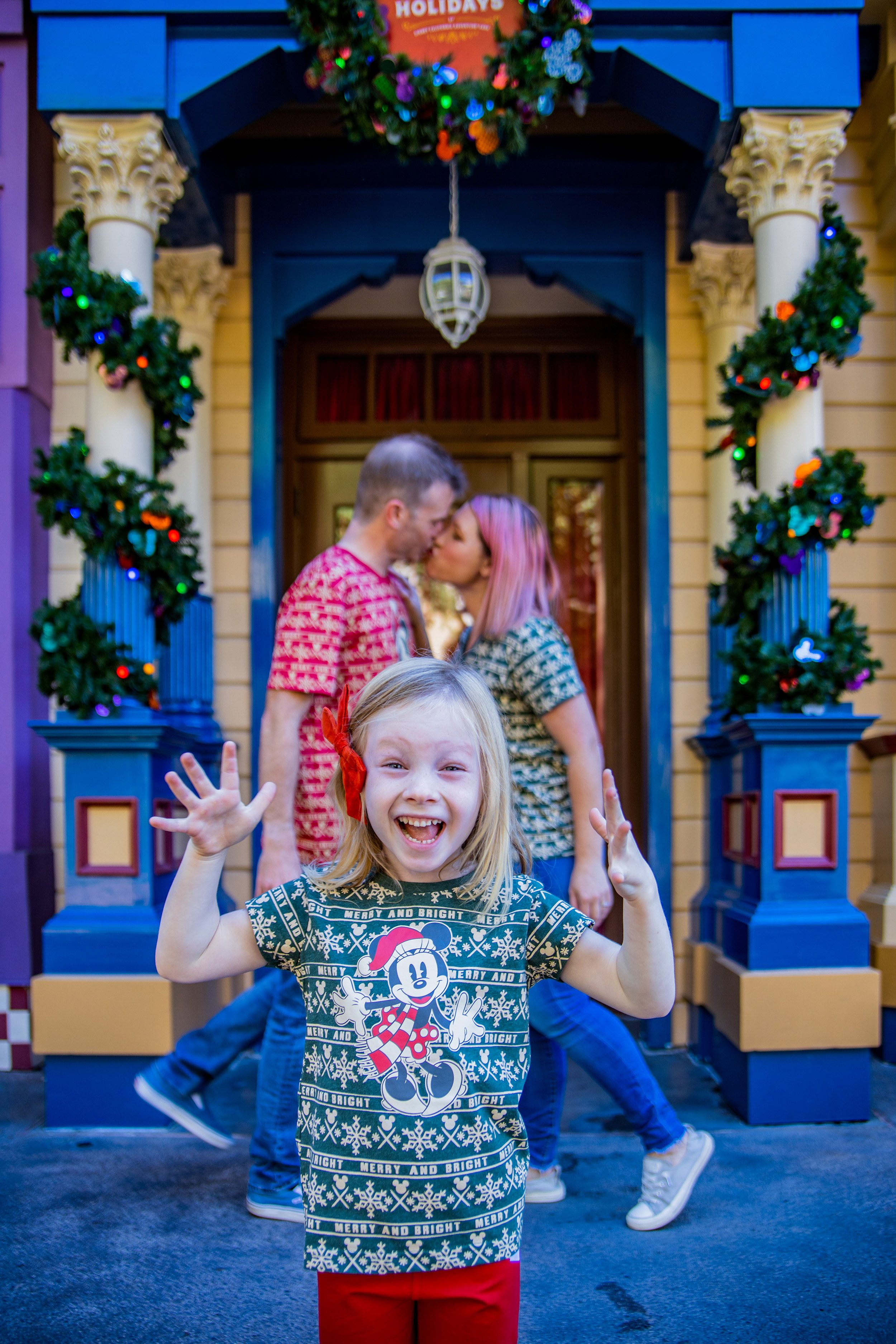 < shop family Christmas shirts >
Disney Holidays: Our Top Picks for Disneyland Christmas 2019
Entertainment and Activities
For reference: each activity is marked with DL to specify that it takes place inside Disneyland or DCA to specify that it takes place at Disney California Adventure.
Festival of Holidays (DCA): The Festival of Holidays is an amazing celebration of cultures from around the world.  It's filled with musical performances, food and activities.  A few noted performances to catch: The Mariachi Divas are an amazing all female mariachi band and one of our favorites, and Mostly Kosher is a super fun performance.  Check the Disneyland app each day under Entertainment for performance times and locations.
¡Viva Navidad! (DCA): The ¡Viva Navidad! Street Party is an adorable parade / show that is a must see.  It features The Three Caballeros and some of our favorite other classic Disney characters along with a talented group of musicians and traditional dancers.
Santa and the Redwood Creek Challenge Trail (DCA): One of my personal favorite holiday locations inside Disney California Adventure is the Redwood Creek Challenge Trail.  The entire area transforms into a winter wonderland with a cookie decorating station, a meet and greet with Santa, and more.  Plus, there's still a great playground and climbing area. Pro Tip: the lines for Santa can get REALLY long.  He usually starts his day at 9 am.  I'd suggest getting to the park at opening and heading straight for the Challenge trail if this is a priority for you.  Otherwise, you can have one parent wait in the line while the other takes kids to the other activities around the area.
Carsland (DCA): Carsland is an absolutely adorable area, and they always decorate the entire thing for each holiday (it's also one of our favorite family photo spots).  Be sure to walk through and take a close look around (the posters next to to Mater's Jamboree are my personal favorite).  Also make time to do at least two rides: both Mater's Jamboree and Luigi's Rollickin' Roadsters transform for the holidays and they're a ton of fun.
Tree Lightings (DL + DCA): Each park has a GIANT tree in the front (on Main Street in Disneyland and on Buena Vista Street in Disney California Adventure).  Both will have a lighting ceremony each day.  Check the Disneyland app for exact timing, and plan to see one of them!
World of Color – Season of Light (DCA): The World of Color is an amazing water projection show that happens year round and changes to fit the the holiday or theme (the Oogie Boogie Bash version was super spooky and fun).  The Disneyland Christmas 2019 version?  Is called Season of Light and weaves seasonal classics in with Disney classics.  Pro Tip: You watch the World of Color from the area close to the Little Mermaid ride.  There are multiple viewing areas.  You can use a fast pass to reserve spots in those areas, do a dining package that includes viewing, or there are non-reserved areas that are first come first serve (get there at least an hour early if you don't have a reservation).
A Christmas Fantasy Parade (DL): A total Disney classic.  A Christmas Fantasy Parade makes it's way through Disneyland between It's a Small World and Main Street twice a day.  It features Disney favorites (that princess float is the BEST) and some special Christmas guests. Pro Tip: Two of my favorite viewing spots? In front of the Firehouse on Main Street and near It's a Small World.  I'd suggest getting to your preferred spot an hour before parade time at the latest (and bring a blanket to sit on)!
Sleeping Beauty's Castle Lighting (DL): The Wintertime Enchantment at Sleeping Beauty's Winter Castle is a magical holiday tradition (and a great earlier alternate to watching the fireworks).  It happens twice a night (check the app for times, we saw the 8:30 pm lighting), lasts for about 7-10 minutes and is so much fun.  Pro Tip: We watched from the back of Main Street (close to the castle).  Be sure that position yourself on the actual street because (spoiler alert)……that's where the snow falls!
"It's a small world" Holiday Lighting (DL): During Disneyland Christmas 2019, there are a couple of special events each day at It's a Small World.  Each evening around 5:15 pm (check the app for that day's exact time) the facade is lit for the evening, and it's super fun to watch.  Also, all day and night the inside of the ride is decked out (including with special holiday smells pumped into the ride)…..be sure to grab a Fast Pass for it!
Haunted Mansion Holiday (DL): The Haunted Mansion is a fun ride year round, but during the fall and winter? It's the BEST.  Be sure to visit this mashup of holidays, and to celebrate with the spookiest ghosts around!
Disney Holiday Dance Party (DL): One of my favorite new additions to the Parks in the last year or so has been the dance parties at the Tomorrowland Terrace.  They're always themed to whatever is happening in the park, and the Disney Holiday Dance Party? Is a total blast.  It takes place from 7 pm to 11 pm on Friday, Saturday and Sunday nights.  It's casual, you can drop in when you'd like…..and characters usually drop by as well.
Mickey's Happy Holidays (DCA): This new procession is a great short dance show to watch twice a day.  It includes a TON of the characters you see all around Disney California Adventure dressed in festive attire, and the spectacular Holiday Toy drummers.  The party stops in two places (in front of the Little Mermaid ride and in front of Carthay Circle).  Check the app for exact times.
Holiday Toy Drummers (DCA): In addition to their performances in Mickey's Happy Holidays, the Holiday Toy Drummers also do their own shows and they're AMAZING!
ToonTown (DL): Want to see great holiday decor? Be sure to schedule some time in Toontown.  The decorations are ADORABLE and your kids will love to explore Mickey and Minnie's Christmas trees!
Food
Festival of Holidays Marketplace (DCA): The Festival of Holidays Marketplace is a GREAT spot for foodies this time of year.  You can try tons of different holiday options from the booths and some pretty great cocktails.  Our personal favorites? The Beef Pot Roast Slider from Winter Sliderland and the Crimson Pear Cocktail from Grandma's Recipes. Pro Tip: You can purchase a Sip and Savor Pass which allows you to trade tickets for items from the booths anytime between now and the end of Disneyland Christmas 2019.  It's a GREAT deal! To save the most, use each ticket on items over $7.50.
Holiday Churros: From the Sugar Plum Candy Churro to the Caramel and Coconut Churro there are Holiday Churros EVERYWHERE (check out this article for details on each).
Looking for more holiday food options? Disney Parks Blog has a great guide to all Disneyland Holiday Food and a separate guide for all Disney California Adventure Holiday Food!
Our Schedule Suggestion
So how do you do it all? We spent ONE day doing as much as we could and here's what I suggest based on our experience.  We did have Park Hopper tickets.
8: 30 – Enter Disney California Adventure, explore and look at decorations, head to Redwood Creek Challenge trail to line up for Santa.
9:00 – 10:30  – Redwood Creek Challenge Trail: meet Santa, decorate cookies, explore
10:30 – 11:45 – Carsland explore and ride Mater's Jingle Jamboree and Luigi's Joy to the Whirl
11:45 – 1:00 – It's lunch time, visit the Festival of Holidays Market Place and grab your favorites.  At 12:30 you'll be able to see Mickey's Happy Holidays in front of the Little Mermaid ride.
1:00 – 2:00 – Need a break? Take a drawing class inside the Animation Academy and visit Anna and Elsa for a meet and greet. Or create holiday cards in the art area in Paradise Gardens.
2:00 – 3:15 – head over to Disneyland and explore Main Street, grab a holiday churro for a snack or a coffee at Jolly Holiday (you can mobile order so that it's ready when you get there)! Take pictures in front of the Christmas tree and spend some time looking at the castle covered in snow.
3:15- 4:45 – Toontown, if you've got younger kids…..Toontown is a must visit.  You can walk through Mickey and Minnie's houses and see them decorated for Christmas.  Explore Donald's boat, play at Goofy's house in the playground, and take a ride on Gadget's Go Coaster.
4:45 – 5:30 – Head to It's a Small World and grab a spot for the lighting.  You can relax, let your kids run around and be sure that you have a good viewing spot.  Stay at the same spot and use that spot for the 6:00 parade. Got hungry kiddos? Do an early dinner at your parade spot (remember you can mobile order, pick up food and bring it back).
6:00 – 6:45 – A Christmas Fantasy Parade
6:45 – 7:30 – Dinner at Rancho del Zocalo (our family fav)
7:30 – 8:00 – Disney Holiday Dance Party (Tomorrowland Terrace)
8:00 – 9:00 – head to Main Street and grab a spot for the 8:30 castle lighting
9:00 – head home
Are you heading to Disneyland Christmas 2019? What are you most excited about?