On the hunt for HOLIDAY DRESSES? I've rounded up the best holiday dresses for a pear shape body!
Well, we're in the thick of holiday party season.  If your calendar looks anything like mine…..you're ready for January and a few nights in joggers and sweatshirts!  In the meantime, I wanted to share my favorite holiday dresses for a pear shape body.  These are flattering, comfortable, and total classics (aka you'll be able to wear them for years to come).  Note, this year……I think a lot of us will be holiday partying on zoom…..and I want to encourage you to still dress up.  There's something about getting dolled up and celebrating (even if it's virtual) that will help to lift all our spirits!
The BEST Holiday Dresses for a Pear Shape Body
Maxi Wrap Dress: This star print maxi dress is probably my favorite dramatic dress for the holiday season (it also comes in black and is available in plus sizes).  It's SUPER flattering, and looks amazing in pictures.  For trips to the virtual Nutcracker or fancy holiday parties? It's my top choice.  Add sparking heels and stud earrings and you're ready for any formal event!
/ star print maxi dress / plus sized up to 5x /
Shop my Favorite Maxi Wrap Dresses:
Midi Wrap Dress: Looking for something that's a little less dramatic? This red velvet wrap dress is the perfect slightly more casual holiday dress.  It can be worn to a few holiday lunches and events with a simple jean jacket.  I've also dressed it up with a soft wrap and heels! (Bonus, it's a GREAT price and comes in a plus size)
/ red wrap dress / plus size up to 5x /
Shop my Favorite Midi Wrap Dresses:
Body Con Dress: I know, I know…..body con? It scares you a bit, right? I love a great red Christmas dress and this one….it fits like a DREAM and is super flattering.  The stretch in the fabric?  Makes all the difference.  I own it in black as well and and it also comes in a stunning forest green color.
/ bodycon dress / plus sized up to 5x /
Shop my Favorite Body Con Dresses:
Sweater Dress: A grey, black or white sweater dress great is the perfect winter staple piece.  Yup, I said white.  While I avoided white for YEARS, I'm a total convert.  I love this flattering shape in any color, and how easy it is to dress up.  It's perfect for Christmas Eve dinner with boots and a great pair of earrings!
Shop my Favorite Sweater Dresses:
Cold Shoulder Dress: Don't you love a great cold shoulder dress?  I love this simple forest green version, and the cut? Is perfect for a pear shape body!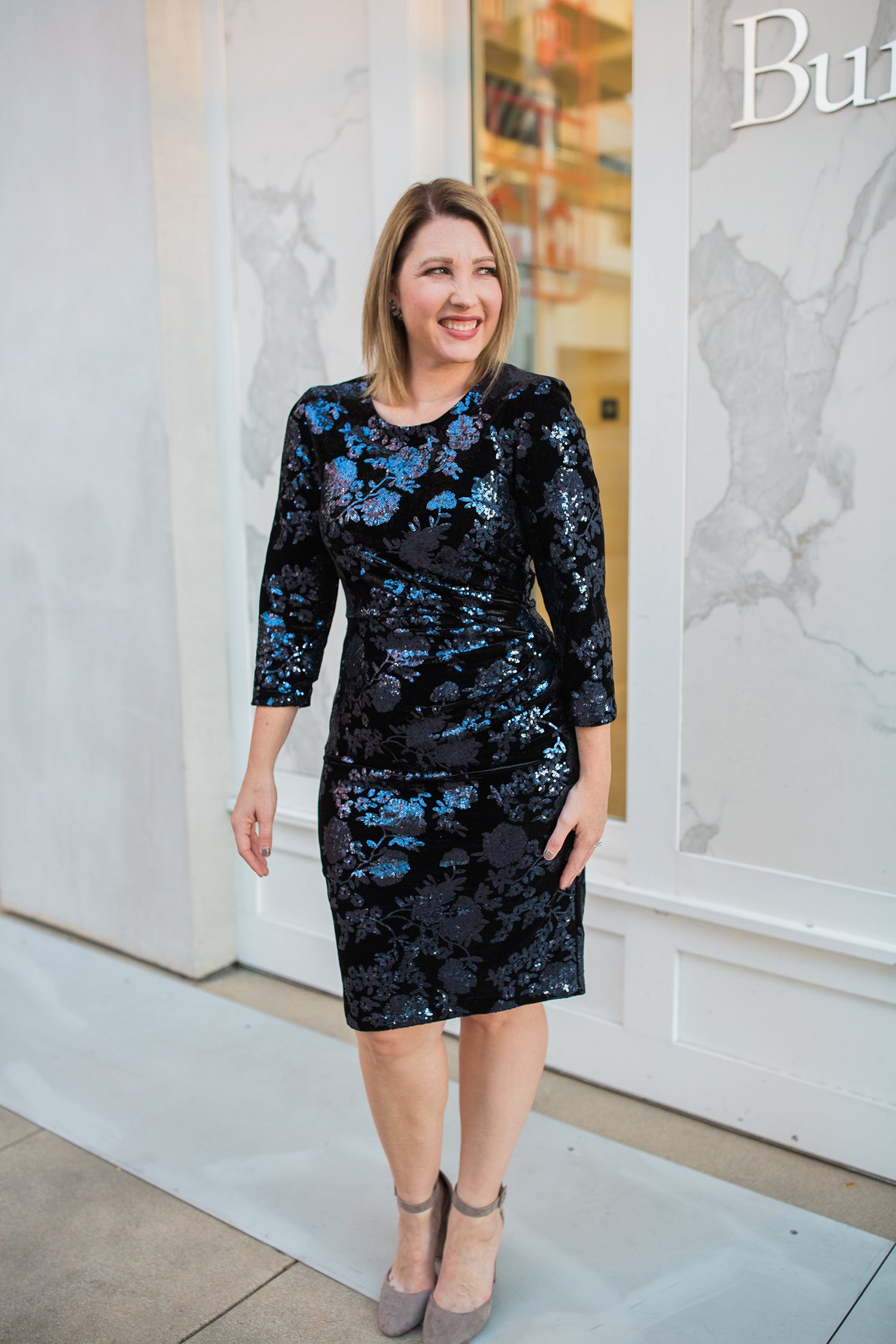 Sparkly Dress: Don't forget about New Year's! It's the end to the holiday dress season…..and you don't want to be scrambling for a dress at the last minute! This black sequin dress is super flattering and a ton of fun.  I love the three quarter length sleeves and it's a great length!
Now what is YOUR favorite holiday dress for a pear shape body?!?