Planning a Disneyland vacation? This is the ultimate guide to Disneyland Festivals……special times that are especially fun to experience Disney magic and some truly unique experiences at your favorite theme parks .
Throughout the years disney california adventure park has become many things. Most enduringly it is a cultural hub for celebrating the diversity of California's people. That celebration has taken shape in many ways as seasonal Disneyland festivals. Celebrations like Dia De Los Muertos bring a lot of festivity to the disneyland park . But there are three major events that make up even bigger festivals that take place throughout the year. These events include food and drink marketplaces and plenty of entertainment to enjoy. There are also a variety of commemorative souvenirs that you can pick up in the parks and around the resort. Whether you begin the Lunar New Year with a trip to Disneyland, or you enjoy celebrating the year's end with an especially festive holiday season, there is always a special celebration just around the corner. Especially if that corner comes somewhere between November and March!
August is usually the start of Halloween and there are plenty of Halloween activities and attractions around the Disneyland resort. But these events don't quite have the same presence that the following Disneyland festivals have.
If you'd like to make sure you can experience one of the fantastic Disneyland Festivals during your next visit to the Disneyland resort, here is a rundown of the three major events. This brief overview should help you know what to expect throughout the year at Disney California Adventure and Disneyland and when you should visit for the type of celebration you would like to enjoy.
The Best Disneyland Festivals
Lunar New Year : The First of the Year's Disneyland Festivals
The first festival event of the year at the Disneyland resort is appropriately a new year celebration. However, this event is unique among Disneyland festivals because it's specifically linked to the diverse heritage of California, specifically the Chinese influence on state history. From the Pacific Wharf to Paradise Gardens, Disney California Adventure frequently features dining and entertainment inspired by Latin American and Chinese cultures. During the Lunar New Year, Paradise Gardens transforms into a festival like no other at Disney parks around the world.
Characters and Crafts
Beginning January 20 and running until February 15, Disney California Adventure will be celebrating the year of the rabbit. The festival includes a Lunar New Year procession starring Mulan and Mushu. Note: mulan's lunar new year procession is a truly unique offering…..and something not to miss! Mickey and Minnie will also be wearing traditional attire and Raya from Raya and the Last Dragon will greet guests in the Redwood Creek Challenge Trail. Paradise Gardens will celebrate the festival with a character meet and greet at its bamboo and peach blossom decorated pavilion and the Lucky Wishes Wall will offer an opportunity to take part in the display of ornamental lanterns with some wishes of your own. My personal favorite characters last year were the three little pigs in chinese culture themed attire. They were SO unique and special!
The Lucky Wishes wall is the official starting point for the Lunar New Year Festivities, but there are places all around to join in on the celebration. Although it is the year of the rabbit for the Chinese, The Vietnamese year of the cat also gets a nod during this event. Near the lucky wishes wall, you can usually find chinese calligraphy artists doing chinese zodiac calendar writing. It's a really fun, and totally free festival experience that you can take home with you!
Disneyland Festivals Food
In addition to the lanterns, there are other crafts for kids and plenty of commemorative merchandise to shop and enjoy. But the biggest draw for this festival is the innovative cuisine offered throughout the park. Find special menu items at participating restaurants and the Lunar New Year Marketplaces. There, you can use a Sip and Savor pass to sample the 6 locations at Paradise Gardens Park including the new Bamboo Blessings and Wrapped with Love marketplaces. Chinese, Vietnamese, and Korean are the three Asian cuisines represented at these Lunar New Year marketplaces.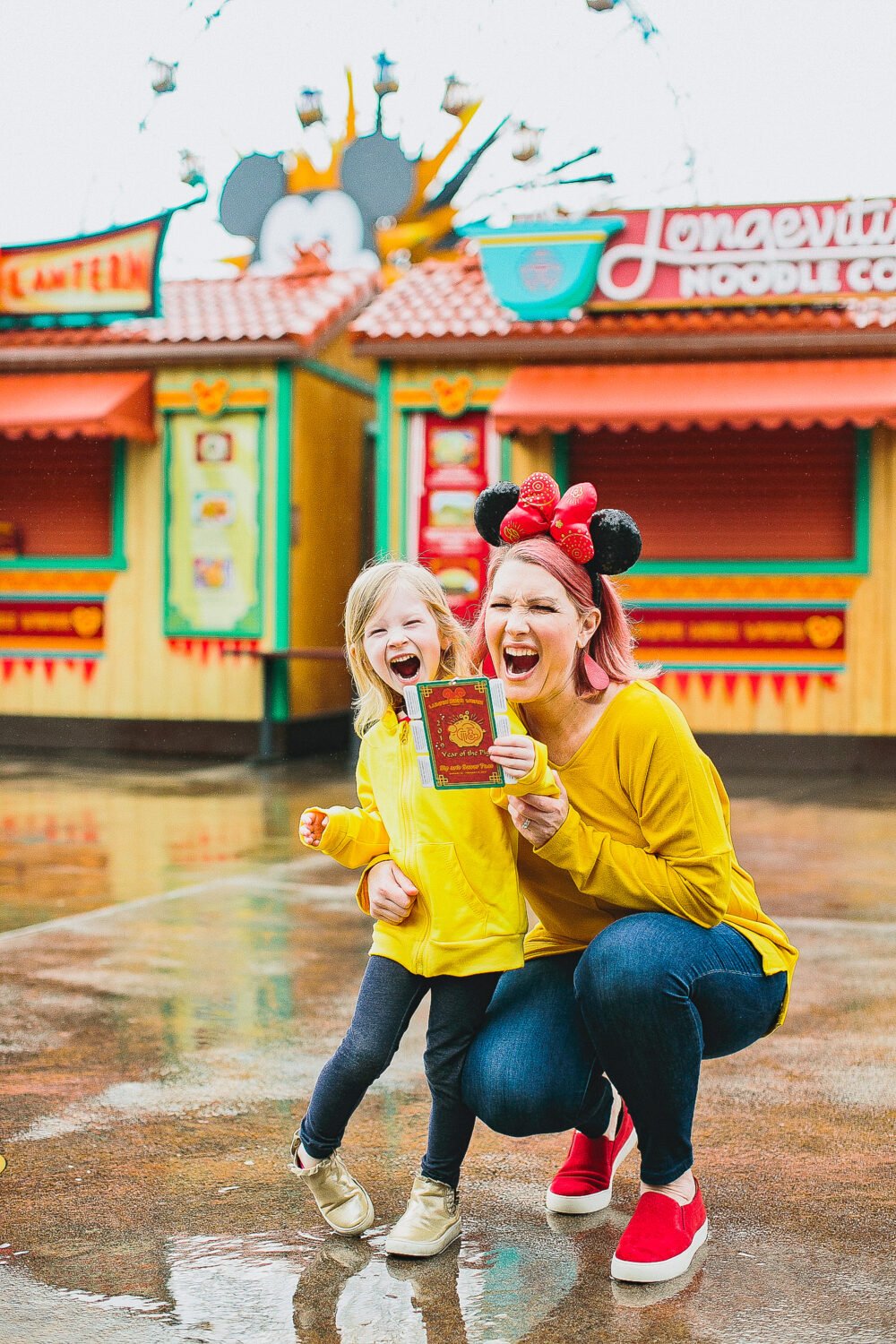 There is even a six-minute pre show, Hurry Home– Lunar New Year Celebration. This tale of a lantern's journey underscored by Academy Award-winning composer Tan Dan is exactly the thing to kick off the event. More celebrating by live performers at the Paradise Gardens Bandstand adds even more to the festivities, which are likely to entertain you for most of your day in the park.
Food and Wine Festival
The first festival to make its way over to Disney California Adventure from the east coast park of EPCOT was Food and Wine. Little known fact: DCA was originally intended to be a west coast counterpart to EPCOT called Westcot. Disney California Adventure has changed a lot since its inception and even after its 2001 opening, but some signs of the park's original purpose to educate guests on California's unique history and industries still remain. The Food and Wine festival fits in with Disney California Adventure's Napa Valley scene like a glove.
Disney california food and wine is the most natural celebration among Disneyland festivals. It fits the Disney California Adventure theme so well, it ought to be a year-round event. Unlike the International Food and Wine Festival at EPCOT, this is not a fall festival but an early spring event. It begins on March 3 and runs until April 25, 2023. The festival is primarily composed of good food, good wine, culinary demonstrations, and live musical performances. One highlight of this year's disney california adventure food & wine is the limited-time return of the original Soarin' Over California attraction.
Food and Wine Disneyland Festivals Marketplaces
The Festival marketplaces for this event are double in size compared to those at the Lunar New Year celebration. These marketplaces are located on the trail to Avengers Campus on the east side of Grizzly Peak. There are 12 in all and they each offer something different for your palate. There are also an additional 12 dining locations that participate in the Sip and Savor event. Sip and Savor passes include 8 entitlements for tasting menu portions of food and nonalcoholic beverage offerings. They are valid for multiple visits throughout the duration of the festival but expire after April 25.
Near Pacific Wharf on the southside of Grizzly Peak is Sonoma Terrace. This outdoor patio is the official place to enjoy snacks and drinks during the day right in the middle of the park. However, there are plenty of other activity zones and demonstrations for families throughout the park (don't miss visiting with chef goofy and participating in alice's wonderland bakery unbirthday party ).
Drinks
Food and Wine used to be mostly about wine, but now there are all kinds of different cocktails to enjoy. There are even mixology education and tasting seminars along with those dedicated to exploring beer and wine. These 45-minute sessions are hosted by mixologists, sommeliers, and brew masters and are a great way to learn more while tasting fantastic libations.
More Disneyland Festival Fun
The festival continues outside of the park gates and into the hotels as well. You'll find artist signings and a variety of festival merchandise all around the Disneyland resort including in the Downtown Disney district. Seminars, including Trader Sam's Tiki Mixology Class, take place at the resort hotels.
Festival of the Holidays: Year End for Disneyland Festivals
Festival of the Holidays is another one of the Disneyland festivals borrowed from EPCOT in Walt Disney World. But, just as with Food and Wine, Disney California Adventure put its own unique twist on the celebrated seasonal event. While the festival is multicultural and celebrates an inclusive mix of holidays, the primary cultural focus here is Mexico. The event includes the Viva Navidad street party and Three Kings Day. Beginning in mid-November and ending in January, Festival of the Holidays is the longest-running among the three Disneyland festivals that occur annually.
Festive Foods Marketplace
There are 9 locations within the Festive Foods Marketplace and they are scattered along the thoroughfare from Carthay Circle Restaurant to Paradise Gardens. As with the other festivals, you can purchase sip and savor entitlements. These entitlements come with a long series of disclosures and policies, but they are generally good for tasting portions of items at participating locations and they are valid throughout the duration of the event. If you are a Magic Key holder and you can get in regularly, you'll be able to use the same Sip and Savor pass on multiple dates as long as you still have entitlements. You will also receive a special price and lanyard.
Viva Navidad
The Viva Navidad street party includes lots of live entertainment, including Folklorico and samba dancers. Mickey mouse and minnie mouse dress up in fiesta attire and Mirabelle from Encanto also joins in the fun.
Paradise Gardens becomes festooned with papel picado banners and pinatas. This is the same location for Plaza De La Familia, which is part of a Dia De Los Muertos celebration. It's not a full-fledged festival, but takes place just prior to the Festival of the Holidays.
Disneyland Festivals Entertainment
All Disneyland festivals tend to feature stirring entertainment. Festival of the Holidays has some of the most exciting and culturally diverse performances. First, Toy Soldiers march and Mickey leads a dance party, but you'll also enjoy character sightings such as Encanto's Mirabelle. Meanwhile, bands liven up the streets with holiday spirit including artists who celebrate Diwali (Blue13 Dance Company) Kwanzaa (a capella group, The Mistletoes), and Hanukkah (Mostly Kosher). The Latin sounds of Mariachi Divas and Tina and the Sounds of Celebration bring dynamic and energizing live music performances, while Phat Cat Swinger offers a cool twist on some old holiday favorites.
Perhaps the best sighting of all is witnessing Santa on the Redwood Challenge Trail. Don't leave the festival without saying hello to old Saint Nick!
Whichever of the disneyland festivals you choose to visit for…..a few reminders:
You'll need both a ticket and theme park reservation for each day. I suggest trying to select disney california adventure as your starting park for most festivals. The only exception? If you want to do haunted mansion holiday during the winter festival. If so, book Disneyland first and try to get on it as early as possible.
The disneyland app will be your guide to all special events and performances. It will be totally up to date. I'd suggest arriving to any specific live performances a bit early to get a good seat.
The first day of any disneyland festivals tend to be the busiest days of the year , people are often excited about new offerings and festival-inspired dishes . If you want lower crowds, visit towards the end of any festival dates .
Which of the disneyland festivals is YOUR favorite? Leave your answer in the comments!