Are you obsessed with DisneyBound outfits? You guys know Lydia and I love a good Princess DisneyBound.  From our Snow White DisneyBound to our recent Frozen DisneyBound Halloween Costumes…….we love to dress up like our favorite strong female characters (and Disney certainly has their fair share of them).
What does it mean to DISNEYBOUND? DisneyBounding is a way to pay tribute to your favorite Disney movies and characters in regular clothes.  A way to dress up without wearing a "costume".  If you visit a Disney Park, look around….you'll see guests DisneyBounding everywhere (mostly because adults aren't allowed to wear costumes inside the parks unless it's a Halloween party).
A few of our favorite Princess DisneyBound Outfits
Belle Disneybound – Beauty and the Beast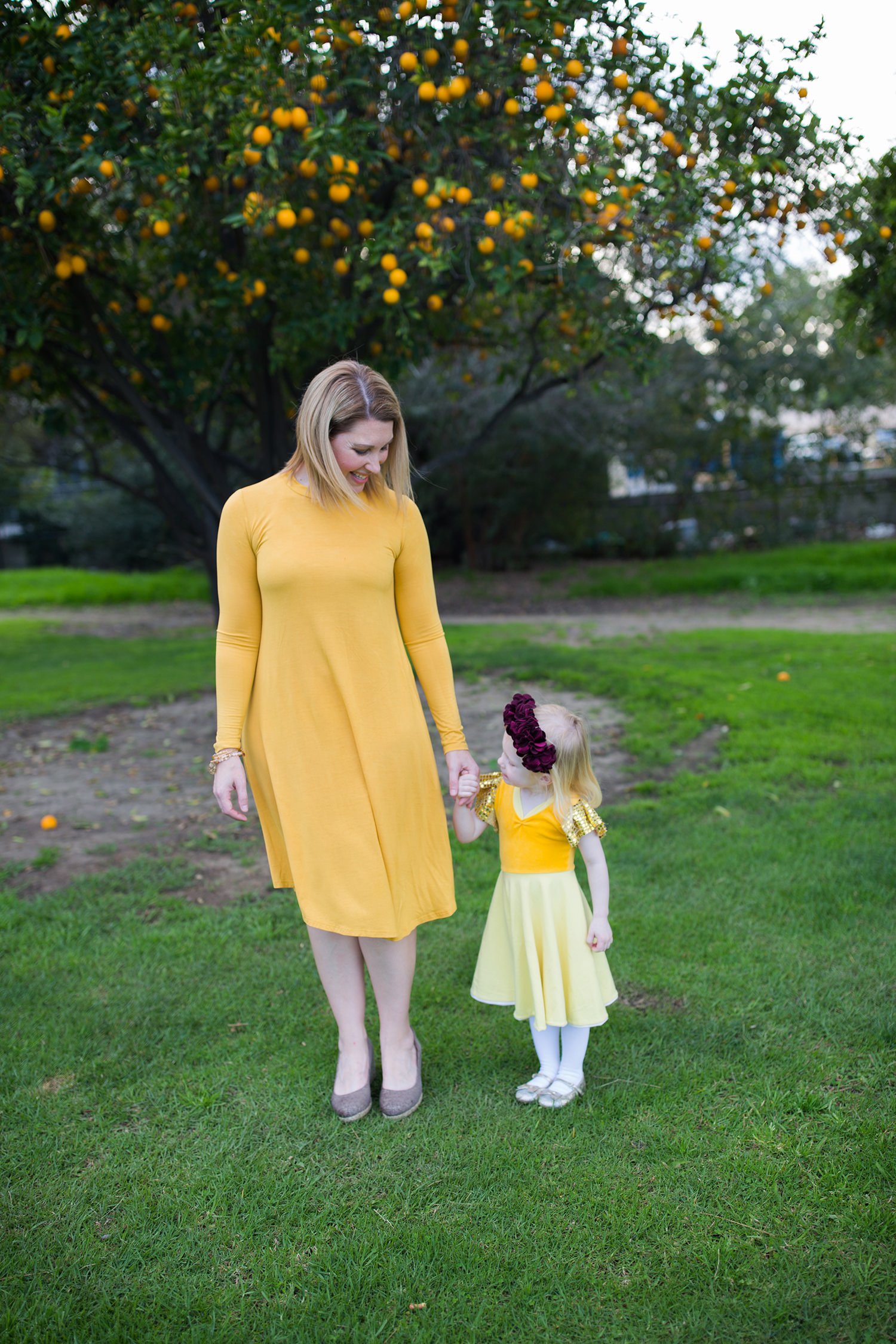 For this Beauty and the Beast DisneyBound……we focused on the colors of Belle's dress in the famous ballroom scene.  Bright yellow dresses were SUPER easy to find…..and that red rose headband for Lydia? Was the perfect final touch.
< see more of our Beauty and the Beast DisneyBound >
Moana Princess DisneyBound
This Moana DisneyBound was one of our first.  We actually released these pictures BEFORE Moana came out…..and people could not figure out who we were.  Can you see it? I'm pretty sure we all can NOW.  Lydia dressed as the ocean, and I channeled Moana with a simple red top and light color bottoms.
< see more of our Moana DisneyBound >
Snow White DisneyBound
This Snow White DisneyBound was one of my favorites.  I found the perfect pieces for Lydia to wear…..I love how perfect the colors in her outfit are!  The best part? She wore each item a million other times.  For Snow White? You need a nice bright blue, yellow and pops of bright red.
< see more of our Snow White DisneyBound >
Elsa and Anna DisneyBound
Our Frozen Disney Bound is the latest in our series….and Lydia's current favorite.  Did you see the recent tutorial I posted to make her Elsa dress? It was way easier than you'd expect (thank you iron on decals).  And all the pieces in my outfit? Separates I ordered from Amazon.
< see more of our Elsa and Anna DisneyBound >
DisneyBound Tips
My biggest tips for a great Disney Bound? The colors.  If you can get the colors in your outfits to be accurate……everyone will know exactly who you are!
Now, weigh in.  Which Disney Princess should we DisneyBound next?