Planning a family seattle weekend trip? Whatever the season, Seattle is a great place for families. It's filled with activities that are great for younger kids, for teens and tweens, and some pretty fun must do activities for the grown ups.
We just returned from a three day trip to Seattle, and our family had the best time . Seattle is a perfect mix of super cool local spots and food options, and some really fun tourist attractions that are absolute must see locations, especially if it's your family's first trip to the seattle area .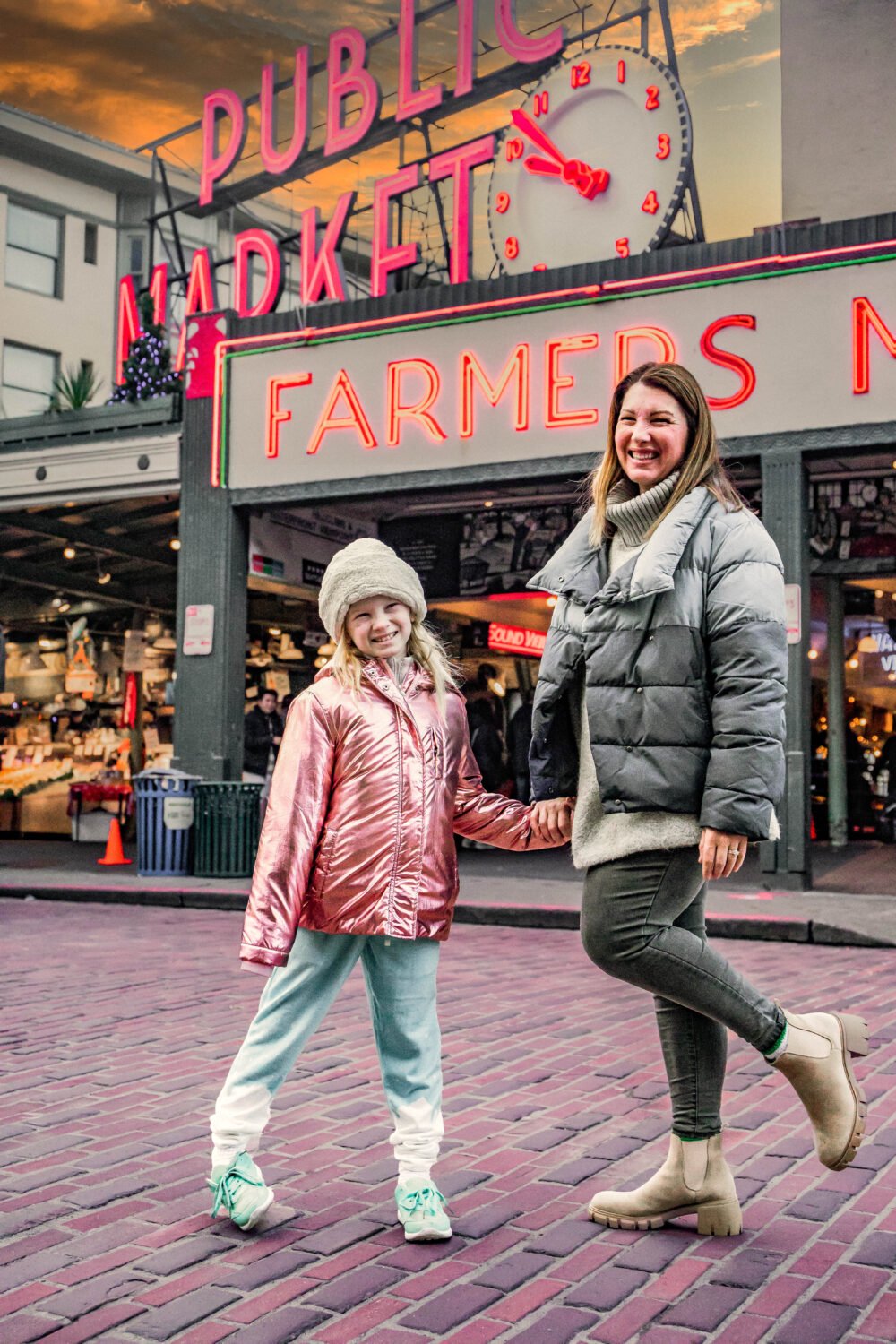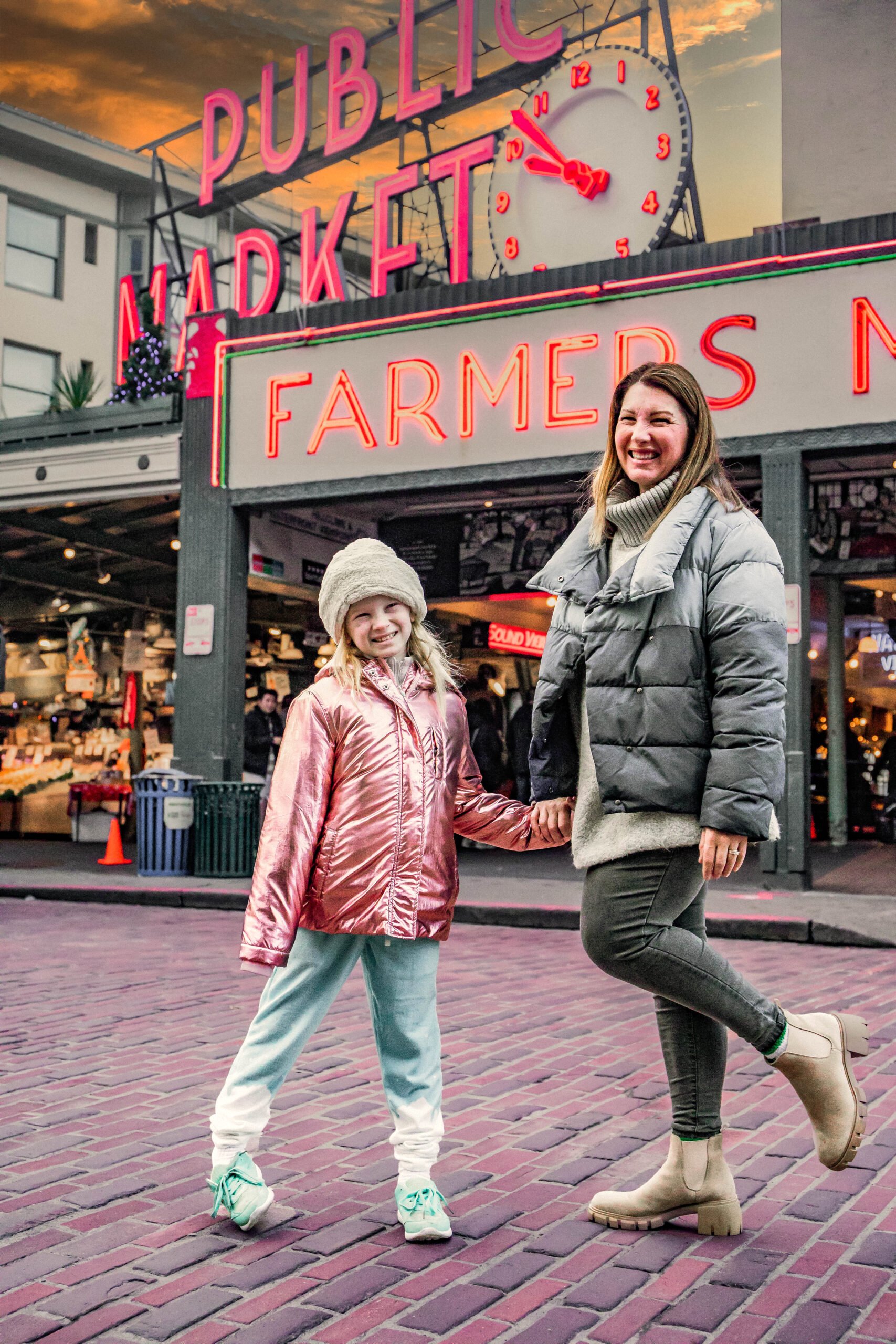 We visited Seattle in December. So my recommendations? Are a ton of fun in the summer months as well as during the winter months and cooler weather. While sunny days during the spring and summer months may be peak season to visit the emerald city ….. I have to say, I'm already planning to do ANOTHER seattle weekend trip next winter. I loved it. It was festive, filled with holiday cheer, and with the right weather gear? We were totally comfortable and fine walking around each day.
Seattle During Rainy Weather or Colder Months: What to Pack
I will say, be prepared. Coming from San Diego, we are definitely accustomed to warmer temperatures and I'm VERY glad we had the right weather items. It made ALL the difference. We brought warm jackets, gloves, hats and boots. In addition, we packed rain ponchos and rain boots along with umbrellas. And for the record, yes we used all the items.
Shop Warm Weather Gear for Seattle:

Seattle Weekend Trip : Where to Stay
If you are planning a shorter trip, like a weekend trip ….. then where you stay will be important. We stayed at the Sheraton Grand in downtown seattle and it was AMAZING. The location was absolute perfection. If you're traveling to the Pacific Northwest, you'll want somewhere that has the basics in hotel (in case the weather is extreme).
In this case, the Sheraton Grand was IDEAL. They had a full Starbucks cafe in the lobby, which I loved for slower mornings. They also had a great bar and restaurant . But one of the best things? The Sheraton Grand is a short walk to pike place market (about ten minutes at a VERY leisurely pace ). We could easily pop over to check out their coffee shops, the original starbucks , and a ton of the tourist attractions down by the waterfront. We also had VERY easy access to the monorail (which leads to city center).
The guest rooms are spacious (y'all know this is key when traveling with kids) and the beds were perfection. YES, there are blackout curtains (also key for traveling with a family) and plenty of kid friendly food options.
Seattle Weekend Trip : Must Do Attractions and Activities
We did a LOT during one Seattle Weekend Trip. For the record, my daughter is 9 years old and very capable of doing a LOT of walking (I blame our regular disneyland trips for that). So our version of a weekend trip wasn't exactly a relaxing weekend getaway. Our family logged about 12,000 steps each day and this was definitely a full 3 day seattle itinerary . We flew up from San Diego on an early morning flight, and arrived in Seattle by about 10:30 am. We were at waterfront park by noon. This is PERFECT for older kids who don't need a nap (I'll share our full and exact schedule at the end of this). If you have YOUNGER children, I would definitely take it a bit slower based on their needs.
All the places we visited:
I divided up our favorite attractions by area and location. This made it a lot easier to plan and to see multiple things easily.
Seattle downtown area:
These are all the attractions we saw within walking distance of our hotel.
Seattle Aquarium
I have to say, I seriously underestimated the seattle aquarium and how much fun it would be. It was a total blast (and a perfect option for any days when outdoor activities aren't an option). This mid-sized aquarium has great touch pools, some REALLY cool displays, and great sea otter / seal / penguin areas. It's laid out beautifully and is RIGHT on the waterfront. We loved it!
Pike Place Market
I'm not going to lie, this was a highlight for me. We may or may not have visited pike place market four times during our seattle weekend trip (it helped that we were staying so close to it). Pike Place Market is an iconic Seattle landmark and an absolute must see. This farmer's market houses over 500 local businesses and artisans. It's well known for fresh fish, so during your visit make sure you see the fish market. Watching the fisherman throw the fish across their market stands is a total Seattle must do and I loved it! I'm sharing some of our favorite food and coffee spots from the trip (including our favorite stands at Pike Place Market below, so don't miss that!)
Skyview Observatory
Looking for stellar views of the seattle skyline? This is a great way to see them, the skyview observatory is the tallest building in seattle and the views are UNREAL. This enclosed observatory is at the top of a large building, and was really fun to walk around. We visited on our last full day, and spent about an hour and half at the observatory (including lunch at the cafe). I loved being able to eat at a table by the windows (and bonus points, they had amazing bloody marys). If you are slightly afraid of heights (ahem, I relate)…..this feels more secure because of being completely enclosed.
Seattle Public Library
We discovered the downtown central location of the Seattle Public Library while walking from our hotel to the skyview observatory and I can't recommend it enough. This stunning building is made almost completely of glass and has an amazing layout. We browsed the kids area, and bought some really fun souvenirs in the library store (bonus points for great deals AND supporting a public library while shopping). They also have a cafe / coffee cart (currently closed but it looks like it may reopen soon).
seattle center
This was absolutely worth a visit. We spent a full day exploring seattle center and I'd suggest the same time frame for any seattle weekend trip . Our family took the monorail (what a cool form of public transportation , our daughter loved it!) from downtown seattle (about 3 blocks from the sheraton grand) to seattle city center. City Center is a perfect option for seeing a TON of interesting and unique seattle attractions without a TON of walking in between. All of these locations are next to each other (think a one to two minute walk). Looking for lunch options while at city center? Armory Food Court has a ton of great booths and food options for everyone!
space needle
If you want an iconic Seattle experience, then the Space Needle is the perfect place. It's a famous world landmark (the space needle was actually built for the world's fair in 1962) and is an absolutely amazing experience. There are currently timed tickets and entries. When your reservation time arrives, you'll take an elevator (glass with views of the journey) 605 feet up to see some pretty amazing views Seattle's downtown, Mount Rainier, Puget Sound, and the Cascades and Olympic mountain ranges. There are both indoor and outdoor sections of the observation deck as well as a cafe that serves pretty great lattes, hot chocolate and snacks.
chihuly garden and glass
I have to say, before visiting the chihuly garden and glass exhibit I was worried it wouldn't be kid friend. Well, let me tell you….I was WRONG. This exhibit is a great spot for older kids (and bonus, it's RIGHT next to the space needle). Dale Chihuly is a Washington native, and a renowned artist. His glass blown sculptures and pieces are absolutely stunning. They're HUGE and immersive and Lydia LOVED seeing them. I'd plan about 45 minutes to walk through the indoor gallery as well as the garden. It felt long enough for the adults and held my nine year old's attention perfectly.
music? film? literature genres? The museum of pop culture has it ALL. This was a favorite from our seattle weekend trip and my only complaint? We could have spent longer at the museum of pop culture. We arrived around 2:30 pm and the day we visited it closed at 5 pm. I would suggest allotting a full afternoon if you can, there are a TON of really fun and interactive exhibits that are super family friendly and perfect for visits with kids. The museum of pop culture has rotating exhibits, so be sure to check before your visit to plan for any specific favorites you don't want to miss. We loved the Fantasy and Pearl Jam exhibit plus the Sound Lab (this is a permanent exhibit and a TON of fun). You can even record your own music pieces!
Freemont Area
The Freemont area of Seattle is REALLY fun to explore: great stores, vintage shopping, coffee shops and Gas Works Park. It's a little bit far from downtown and the area where we were staying….but was worth exploring. We visited for a late afternoon and evening and loved the area. I could definitely have done brunch or a morning of exploration in the area too!
Woodland Park Zoo: We visited Freemont to check out the WildLanterns event at the Woodland Park Zoo. This evening event takes place from mid November to the end of January each year, and is a REALLY fun event filled with stunning light displays. They have hot chocolate, mulled wine, and some of the animal habitats are also open. We loved it! After the zoo, we took a short Lyft to dinner in the Freemont area (more on that below).
Seattle Weekend Trip : Where to Eat, Drink and Be Merry
If you're a foodie, then Seattle is a great city to visit. They have AMAZING cafes, restaurants and some of the best coffee shops in the world. There is definitely a little bit of everything, and I can guarantee you'll find exactly what you're looking for in terms of meals. These? Some of our favorites.
Downtown Seattle Food Spots
Ben Paris : If you are looking for a high end dining experience downtown and close to Pike Place Market, Ben Paris is a GREAT option. They have a killer cocktail list (I got the juice box and can't recommend it enough if you love vodka based cocktails), and awesome food. While there isn't a kids' menu, there are some VERY kid friendly small plates (truffle fries were a big hit) and some great entrees as well. Ben Paris offers upscale american food: burgers, great fish, and pasta. And their dessert menu is STELLAR (lots of inspiration from local produce and ingredients).
Old Stove Brewing Company: We stumbled across Old Stove Brewing Company on our second night thanks to Yelp, and it was GREAT. This brewpub is right on the water at the back of Pike Place Market (when the weather is warm, they have a GREAT patio overlooking the water). It offers a stellar beer selection, great burgers, gluten free pizza, and an extensive kids' menu. There can be a bit of a wait…..so be prepared!
Daily Dozen Doughnut Company: Looking for a quick breakfast on the go? Daily Dozen Doughnut Company is inside Pike Place Market and makes AMAZING donut holes (along with coffee and lattes). Grab a bag and bring them along one morning (there IS usually a line, be prepared for a wait).
Sisters European Cafe: If you are looking for a quick and easy lunch while visit Pike Place Market…..Sisters European Cafe has AMAZING sandwiches (and great lattes). It's located in Post Alley and offers amazing sandwiches on foccacia bread (they also have gluten free bread as an option if needed).
Freemont Food Spots
El Camino: Now, we live in Southern California…..the land of amazing tacos and mexican food. So, I have to be honest…..it takes a LOT to impress us with mexican food while traveling. But El Camino in Freemont did just that. This adorable neighborhood spot has great decor, amazing service, fun cocktails and GREAT food. They have a great kids' menu, and tacos that ABSOLUTELY met our high standards (I got the shrimp tacos). And for my gluten free friends? I love that everything gluten free was labelled right on the menu….it made it MUCH easier for me to make decisions about my order! El Camino is a great option for the end of a day exploring Freemont or after the zoo.
Seattle Weekend Trip : Coffee Shops
Starbucks Reserve: Now coffee friends…..this is a MUST visit. The first Starbucks is at Pike Place Market, and it's cute but very small. While that is more of a grab a coffee to go situation, THIS? Starbucks Reserve is a whole experience. There are currently six Starbucks Reserve locations around the world, but this is the first. Think of a tasting room, but for coffee. You can see the beans being roasted and bagged, taste unique drinks, and order some amazing food at the cafe. They even have a new tasting bar where you can sign up in advance for a curated experience, AND they have martinis (coffee based ones of course). This is a popular spot, and will probably be crowded but it's absolutely worth making the time to visit.
Pike Street Coffee: You'll find this adorable coffee shop is at the back of Pike Place Market and on the way to the Aquarium. It has a killer coffee menu, and is really fun to sit in…..they have a full letterpress operation that is great to watch while you sip your latte.
Seattle long weekend : Suggested Itinerary
Now the fun part, this? Is my suggested itinerary for a seattle weekend trip:
Day 1:
morning flight // drop bags at the hotel (can't recommend the Sheraton Grand enough)
12:00 lunch at Sisters European Cafe / Explore Pike Place Market
2:30 Seattle Aquarium until closing / grab a coffee on the way from Pike Street Coffee
5:30 walk to hotel and unpack in room and get settled
6:30 or 7 dinner at Ben Paris (just a short walk from the hotel)
Day 2:
9:00 walk to Pike Place Market and grab coffee and donut holes at Daily Dozen Doughnut Company
10:00 take Monorail to City Center (just a few blocks up from Pike Place Market)
10:30 Space Needle (you'll want to buy tickets in advance on their website)
12:00 lunch at Armory Food Court
1:00 Chuhily Garden and Glass
2:15 Museum of Pop Culture
5:15 take monorail back to Downtown
6:00 explore Pike Place Market after closing and head over to Old Stove Brewing Company for dinner
Day 3
breakfast at hotel (it's nice to have ONE slow morning, right?!?)
10:00 walk to Seattle Public Library, read and explore
11:30 Skyview Observatory (stay for lunch in the cafe)
1:00 walk to Starbucks Reserve (about a 20 minute walk)
3:00 take a lyft to Freemont area, explore stores
6:00 dinner at El Camino
Seattle Weekend Trip
And there we go! All of our favorites for a Seattle Weekend Trip. Have you been to Seattle? Any favorites that I missed? Leave them in the comments so that we all have more Seattle locations to check out!